Here's an excellent side dish recipe:  Cauliflower Mashed Potatoes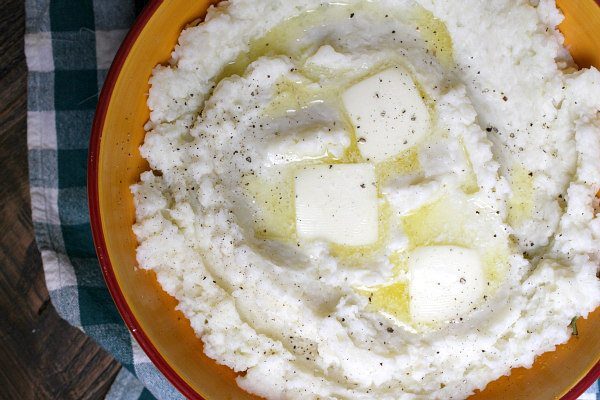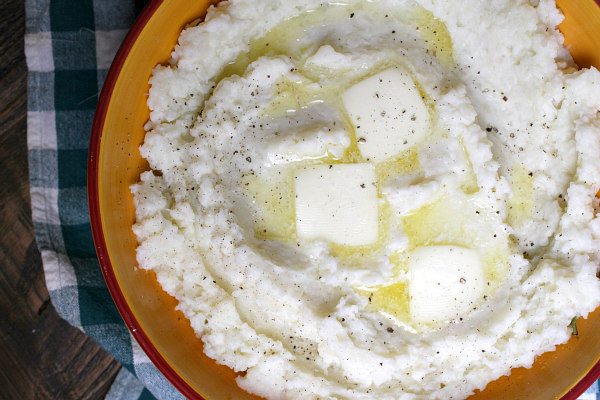 My son saw what I was making the other day and gave me a big "eye roll."  He says I'm always trying to sneak cauliflower into things.  This recipe combines cauliflower and potatoes about half-and-half, and they're all mashed together to create a wonderful mashed side dish.  To me, they're mashed potatoes with a a hint of cauliflower flavor mixed in.  I love them.  It's a good way to enjoy mashed potatoes that are a little less carb-y than full-on mashed potatoes.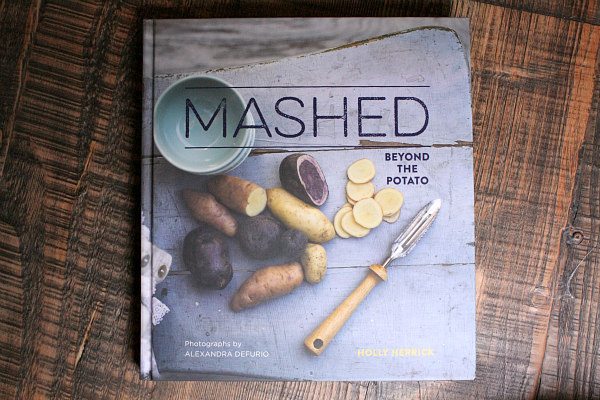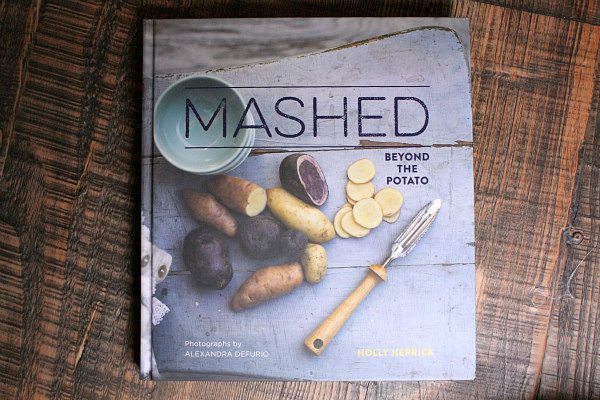 This recipe comes from Mashed: Beyond the Potato by Holly Herrick (Gibbs Smith 2016).  This book gives you a fresh take on comfort foods- various mashed potato-type dishes plus gratins, soups, sauces, casseroles, sorbet and more "mashed" foods.  It's an interesting concept, and I rather like the book.
Here are some goodies I've bookmarked to make later:  Ultimate Mashed Potatoes (of course!!), Roasted Eggplant Baba Ghanoush, Roasted Red Pepper and Feta Whip, Maple Acorn Squash Soup, Buttery Brussels Sprout Mash, Mexican Black Bean Nacho Bake, Delicate Lemon-Thyme Hummus, Bacon-Blessed Baked Beans, Minty Watermelon Sorbet, Extra Creamy Raspberry Ice Cream and Peanut Butter- Chocolate Million Dollar Bars.  There are some really interesting recipes in this book!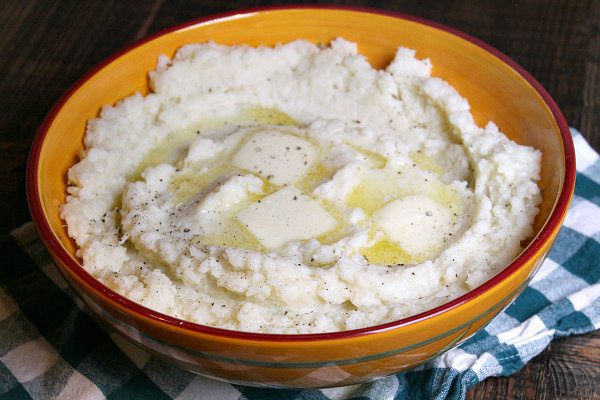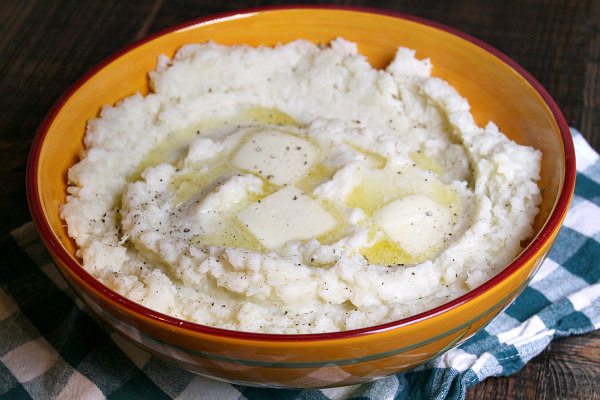 I used this as a base for slices of pot roast with sauce.  They are a great sub for mashed potatoes!  And if you add plenty of butter, it's even better.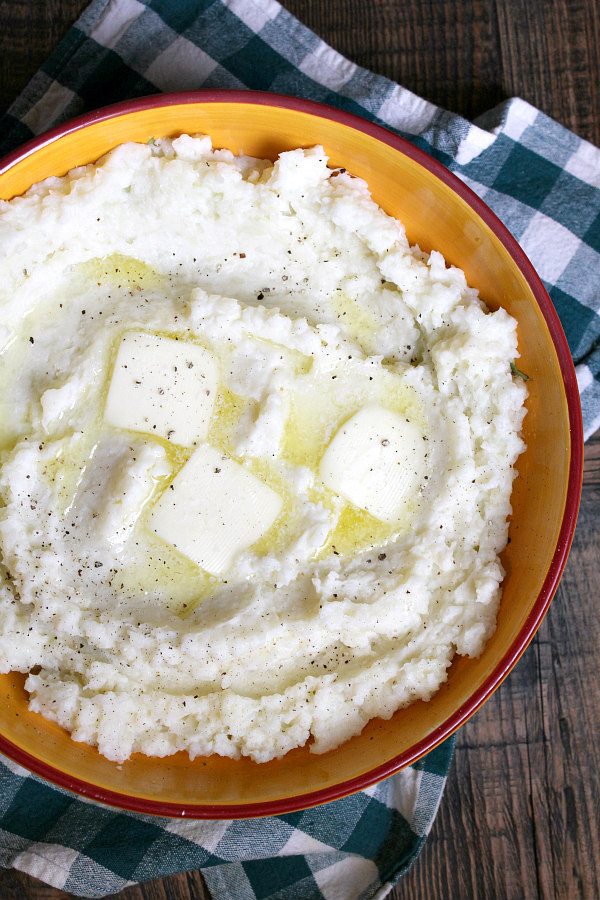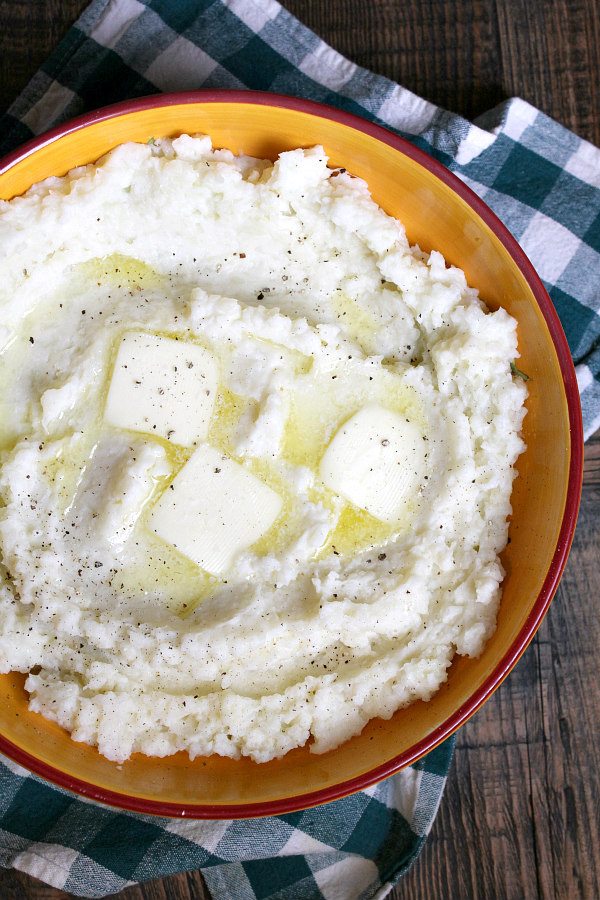 I should mention that these are perfectly delicious on their own.  No sauce or anything needed, really.  Try them as a side dish for meats and fish.  Your family is not likely to balk and complain.  Although my kiddo gave me that initial eye-roll for adding cauliflower to my mashed potatoes, he happily ate and enjoyed them (of course!)
Cauliflower Mashed Potatoes
Yield:
6 servings
Prep Time: 25 minutes
Cook Time: 20 minutes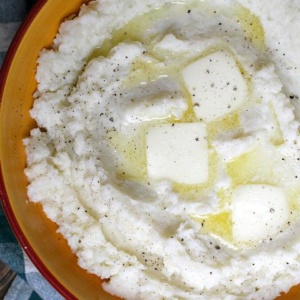 Ingredients:

1 head cauliflower, quartered, cored and cut into medium florets (about 6 cups)
2 large russet potatoes, peeled and cut into 2-inch chunks
1 tablespoon kosher or sea salt
water
3/4 to 1 cup half-and-half, warmed
3 tablespoons unsalted butter
1 teaspoon kosher or sea salt
1/2 teaspoon ground black pepper

Instructions:

Place the cauliflower, potatoes and salt in a large pot with just enough cold water to cover.  Bring to a boil over high heat, reduce to a simmer over medium-low heat, and cook, uncovered, until tender, about 20 minutes.  Drain well in a colander.
Return the mixture to the cooking pot, stream in the half-and-half, and mash with a manual masher until chunky smooth.  Stir in the butter, salt and pepper.  Taste and adjust seasoning as needed.  Serve very hot with additional pats of butter, if desired.

Nutrition:

This can be made ahead and refrigerated, covered, for a day or two and gently reheated over low heat or a water bath.
Here are a few more cauliflower recipes you might enjoy:
Disclosure:  There are Amazon affiliate links included in this post.