This recipe has been featured on The Recipe Girl blog: Classic Pepperoni Pizza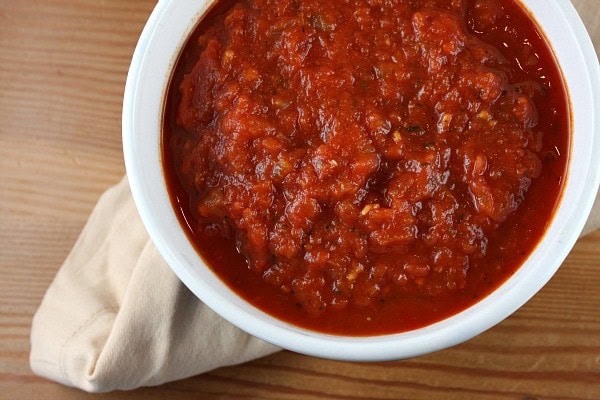 Basic Pizza Sauce
A great, simple sauce recipe to have around when the mood for pizza strikes.
Yield:
1 1/3 cups
Prep Time: 15 min
Cook Time: 25 min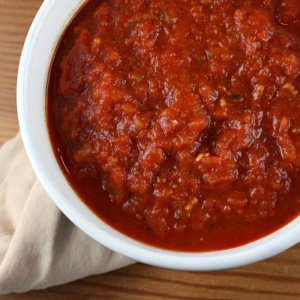 Ingredients:

1/4 cup finely chopped onion
1 garlic clove, minced
1/4 cup white wine
2 tablespoons tomato paste
1 teaspoon dried oregano
1/8 teaspoon freshly ground black pepper
1 (14.5-ounce) can crushed tomatoes, undrained
1 tablespoon chopped fresh basil
1 teaspoon balsamic vinegar

Instructions:

1. Heat a large saucepan over medium-high heat. Coat pan with cooking spray. Add onion to pan; sauté 3 minutes or until tender. Add garlic to pan; sauté 30 seconds. Stir in wine; cook 30 seconds. Add tomato paste, oregano, pepper, and tomatoes. Reduce heat, and simmer for 20 minutes or until thick.

2. Remove sauce from heat; stir in basil and vinegar. Cool.

Tips:

*This sauce is a chunky tomato sauce. If you prefer a smoother pizza sauce, toss it in a food processor or blender with about 1 tablespoon water and blend until smooth.
*This sauce can be prepared ahead of time- up to one day. It freezes well too- up to one month.