Time for a new Game Day recipe!  The best part about Game Day recipes is that you can enjoy them… even if you don't watch football.  Or you can just pretend to enjoy football when you're really just more into the food surrounding the game.  I actually happen to enjoy football- but only watching the teams I really like.  And my family definitely has some predictions about who will be in the Super Bowl.  My family's prediction for winners this weekend:  Patriots and 49ers.  Read on, my friends, while you're munching on these:  Pizza Pinwheels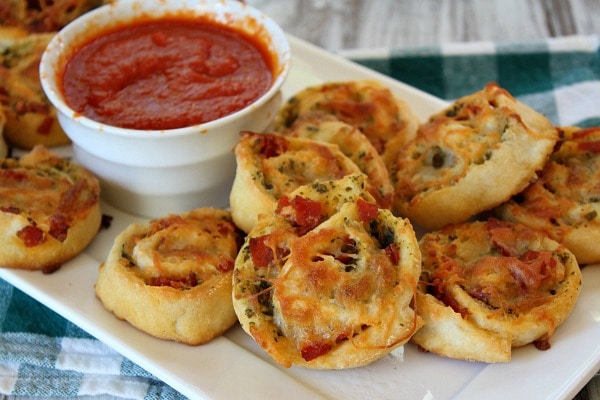 The inspiration for these comes from this bizarre recipe I ran across recently for Two Ingredient Pizza Crust.  Two ingredients?!  That's just crazy talk, right?  Too good to be true and all that stuff…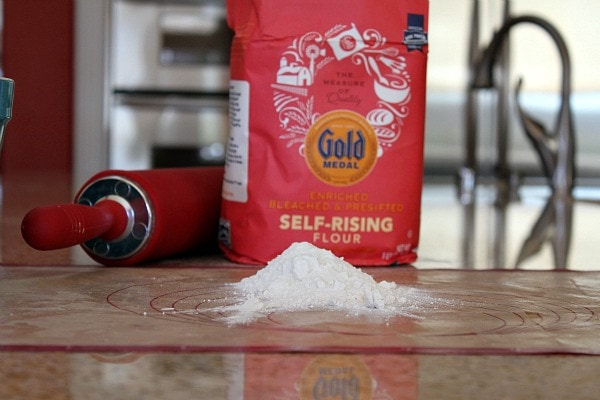 Well, the two ingredients are just Self-Rising Flour + Greek Yogurt.  I thought I'd give it a shot and turn the crust into a game-day recipe.  I used Gold Medal Self-Rising Flour and Fage 2% Greek Yogurt.  If you don't happen to have self-rising flour, here's an easy way to make your own self-rising flour.   I'd definitely not recommend using a nonfat version of Greek yogurt as you want the yogurt to be on the thick side of things.  Nonfat yogurt may change the flour to yogurt ratio.  Just mix the two together and then roll it out onto a floured mat.
I topped mine with pesto, pepperoni, and an Italian cheese blend.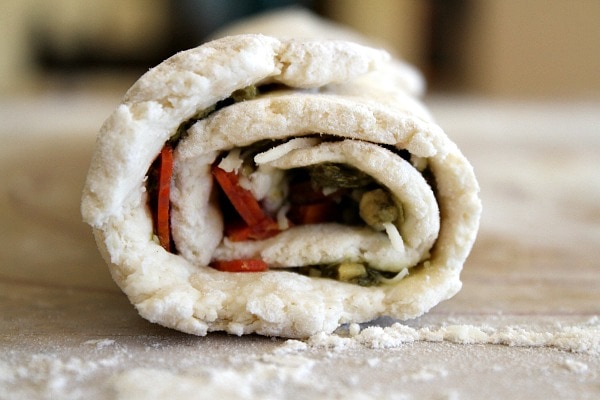 Roll it up all snuggly.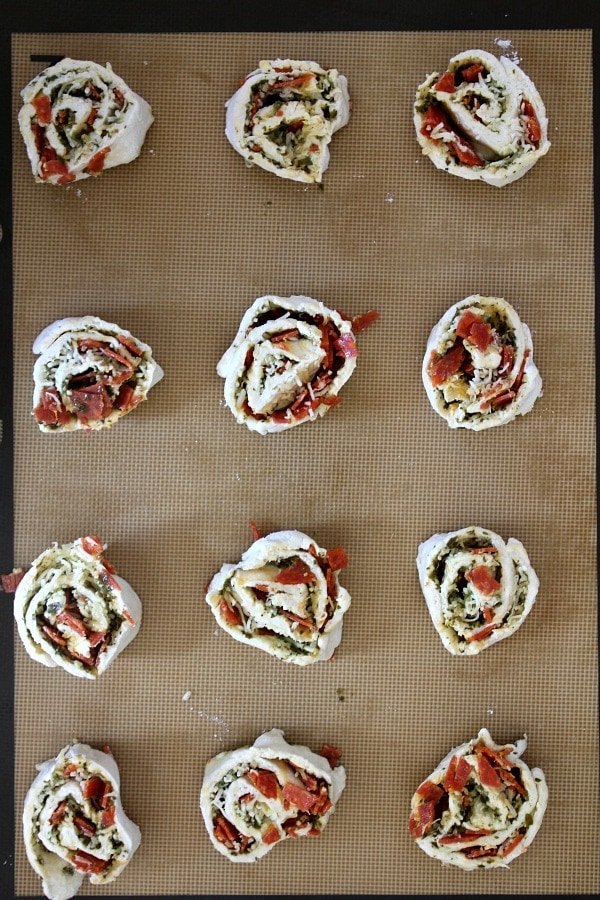 Carefully slice, and you'll end up with about 16 sliced rolls.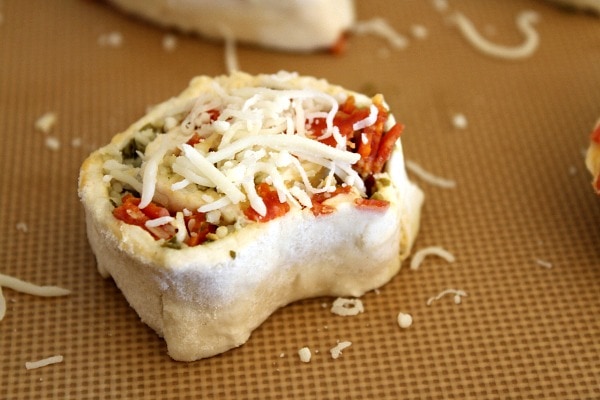 Top each roll with a little bit more cheese blend.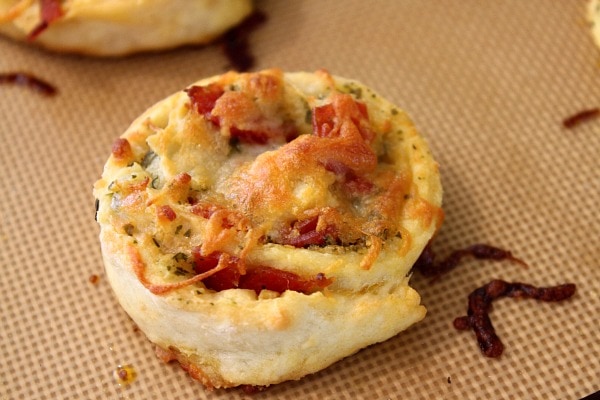 Bake for 20 minutes.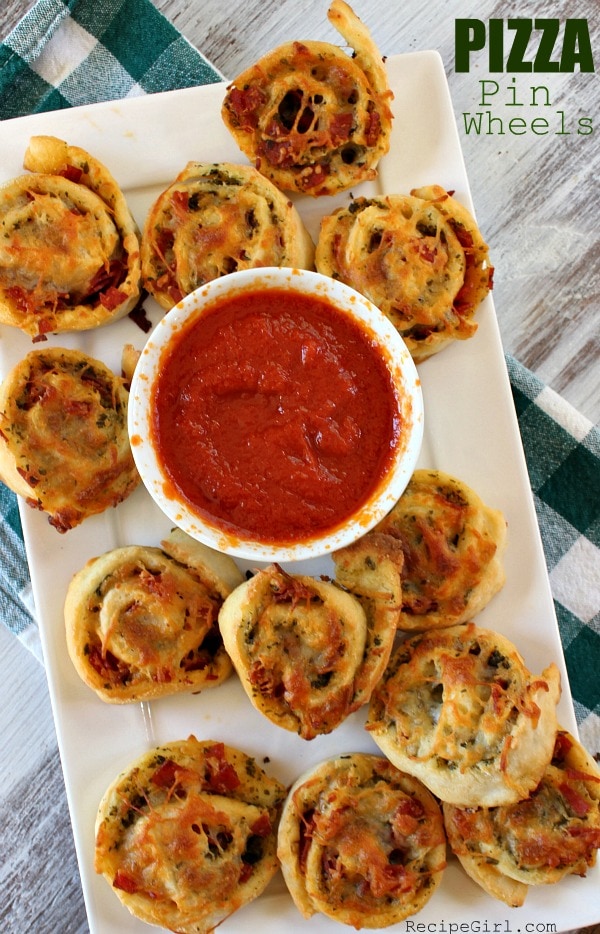 Serve with pizza sauce or a very smooth marinara sauce for dipping.  Game day just got a whole lot more enjoyable, right?  These are a great little treat for any old time.  I happened to make them during the day last week and they made for a great after-school snack.  The possibilities are endless for trying different fillings too.  Maybe even a sweet cinnamon-roll-like version?  I can't wait to try it.
Why the Patriots?  Well, we're part-time New Englanders (4 weeks in the summer).  My 11 year old sports-fanatic son is a very big Patriot's fan.  He says that the Ravens are no match for the Patriots.  And he's very big on Tom Brady and Steven Ridley.  He says… "They just have that playoff- fight in them."
Why the 49ers?  I'm originally from Northern California.  My uncle went to college with 49er coach Bill Walsh and had the opportunity to travel with the team back in the day.  So that side of my family is still very fond of the 49ers.  I'd like to see them win.  My son says that it's a tough call between the Falcons and 49ers.  He says if the Falcons have a bad day, it'll be really bad.  But if they're having a good day…
So tell me… are you rooting for a team this weekend, or is it all about the food for you?
Pizza Pinwheels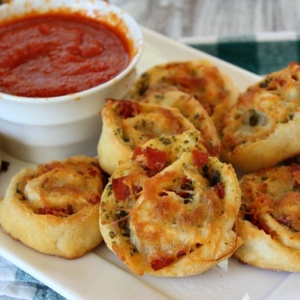 Yield:
About 16 appetizers
Prep Time:25 min
Cook Time:20 min
Ingredients:
1 cup Gold Medal® Self-Rising Flour
1/2 teaspoon granulated white sugar
pinch of salt
2/3 cup 2% Greek Yogurt (see tips below)
3 tablespoons prepared pesto
3/4 cup chopped pepperoni
3/4 cup shredded Italian cheese blend (or mixed mozzarella & Parmesan), divided
pizza or smooth marinara sauce, warmed
Directions:
1. Preheat the oven to 350 degrees F. Line a baking sheet with parchment paper or a silpat mat (or spray with nonstick spray).
2. In a medium bowl, whisk together the flour, sugar and salt. Mix in the yogurt and continue to stir and mix until the ingredients are well-combined and forming a dough. Turn out the dough onto a well-floured surface. Knead a bit until the dough comes together well, sprinkling in more flour if needed. Roll the dough into a rectangle (about 9x14-inches).
3. Spoon the pesto onto the rolled out dough, using the bottom of a spoon to spread it out evenly. Sprinkle with the chopped pepperoni. Top with 1/2 cup cheese.
4. Carefully roll up the dough into a log. It will be a little soft and precarious. Use a sharp knife to cut about 1/2-inch slices. Hold the sliced roll together with your fingers while you transfer it to the prepared baking sheet. Repeat with the remaining slices.
5. Bake 20 minutes, or until cooked through and lightly browned. Serve warm with sauce.
Tips:
*I used Fage brand 2% Greek yogurt. If you use a different brand or a different fat content, you may need to use either more or less yogurt because the moisture content may vary. I'd measure out 2/3 cup, then mix about 1/2 cup into the flour. Then add more as needed until a nice, non-sticky dough is formed.
Disclosure:  I'm working with Gold Medal Flour to create seasonal recipes for the next couple of months.  This is one of those goodies.  All opinions shared are my own.
Places to bookmark if you're planning on having a Super Bowl Party:
Super Bowl Recipes by Noble Pig
Super Bowl Recipes by Brown Eyed Baker
101 Best Super Bowl Recipes on the Internet by RecipeGirl
RecipeGirl Pinterest Board:  Football Food (252 Recipes)
Gluten-Free Super Bowl Recipes by The Whole Gang