Here's a super easy side dish recipe using cauliflower:  Cauliflower Pizza Casserole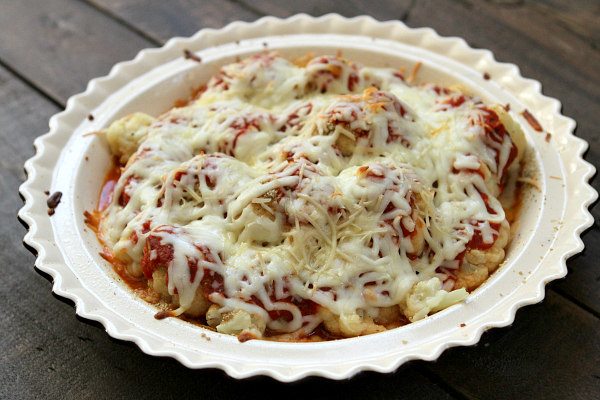 I mentioned that this is a side dish… but you might decide to have it for lunch too (like I did).  It's a pretty light dish too… even though it happens to have loads of CHEESE!  Nutritional information is included in the recipe below (Weight Watchers SmartPoints too).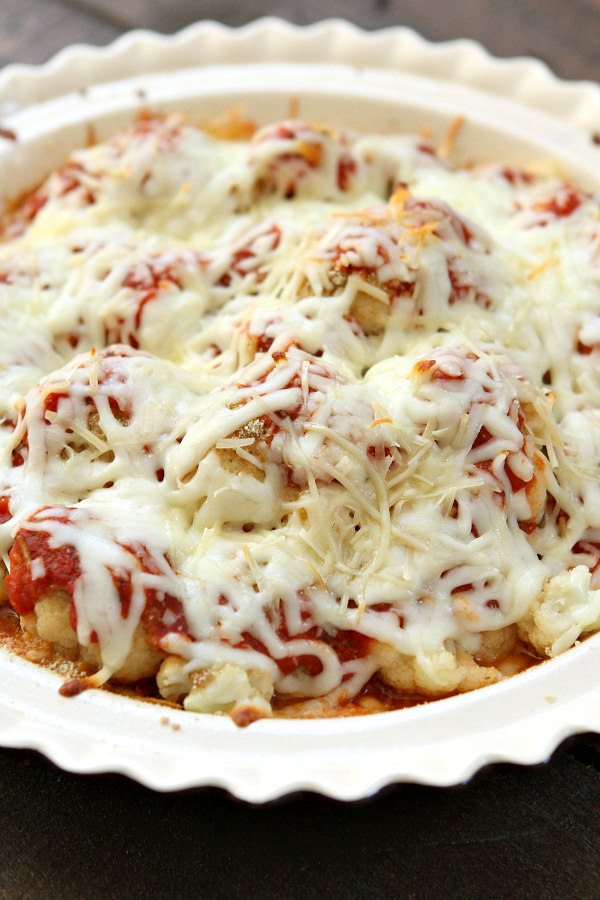 This simple cauliflower casserole recipe is baked… though you do need to soften up the cauliflower a bit in some boiling water before baking.  I think crumbled sausage or mini pepperoni would make a great addition… and it would be even more like pizza that way too.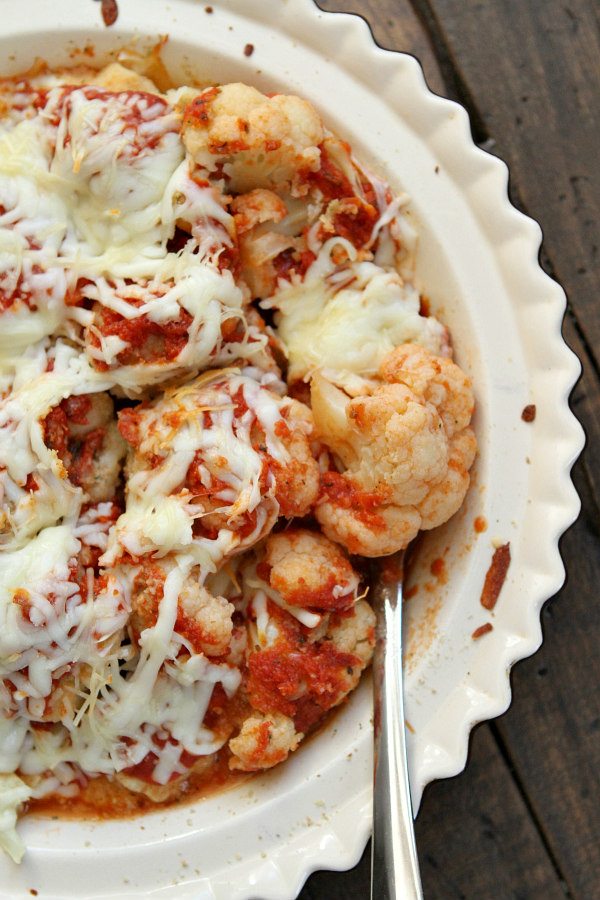 Let me know if you try it!  Enjoy…
Cauliflower Pizza Casserole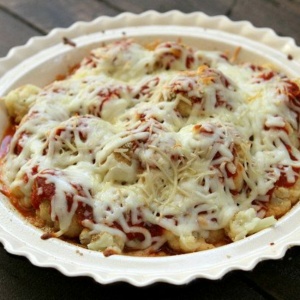 Yield:
6 servings
Prep Time:20 minutes
Cook Time:38 minutes
Ingredients:
1 large cauliflower head, trimmed and cut into florets
2 cups tomato-basil marinara sauce (I use Classico)
1 cup shredded part-skim mozzarella cheese
2 tablespoons freshly grated Parmesan cheese
salt, to taste
Directions:
Preheat the oven to 350 degrees F.
Fill a medium saucepan 3/4-full of water and bring to a boil.  Add the cauliflower; cook until crisp-tender (8-10 minutes).  Drain thoroughly.
Spread 1 cup of sauce in a 9-inch pie plate.  Add the cauliflower, then pour the remaining sauce on top.  Sprinkle with both cheeses.
Cover with greased foil and bake 30 minutes- or until the cauliflower is soft and the cheese is melted.
Nutrition:
Nutritional information per serving (1/6 of the casserole- about 3/4 cup):  calories: 129, fat: 4.7g, sat fat: 2.3g, cholesterol: 11mg, sodium: 437mg, potassium: 426mg, carbohydrates: 13.3g, fiber: 4.2g, sugar: 3.3g, protein: 10.1g
Weight Watchers Points:  Freestyle SmartPoints: 3, Original SmartPoints: 3, PointsPlus:  3, Old Program:  2
SOURCE:  RecipeGirl.com (based on a recipe from Weight Watchers 50th Anniversary Cookbook)
Here are a few more cauliflower casserole recipes you might enjoy: