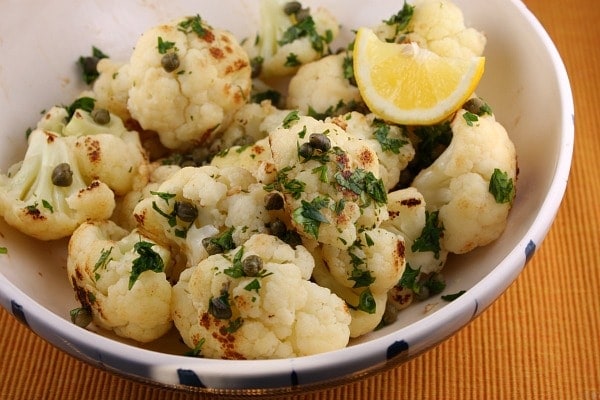 Cauliflower w/ Capers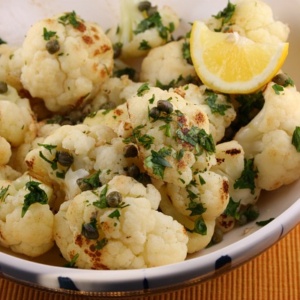 I was pretty happy to come across this side dish as a flavorful recipe to have around when I'm watching my calories.
Yield:
4 servings
Prep Time:15 min
Cook Time:15 min
Ingredients:
6 cups water
1/2 medium lemon
4 cups cauliflower florets (about 1 small head)
2 teaspoons olive oil
2 large cloves garlic, minced
3 Tablespoons chopped fresh parsley
2 Tablespoons lemon juice
2 teaspoons capers, drained
1/4 teaspoon salt
Directions:
1. Bring water boil in a large saucepan. Squeeze the lemon half into the water and add the lemon half to the water too. Add the cauliflower to the pan; cook 3 minutes. Drain; discard lemon half.
2. Heat oil in a large nonstick skillet over medium-heat. Add cauliflower to pan; cook 12 minutes or until soft, stirring occasionally. Add garlic; cook 30 seconds or until lightly browned.
3. Transfer cauliflower mixture to a large bowl. Add parsley and the remaining ingredients; toss well.
Nutrition:
Nutritional Information per serving:
Serving size: 3/4 cup
Calories per serving: 50
Fat per serving: 2.39g
Saturated Fat per serving: .34g
Sugar per serving: 2.63g
Fiber per serving: 2.69g
Protein per serving: 2.21g
Carbohydrates per serving: 4g
WW POINTS per serving of 3/4 cup:
Points Plus Program: 1 Old Points Program: 1.5