Terrific salad addition to a Mediterranean meal: Potato Salad with Olives, Tomatoes and Capers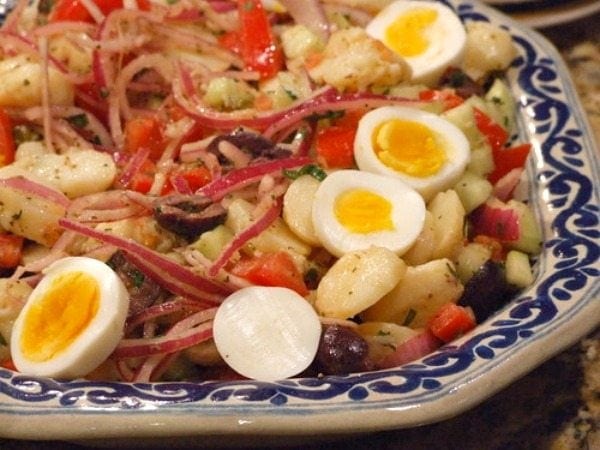 Potato Salad with Olives, Tomatoes and Capers
Yield:
6 servings
Prep Time: 25 min
Cook Time: 30 min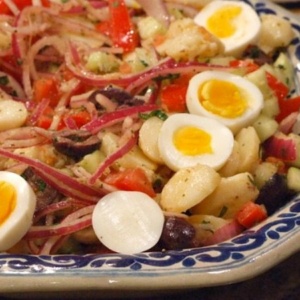 Ingredients:

2 1/2 pounds medium red-skinned potatoes, scrubbed
5 tablespoons extra-virgin olive oil
One 12-ounce cucumber, peeled & halved lengthwise, seeded & cubed
4 large plum tomatoes, quartered
1 medium red onion, very thinly sliced
24 black oil-cured olives, pitted & halved
1/4 cup very thinly sliced fresh basil
2 tablespoons drained capers
3 tablespoons white wine vinegar
1/2 teaspoon dried oregano
3 hard-boiled eggs, peeled & quartered

Instructions:

1. Cook potatoes in boiling salted water until tender, about 30 minutes. Drain; cool. Peel potatoes, cut into 1-inch pieces and place in bowl. Add oil; toss to coat.

2. Add cucumber, tomatoes, onion, olives, basil and capers.

3. Whisk vinegar and oregano in a bowl; mix into salad. Season with salt and pepper. Garnish with eggs and serve.
More Mediterranean-style salad recipes you might enjoy:
Mediterranean Orzo Salad by The Pioneer Woman
Mediterranean Chickpea Salad by RecipeGirl
Mediterranean Salad with Quinoa by Handle the Heat
Mediterranean Pasta Salad by A Family Feast