There are some things in life that you should totally be allowed to eat with a spoon.  A really good, thick and smoky barbecue sauce is one of them.  Not all BBQ sauce meets that criteria, but when you find one that is completely awesome… a nice big spoonful is awfully tempting.  So go get your favorite barbecue sauce and make this recipe that the whole family will love:  Barbecue Chicken and Bacon Pizza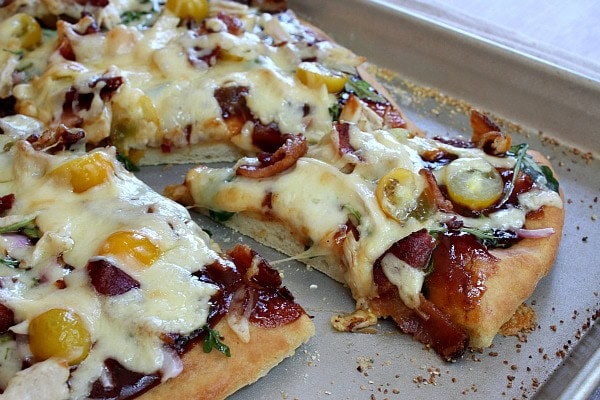 Sure, there might be a thing or two that the kids might want to pick around.  You can customize it how you like, but we liked this one just as I wrote the recipe below.  In fact, I made my son overlook the tomatoes (something he despises) and just take a big bite to see if he liked the pizza.  He complied, he took a great big bite, and he agreed that it was delicious.  The barbecue sauce and the gouda cheese take over the starring role in the pizza, and the other tidbits just add a little something extra here and there.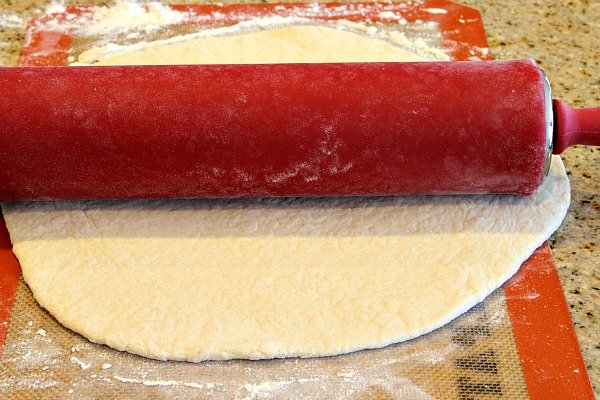 You can use a store-bought pizza dough if you'd like.  I don't like the stuff in the can, but Trader Joe's and other specialty stores sell a ball of dough that is usually pretty decent.  ALSO… a little secret:  pop into your local pizza place and ask them if they'll sell you a pound of dough.  You might be surprised that they will!  For this recipe, I made homemade- my favorite:  Easy Pizza Dough Recipe.  It's easy to make- just mix and knead a little bit, let it rest and rise for 30 minutes, then roll it out.
Brush it lightly with olive oil.  Then bake it for 7 to 8 minutes, just until the top is a little bit golden brown.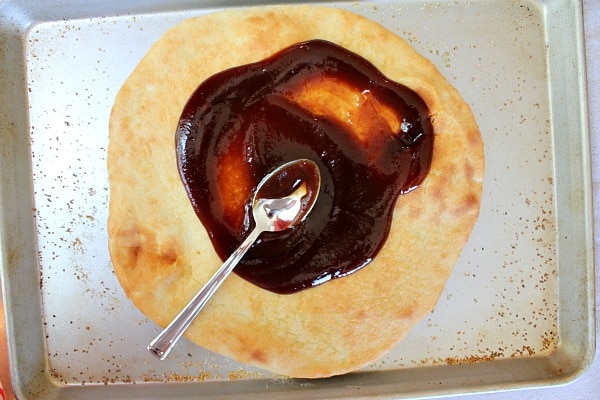 Spread barbecue sauce on top of the partially baked crust (acting as your pizza sauce).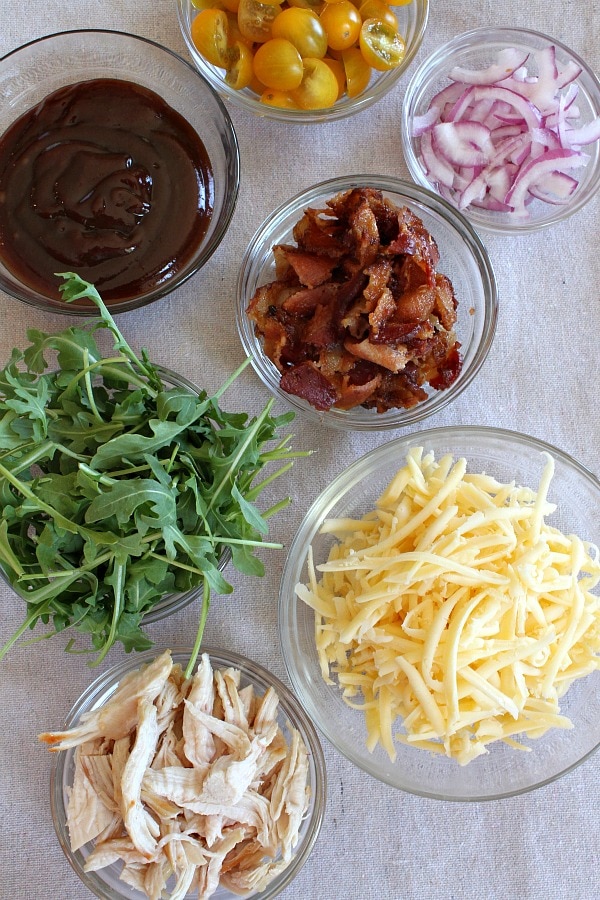 Sprinkle desired goodies on top.  I recommend you try all of them!  Or you can let the kids sprinkle what they want on one side and you sprinkle the other.  Or you can just be one of those parents who says, "You're eating what I make for dinner or you won't be eating any dinner!" (like I do…)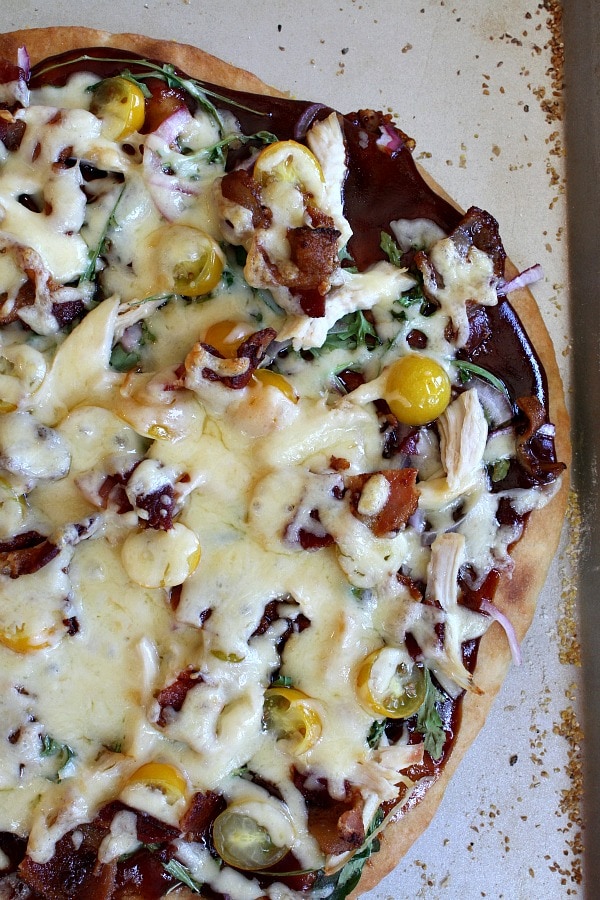 Bake for another 5 to 6 minutes, just until the cheese is properly melted and bubbly.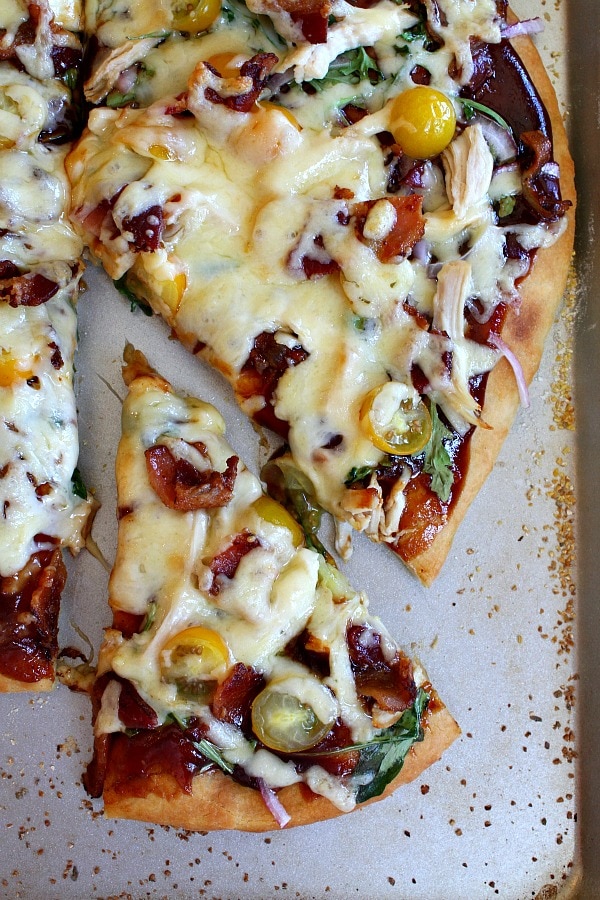 Let the pizza rest for a few minutes after taking it out of the oven.  Slice and devour!  We made this for lunch last weekend and it was perfect.  Leftovers were enjoyed for a couple of days after.  My barbecue sauce of choice for this recipe is Bull's Eye- Original.  And nope, they didn't pay me to say that- that's just the brand I prefer if I'm using store-bought.  Most store-bought BBQ sauce has high fructose corn syrup as a main ingredient, but Bull's-Eye doesn't have any.  Oh yeah… and I'm not gonna tell anyone if you decide to spoon-sample that BBQ sauce as I mentioned at the beginning 🙂  Enjoy your pizza night!
Barbecue Chicken and Bacon Pizza
Yield:
1 medium pizza (8 slices)
Prep Time: 15 min
Cook Time: 15 min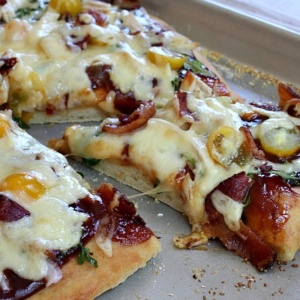 Ingredients:

1/2 tablespoon corn meal

1 ball pizza dough (or homemade)
1 tablespoon olive oil
1 cup of your favorite barbecue sauce
3/4 cup loosely packed fresh arugula or chopped fresh spinach
1/4 cup thinly sliced red onion
2/3 cup shredded, cooked chicken
2/3 cup halved pear or small cherry tomatoes
2/3 cup (at least) chopped, cooked bacon
1 cup shredded smoked Gouda cheese

Instructions:

1. Preheat the oven to 450 degrees F.

Sprinkle the cornmeal on a baking sheet.

2. Roll out your pizza dough on a lightly floured mat- into a circle or a rectangle. Move it to the baking sheet. Brush it with oil, then bake 8 to 10 minutes on the bottom rack, just until golden brown. Remove the pan from the oven.

3. Spread the sauce on the partially baked crust. Sprinkle toppings, as desired, ending with the cheese.

4. Bake on the middle rack for an additional 7 to 8 minutes, just until the cheese is melted and hot and bubbly. Remove from the oven and let sit for a few minutes before slicing.

Tips:

*Another flavor option is to skip the arugula/spinach and sprinkle a couple of tablespoons of cilantro instead.
Other creative pizza recipes you must know about!  From these blogs >
BLT Naan Pizza with Bacon, Arugula and Tomato by Cookin' Canuck
Jalapeno Popper Pita Pizza by I Wash You Dry
Cobb Salad Pizza by Eat.Drink.Love
Grilled and Baked Aubergine Pizza by Drizzle and Dip
Pizza with Lemon, Smoked Mozzarella and Basil by Alexandra Cooks