Greek Salad with Seasoned Flatbread
This salad has been featured in a post on The Recipe Girl blog: Best of 2007: Salads.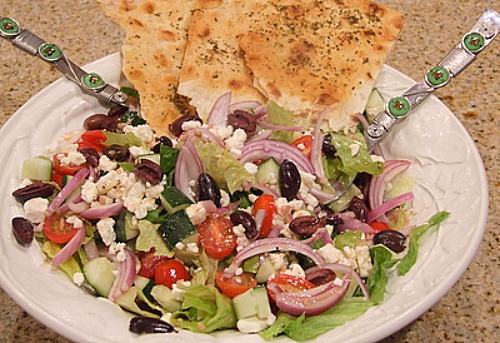 Yield: 4 servings
Prep Time: 20 min
Cook Time: 10 min
Greek Salad w/ Seasoned Flatbread
This salad is easy to put together. The flatbread is an absolute must! I purchase the lavash bread at Trader Joe's and it's delicious!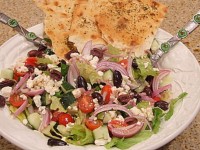 Ingredients:
FLATBREAD:
2 pieces lavash (or large pita bread, split in half)
1 Tablespoon olive oil
2 teaspoons red wine vinegar
1/2 teaspoon finely grated lemon peel
1 clove garlic, minced
1 teaspoon dried oregano
coarse salt & freshly ground black pepper
SALAD:
3 Tablespoons olive oil
3 Tablespoons red wine vinegar
1 teaspoon minced garlic
coarse salt & freshly ground black pepper
1 head romaine lettuce, cut into bite-size pieces
1 pint cherry or grape tomatoes, halved
1 1/2 cups crumbled feta cheese (8 ounces)
1/2 medium red onion, halved & thinly sliced
1 large cucumber, peeled, halved & thinly sliced
1/2 cup kalamata olives, pitted
Directions:
1. Prepare flatbread: Preheat oven to 400°F. Line a baking sheet with parchment paper; place the bread on top. In a small bowl, whisk together olive oil, vinegar, lemon peel, and garlic. Brush the mixture evenly over the lavash (or pita); sprinkle with oregano. Season with salt & pepper. Bake until golden and crisp, 5 to 10 minutes. Break in half.
2. Prepare vinaigrette: In a large bowl, whisk oil with vinegar and garlic; season with salt and pepper. Add all remaining ingredients and toss. Serve the salad with the seasoned flatbread.
Leave a Comment