Bursting with summer flavor, this Tomato Focaccia bread is a great way to use up fresh tomatoes.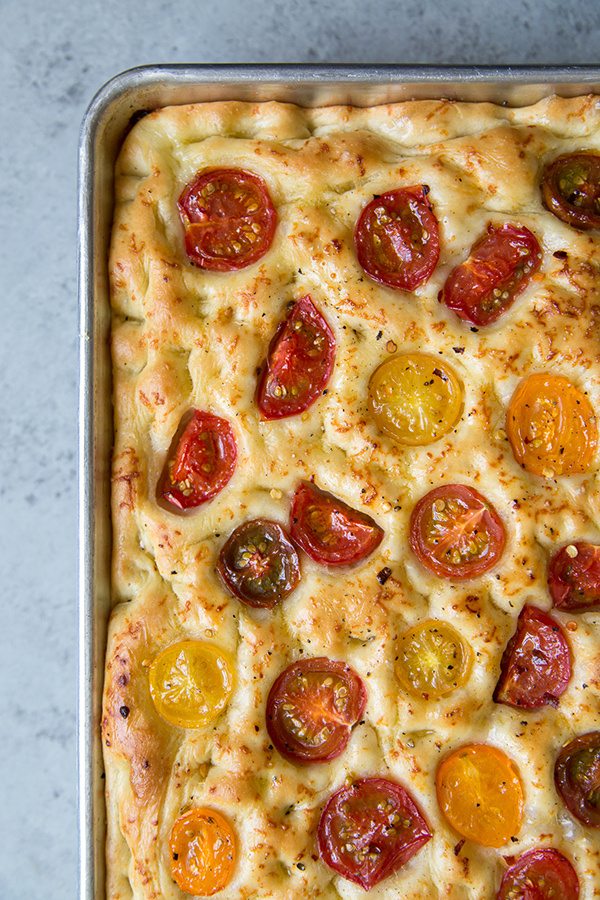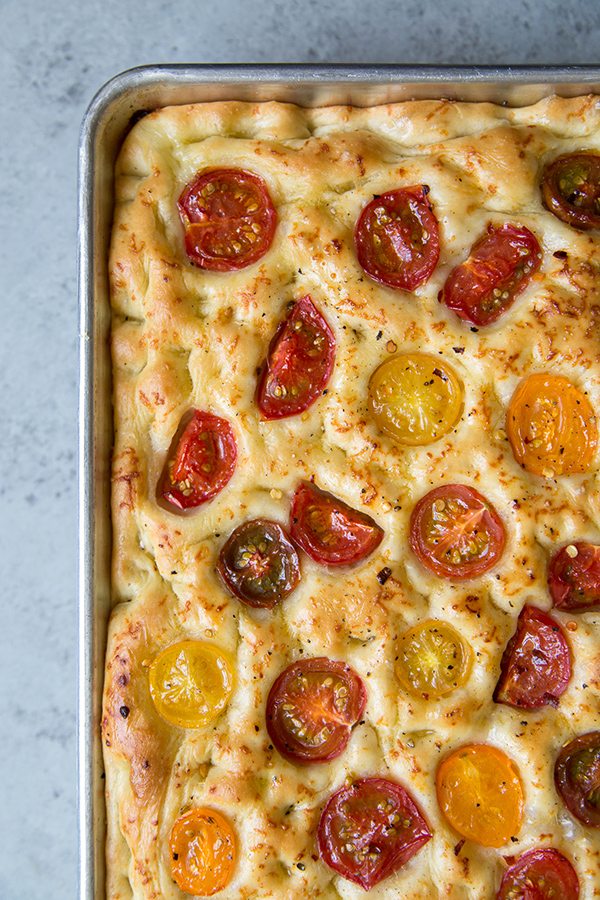 What is Focaccia?
Focaccia is an Italian flatbread similar to pizza dough. It is best known for it's bumpy, dimpled surface. Focaccia is most commonly seasoned with herbs, with the most popular being rosemary. The dough is simple to make and requires very few ingredients: bread flour, oil, water, salt, and yeast.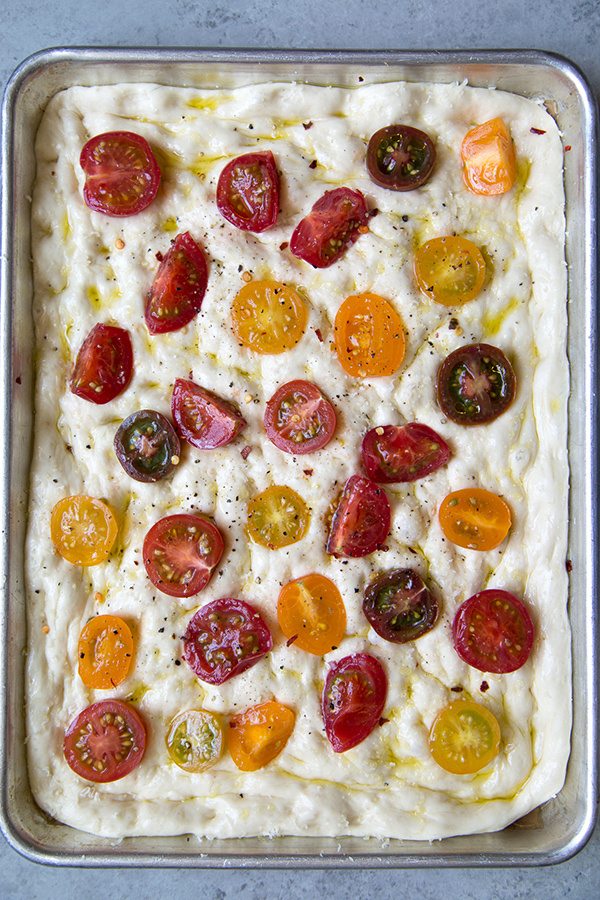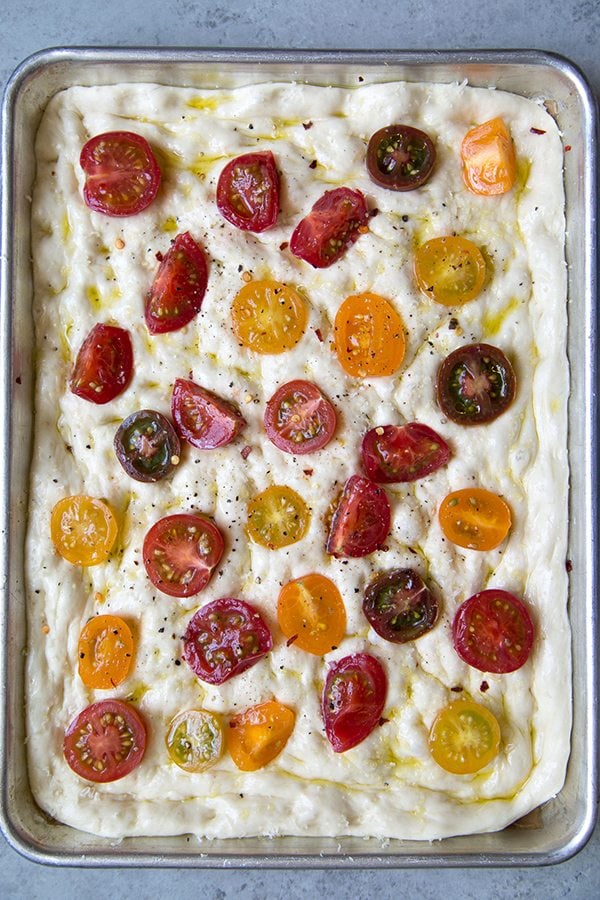 Since it's summer and tomatoes are abundant and plenty, I've topped this focaccia with sliced mini heirloom tomatoes. Feel free to substitute in any variety of tomatoes you want. Just be sure to slice the tomatoes into relatively equal sizes to prevent uneven cooking during baking.
The tomato focaccia is seasoned with a little grated parmesan cheese, salt, pepper, and a touch of crushed red pepper flakes. You can easily customize the seasonings to your liking. Think: crushed garlic, roasted onion slices, sun dried tomatoes, thyme, oregano, etc. The possibilities are endless.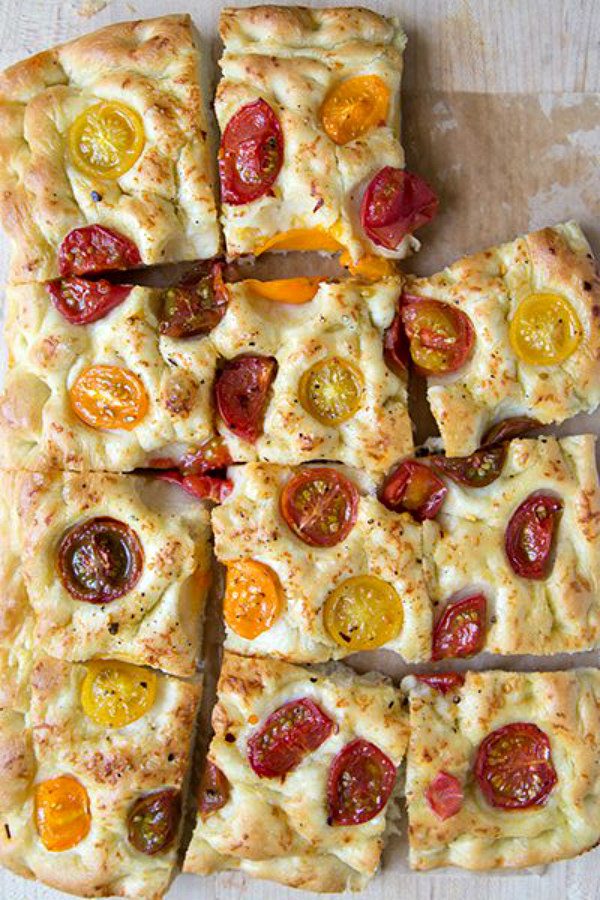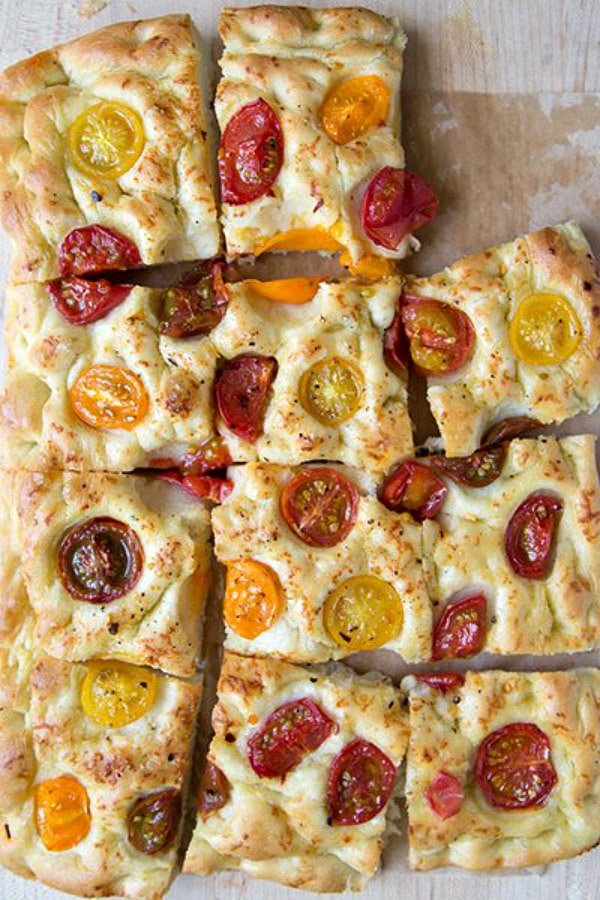 Don't be alarmed by the amount of olive oil in this recipe. Olive oil is used to generously grease the baking pan, stretch the dough, and brushed over the cooked focaccia. The oil helps to keep this bread soft and moist and differentiate it from other doughs like pizza.
And for that reason, I have excluded the nutritional information on this recipe. It's hard to pinpoint exact calories when you're kind of winging it with the olive oil.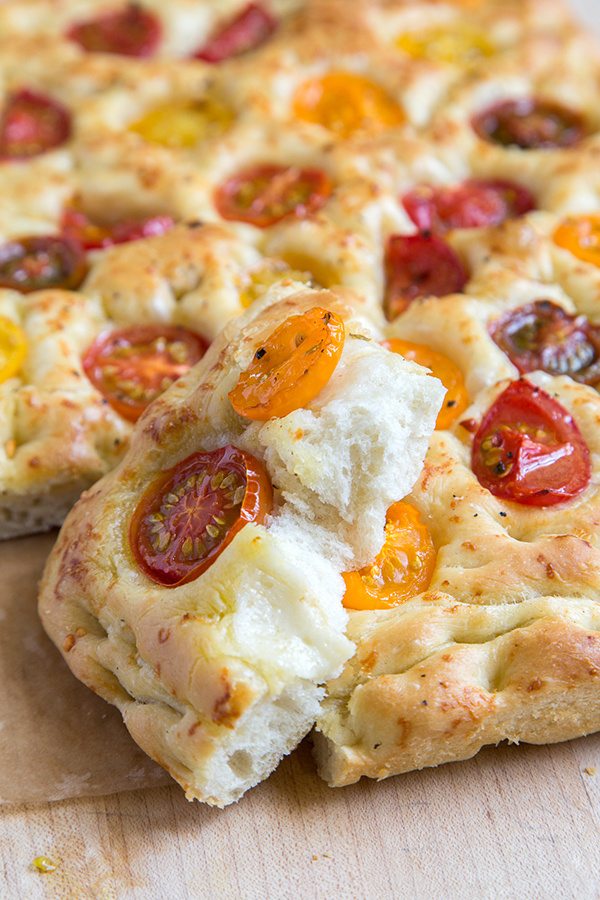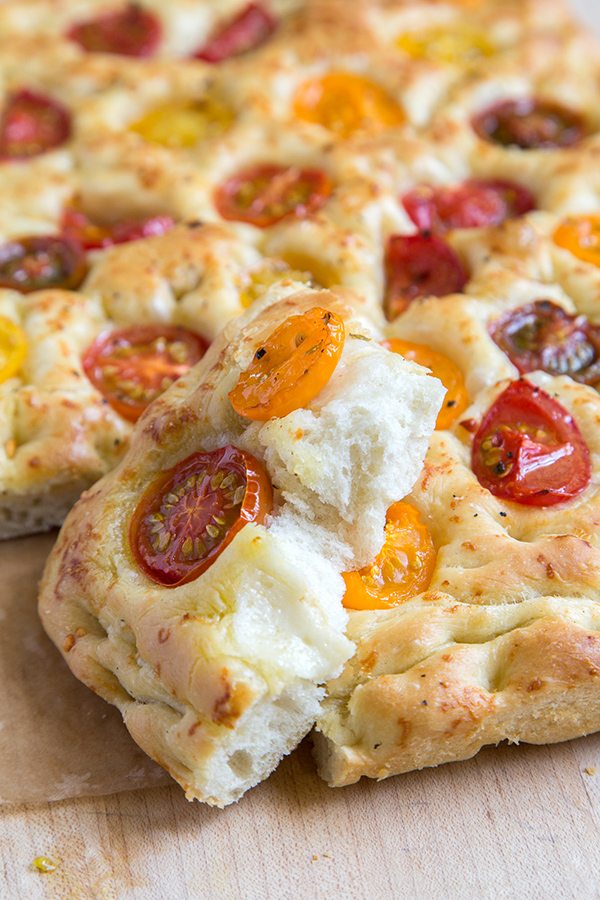 Sure, focaccia is tasty on it's own. But I think it's even better when you use it to make sandwiches! Can you imagine making a BLT using this tomato focaccia?!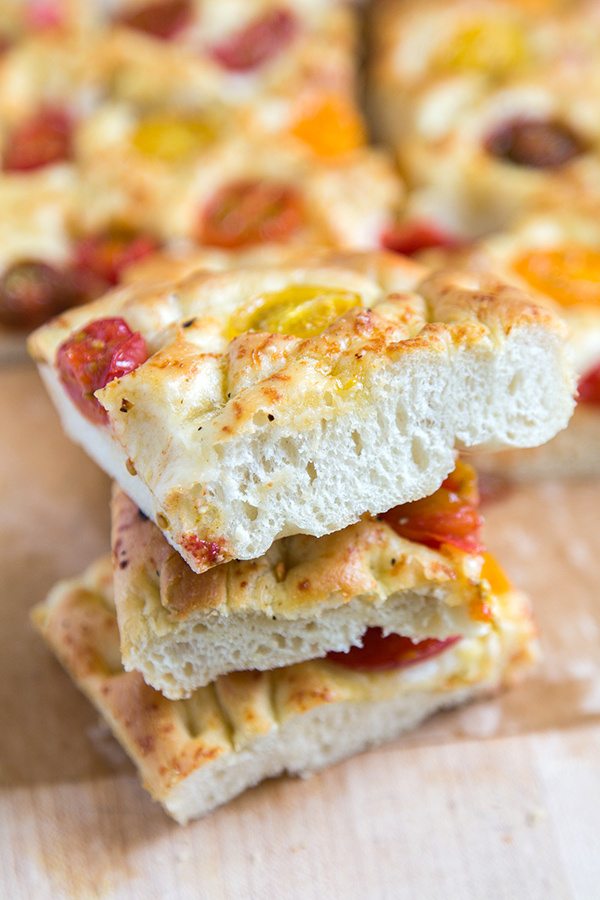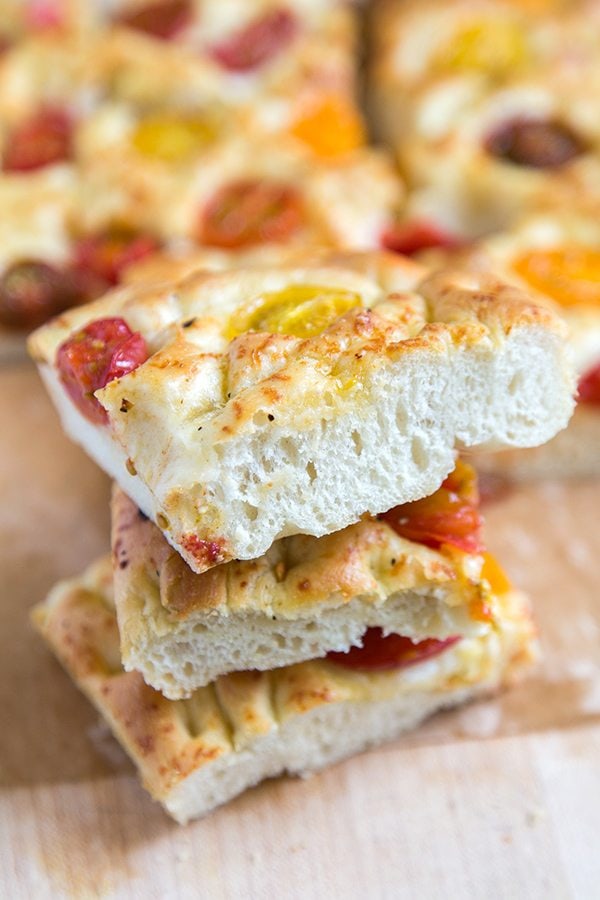 Here are a few more recipes using tomatoes that you might enjoy:
Tomato Focaccia
This is a beautiful recipe using fresh summer tomatoes!
Recipe Details
Ingredients
BREAD:
2¼

teaspoons

active dry yeast

1½

teaspoons

granulated white sugar

1¾

cups

warm water (about 105 degrees F)

4½

cups

bread flour

1½

teaspoons

fine sea salt

2

tablespoons

olive oil
TOPPINGS:
16

ounces

mini heirloom tomatoes,

halved

1/2

teaspoon

fine sea salt

olive oil,

as needed

grated Parmesan cheese,

as desired

crushed red pepper flakes,

as desired

salt and black pepper,

to season
Instructions
Dissolve the yeast and sugar in 1 cup of warm water. Stir to combine and allow to sit for 5 to 7 minutes until mixture is fragrant and foamy.

In the bowl of a stand mixer fitted with a hook attachment, combine bread flour and salt. Add yeast mixture and remaining 3/4 cup of warm water. Mix on low speed for until dough is shaggy. Add olive oil and increasing mixing speed to medium. Mix until dough comes together and no longer sticks to the sides of the bowl. Stop the machine and cover mixing bowl with a kitchen towel. Allow the dough to rest for 10 minutes.

Remove the kitchen towel. At this point the dough will be very moist. Knead on medium-high speed for 2 minutes until dough is smooth. Place the dough in a well greased bowl. Cover and allow to rest at room temperature for 30 minutes.

While the dough is resting, toss together the cut tomatoes and fine sea salt. Place the tomatoes in a colander set over another bowl to allow excess moisture to drip out. Allow mixture to sit for 30 minutes.

Preheat oven to 425 degrees F. Line two 9x13-inch baking pans with parchment paper or a silicon mat. Generously grease the baking pans with about 1 Tablespoon of olive oil. Set aside.

Divide dough into two equal parts. Working with one dough at a time, transfer dough to greased baking pan. Drizzle about 2 teaspoons olive oil over top of dough. Use your fingers to dimple and spread out the dough to fit the baking pan. Repeat with remaining dough.

Place the drained tomatoes cut side up on dough. If desired, sprinkle grated parmesan cheese over dough. Season with salt, pepper, and crushed red pepper flakes. Cover with plastic wrap and allow dough to rest for 20 minutes.

Remove the plastic wrap. Bake the bread for 25 to 28 minutes until focaccia is golden in color and the internal temperature of bread registers at least 190 degrees F. Immediately out of the oven, brush tops of the focaccia bread with olive oil. Allow the focaccia to cool in the pan for 3 to 5 minutes before removing.

Use a serrated knife to slice the focaccia into individual portions. Serve focaccia warm or at room temperature.
Notes
Feel free to substitute other tomatoes in place of mini heirloom tomatoes, if desired.
Store leftover focaccia in the fridge. Bring to room temperature before eating, or warm up in a toaster oven or microwave.
Nutrition
Serving:
1
piece
,
Calories:
109
kcal
,
Carbohydrates:
18
g
,
Protein:
3
g
,
Fat:
2
g
,
Saturated Fat:
1
g
,
Sodium:
196
mg
,
Potassium:
79
mg
,
Fiber:
1
g
,
Sugar:
1
g
,
Vitamin A:
157
IU
,
Vitamin C:
3
mg
,
Calcium:
5
mg
,
Iron:
1
mg