If you roast a chicken and end up with a carcass, don't you dare throw it away. Use it to make a rich-flavored chicken stock that you can use in turn to make soups or other recipes! This recipe has been featured in a how-to post on The Recipe Girl blog: How to Make a Rich and Flavorful Chicken Stock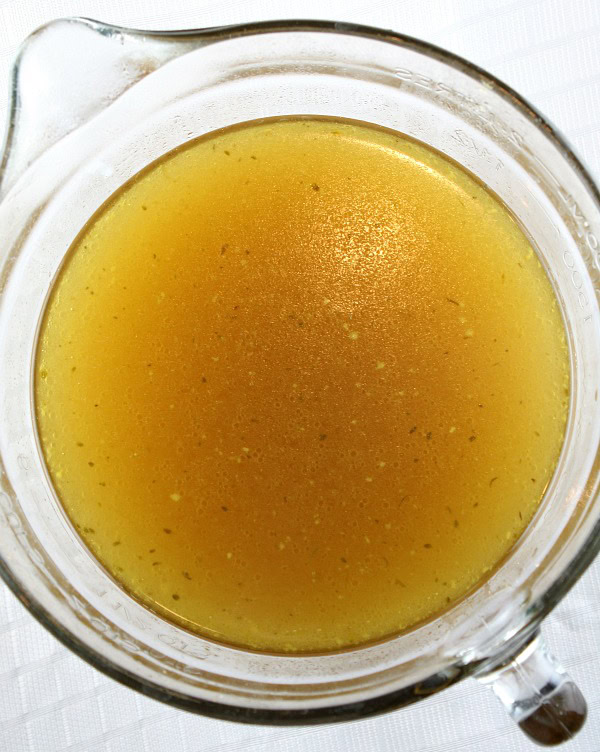 Homemade Chicken Stock
Yield:
1 1/2 to 2 quarts chicken stock
Prep Time: 30 min
Cook Time: 4 hr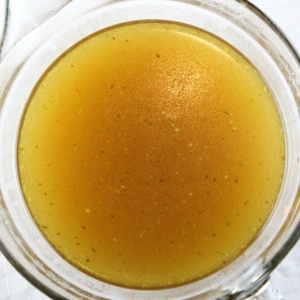 Ingredients:

One 5-pound chicken carcass (or any size)
1 large onion, chopped in large chunks
1 large leek, trimmed & rinsed, chopped in large chunks
3 carrots, unpeeled, ends trimmed and halved
3 celery stalks, cut into 4-inch lengths
3 parsnips, unpeeled, ends trimmed and halved
handful of Italian flat-leaf parsley
a few sprigs of fresh thyme
a few sprigs of fresh dill
4 large cloves of garlic, sliced
1 tablespoon kosher salt
1 teaspoon whole black peppercorns

Instructions:

1. Place chicken in large stockpot. Add about 2 1/2 quarts of water (your chicken should be pretty much almost, if not completely, submerged). Add all veggies, herbs and seasoning. Bring to a boil. Reduce to a simmer; continue to simmer uncovered for 4 hours.

2. Strain entire contents of the pot through a fine sieve and discard solids. Pour liquid into a bowl, cover with plastic wrap and refrigerate overnight.

3. The next day, use a spoon to remove the layer of fat that has solidified on the top of the bowl of stock. The stock itself may become jelly-like when it's chilled. Once it comes to room temperature again (or is heated), it will turn back to a liquid state.

Tips:

*The more chicken meat that is left on your carcass, the richer the chicken flavor will be in your stock.
*Homemade stock will keep just fine in the refrigerator for up to 5 days. Cover and freeze for up to 6 months.