I'm taking this Saturday to celebrate Jaden Hair's brand new cookbook:  Steamy Kitchen's Healthy Asian Favorites– 100 Recipes That are Fast, Fresh, and Simple Enough for Tonight's Supper.  To celebrate, I made my family Jaden's healthier version of Easy Kung Pao Chicken for dinner.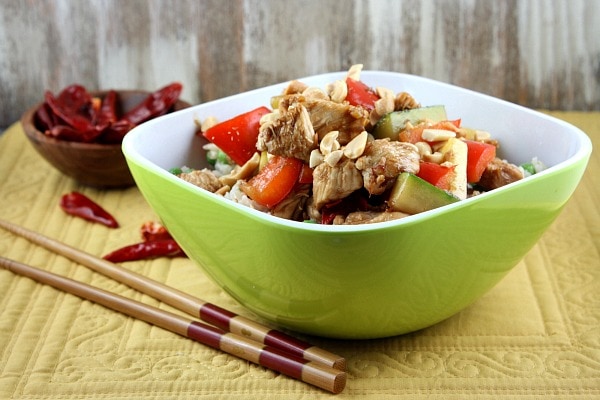 I'm very excited about this book because I'm not terribly experienced with cooking a lot of Asian foods at home.  I'm not exactly sure why except that I just don't really think about it as an option that much- probably because many Asian dishes are greasy and starchy… and those aren't options that appeal to me.  But THIS BOOK… this one right here – is full of Asian-style recipes that are much healthier!  Yahoo!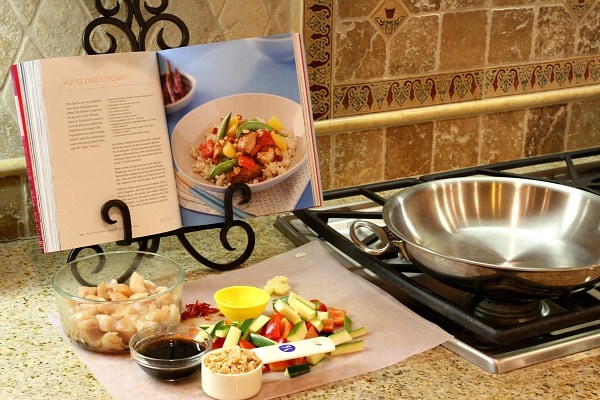 Here's a peek into how you make Kung Pao Chicken…  First thing to note: Jaden keeps things simple in her new cookbook.  Ingredient lists are manageable, and time involved in preparing the recipe is minimal.  I like to measure everything out so it's ready to go when the pan is hot.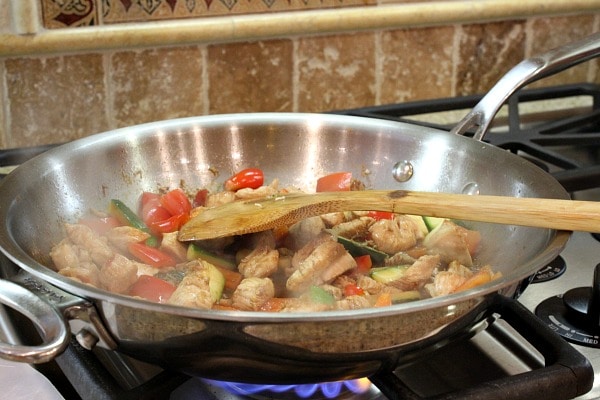 If you prep ahead of time, this meal is ready in like 5 or 10 minutes!  I made some steamed brown rice with peas mixed in to serve with this quick and healthy Kung Pao Chicken.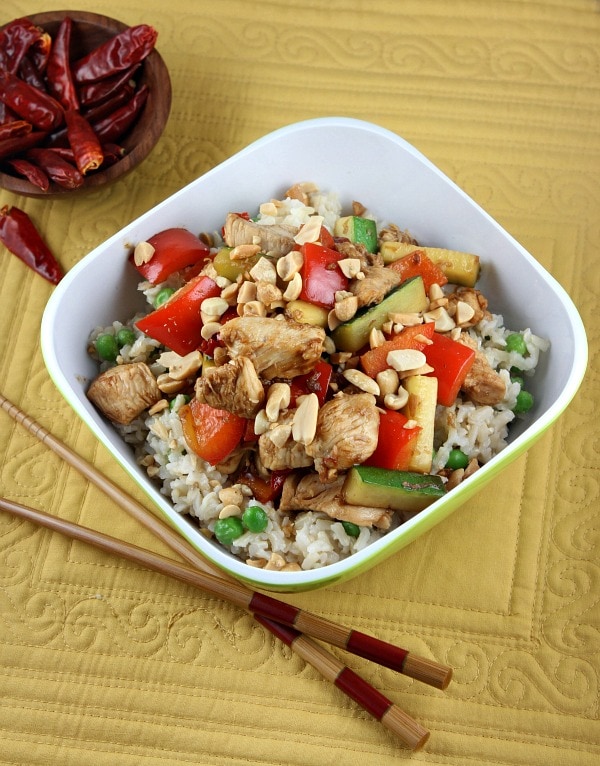 Roasted peanuts sprinkled on top, and dinner is good to go.  The verdict from the boys in my house: "Jaden rocks!"  I guess that means they liked it.  The recipe says it serves 4, but the three of us ate every bite 🙂  Oh, and another thing to note:  I was terrified to add the dried red pepper to the dish… for fear of setting mouths on fire.  I de-seeded two peppers, chopped them up and added them in.  Though I wish I'd kept some of the heat with the seeds or added an additional pepper.  The spice that I was so afraid of didn't come through at all.  Next time I won't fear the dried red pepper!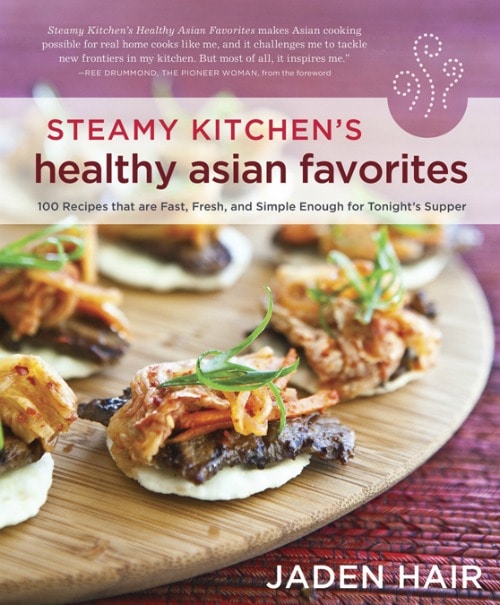 My thoughts on the book:
*Beautiful color photos of every dish (I wish all cookbooks could be like this!)
*I appreciate the healthy take on Asian (and I think others will too).
*Love the creative, modern take on Asian dishes (think pineapple- crab fried rice, Chinese- Style Parchment Fish)
*The recipes really are "fast, fresh and simple."
*I can see myself trying quite a few of the dishes in the book.
Yield: 4 small servings (or 3 more generous)
Prep Time: 20 minutes
Cook Time: 8 minutes
Easy Kung Pao Chicken
We enjoyed our Kung Pao Chicken served over steamed rice.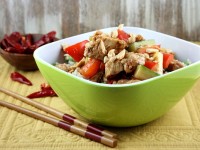 Ingredients:
10 ounces boneless, skinless chicken breasts, cut into bite-sized pieces
2 teaspoons low-sodium soy sauce, divided
1/2 teaspoon cornstarch
2 or 3 dried red chilies
2 teaspoons cooking oil (I used canola)
2 cloves garlic, finely minced
1 red bell pepper, cut into 1-inch dice
1 medium zucchini, chopped (my addition)
3 tablespoons fat-free vegetable or chicken broth
1 tablespoon Chinese black vinegar or non-aged balsamic vinegar (I used reg. balsamic)
1/3 cup chopped, unsalted roasted peanuts
Directions:
In a bowl, combine the chicken with 1 teaspoon of the soy sauce and the cornstarch. Marinate for 10 minutes. In the meantime, soak the dried chilies in hot water for a few minutes and when softened, chop. You can discard the seeds if you want it a little less spicy (I recommend keeping some of them in for a little spice!)
Heat a wok or large sauté pan over high heat. When hot, swirl in the oil and add the chicken. Spread the chicken out all over the surface of the pan. Sear on both sides until lightly browned, but not cooked all the way through, about 4 minutes.
Add the chiles, garlic, bell pepper and zucchini. Stir-fry until fragrant. Add the remaining 1 teaspoon of the soy sauce, the stock and vinegar. Bring to a simmer and turn the heat to medium-low. Cook for 2 minutes, or until the chicken is cooked through. Top with roasted peanuts and serve.
Tips:
If you are preparing this recipe as gluten-free, just be sure to use brands of soy sauce and broth that are known to be GF.
Switch out the zucchini with some snow peas, if you'd like.
274 Responses to "Easy Kung Pao Chicken"
Leave a Comment