This Thai Pork Stir Fry is a lovely weeknight meal.  It's one that most of the family should enjoy very much.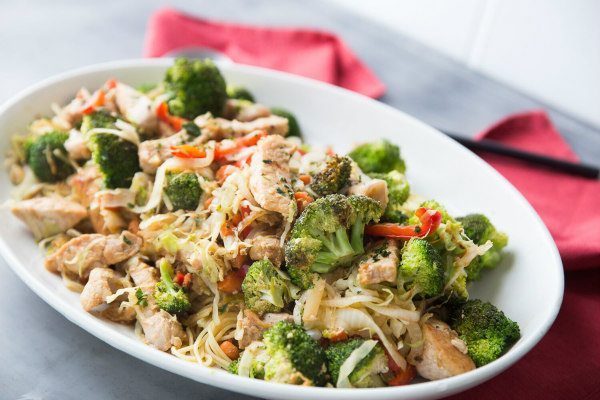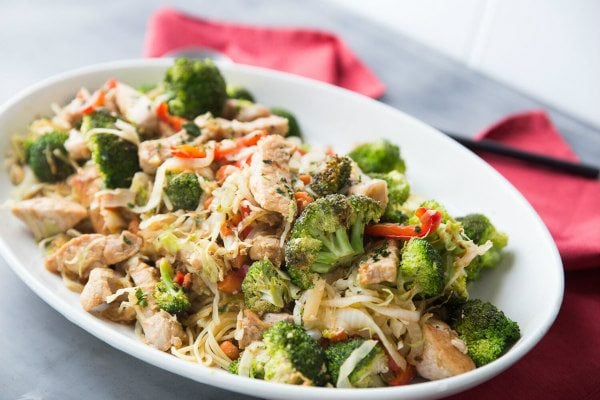 There is nothing better than having a super easy recipe on hand to make on a busy weeknight.  With a little chopping prep ahead of time, this meal is super easy to put together.  Stir fries are great because you're really just dirtying up one pan. 
The noodles are done in another, I suppose… but I do have a recommendation.  If you're watching your calorie intake at all, serve this stir fry over zoodles instead.  Zoodles are zucchini noodles.  You can sometimes find them at your market already spiraled and ready to go, but you can certainly spiral them yourself at home using an Inspiralized spiralizer.
Just before serving, scrape the stir fry into a large bowl, and quickly stir fry the zoodles to soften them up slightly.  Then serve the stir fry over the zoodles.  It's such a nice, light dinner.  Or carb-it-up and use ACTUAL noodles!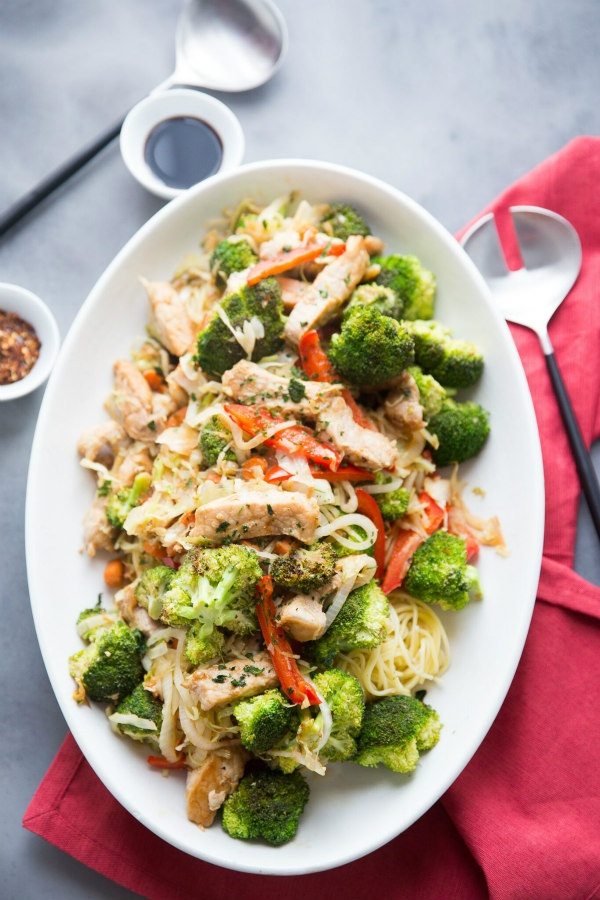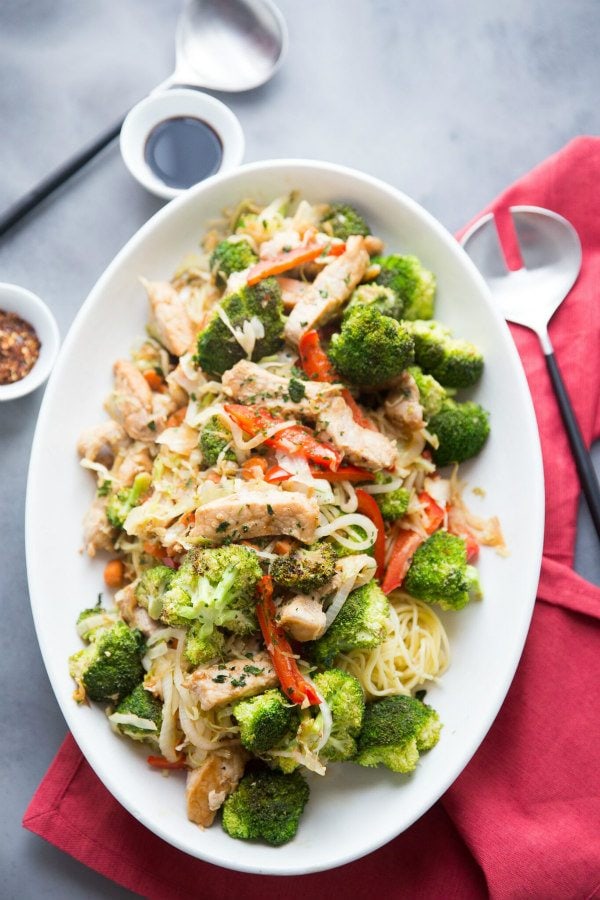 If you're serving this the zoodle way… and if you happen to be following Weight Watchers… this meal computes to 6 Weight Watchers points on the Freestyle plan.
Either way it is served, this is a delicious dinner recipe!
Thank you to Tanya from the LemonsForLulu.com blog for shooting these beautiful photos of this Thai Pork Stir Fry for me.  It sure looks delicious!
Thai Pork Stir Fry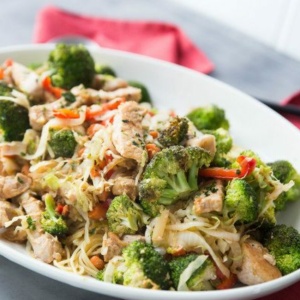 Yield:
4 servings
Prep Time:30 minutes
Cook Time:23 minutes
Ingredients:
1 pound boneless pork loin, cut into stir fry strips
2 tablespoons soy sauce
1 tablespoon honey
1 1/2 teaspoons dark sesame oil
8 ounces thin spaghetti, uncooked (or zucchini noodles for low carb)
4 cups broccoli florets
1 1/2 cups thinly sliced onion
3 cups shredded green cabbage
2 tablespoons hoisin sauce
2 tablespoons freshly squeezed lemon juice
1 1/2 teaspoons cornstarch
1/4 teaspoon red pepper flakes
2 teaspoons vegetable oil, divided
1 cup thinly sliced carrots
1 red bell pepper, seeded and cut into thin strips
2 cloves garlic, minced
Directions:
Combine hoisin sauce, soy sauce, lemon juice, honey, cornstarch, sesame oil and red pepper flakes in large zip bag; mix until smooth. Add the pork to the bag and let marinate at room temperature while preparing pasta and vegetables.
Cook the spaghetti according to directions; drain.
While the spaghetti is cooking, heat 1 teaspoon oil in large nonstick skillet over medium-high heat. Stir-fry the broccoli and carrots 3 minutes; add onion, pepper, cabbage and garlic. Continue cooking 4 to 5 minutes, or until the vegetables are crisp-tender. Remove to bowl; keep warm.
Add the pork mixture and remaining oil to skillet. Stir-fry 4 to 5 minutes, or until pork is nicely browned. Return the vegetables to skillet; heat through.
Serve pork mixture over spaghetti or zucchini noodles (zoodles).
Nutrition:
If prepared over ZOODLES (not noodles!), this recipe computes to 6 Weight Watchers Freestyle SmartPoints per serving.
Here are a few more stir fry recipes you might enjoy: