My family loves this easy chicken recipe made in one pan:  Thai Chicken Tenders with Broiled Pineapple Slaw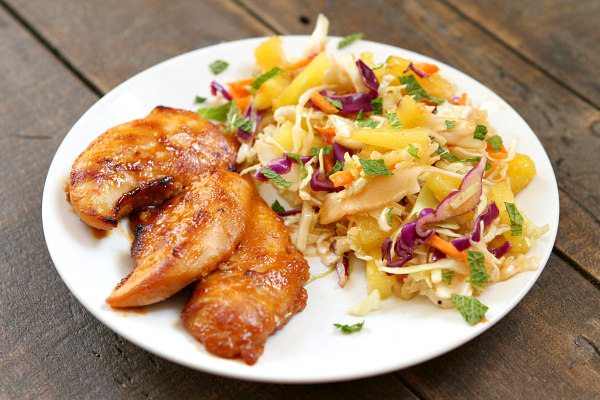 Despite the lure of it being "Thai," this chicken is not too spicy at all.  Plus, the sweet pineapple slaw balances out any spice that can be detected.  My kiddo doesn't enjoy spicy things, and he loved this chicken.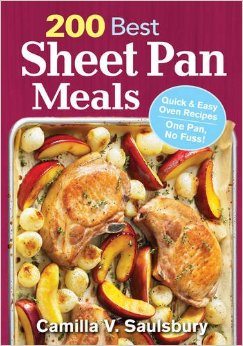 This recipe comes from Camilla Saulsbury's new book:  200 Best Sheet Pan Meals: Quick and Easy Oven Recipes- One Pan, No Fuss!  I love all of Camilla's books- she's a very skilled recipe writer.  This cookbook is perfect for people who just like to use one pan to make a meal in the oven.  Everything is seriously cooked on just one pan- a sheet pan!  Here are some recipes in the book that have caught my eye:  Apricot- Cream Cheese Danishes, Cinnamon Donut Breakfast Cookies, Farmer's Market Salad with Goat Cheese Toasts, Crispy Parmesan Cauliflower Steaks, Chicken Sausages with Honey Mustard Roasted Vegetables, Rosemary Pork Chops with Roasted Pears, Hanger Steak with Blistered Tomatoes, California Fish Tacos with Cucumber and Pineapple, Sheet Pan Cheesecake and Blackberry Buckle.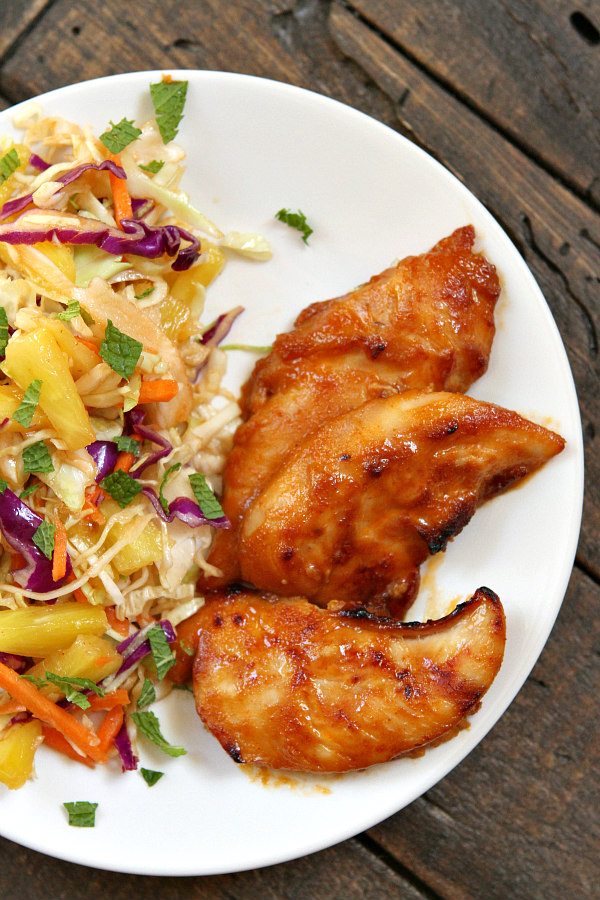 Of course, you'll need a half-sheet pan to make this recipe (and others from the book).  I like to pick up my sheet pans at Costco, but you can certainly order them on Amazon too: Nordic Ware Natural Aluminum Commercial Baker's Half Sheet. I use my sheet pans ALL the time for everything from baking cookies to roasting vegetables to making full meals like this.  They're a good investment.
Thai Chicken Tenders with Broiled Pineapple Slaw
Yield:
4 servings
Prep Time: 25 minutes
Cook Time: 10 minutes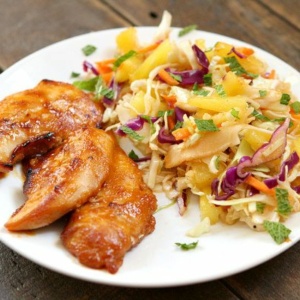 Ingredients:

Chicken:

3 tablespoons brown sugar
1 teaspoon ground ginger
1 tablespoon vegetable or canola oil
1 tablespoon soy sauce
1 tablespoon Sriracha sauce
1 tablespoon creamy peanut butter
1 pound chicken tenders, patted dry

Slaw:

1 1/4 cups chopped fresh pineapple
1 tablespoon brown sugar
4 cups shredded coleslaw mix (shredded cabbage and carrots)
2 tablespoons freshly squeezed lime juice
2 tablespoons vegetable or canola oil
1 tablespoon soy sauce
1/2 tablespoon Sriracha
1/4 cup chopped fresh mint or basil

Instructions:

Prepare the chicken:  In a large bowl, whisk together the brown sugar, ginger, oil, soy sauce, Sriracha and peanut butter.  Add the chicken and toss to coat.  Let marinate at room temperature for 15 minutes or cover and refrigerate for up to 6 hours.
Preheat the oven broiler with a rack set 4-inches from the heat source.  Line an 18x13-inch rimmed sheet pan with foil and spray with nonstick spray.
Remove the chicken from the marinade, discarding excess marinade, and place on prepared pan, covering two-thirds of the pan and spacing evenly.  Broil for 6 minutes.
Remove the pan from the oven and spread pineapple on the remaining space on the pan.  Sprinkle the pineapple with 1 tablespoon brown sugar. Broil for 3 to 5 minutes or until chicken is browned and no longer pink inside.  Transfer the chicken to serving plates.
Place the coleslaw mix in a medium bowl.  Add the broiled pineapple, lime juice, oil, soy sauce and Sriracha; toss to coat.  Divide among the plates with the chicken and sprinkle the slaw with mint or basil.

Nutrition:

One serving of this recipe computes to 6 Weight Watchers Freestyle SmartPoints.
If you are preparing this recipe as gluten-free, just be sure to use brands of soy sauce and Sriracha sauce that are known to be GF.
Here are a few more sheet pan recipes you might enjoy:
Disclosure:  There are Amazon affiliate links included within this post.