Hey, it's summer!  Well, not really… but close enough, right?  The berries are starting to show up in the market, fresh tomatoes are a little sweeter, the sun is shining brighter and longer, everyone is breaking out their flip flops, school is nearly out, and we're beginning to note that familiar scent of things grilling around the neighborhood!  Yes, it's time for grilling folks.  Break out those grills, scrub them clean and get ready for some grilling action!  Here's my first grilling recipe of the summer:  Balsamic- Mango Marinated Grilled Chicken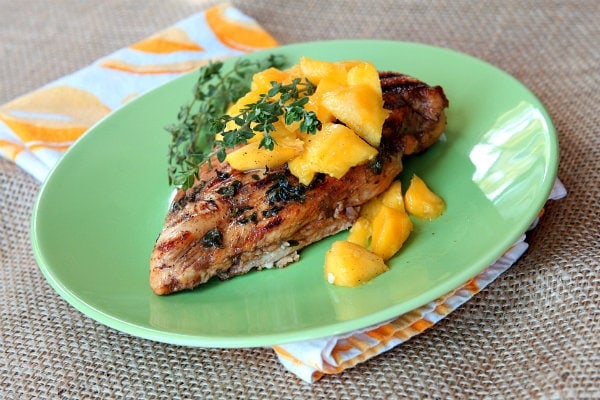 This recipe uses a marinade that can be whipped up in 10 minutes.  One of the key ingredients is Mango Nectar (totally easy to find in your market's juice aisle- it comes in a can, and it's made by Kern's).  The nectar allows the chicken to hold on to its tenderness while grilling, resulting in a chicken that is juicy and not dry.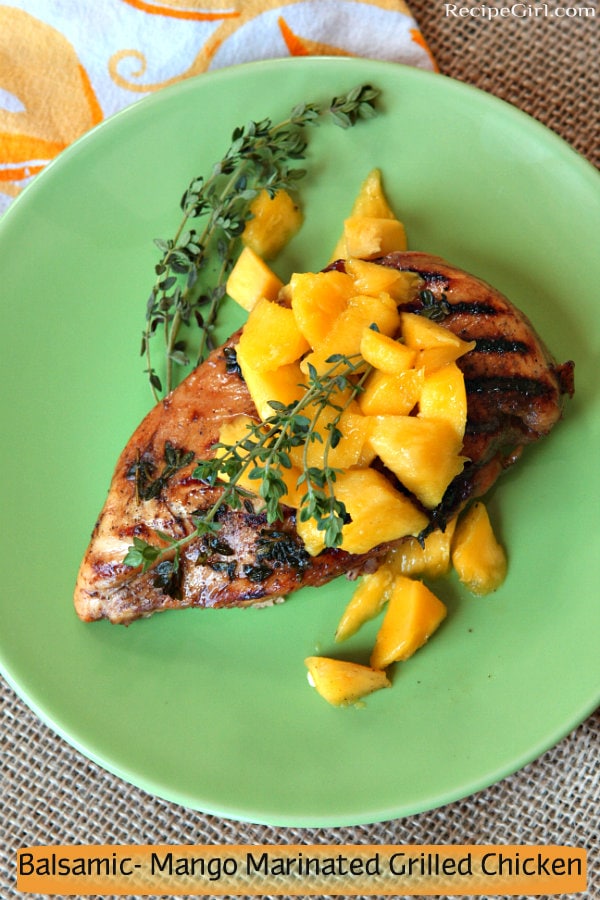 Top it all off with some chopped fresh mango, and then you can call it dinner.  I have a great side dish to share with you on Friday that is perfect for serving with this chicken (and it's also perfect for using up the rest of the mango nectar!)
Happy Grilling!
*Note:  this recipe is both gluten-free and dairy-free.  I didn't include nutritional information since it's tough to figure out calories, etc. for things that are marinated. It's gotta be pretty low in calories and fat though.
Balsamic- Mango Marinated Grilled Chicken
Yield:
4 grilled chicken breasts
Prep Time: 10 min + marinating time
Cook Time: 8 min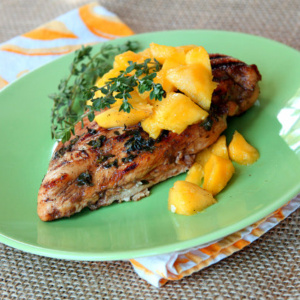 Ingredients:

4 boneless chicken breasts (pounded lightly to thin out if they are too thick) 1 1/2 to 2 pounds
1 cup mango nectar (see *Tips)
1/3 cup balsamic vinegar
2 tablespoons olive oil
1 1/2 tablespoons chopped fresh thyme
Kosher salt and freshly ground black pepper
1 large RIPE mango, peeled and chopped
additional thyme sprigs for garnish, if desired

Instructions:

1. Combine chicken in a large zip bag with mango nectar, vinegar, olive oil and thyme- along with a generous sprinkle of salt and pepper. Zip the bag closed and move the chicken around in the bag to coat with the marinade. Lie the bag flat in the refrigerator for at least one hour and up to 2 hours, turning the bag every so often to redistribute the marinade.

2. Preheat the grill to medium-high heat. Spray the grill with grilling spray (or rub the grates with oil). Drain the marinade from the chicken and grill about 4 minutes per side, or until the chicken is cooked through.

3. Serve grilled chicken topped with chopped mango and thyme sprigs, if using.

Tips:

*Mango nectar can be found in your market's juice aisle. It comes in a can (same size as a soda can), and the most recognizable brand is Kerns.