Thai Coconut Chicken Soup
Here's a soup recipe that is a new favorite in our house:  Thai Coconut Chicken Soup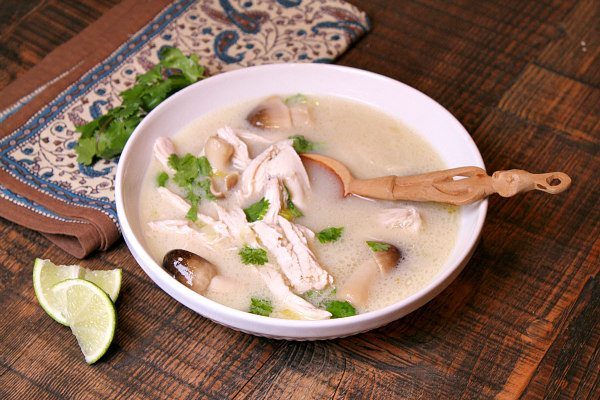 Just like everyone else in the world, January 1st marked the beginning of a new venture to try and eat a bit healthier at my house.  My husband has been rockin' it.  Me… not so much.  I'm trying.  I'm really hoping to carve out 30 days to follow eating completely Whole30, but I seem to be finding excuses for delay.  You definitely have to be in the right mindset to do it, and I'm not quite there yet.  But this soup and recipes like it are a good start!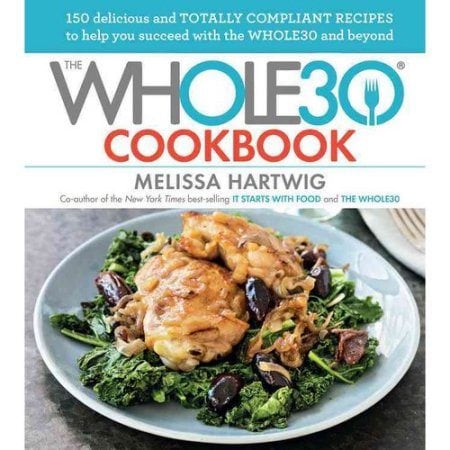 This recipe comes from a new cookbook by Melissa Hartwig (founder of the Whole30 program)-  The Whole30 Cookbook: 150 Delicious and Totally Compliant Recipes to Help You Succeed with the Whole30 and Beyond.  Whether you're following the Whole30 way of eating or not, this book is full of recipes that will keep you on track for eating whole, healthy foods.  Several well-known Paleo food bloggers and authors contributed recipes to this book.  I'm very happy with this purchase!
Here are several recipes I've bookmarked to make:  Bacon- Spinach- Tomato Breakfast Salad, Mushroom- Leek- Spinach Frittata, Asian Beef Zoodle Soup, Beef and Sweet Potato Chili, Churrasco Skirt Steak with Cilantro Sauce, Grilled Lamb Chops and Fingerlings with Arugula Pesto, Shredded Pork Lettuce Wraps with Cashew- Coconut Cream Sauce, Italian Meatball Soup, Tomato- Coconut Curry with Chicken, Grilled Salmon with Cauliflower Couscous- Spinach Salad, Salmon- Avocado Salad, Shredded Sprout Slaw, Pan- Roasted Brussels Sprouts with Bacon and Spinach Stuffed Mushrooms.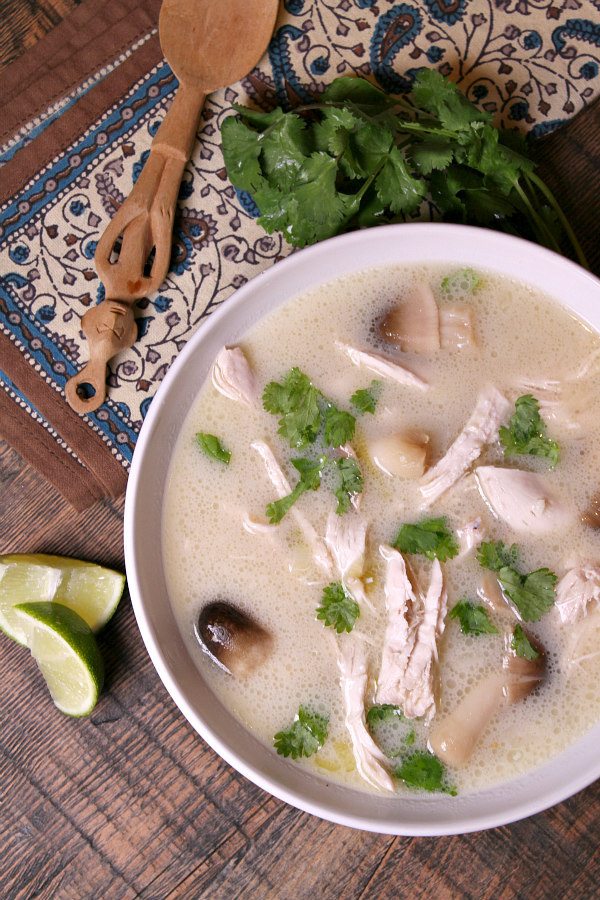 It's also been cold as heck the last couple of weeks where I live, so soup has been a good idea.  There is nothing like soup warming up the belly on a frigid day.
This one is a simple Thai soup that delivers multiple flavors of sweet (coconut milk), sour (lime juice), salty (fish sauce) and hot (chiles).  Chunks of chicken add plenty of protein to the soup.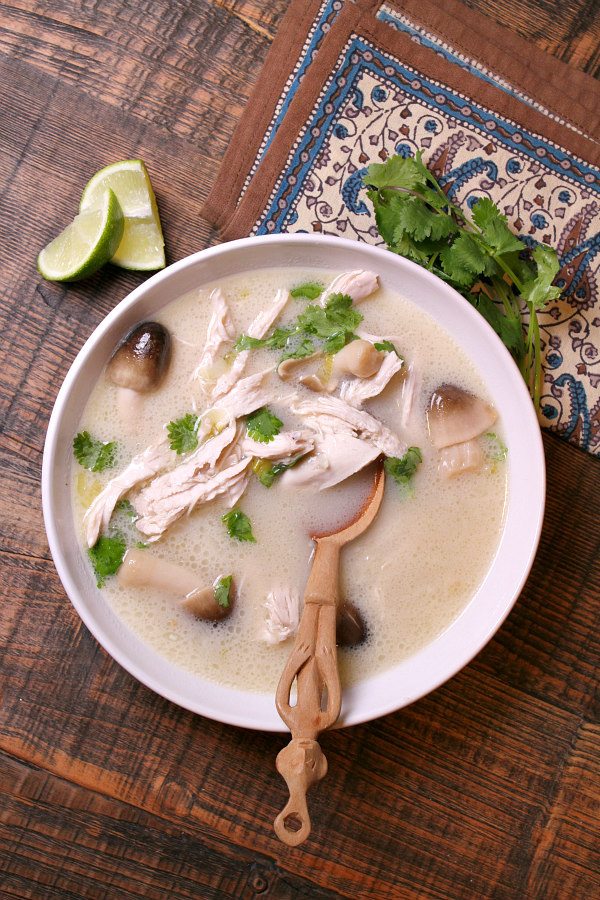 My husband usually objects to "soup" for dinner… something about it being a starter dish and wondering what I'm really serving for dinner.  THIS SOUP changed all of that.  The hubby declared it delicious and filling.  It's the perfect soup to serve as a satisfying main dish.  We enjoyed leftovers for lunch too.
Yield: 4 servings
Prep Time: 10 minutes
Cook Time: 20 minutes
Thai Coconut Chicken Soup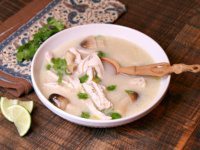 Ingredients:
2 tablespoons coconut oil
1 bunch green onions, thinly sliced
4 cloves garlic, minced
2 tablespoons grated fresh ginger
2 stalks lemongrass (see Tip below), cut into chunks
1 Thai red chile or jalapeño, seeded and finely chopped
4 cups chicken broth
1 can straw mushrooms, drained and rinsed
One 13.5 ounces full-fat coconut milk
2 teaspoons Red Boat fish sauce
1 tablespoons freshly squeezed lime juice
1/2 teaspoon salt
1 pound boneless, skinless chicken breast
snipped fresh cilantro
lime wedges
Directions:
Melt the coconut oil in a large saucepan over medium-low heat.  Add the green onions, garlic, ginger, lemongrass, and chile.  Cook, stirring continuously to avoid burning the garlic and ginger, for 2 minutes.  Raise the heat to medium and stir into the broth, mushrooms, coconut milk, fish sauce, lime juice and salt.  Add the chicken and bring to a boil.  Reduce the heat and simmer, uncovered, until the chicken is no longer pink and the internal temperature registers 165 degrees F., about 15 minutes.
Remove the chicken from the soup and let it rest for 2 minutes.  Remove the lemongrass pieces.  Use two forks to shred the chicken into chunks, then return the chicken to the soup.  Serve the soup with fresh cilantro and lime wedges.
To prepare lemongrass:  cut off the woody root tip of each stalk until the purplish-tinted rings begin to show.  Remove the loose, dry outer layers and use only the faintly colored, dense inner stalk that holds together when cut into shorter segments or rings.
To prepare as a Whole 30 approved recipe:  be sure to use Whole 30 approved chicken broth and straw mushrooms.
SOURCE:
 RecipeGirl.com (shared from
The Whole 30 Cookbook
by Melissa Hartwig: Houghton Mifflin Harcourt, 2016)
Here are a few more soup recipes you might enjoy:
Disclosure:  There are Amazon affiliate links included in this post for the cookbook that is featured.
Comments