Here's a quick and easy dinner that is perfect to whip up during busy weeknights:  Orange Teriyaki Pork Stir Fry.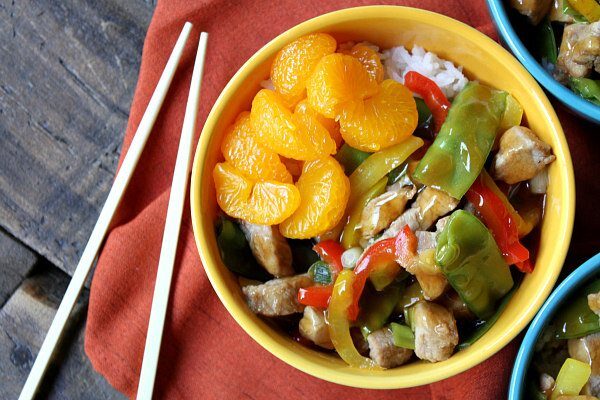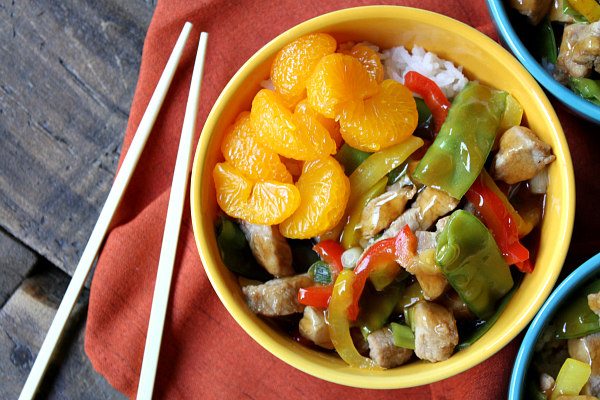 Things are getting really crazy lately.  And by crazy, I mean the holidays are looming upon us and will be here before we know it!
When the holidays arrive, we get overloaded with giant to-do lists and errands… so easy dinner ideas are needed and much appreciated too!  This is one of those easy dinner recipes that will help you to feel a little less crazy.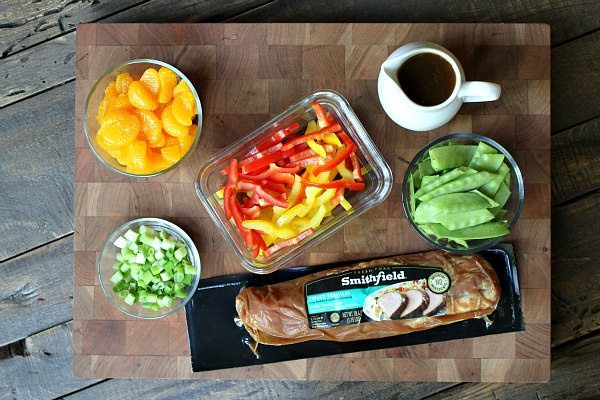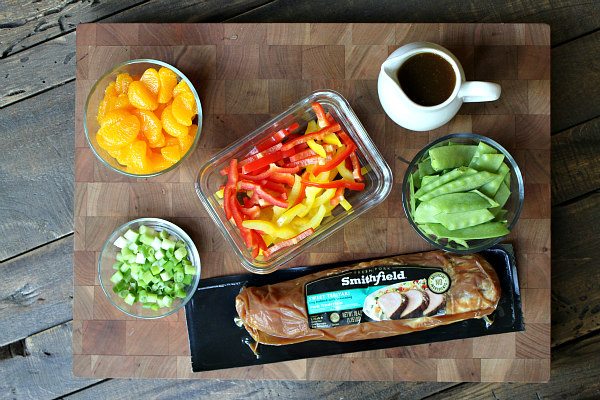 I chose to use Smithfield Sweet Teriyaki Marinated Pork Tenderloin for this recipe.  I love using the Smithfield already marinated pork products because they take a lot of the work out of making dinner.
Since the pork is already marinated, you don't have to spend extra time marinating it yourself… and the roasted meat yields a wonderful flavor for your meal!  The teriyaki is perfect for this recipe because it gives the pork the perfect base flavor for the stir-fry.
Smithfield is currently hosting the Real Flavor, Real Fast contest– challenging you to see what you can do with Marinated Fresh Pork to create a 30-minute meal.  To submit your original tip for a chance to win a trip to wine country, go to www.SmithfieldRealFlavorRealFast.com.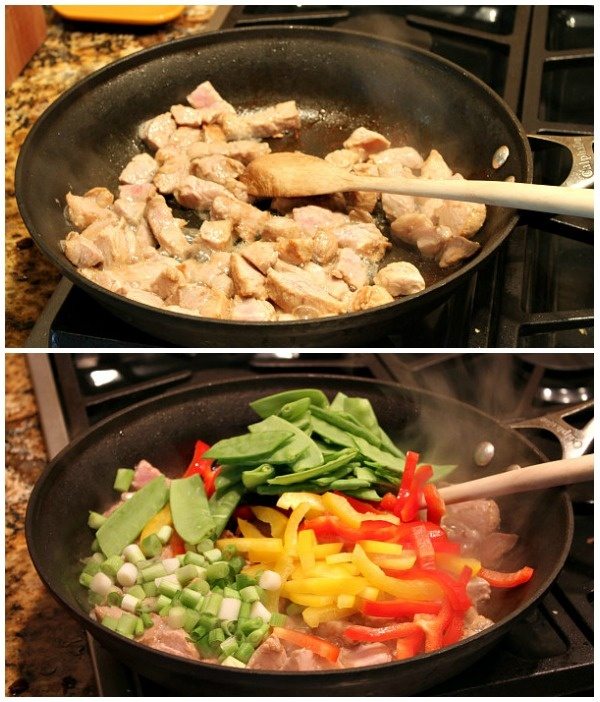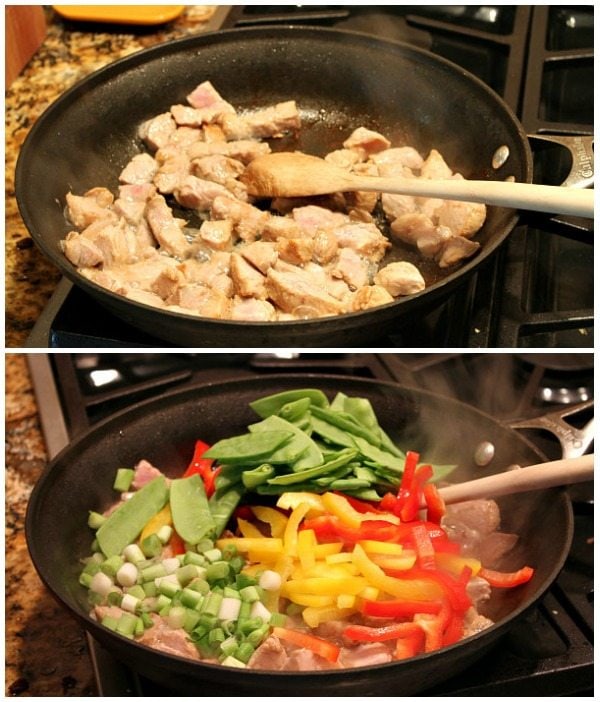 Before you begin your stir-frying, you're going to put some rice on the stove.  By the time you're done with the stir-fry, the rice will be finished and you'll be ready to put everything together.
The pork is quickly fried in a hot skillet.  Lots and lots of veggies are added in after the pork is almost cooked through.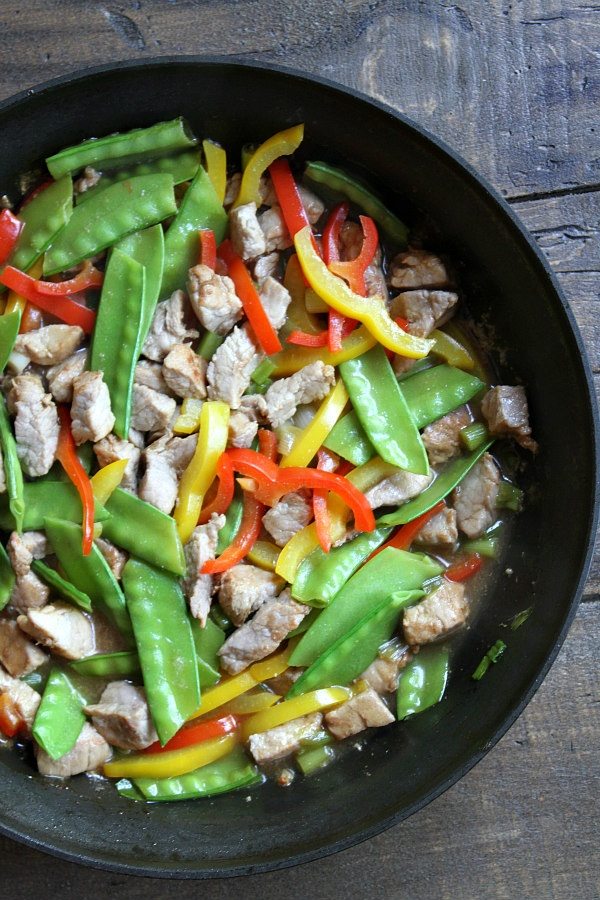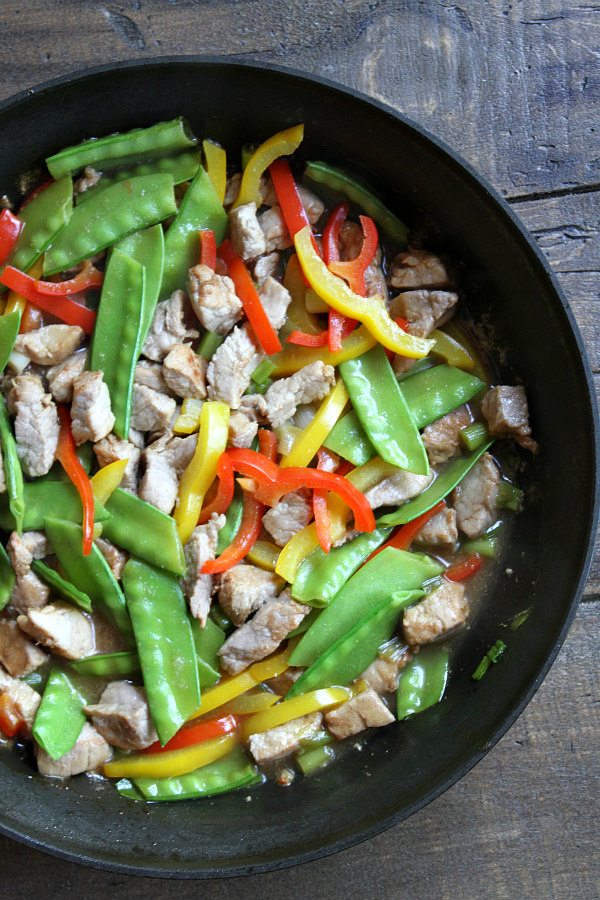 The veggies and pork and cooked with a little bit of the quickie-homemade, easy orange-teriyaki sauce that you're going to whip up.  That just gives the dish a sauce that will be nice to spoon over the hot rice.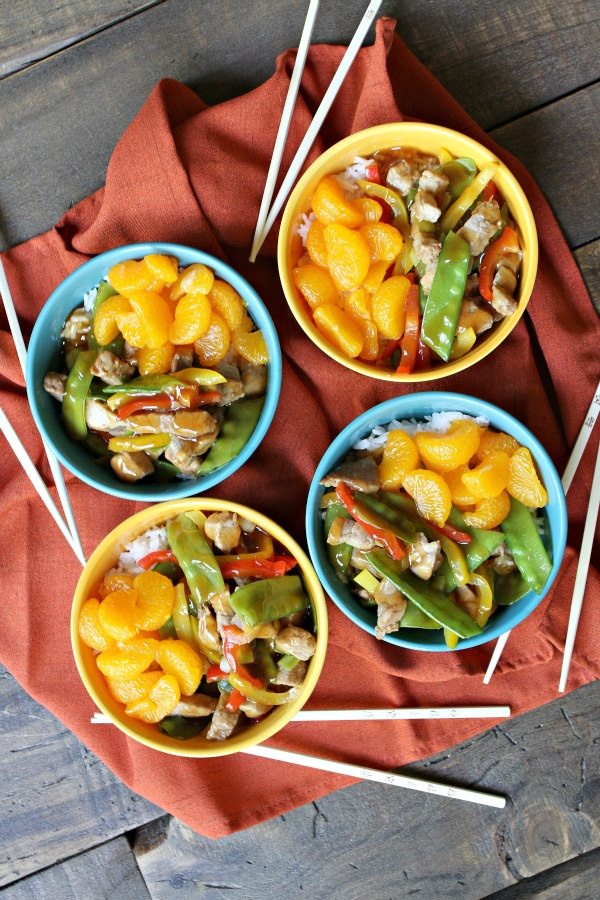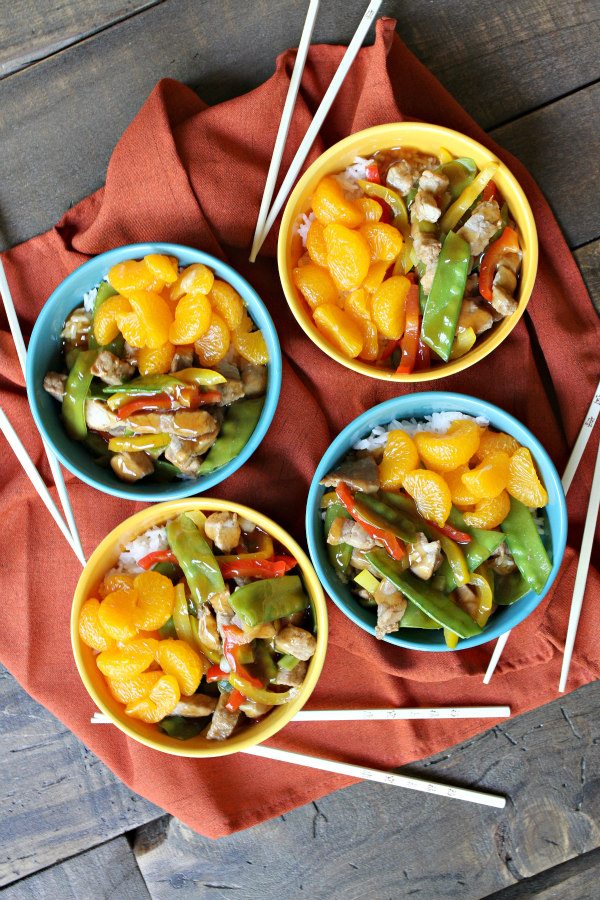 To put the bowls together, combine hot rice, a few spoonfuls of the pork and veggies with sauce drizzled on top, and a scoop of mandarin oranges.  That's it- a super easy dinner!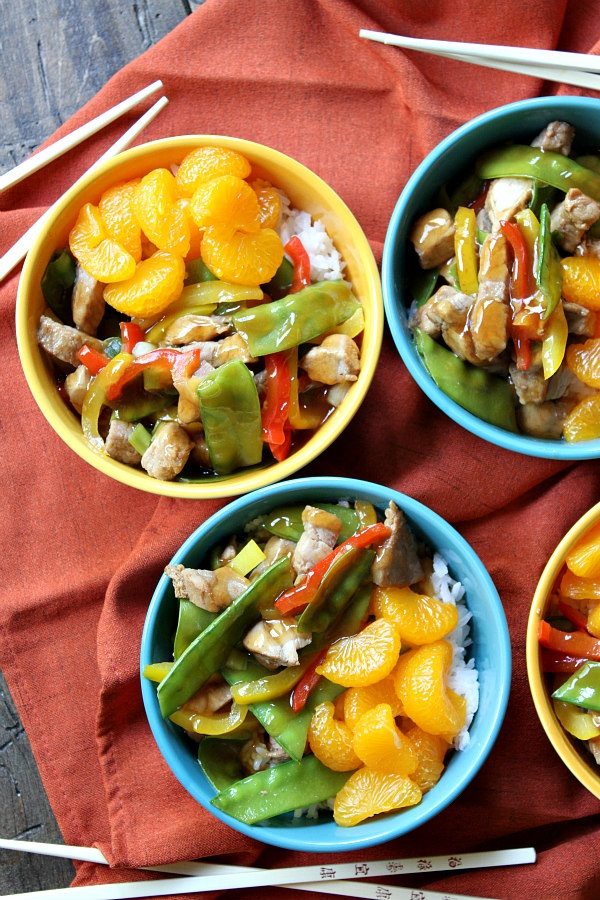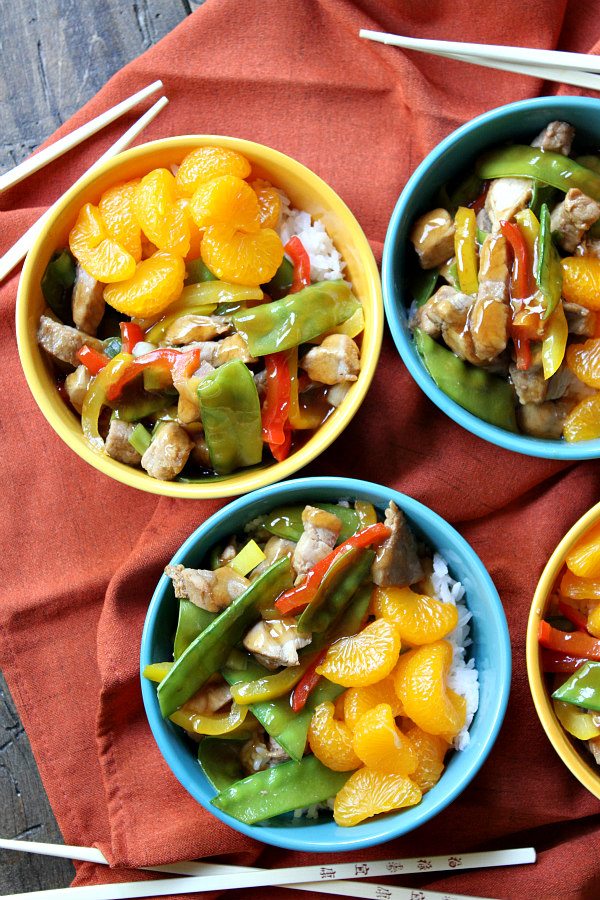 This is the perfect, low-stress dinner for the busy weeknights you're bound to have in the weeks ahead.  Try it, and let me know what you think!
Check out this recipe for > Smithfield Fresh Pork and Pasta Bowls. For more meal inspiration and recipe ideas, visit www.SmithfieldRealFlavorRealFast.com or Facebook.com/CookingwithSmithfield.
Orange Teriyaki Pork Stir Fry
Yield:
4 servings
Prep Time: 25 minutes
Cook Time: 10 minutes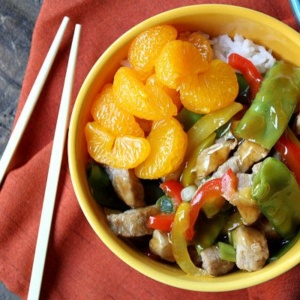 Ingredients:

SAUCE:

reserved juice from two 11-ounce cans mandarin oranges in light syrup
1/4 cup reduced-sodium soy sauce
3 tablespoons brown sugar
1/2 teaspoon ground ginger
1/4 teaspoon garlic powder
2 tablespoons cornstarch mixed with 1/4 cup cold water

STIR FRY:

1 tablespoon canola or vegetable oil
One 18-ounce Smithfield Sweet Teriyaki Marinated Pork Tenderloin, cut into small pieces
1 cup sliced red and yellow bell peppers
1 cup fresh snow peas
1/3 cup sliced green onions

MORE:

3 to 4 cups hot cooked rice
oranges from two 11-ounce cans mandarin oranges in light syrup (save the syrup!)

Instructions:

Prepare the sauce: In a small saucepan, combine the juice, soy sauce, brown sugar, ginger and garlic powder.  Heat over low heat until bubbling.  Whisk in the cornstarch and water and keep heating until slightly thickened.  Remove from heat and set aside.
Stir Fry:  Heat oil in a large skillet over medium-high heat.  Add the pork, and stir fry until almost cooked through.  Add the bell peppers, snow peas and onions.  Pour in about 1/3 cup of the sauce.  Stir fry until softened.
Assemble:  Divide the rice between 4 bowls.  Top with pork and vegetable mixture.  Divide oranges between the bowls.  Drizzle extra sauce on top.  Serve immediately.
SOURCE:  RecipeGirl.com
Here are a few more stir fry recipes you might enjoy:
Disclosure:  This post has been written in partnership with Smithfield to share their line of marinated pork.  This is a product that I know and use in my kitchen.  All opinions shared are my own.