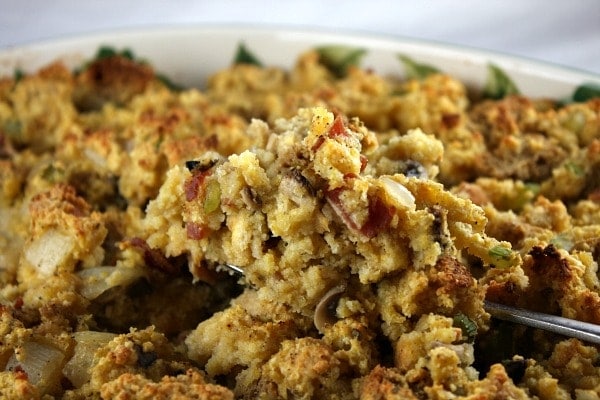 Gluten- Free Cornbread and Bacon Stuffing
This gluten free stuffing recipe doesn't skimp on flavor and texture just because it's gluten free. I've subbed some "real" ingredients that make this stuffing taste just as good as the real thing. Gluten eaters will like this too.
Yield:
12 servings
Prep Time: 35 min
Cook Time: 1 hr, 10 min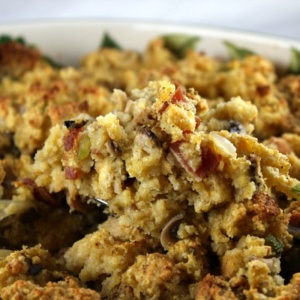 Ingredients:

1 package Bob's Red Mill Gluten-Free Cornbread Mix, prepared according to directions
8 slices bacon
3 Tablespoons bacon drippings
1 cup chopped celery
1 1/2 cups chopped mushrooms
3/4 cup chopped onion
1 1/2 cups gluten-free bread cubes (see notes below)
1 Tablespoon chopped fresh sage
One 16-ounce box of Pacific Natural Foods Creamy Butternut Squash Soup (or similar)
2 cups chicken broth (gluten free)
salt and freshly ground pepper, to taste

Instructions:

1. Preheat oven to 400 degrees F.

2. Cut cornbread into cubes and spread on rimmed baking sheet. Place in the oven for 15 to 20 minutes, just until cubes are are little bit toasted. Reduce temperature to 375 degrees F.

2. In a large skillet, saute bacon until crisp. Remove bacon from pan and set aside to cool and drain on paper towels. Remove all but 3 Tablespoons of bacon drippings and discard. Add celery, mushrooms and onion to the pan. Saute vegetables in the bacon drippings until they become tender (5 to 6 minutes). Remove from heat and let cool.

3. Place toasted cornbread cubes and bread cubes in a large bowl. Add sauteed vegetables. Crumble bacon on top. Add sage and gently mix it all together. Add salt and pepper, as desired.

4. In medium saucepan mix soup and broth. Cook over medium heat, stirring constantly, until thoroughly heated. Pour over the stuffing mixture (a little at a time) and stir well. You may or may not need all of the liquid. The texture of the stuffing should be damp, but not soggy. Spoon into a well greased 13x9" dish and bake for 35-40 minutes until well heated-throughout and crispy on top.

Tips:

*You can use any sort of GF cornbread mix- I used the Bob's Red Mill brand and thought it was excellent.
*For GF bread cubes, Whole Foods sells a fabulous GF Sage Stuffing Mix around Thanksgiving. That's what I used. You can certainly use any GF bread, and just toast it up in the oven yourself (perhaps tossed in a little butter, salt, pepper and dried sage).
*The creamy butternut squash soup by Pacific Natural Foods is the brand that I used. Use any brand and/or experiment w/ other types of creamy soups- like cream of mushroom.
*If you don't have a need for this stuffing be gluten-free, feel free to substitute with other ingredients.