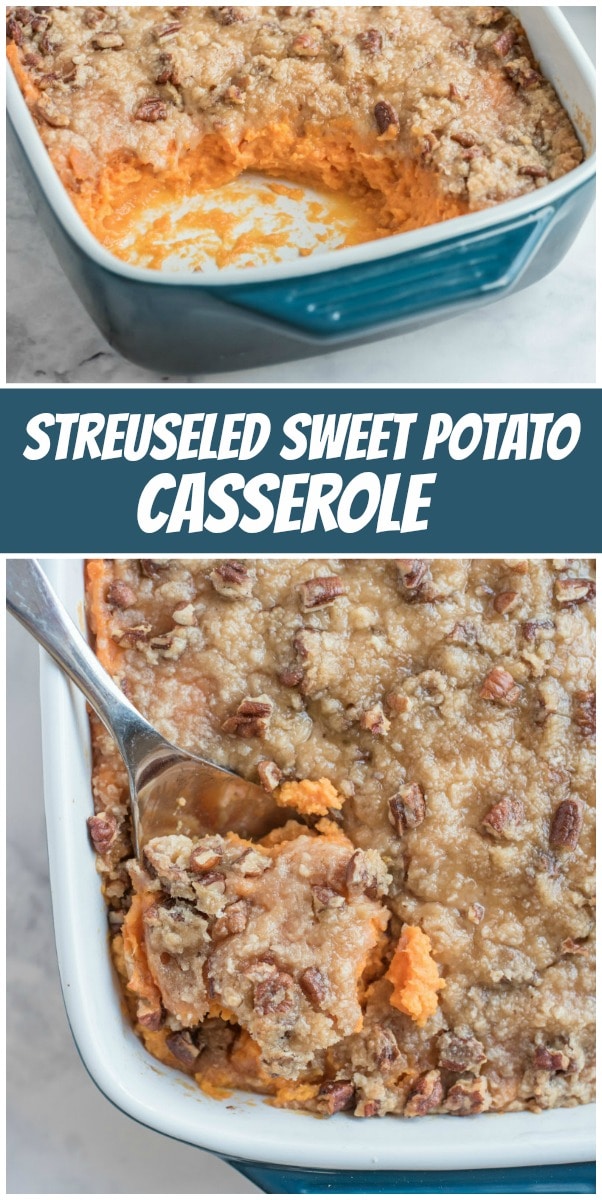 Streuseled Sweet Potato Casserole
Yield:
18 servings
Prep Time: 30 min
Cook Time: 1 hour 30 min
Ingredients:
14 cups (1-inch) cubed peeled sweet potato (about 5 pounds)
1/2 cup half and half cream (not fat-free)
1/2 cup maple syrup
1 teaspoon vanilla extract
3/4 teaspoon salt
1 large egg, lightly beaten
1/2 cup all-purpose flour
1/2 cup packed brown sugar
4 tablespoons (1/2 stick) chilled butter, cut into small pieces
1/2 cup chopped pecans
Directions:
1. Preheat oven to 375°F. Spray 13x9-inch baking dish with nonstick spray.
2. Place potato in Dutch oven, and cover with water. Bring to a boil. Reduce heat; simmer 12 minutes or until tender. Drain.
3. Combine the half & half and next 4 ingredients (through eggs) in a large bowl, stirring with a whisk. Add potato to egg mixture; beat with a mixer at medium speed until smooth. Spoon potato mixture into prepared pan.
4. Combine flour and sugar in a food processor; pulse to combine. Add chilled butter; pulse until mixture resembles coarse meal. Stir in pecans; sprinkle over potato mixture.
5. Cover and bake for 15 minutes. Uncover and bake an additional 25 minutes or until the topping is browned and the potatoes are thoroughly heated.
Tips:
*If you do not have a food processor, use a pastry blender to cut the butter into the flour/sugar mixture until the mixture resembles coarse meal.
*To make ahead: Assemble the potato mixture and sprinkle with the streusel, then freeze the casserole up to 2 weeks ahead of Thanksgiving. Thaw in the refrigerator and bake as directed. Or cook just the potatoes a day ahead, mash and refrigerate and proceed with the recipe as directed (starting with the addition of half & half) the day you're serving the dish.
Nutrition:
Nutritional Information per serving:
Serving size: 1/2 cup
Calories per serving: 205
Fat per serving: 6g
Saturated Fat per serving: 2.5g
Sugar per serving: 16g
Sodium per serving: ,span class="sodium">164g
Fiber per serving: 3.5g
Protein per serving: 3g
Cholesterol per serving: 21mg
Carbohydrates per serving: 36g
WW POINTS per serving:
Points Plus Program: 5 Old Points Program: 5.5