This Lemon Meringue Pie is a classic recipe, and it's one pie that everyone should learn how to make.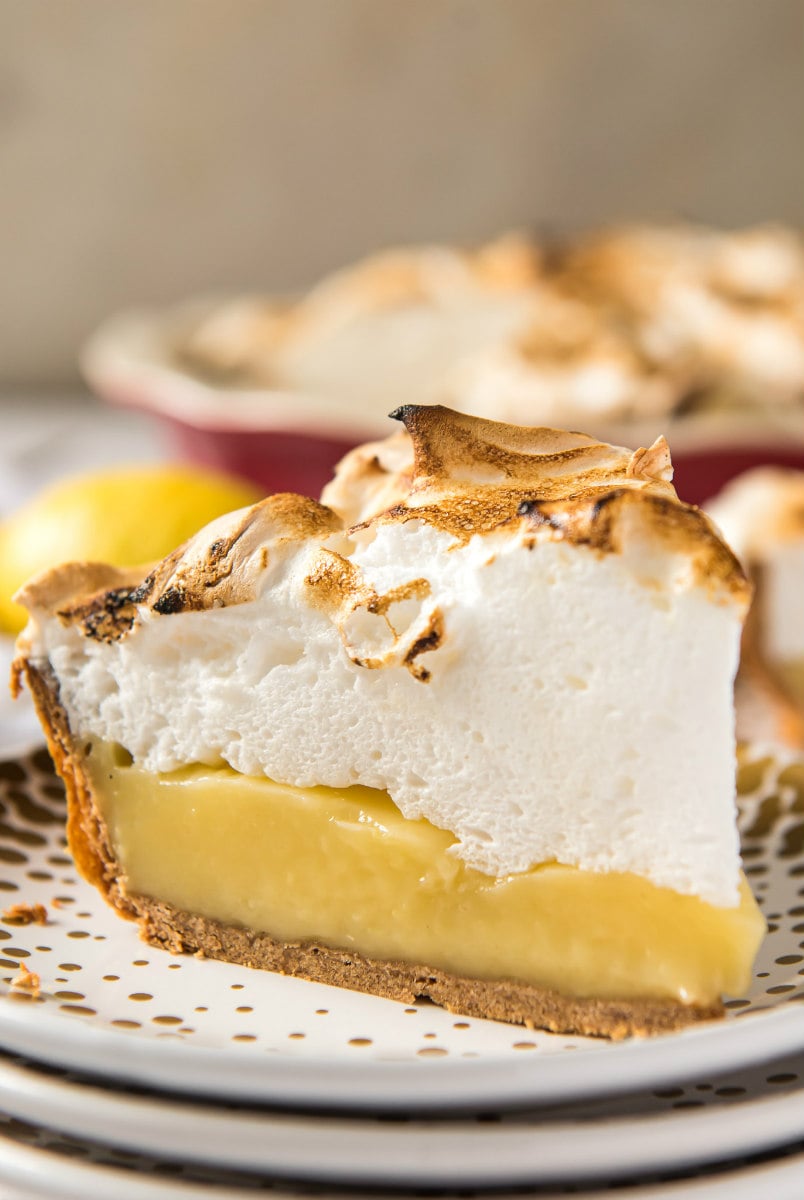 Lemon Meringue Pie is a baked pie with a classic crust, lemon custard filling and a fluffy meringue topping. Lemon custards and meringues date back to the 17th century. But it has been said that the classic combination of lemon custard and meringue to make the lemon meringue pie first made its appearance sometime in the late 1800's.
The egg-based custard is cooked on the stove to create a sturdy lemon pudding. That's piled into a baked pie crust.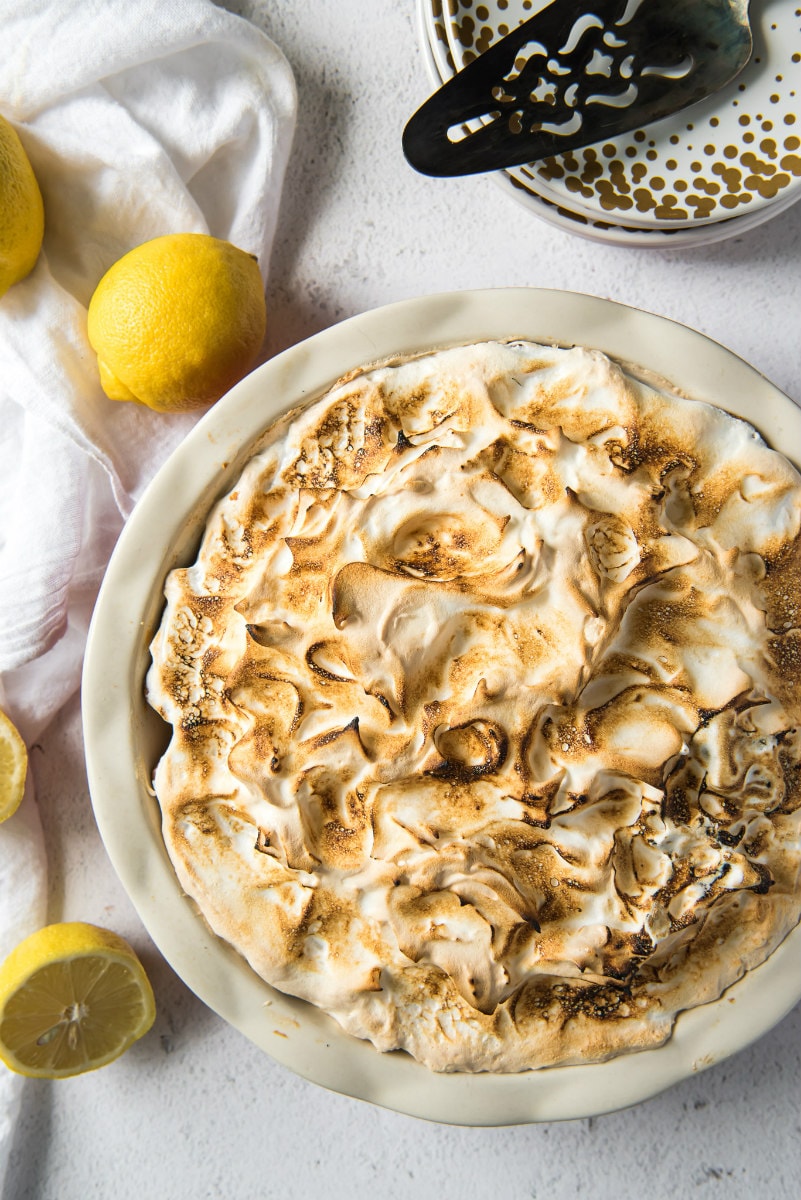 The meringue (made of egg whites and sugar) is spooned on top of the lemon custard and then baked until lightly browned.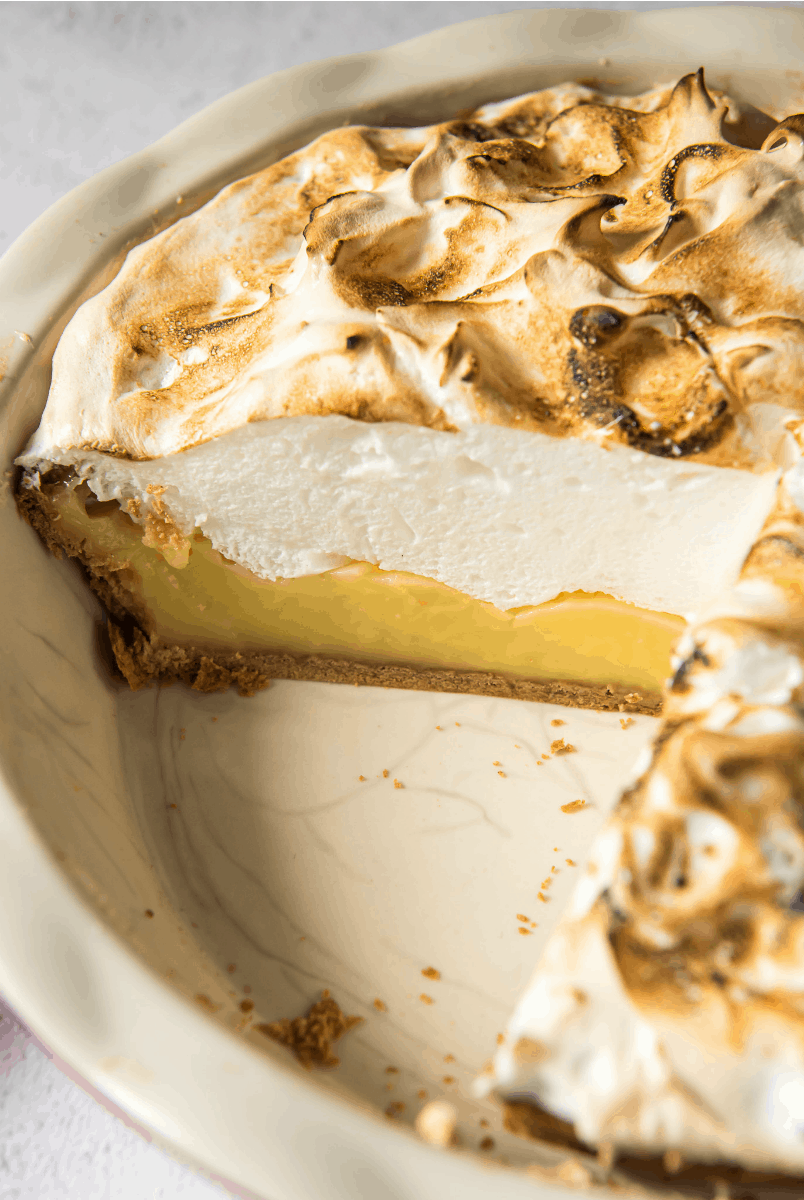 Tips for making meringue:
Making meringue can be tricky. Follow these tips, and you're likely to have success!
Use older eggs- they'll turn out a fluffier and higher meringue. To test the age of an egg, put a whole egg in a glass of water. If it stands up on its end, it's perfect for making meringue. Floating eggs are too old- toss them! And if it sinks to the bottom, it's too fresh.
Bring eggs to room temperature. Separate yolks from whites, and let the whites sit at room temperature for 30 minutes before making your meringue.
Use a totally clean bowl with clean beaters too.
Take your time in adding the sugar. Adding one tablespoon at a time helps it dissolve into the whites much quicker than adding all at once.
Make meringue on a dry day (meringue doesn't like humidity!)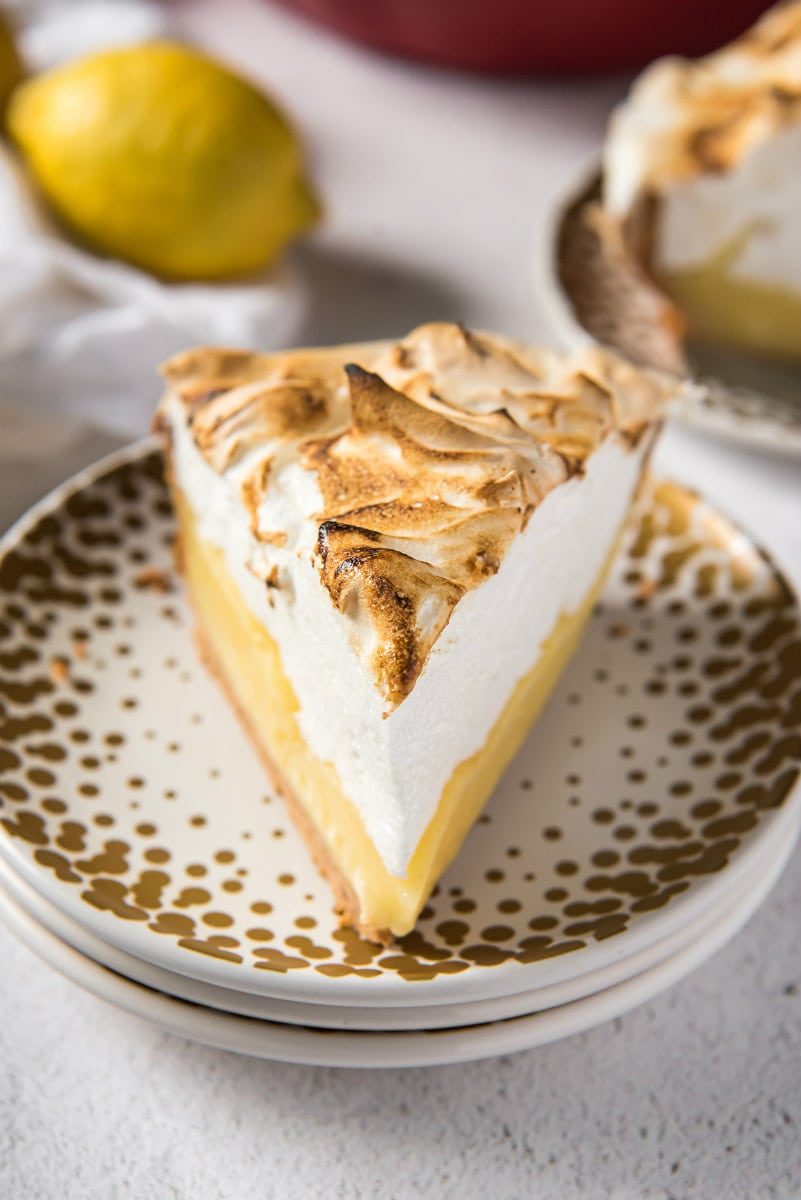 Lemon Meringue Pie is a lovely pie to make and share. Enjoy!
Here are a few more pie recipes you might like to try:
Lemon Meringue Pie
Recipe Details
Ingredients
FILLING:
1

cup

granulated white sugar

2

tablespoons

all purpose flour

3

tablespoons

cornstarch

¼

teaspoon

salt

1½

cups

water

2

medium

lemons,

juiced and zested

2

tablespoons

butter

4

large

egg yolks,

beaten
CRUST:
One

9-inch

pie crust,

baked
MERINGUE:
4

large

egg whites,

at room temperature

½

teaspoon

cream of tartar

6

tablespoons

granulated white sugar
Instructions
Preheat the oven to 350°F.
PREPARE FILLING:
In a medium saucepan, whisk together sugar, flour, cornstarch and salt. Stir in water, lemon juice and lemon zest. Cook over medium-high heat, stirring often, until it comes to a boil. Whisk in the butter. Put egg yolks in a medium bowl and very slowly whisk in ½ cup of the hot sugar mixture (a tiny bit at a time- you want to gradually warm it up, not cook the eggs). Whisk the egg yolk mixture back into the remaining sugar mixture. Bring to a boil and continue to cook, stirring constantly, until thick. Remove from heat. Scrape the filling into the baked pie crust.
PREPARE MERINGUE:
In a large glass or metal bowl, use an electric mixer to beat the egg whites and cream of tartar until foamy. Gradually beat in the sugar (one tablespoon at a time), and continue to beat until stiff peaks form. Spread the meringue over the pie and all the way to the edge of the crust.
BAKE:
Bake for 10 minutes (keep an eye on it), or until the meringue is lightly browned.
Notes
Don't skip adding the cream of tartar in the meringue. It's an acid that stabilizes the egg whites.
Nutrition
Serving:
1
serving
,
Calories:
253
kcal
,
Carbohydrates:
41
g
,
Protein:
4
g
,
Fat:
9
g
,
Saturated Fat:
3
g
,
Cholesterol:
80
mg
,
Sodium:
176
mg
,
Potassium:
75
mg
,
Fiber:
1
g
,
Sugar:
28
g
,
Vitamin A:
170
IU
,
Vitamin C:
11.5
mg
,
Calcium:
19
mg
,
Iron:
0.8
mg