This Maple Pumpkin Pie recipe has been featured in this post: Traditional Thanksgiving Dinner Menu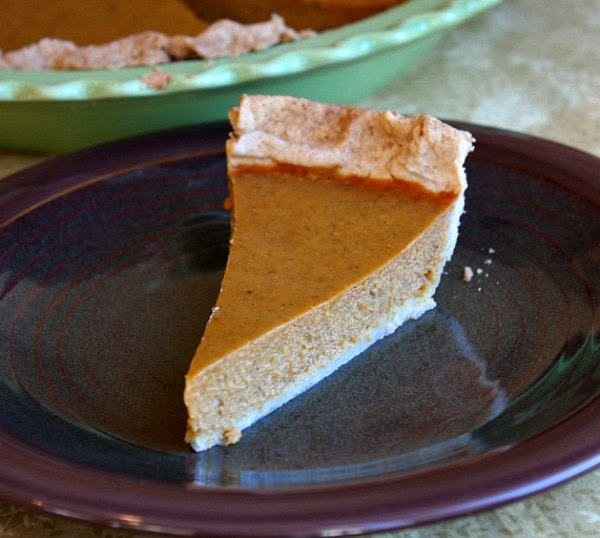 Maple Pumpkin Pie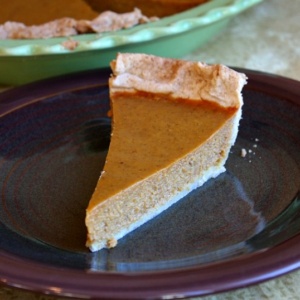 Yield:
10 servings
Prep Time: 40 minutes
Cook Time: 1 hour
Ingredients:
crust:
1 cup sifted cake flour (sift first, then measure)
1/4 teaspoon ground cinnamon
1/8 teaspoon ground nutmeg (fresh is best)
1 tablespoon granulated white sugar, divided
1/4 cup (4 tablespoons) salted butter, cut into small pieces and chilled
2 to 3 tablespoons ice water
filling:
1/2 cup granulated white sugar
1/3 cup maple syrup
1 teaspoon ground cinnamon
1 teaspoon ground ginger
1/4 teaspoon ground nutmeg
1/4 teaspoon ground cloves
1/4 teaspoon salt
2 large eggs
One 15-ounce can unsweetened pumpkin puree
1 cup evaporated skim milk
heavy whipping cream, whipped to top individual slices (optional)
Directions:
Prepare crust: Combine first 3 ingredients and 1 tablespoon sugar in a bowl; cut in butter with a pastry blender until mixture resembles coarse meal and is pale yellow (about 3 1/2 minutes). Sprinkle ice water, 1 tablespoon at a time, over surface; toss with a fork until flour is moistened and mixture is crumbly (do not form a ball.) Add more flour, if needed -- if it appears to be too sticky.
Gently press mixture into a 4-inch circle on a sheet of heavy-duty plastic wrap, and cover with another sheet of plastic wrap; chill 15 minutes. Roll dough, still covered, to a 13-inch circle; place in freezer 5 minutes or until wrap can be removed easily. Remove bottom sheet. Fit dough into a 9-inch pie plate coated with cooking spray; remove top sheet. Fold edges under and flute; set aside. *Don't let the dough sit in the freezer too long or it will "break" when you try to fit it into the plate.
Prepare filling: Combine filling ingredients in a large mixing bowl; beat at medium speed of an electric mixer until well blended. Pour into pastry shell. Bake in a preheated 350°F. oven for 1 hour or until a knife inserted in center comes out clean. Cool on a wire rack.
Slice and serve with a dollop of fresh whipped cream.
Tips:
Although the crust turned out ok, I thought it was a little sticky and tricky to work with. You can use a refrigerated pie crust for this recipe, though it will change the nutritional information.
Nutrition:
Nutritional Information per serving- not including whipped cream (Serving size: 1/10th of the pie) Calories: 267, Fat: 7.5g, Saturated Fat: 4.1g, Fiber: 2.6g, Protein: 6.3g, Cholesterol: 72mg, Carbohydrates: 44.5g
WEIGHT WATCHERS POINTS per serving:  Freestyle SmartPoints: 9, Points Plus Program: 7, Old Points Program: 5
SOURCE: RecipeGirl.com (Adapted from Cooking Light)
Here are a a few more pumpkin pie recipes you might enjoy: