If you need to make a healthier fall dessert, try this Low Fat Pumpkin Cheesecake.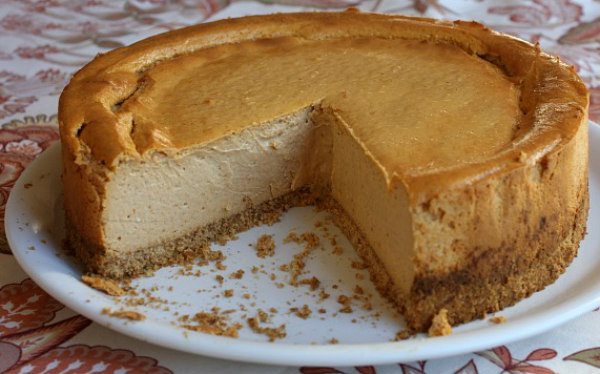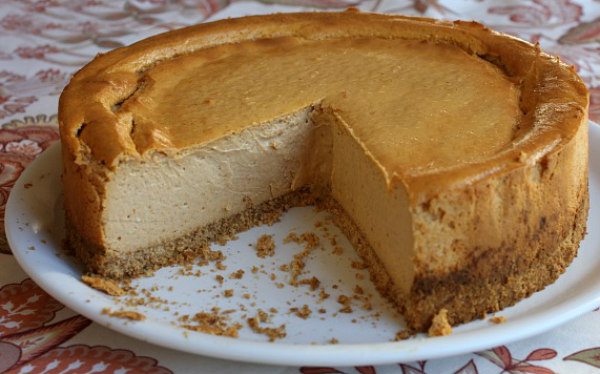 Thanksgiving in the USA is approaching quickly, and although we like to think about the turkey and the football and the vacation we have from work or school, we also should be remembering what we're thankful for. Something I observed this week, has had me thinking about how fortunate I am to have a wonderful, healthy family.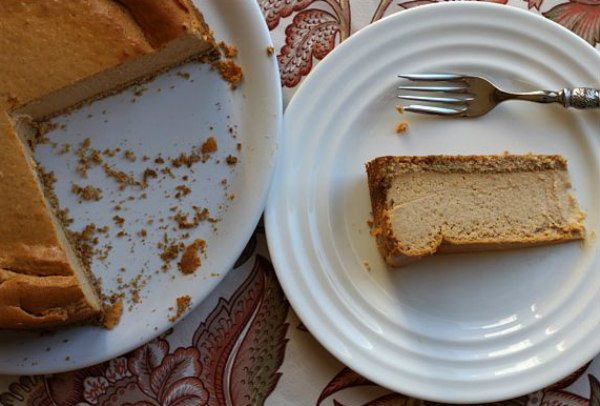 I was at the gym the other day doing some stretching on the floor after a run, and next to me was a Mother with her daughter. The daughter was mentally disabled. This Mother was doing exercises with her daughter- which doesn't seem like any big deal, except that this Mother was so loving and gentle and patient with her daughter… giving her kisses and praise throughout their time together. For some reason this scenario has stuck with me this week. That little girl is so very fortunate to have that Mother. Just think what her life may have been like had she been born to someone without those wonderful qualities?
It's made me take a good look at my relationship with my own child… and how much time I spend with him, how much we talk, what we say to each other and and what our relationship is really like. It's the time of year to think about what we're grateful for, and I'm definitely grateful for my family.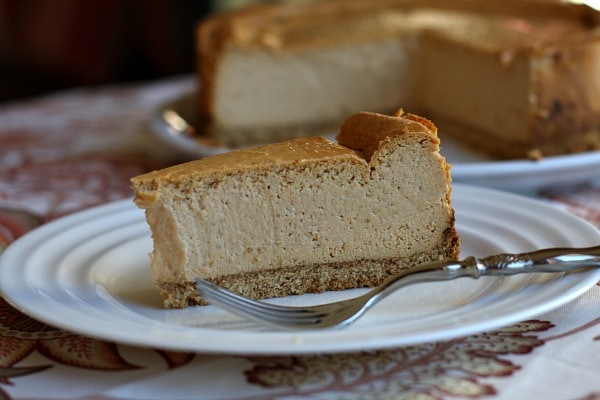 I feed my family well. I make warm dinners and homemade treats almost daily. And I'm pretty sure they're grateful for all of that. I'm even a little conscientious about making healthy things from time to time, like this Low Fat Pumpkin Cheesecake.
Cheesecake is pretty much my favorite dessert of all time. It might sound a little out-of-sorts, but as food goes… I'm thankful for cheesecake. I like it plain and unadorned, and I often dream about that red velvet type.  I wanted to have cheesecake at my wedding, but it was nixed by my husband. Why I listened to him, I'll never know.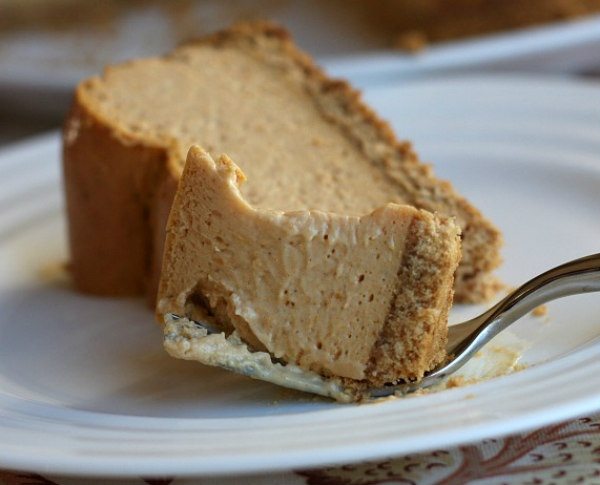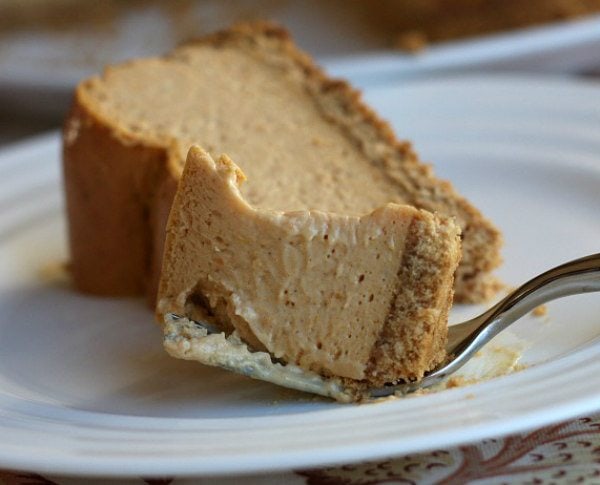 I'm not the genius behind this cheesecake… Cooking Light is… but I have to say that I was pretty skeptical about how it would turn out. The crust is made from low fat vanilla wafers, and the filling has quite a lot of that fat-free cream cheese in it. How good could it be with all that reduced fat stuff in it, right?
But you know what's great about this cheesecake? It's creamy, it's rich, and it's delicious, EVEN THOUGH it's low fat! I was surprised. Very surprised, in fact.  Remember… I'm a big cheesecake fan here, and this cheesecake turned out to be some pretty incredible stuff. It's a nice "alternative" dessert to include at Thanksgiving (because I'm a firm believer that you should have at least a couple of dessert options on Thanksgiving Day!)  And if you have to eat gluten free, I've included tips on how to (very easily) adapt this recipe to be GF.
Low Fat Pumpkin Cheesecake
This cheesecake is creamy and delicious. And it definitely feels like cheating.
Yield:
16 servings
Prep Time: 30 minutes
Cook Time: 1 hour and 40 minutes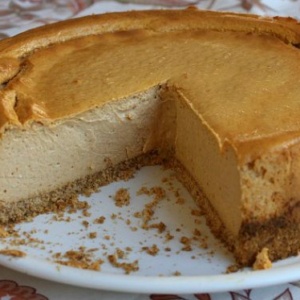 Ingredients:

CRUST:

56 reduced-fat vanilla wafers (about 8 ounces)
1 tablespoon butter, melted

FILLING:

3 (8-ounce packages) fat-free cream cheese, softened
2 (8-ounce packages) 1/3 less-fat cream cheese, softened
1/2 cup granulated white sugar
1/2 cup packed brown sugar
3 tablespoons all-purpose flour
1 teaspoon ground cinnamon
3/4 teaspoon ground nutmeg
3/4 teaspoon ground ginger
1/4 teaspoon salt
dash of allspice
2 teaspoons vanilla extract
4 large eggs
1 (15-ounce) can unsweetened pumpkin puree

Instructions:

Preheat oven to 400° F.
Prepare crust: Place cookies in a food processor; pulse until finely ground. Add butter; pulse 10 times or until mixture resembles coarse meal. Firmly press mixture into bottom of a 9-inch springform pan coated with cooking spray. Bake for 10 minutes; cool on wire rack.
Reduce oven temperature to 325° F.
Prepare filling: Beat cream cheeses with mixer at high speed until smooth. Add granulated sugar and next 8 ingredients (granulated sugar through vanilla), beating well. Add eggs, 1 at a time, beating well after each addition. Add pumpkin; beat well.
Pour filling into prepared crust; bake at 325° for 1 1/2 hours or until almost set. (Cheesecake is done when the center barely jiggles when pan is touched).
Remove cheesecake from oven; run a knife around the outside edge. Cool to room temperature; cover and chill at least 8 hours.

Tips:

If you don't have access to a food processor, place cookies in a large zip bag & bang away at them until they turn into fine crumbs. Scrape them into a bowl and stir in melted butter.
If adapting this recipe to be gluten free, use a gluten-free cookie in place of the vanilla wafers, and use a GF flour blend in place of the all-purpose flour. Adapting to GF will change nutritional information and WW points listed below.
*Cheesecakes are best when they're made ahead of time. You can prepare this one up to three days before the party; just cover and chill it until time to serve.

Nutrition:

Nutritional Information per serving (Serving size:

1/16th of the cheesecake) 

Calories:

282, 

Fat:

10.77g, 

Saturated Fat:

5.2g, 

Sugar:

19.47g, 

Fiber:

.54g, 

Protein:

11.93g, 

Cholesterol:

84.77mg, 

Carbohydrates:

33.78g

WEIGHT WATCHERS POINTS per serving:  Freestyle SmartPoints: 11, Points Plus Program: 7, Old Points Program: 6.5
SOURCE: RecipeGirl.com (Adapted slightly from Cooking Light)
Here are a few more recipes for cheesecake you might enjoy: