Chocolate Chocolate Chip Cheesecake is a decadent and creamy chocolate cheesecake. It's flecked with chocolate chips, and it's garnished with fresh raspberries and chocolate shavings!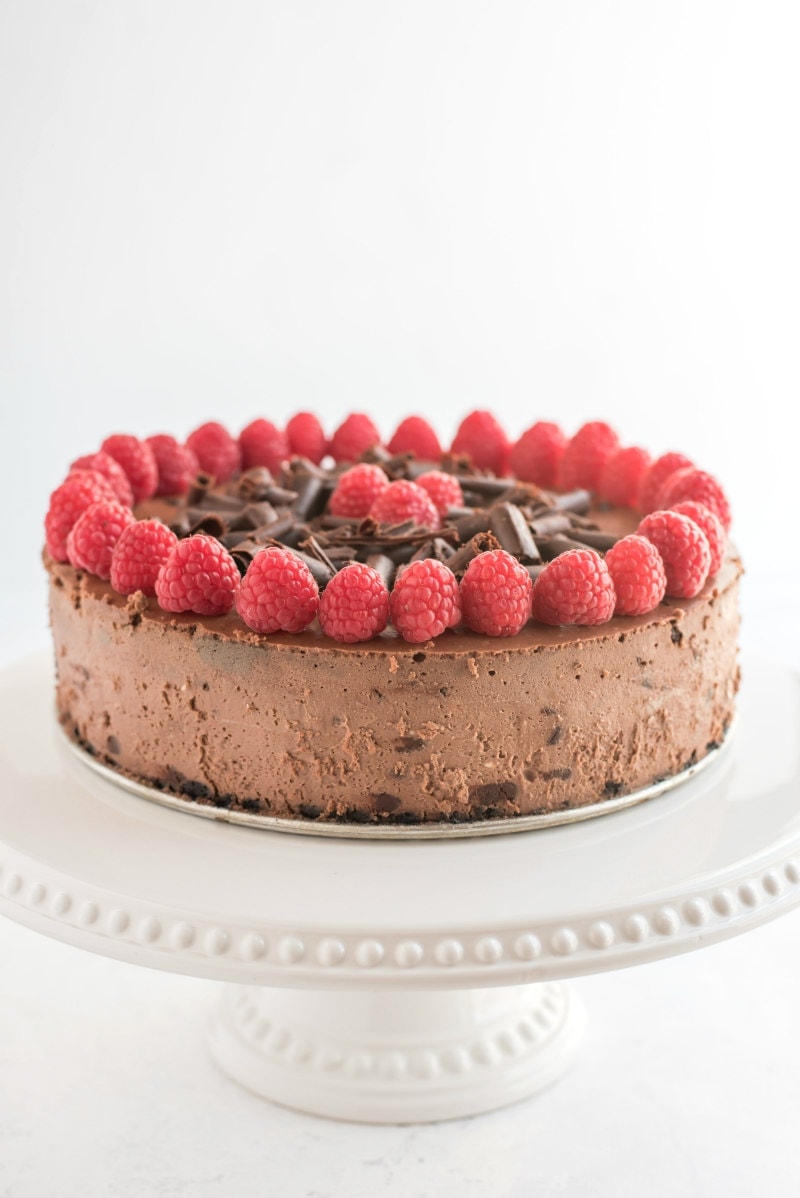 You're about to fall in love with cheesecake. This Chocolate Chocolate Chip Cheesecake is a show-stopping dessert. It's the kind of cheesecake you'd expect to be served when you order dessert in an upscale restaurant. Every bite is dreamy, creamy, chocolate indulgence.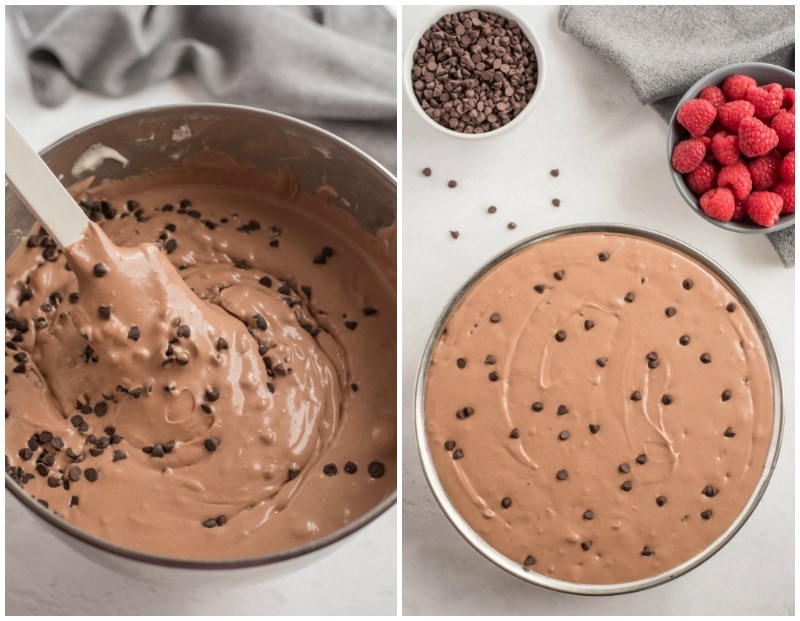 How to make Chocolate Chocolate Chip Cheesecake:
The crust is made first. It's a mix of chocolate wafer crumbs (you can use chocolate graham crackers, if you'd like), butter and sugar. And it's pressed into a springform pan and then placed into the freezer.
You might be shocked when you look at the recipe to see that this cheesecake calls for using two pounds of cream cheese. Yes, that's right! It's a thick and rich cheesecake, so you'll need a lot of it. Room temperature cream cheese is combined with sugar… then eggs, sour cream and vanilla. Melted chocolate and chocolate chips are added in last. The cheesecake batter is scraped into the frozen crust-lined pan.
Next, you'll preheat the oven to 275 degrees F. (it's a low and slow baking process), and prepare a water bath for baking the cheesecake.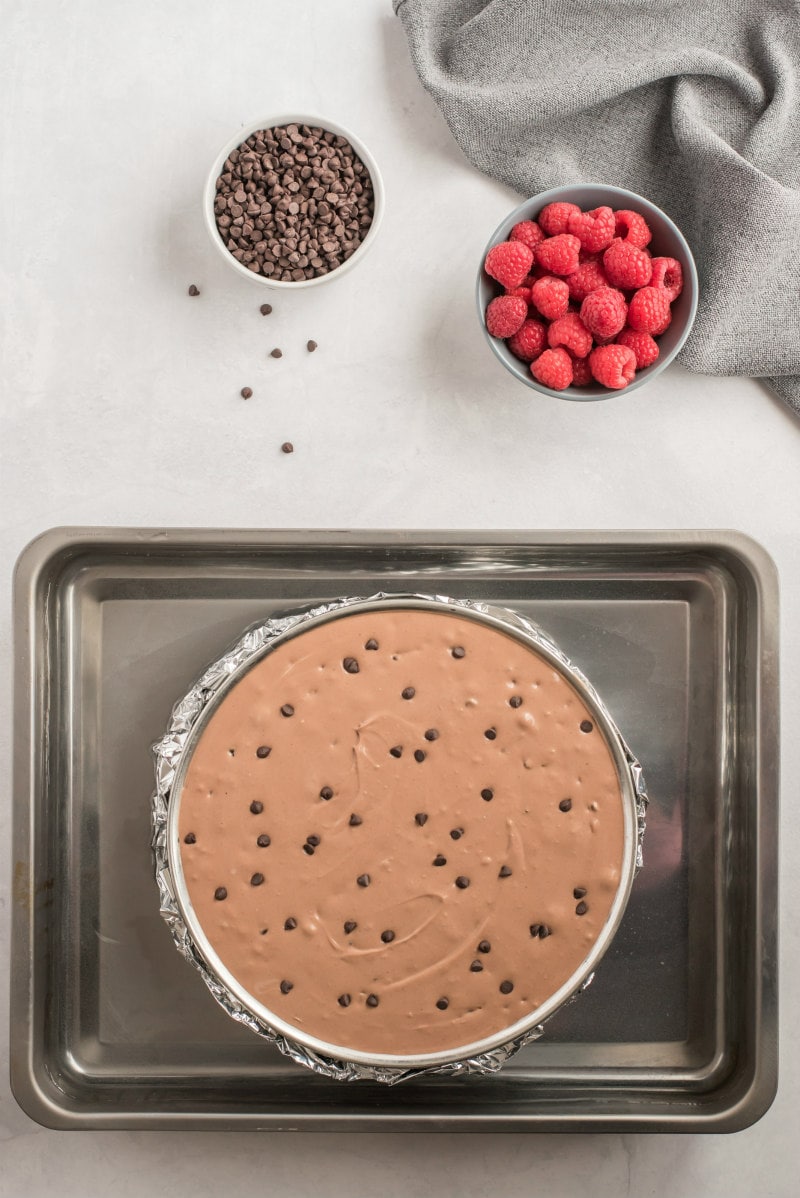 How to make a water bath for cheesecake:
A water bath is a larger pan filled with about 2 inches of water. The cheesecake pan is wrapped in heavy duty foil (to prevent water leakage into the cheesecake) and then the cheesecake is placed into the water bath, and the whole thing is placed into the oven.
There are two reasons that baking a cheesecake in a water bath is a good idea. The water bath adds moisture to the oven, which is perfect for baking cheesecake since it tends to crack when baking in dry heat. A water bath also allows for low and slow cooking, which allows for the cheesecake to be baked evenly.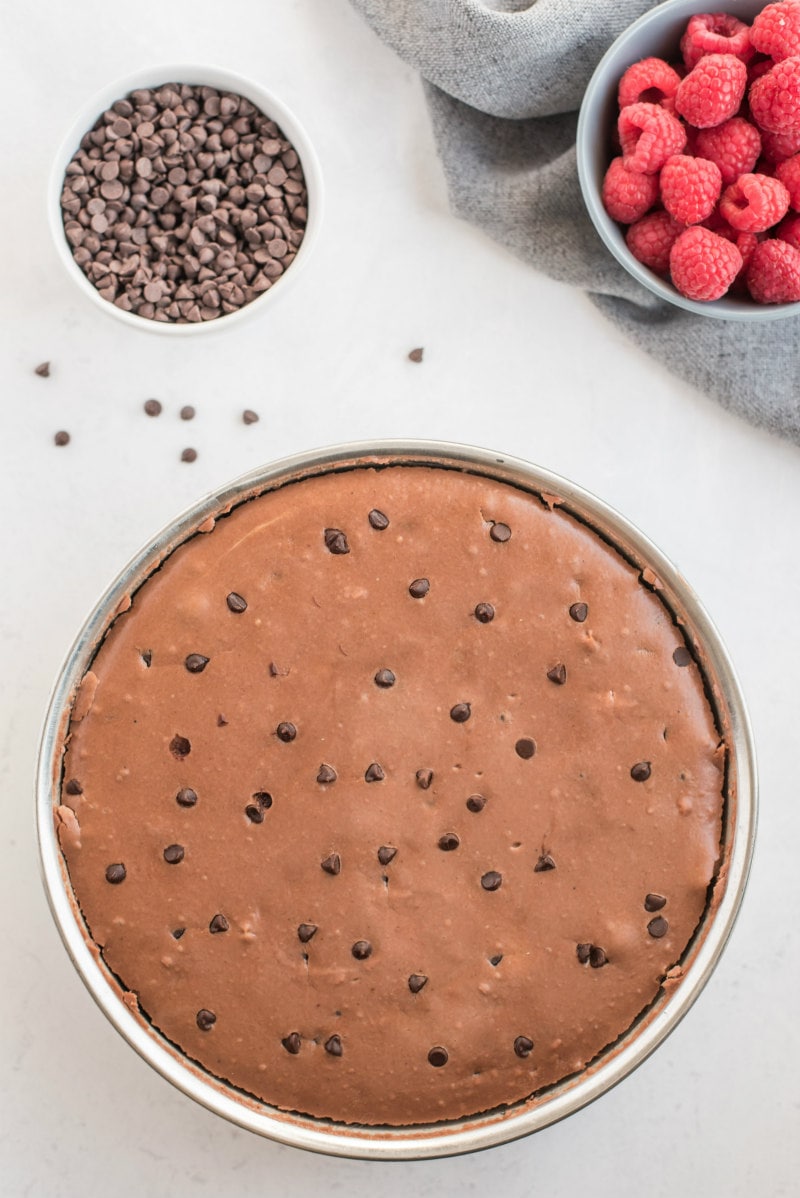 This chocolate chocolate chip cheesecake will bake anywhere from 90 minutes to 2 hours, until the center is almost set. Then you'll take it out of the water bath and set it on a rack to cool for about 45 minutes. The cooling process is finished in the refrigerator, where you should let it chill for at least 5 hours.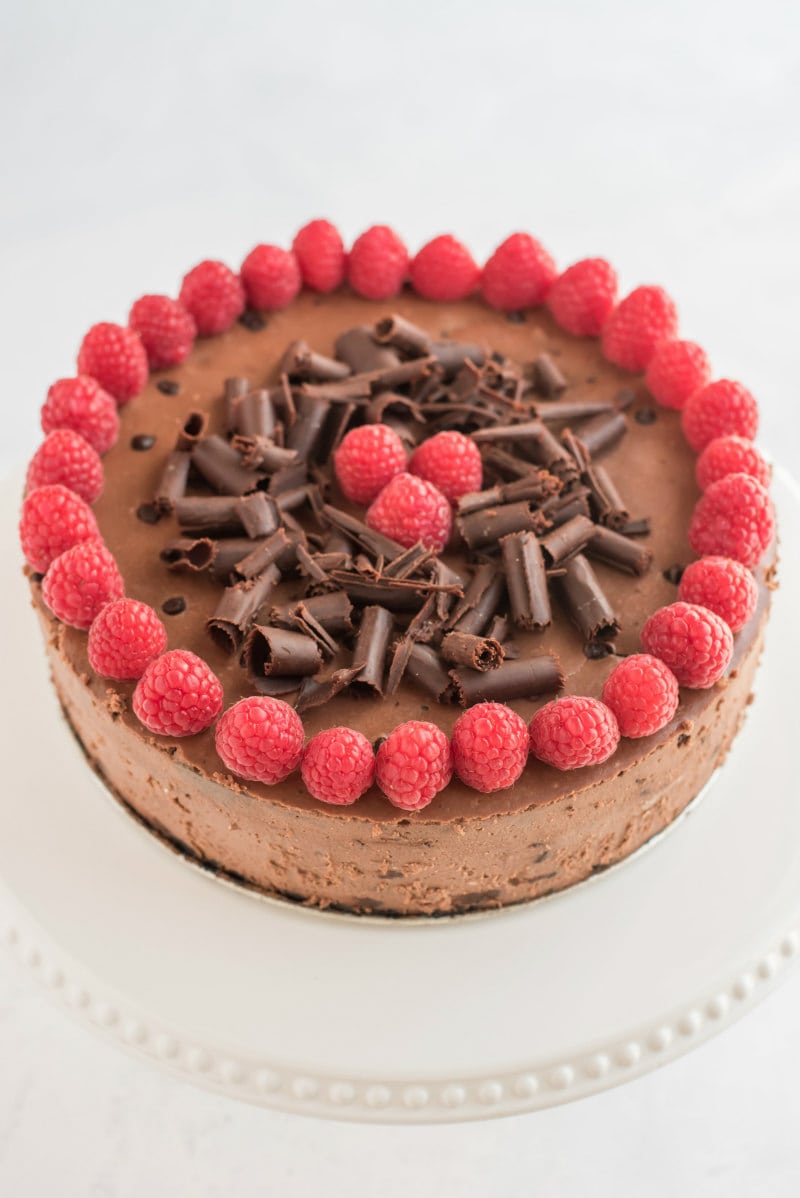 After chilling, remove the ring around the cheesecake and garnish it however you'd like.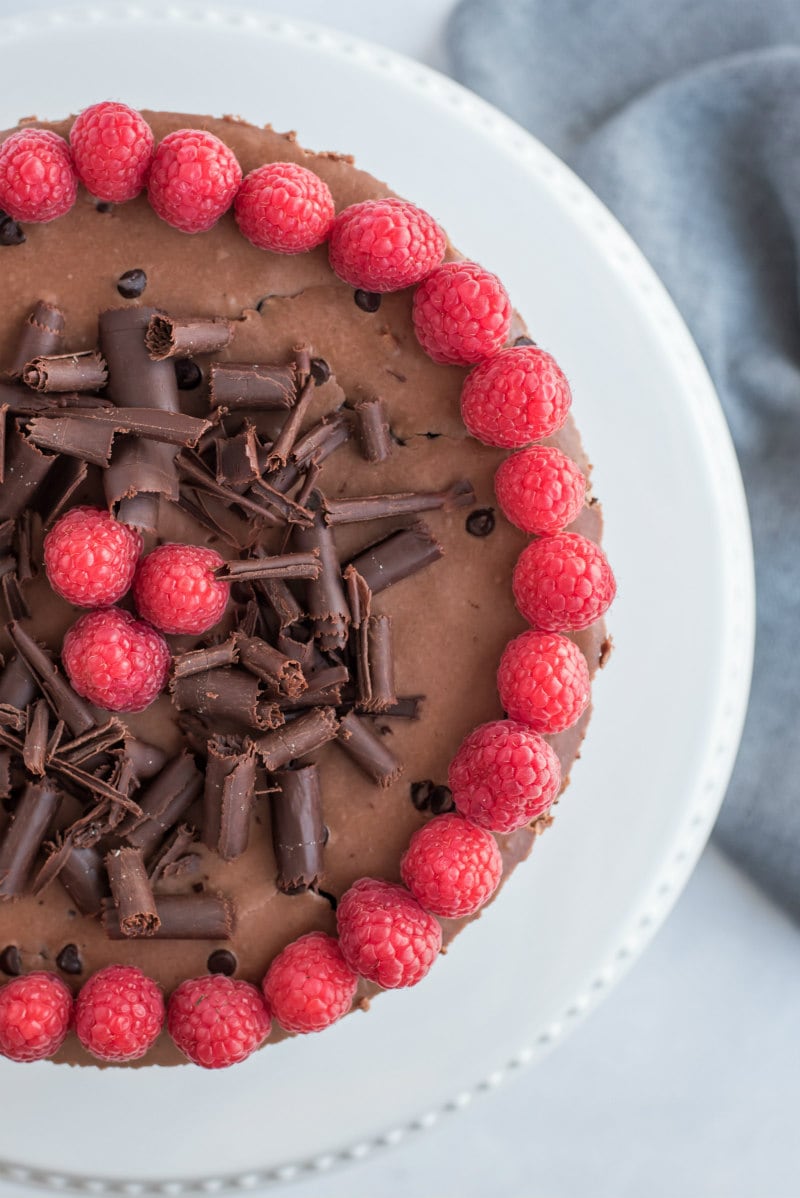 I think fresh raspberries look fabulous on this chocolate chocolate chip cheesecake, and some chocolate curls or shavings just add to the decadence!
How to make chocolate curls or shavings:
Slightly soften a 3 to 4-inch chunk of chocolate in the microwave. Using a vegetable peeler, scrape the blade lengthwise across the softened chocolate to create curls or shavings. Refrigerate until ready to use.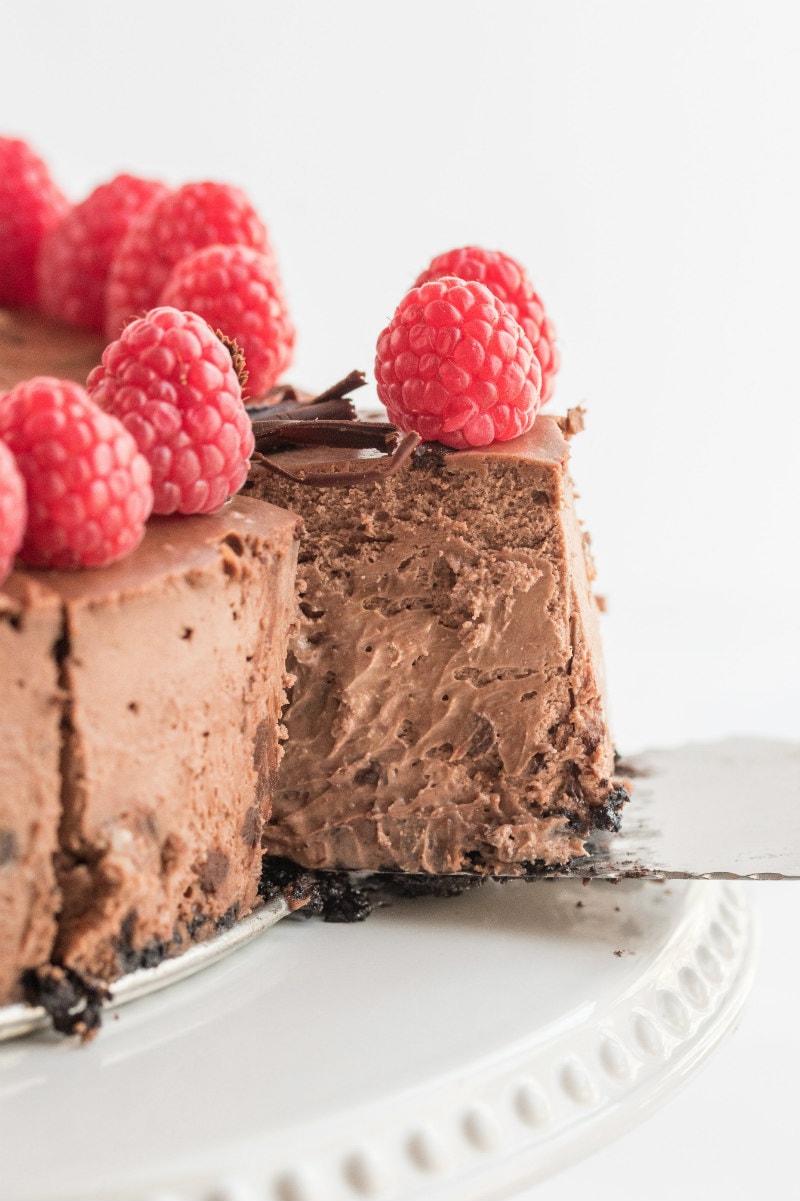 OMG, you can see how creamy and fabulous this chocolate cheesecake is when you slice into it!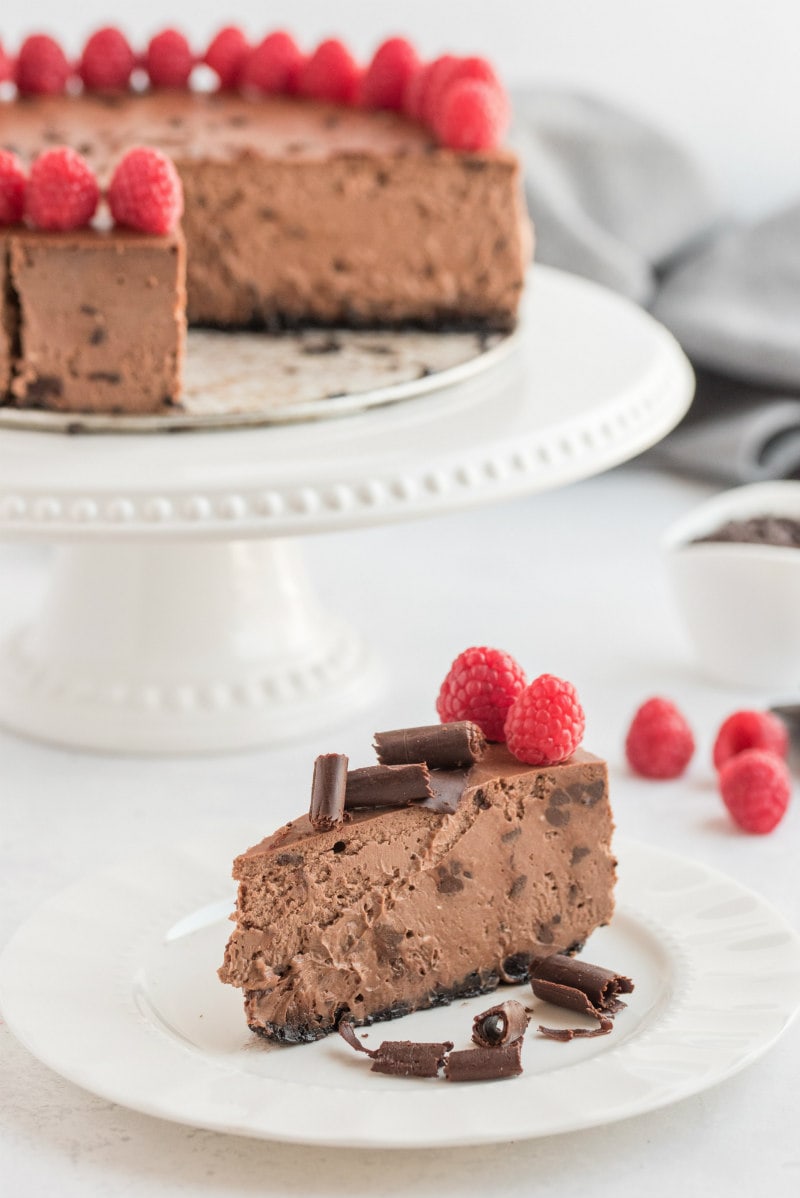 Chocolate chocolate chip cheesecake is the most delicious chocolate dessert to make for a special occasion. Consider baking it for New Year's Eve, Valentine's Day, a holiday dessert or a gourmet dinner party. Enjoy!
Here are a few more cheesecake recipes you might like to try:
Chocolate Chocolate Chip Cheesecake
An amazing, creamy chocolate cheesecake!
Recipe Details
Ingredients
CHOCOLATE COOKIE CRUST:
3½

tablespoons

butter

1

cup

finely crushed wafer cookies

2

tablespoons

granulated white sugar
CHEESECAKE:
32

ounces

cream cheese,

at room temperature

1

cup

granulated white sugar

4

large

eggs

1½

cups

sour cream

2

teaspoons

vanilla extract

1

cup

miniature semi-sweet chocolate chips

8

ounces

chopped semi-sweet chocolate,

melted

fresh raspberries and chocolate curls,

for garnish (optional)
Instructions
PREPARE THE CRUST:
Heat butter in a saucepan until melted. (Alternately, you can melt it in a bowl in the microwave). Remove from heat and stir in the cookie crumbs and sugar. Pat the crumb mixture over the bottom of a 9-inch springform pan that has been sprayed with nonstick spray. Place the crust-lined pan in the freezer.

Preheat the oven to 275°F.
PREPARE THE CHEESECAKE:
In a large bowl, use an electric mixer to beat the cream cheese and sugar until creamy. Add the eggs 2 at a time, beating well after each addition. Stir in the sour cream and vanilla. Fold in the chocolate chips and the melted chocolate.

Spread the cheesecake batter over the frozen crust. Sprinkle a few extra chocolate chips on top. Tap the pan on the countertop to break apart any large air bubbles. Wrap the bottom and side of the pan with a double layer of heavy-duty foil.

Place the springform pan in a larger baking pan and fill the baking pan with enough water to measure 2 inches (this is a water bath). Bake for 1½ to 2 hours or just until the center is almost set. Remove the foil and place the pan on a wire rack. Let cool for 45 minutes.

Chill, covered, on the rack for 5 hours or longer. After chilling, remove the ring around the cheesecake and garnish it with raspberries and chocolate curls.
Notes
*Chocolate graham crackers can be used for the crust. Put them in the food processor to crush them finely.
*To make chocolate curls, microwave a bar of semisweet chocolate on defrost until slightly softened. Use a vegetable peeler to form the curls.
Nutrition
Serving:
1
serving
,
Calories:
597
kcal
,
Carbohydrates:
42
g
,
Protein:
9
g
,
Fat:
45
g
,
Saturated Fat:
25
g
,
Cholesterol:
147
mg
,
Sodium:
319
mg
,
Potassium:
343
mg
,
Fiber:
3
g
,
Sugar:
33
g
,
Vitamin A:
1205
IU
,
Vitamin C:
1
mg
,
Calcium:
125
mg
,
Iron:
3
mg