This recipe has been featured in a menu on the site- Mother's Day Brunch.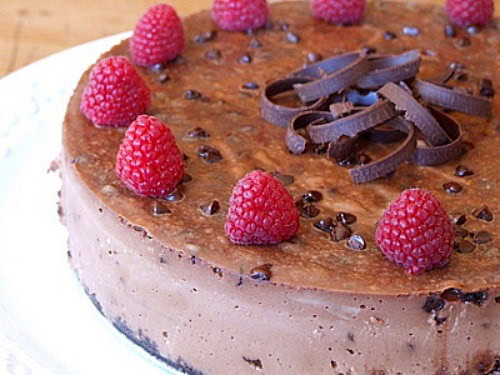 Chocolate- Chocolate Chip Cheesecake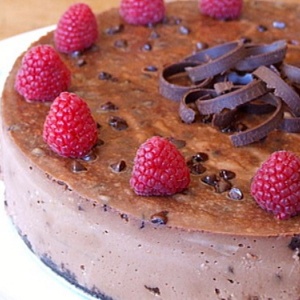 This cheesecake is incredible- rich and chocolatey and fabulous. It was gobbled up quickly at our Memorial Day barbecue by kids and adults alike.
Yield:
14 servings
Prep Time: 25 min + chilling time
Cook Time: 1 hr, 45 min
Ingredients:
CHOCOLATE COOKIE CRUST:
3 1/2 Tablespoons butter
1 cup finely crushed chocolate wafer cookies
2 Tablespoons granulated sugar
CHEESECAKE:
2 pounds cream cheese, at room temperature
1 cup granulated white sugar
4 large eggs
1 1/2 cups sour cream
2 teaspoons vanilla extract
1 cup (6 ounces) miniature semi-sweet chocolate chips
8 ounces semi-sweet chocolate, melted
fresh raspberries & chocolate curls for garnish, if desired
Directions:
1. Prepare crust: Heat butter in a saucepan until melted. Remove from heat and stir in cookie crumbs and sugar. Pat the crumb mixture over the bottom of an oiled 9-inch springform pan. Freeze in the freezer.
2. Preheat oven to 275°F.
3. Prepare cheesecake: Beat the cream cheese and sugar in a large mixing bowl until creamy. Add the eggs 2 at a time, beating well after each addition. Stir in the sour cream and vanilla. Fold in the chocolate chips and melted chocolate.
4. Spread the cream cheese mixture over the frozen crust. Sprinkle a few extra chocolate chips on top. Tap the pan on the countertop to break any large air bubbles. Wrap the bottom and side of the pan with heavy-duty foil.
5. Place the springform pan in a larger baking pan and fill the baking pan with enough water to measure 2 inches. Bake for 1 1/2 to 2 hours or just until the center is almost set. Remove the foil and place the pan on a wire rack. Let cool for 45 minutes.
6. Chill, covered, on the rack for 5 hours or longer. Garnish with raspberries and chocolate curls.
Tips:
*Chocolate graham crackers can be used for the crust. Put them in the food processor to crush them finely.
*To make chocolate curls, microwave a bar of semisweet chocolate on defrost until slightly softened. Use a vegetable peeler to form the curls.