Of course I'm crazy about these bars. Isn't everybody? >> Chocolate Chip- Peanut Butter Bars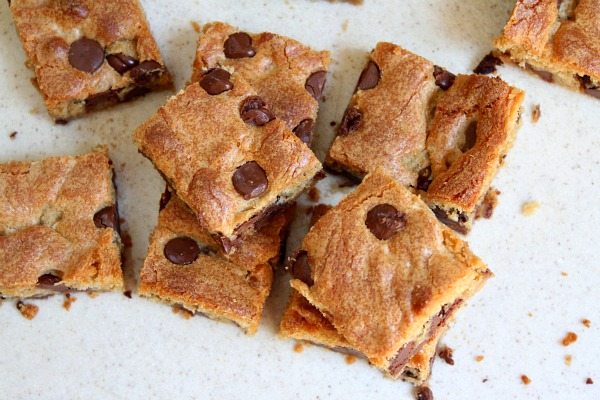 Here's something for you to bake this weekend… if you're a peanut butter and chocolate fan (me!)  In fact, this is how I prefer my PB + Choc combo… with mostly peanut butter and a dibble dabble of chocolate.  I'm one of those crazy people who prefers not to have chocolate overload in my desserts.  A little bit is just perfect.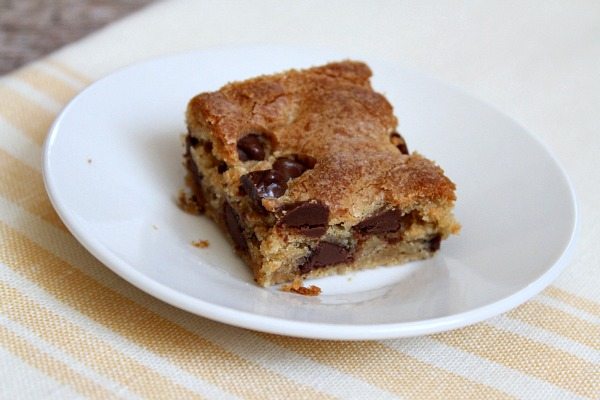 These slice up nicely for school lunches (unless you have a peanut-free school).  Yep, we already started school around here.  My baby RecipeBoy is now in HIGH SCHOOL!  He's a freshman… taking a tough load of classes… and is trying out for the Varsity tennis team this weekend.  He's also in a basketball conditioning P.E. class, and is playing year-round lacrosse.  So that means he's a very hungry teenager, and he needs a lot of treats like this lying around.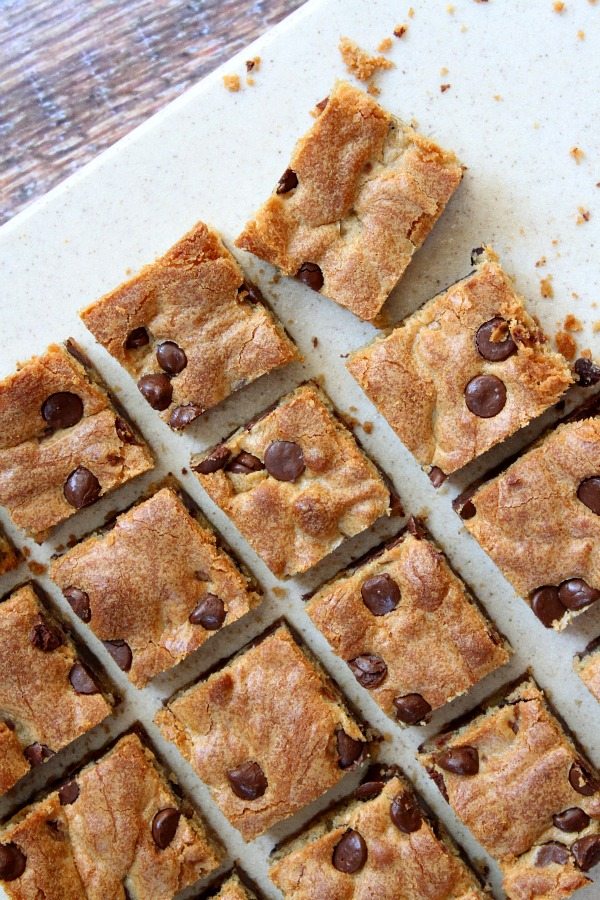 The consistency of these is kind of like a peanut butter-themed blondie with the added chips.  So in other words, they're perfect!
Chocolate Chip Peanut Butter Bars
Yield: 16 bars
Prep Time: 20 minutes
Cook Time: 30 minutes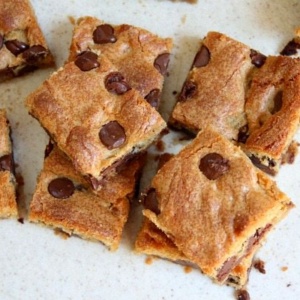 Ingredients:

6 tablespoons (3/4 stick) unsalted butter
1/2 cup smooth or chunky peanut butter
1 cup granulated white sugar
1/4 cup packed light brown sugar
2 large eggs
1 1/2 teaspoons vanilla extract
1 cup all-purpose flour
1/4 teaspoon salt
1 teaspoon baking powder
1 cup chocolate chips (plus a few extra to sprinkle on top)

Instructions:

Preheat the oven to 350 degrees F.  Spray a 9x9-inch pan with nonstick spray.
In a medium bowl, use an electric mixer to combine the butter and peanut butter until smooth.  Beat in the sugars, then beat in the eggs and vanilla... scraping the sides of the bowl as needed to get everything mixed well.
In a separate bowl, whisk together the flour, salt and baking powder.  Add to the wet mixture and beat until combined.  Stir in the chocolate chips.
Spread the batter evenly in the prepared pan.  Bake for about 30 minutes- or until the edges are beginning to come away from the sides of the pan.  Let cool completely at room temperature before cutting into bars.
Here are a few more peanut butter + chocolate baking ideas for you: