This Chocolate Peanut Butter Cup Cheesecake Cake is another one of my favorite cheesecake cake recipes!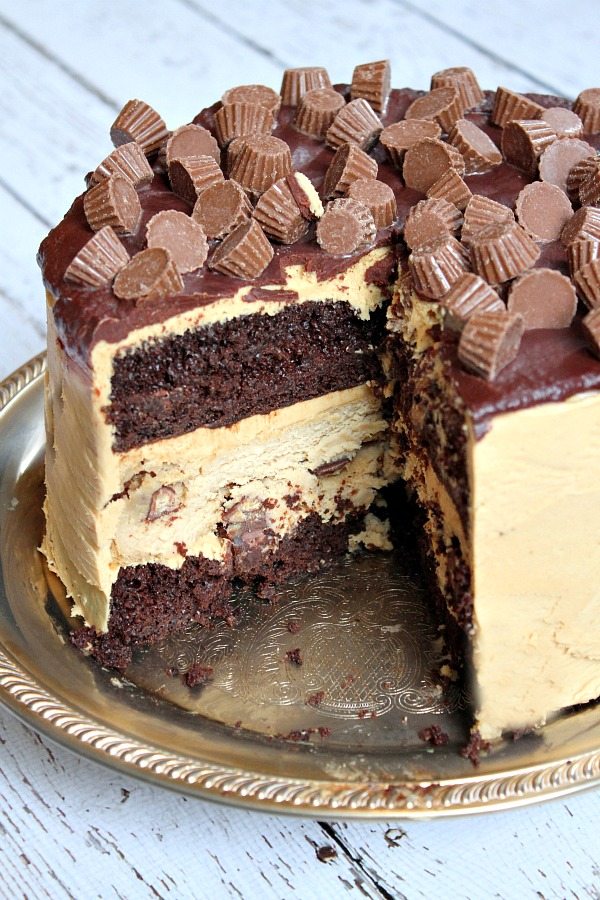 What can I say? I'm just totally crazy about cheesecake cakes. Maybe one of these days I'll write a cookbook totally devoted to this type of cake. Wouldn't that be a fun book to have? Goodness, I think I'd gain about 40 pounds writing a book like that! Anyway, the combination of chocolate and peanut butter is appealing to so many people these days, so I thought this would be a good combo for my latest cheesecake cake. There are two layers of chocolate cake, and sandwiched in between the cake layers is a layer of peanut butter cheesecake. The whole cake is covered with peanut butter frosting, topped with chocolate ganache, and then sprinkled with peanut butter cups. IT'S VERY RICH… so a small slice'll do ya just fine!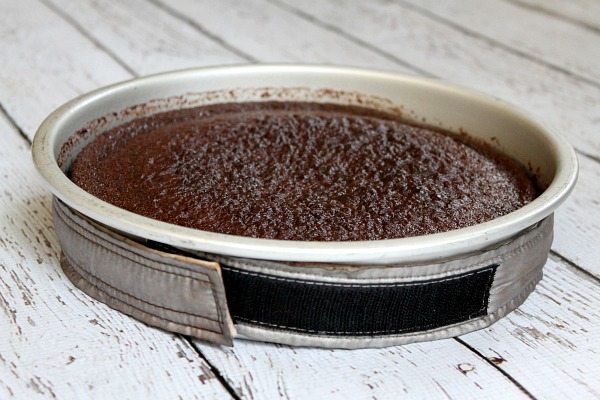 I've told you about my secret before, right? >> these cake strips?? They are the best baking invention known to mankind. Soak them in water, wrap them around each of your cake layers, and those cake layers will stay nice and flat for your cake. You don't want to have to deal with rounded mounds of cake! I use them for every cake I bake. They're cheap ($8.10 for two), and they last forever.
How to make a Chocolate Peanut Butter Cup Cheesecake Cake:
One chocolate cake layer goes on your platter. I like to slip little pieces of wax paper under the edges so the frosting doesn't mess up my platter.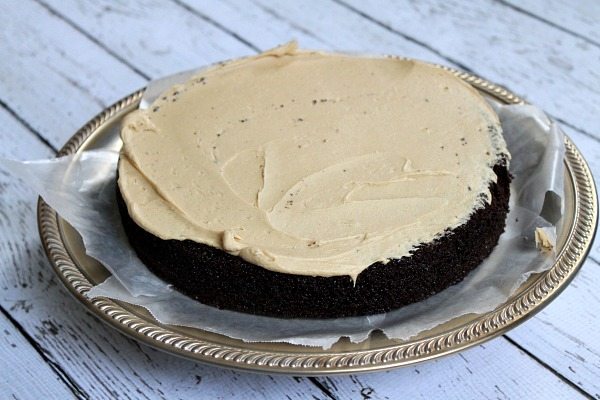 A small amount of peanut butter frosting goes on top of the first cake layer.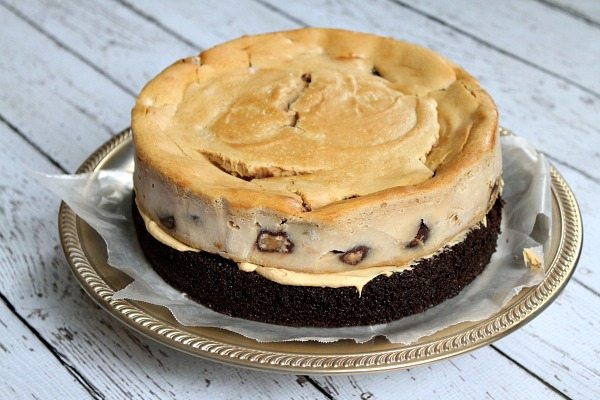 Then the cheesecake layer goes on next!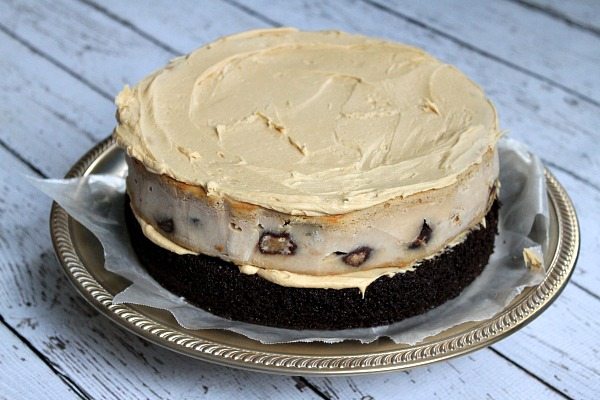 More frosting is spread onto the cheesecake layer (the frosting just kind of helps the layers stick together a little better).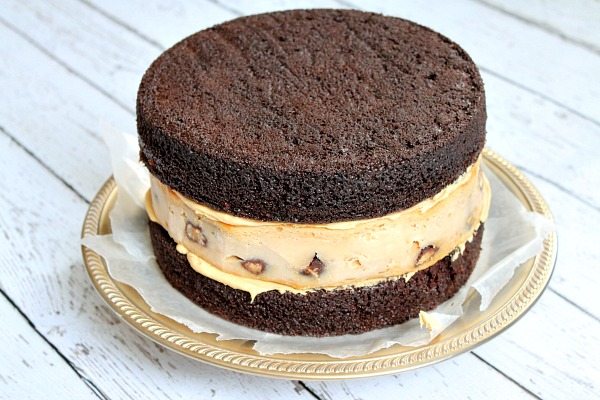 The 2nd layer of cake tops the cheesecake.
Then the whole thing is frosted. Once you have everything covered, you can then slip out the wax paper and throw it away.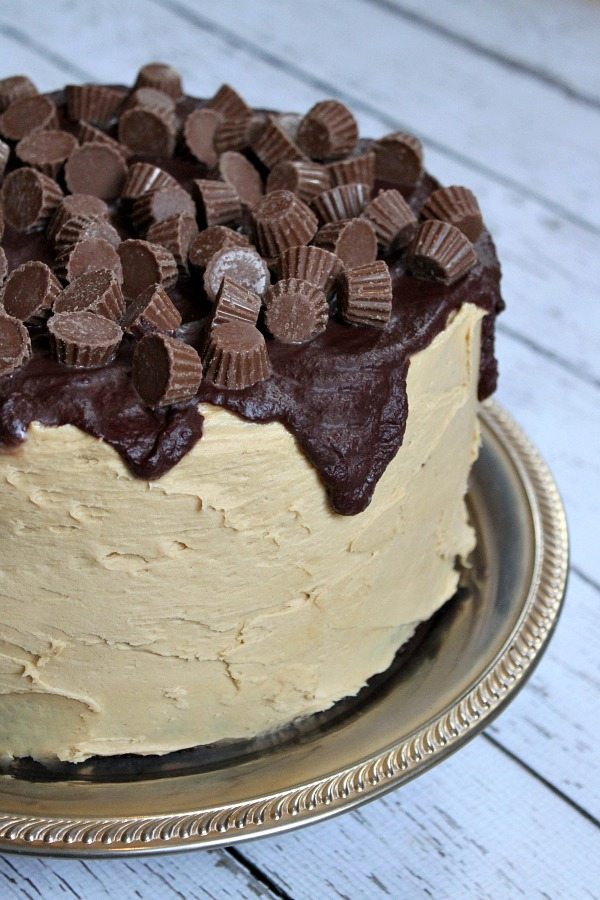 I added a chocolate ganache to the top. I'm not sure you really need it since the cake is completely and totally decadent and perfect all on its own. It's totally your call. My chocolate seized up on me a little bit, so it's not super shiny and beautiful (but it can be!) Otherwise, the peanut butter cups are sprinkled over the top. Don't skip out on those! The Reeses mini cups can be found in your market's candy aisle.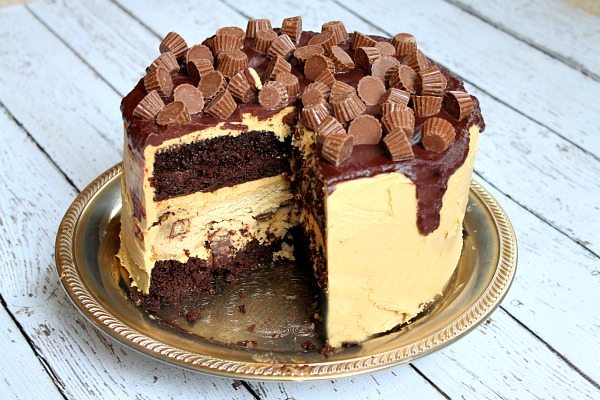 Ahhhh, the unveiling of the inside of the cake! You know why I love this cake so much? Because there are three kinds of desserts going on here > cake, cheesecake and candy! You won't need dessert for a week after eating a slice of this! I served this at a little dinner party I had at my house recently. A friend of mine that I hadn't seen since high school was in town and we had him and his partner over for dinner. They raved about this cake, which was really, really nice since my friend is a caterer in San Francisco!! I'm so glad it was a big hit. I'm thinking it would be cool for Mother's Day or Father's Day too… if your mom or Dad or your dude or chick is into the chocolate-peanut butter combo. It's a special treat indeed!
Here are a few more cheesecake cake recipes you might enjoy:
Chocolate Peanut Butter Cup Cheesecake Cake
Totally decadent cake for chocolate and peanut butter lovers! Serve slivers for individual servings- it's rich!
Recipe Details
Ingredients
PEANUT BUTTER CHEESECAKE LAYER:
Two

8-ounce packages

cream cheese,

at room temperature

1¼

cups

creamy peanut butter

(do not use natural)

1

cup

granulated white sugar

3/4

cup

sour cream

3

large

eggs

2

teaspoons

vanilla extract

8

ounces

Reeses minis

(or chopped Reeses Peanut Butter Cups)
CHOCOLATE CAKE:
2

cups

granulated white sugar

1¾

cups

all purpose flour

3/4

cup

unsweetened cocoa powder

1½

teaspoons

baking powder

1½

teaspoons

baking soda

1½

teaspoons

salt

2

large

eggs

1

cup

milk

1/2

cup

vegetable or canola oil

2

teaspoons

vanilla extract

1

cup

boiling water
PEANUT BUTTER FROSTING:
3/4

cup (1½ sticks)

butter,

at room temperature

1½

cups

creamy peanut butter,

(do not use natural)

1/4

cup

milk

(or a little more, as needed)

3

cups

powdered sugar
CHOCOLATE GANACHE (recipe from Ina Garten):
8

ounces

good semisweet chocolate chips

1/2

cup

heavy cream

1

teaspoon

instant coffee granules
ON TOP:
8

ounces

Reeses minis

(or chopped Reeses Peanut Butter Cups)
Instructions
PREPARE THE CHEESECAKE LAYER:
Preheat the oven to 325 degrees F. Spray a 9-inch springform pan with nonstick spray. It's also nice if you can line it with a round of parchment paper, if you have it. In a large bowl, use an electric mixer to combine the cream cheese and peanut butter until smooth. Mix in the sugar, then beat in the sour cream, eggs and vanilla. Keep mixing until everything is nice and smooth. If you'd like to have Reeses in the cheesecake, stir them in now. Scrape the batter into the prepared pan and smooth the top. Bake until it is no longer super wiggly in the middle when you (gently) shake the pan. A tiny bit of wiggle is fine, but if there's a lot then it's not quite done yet. It should take between 1 hour and 1 hour and 15 minutes to bake the cheesecake until done (it's completely okay if the cheesecake happens to crack- it will not be noticeable in the cake). Remove from the oven and let cool on the counter. Transfer to the freezer and keep frozen until ready to assemble the cake.
PREPARE THE CAKE LAYERS:
Preheat oven to 350°F. Grease and flour two 9-inch round baking pans. Whisk together sugar, flour, cocoa, baking powder, baking soda and salt in large mixer bowl. Add eggs, milk, oil and vanilla; beat on medium speed of electric mixer for 2 minutes. Stir in water (batter will be thin). Pour batter evenly into prepared pans. Bake 30-35 minutes or until wooden pick inserted in center comes out clean. Cool 10 minutes; remove from pans to wire racks. Cool completely.
PREPARE THE FROSTING:
In a large bowl, use an electric mixer to combine the butter and peanut butter. Beat until smooth and well-combined. Mix in 1/4 cup milk, then add in the sugar a little at a time until it is all mixed in. Sprinkle in a little more milk, if needed, and continue to beat until the frosting is a good spreading consistency. It should be creamy and delicious!
ASSEMBLE THE CHEESECAKE CAKE:
Place one cake layer into the center of a cake plate or platter. Lightly frost the first layer of cake. Remove the cheesecake from the freezer, take off the sides of the pan, and slide a knife under the the cheesecake to release it from the pan and peel off the parchment paper. Use a sharp knife to trim the cheesecake around the edges, as needed to match the size of your cake layers (see *Tips). Place the cheesecake layer on top of the first cake layer. Lightly frost the cheesecake layer. Place the second cake layer on top of the cheesecake.
FROST THE CAKE & MAKE THE GANACHE:
Scoop a good amount of frosting onto the top of the cake. Use a flat spatula to spread the frosting smoothly across the top and down the sides. For the ganache: Cook the chocolate chips, heavy cream, and instant coffee in the top of a double boiler over simmering water until smooth and warm, stirring occasionally. Set aside until slightly cool to the touch, and then drizzle over the top of the cake and let it drip down the sides. Sprinkle Reeses on top.

Refrigerate this cake until ready to serve (see tips below for serving and storage).
Notes
*Measure your cheesecake layer against the cake layers. If the cheesecake layer turns out to be slightly larger size round than your cake layers, move it to a cutting board and use a knife to gently shave off some of the exterior of the cheesecake.
*If you are serving this cake at a party, it's perfectly okay to leave the cake at room temperature for a couple of hours (the cheesecake thaws very quickly). Otherwise, keep it stored in the refrigerator. It also freezes perfectly. Freeze it as is, then wrap it in plastic wrap and store it in the freezer until it is needed. Leftover slices may also be wrapped and frozen.
Nutrition
Serving:
1
serving
,
Calories:
877
kcal
,
Carbohydrates:
86
g
,
Protein:
17
g
,
Fat:
55
g
,
Saturated Fat:
20
g
,
Cholesterol:
110
mg
,
Sodium:
672
mg
,
Potassium:
558
mg
,
Fiber:
5
g
,
Sugar:
67
g
,
Vitamin A:
785
IU
,
Vitamin C:
0.1
mg
,
Calcium:
123
mg
,
Iron:
3
mg