In this Chocolate Chip Cookie Brittle, the classic chocolate chip recipe is changed up to create a new way to eat chocolate chip cookies.  Watch the video showing you how to make this cookie brittle, then scroll to the end of the post and print out the recipe so you can make it at home.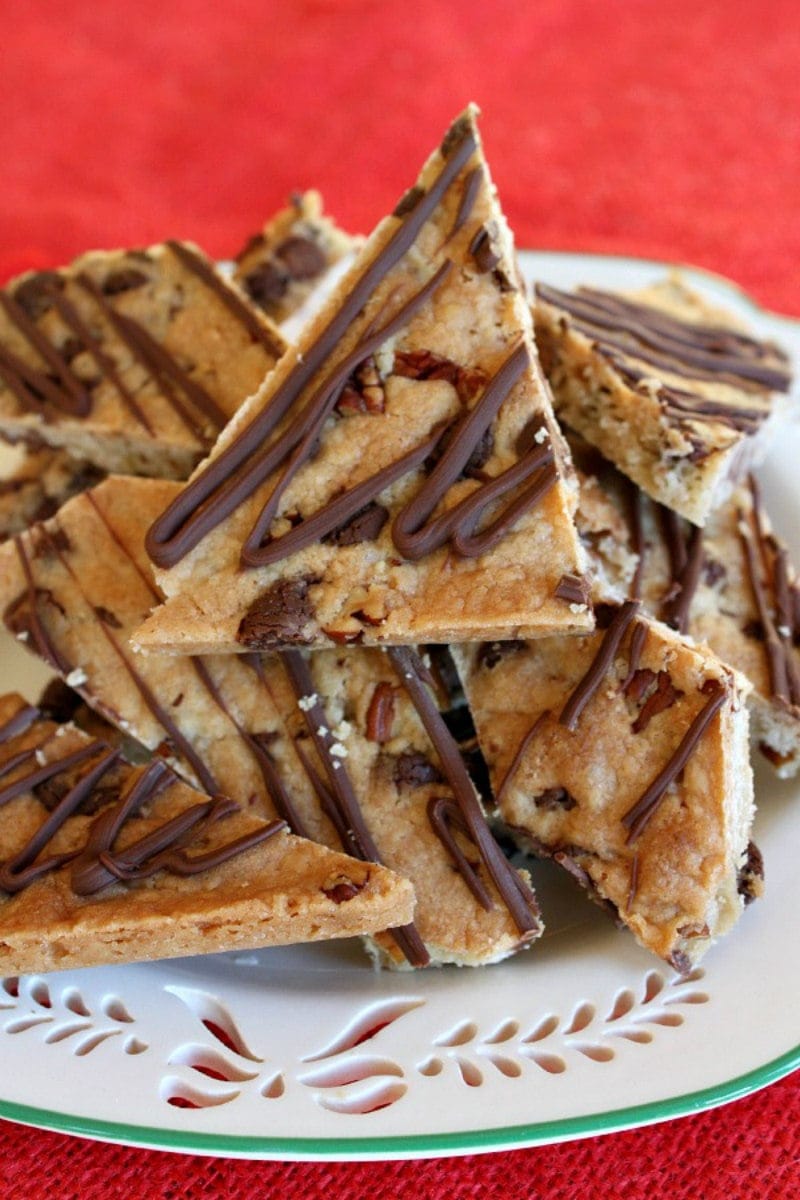 It's safe to say that we're big-time chocolate chip cookie eaters in our house.  I don't make them often because I'm far too tempted by the dough itself, but my boys happily chow down on them whenever I whip up a batch.  Of course, me being me, I'm always trying to "think outside the box" in a chocolate chip cookie recipe.  Maybe add a little sea salt, change up the chocolate, stuff something inside of them, make them into bars, add some secret ingredients… anything to break up the monotony of The Chocolate Chip Cookie.  But your typical person walking down the street is completely satisfied with the same 'ol same 'ol.
This Chocolate Chip Cookie Brittle was shared here on RecipeGirl back in 2012 with permission from Nestle (their original recipe).  The "brittle" characteristic is created by eliminating eggs, baking soda and brown sugar.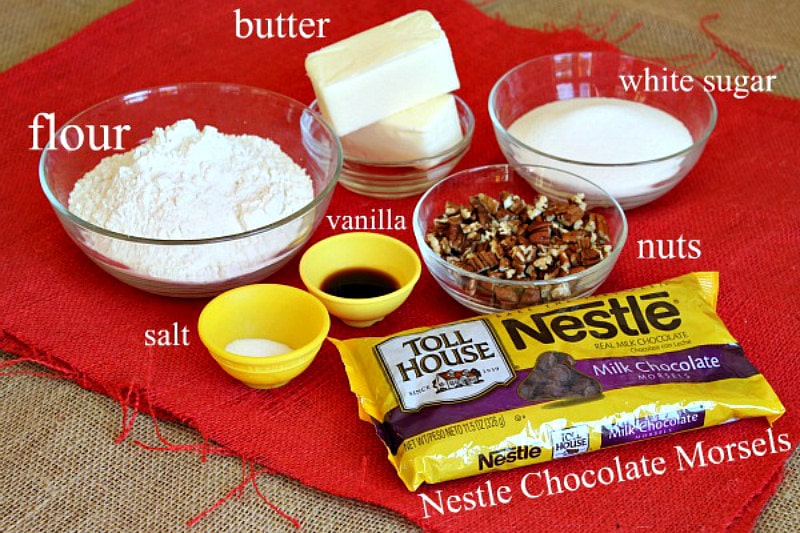 What ingredients do you need to make Chocolate Chip Cookie Brittle?
You'll need a pretty short list of ingredients: flour, sugar, salt, butter, vanilla, chocolate chips and nuts.

How to make Chocolate Chip Cookie Brittle:
When the dough is created, it will look very dry and crumbly.  Keep mixing though, and those crumbles will eventually snuggle together to create larger crumbles like this.  Then you can stir in the chips and nuts (I use pecans).
Do you have to add nuts to cookie brittle?
You can certainly experiment with NOT using nuts, but I will say that I think they help with the texture of the cookie brittle.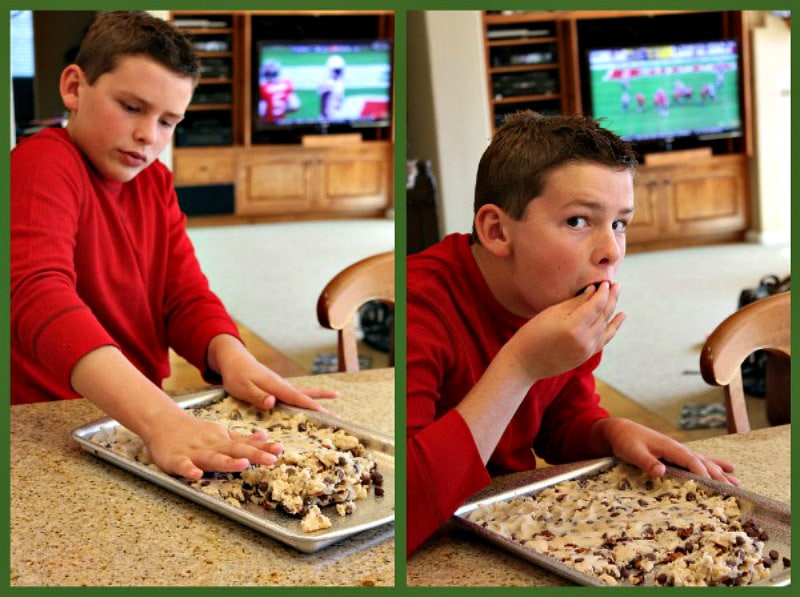 Enlist a helper to use (clean) hands to pat the dough into a rimmed baking sheet.  Watch that helper closely as he might sneak some of your dough!  Fun note:  this is my son Brooks way back in 2012 when he was just eleven years old.  He's 17 now, and he's 6'4″ tall.  You can see an updated photo of him on his blog:  RecipeBoy.com.  He has grown a lot!
You do need some kind of rimmed baking sheet for this recipe so the brittle can keep its shape.  Amazon sells a 15×10 Rimmed Baking Sheet, if you're in need of one.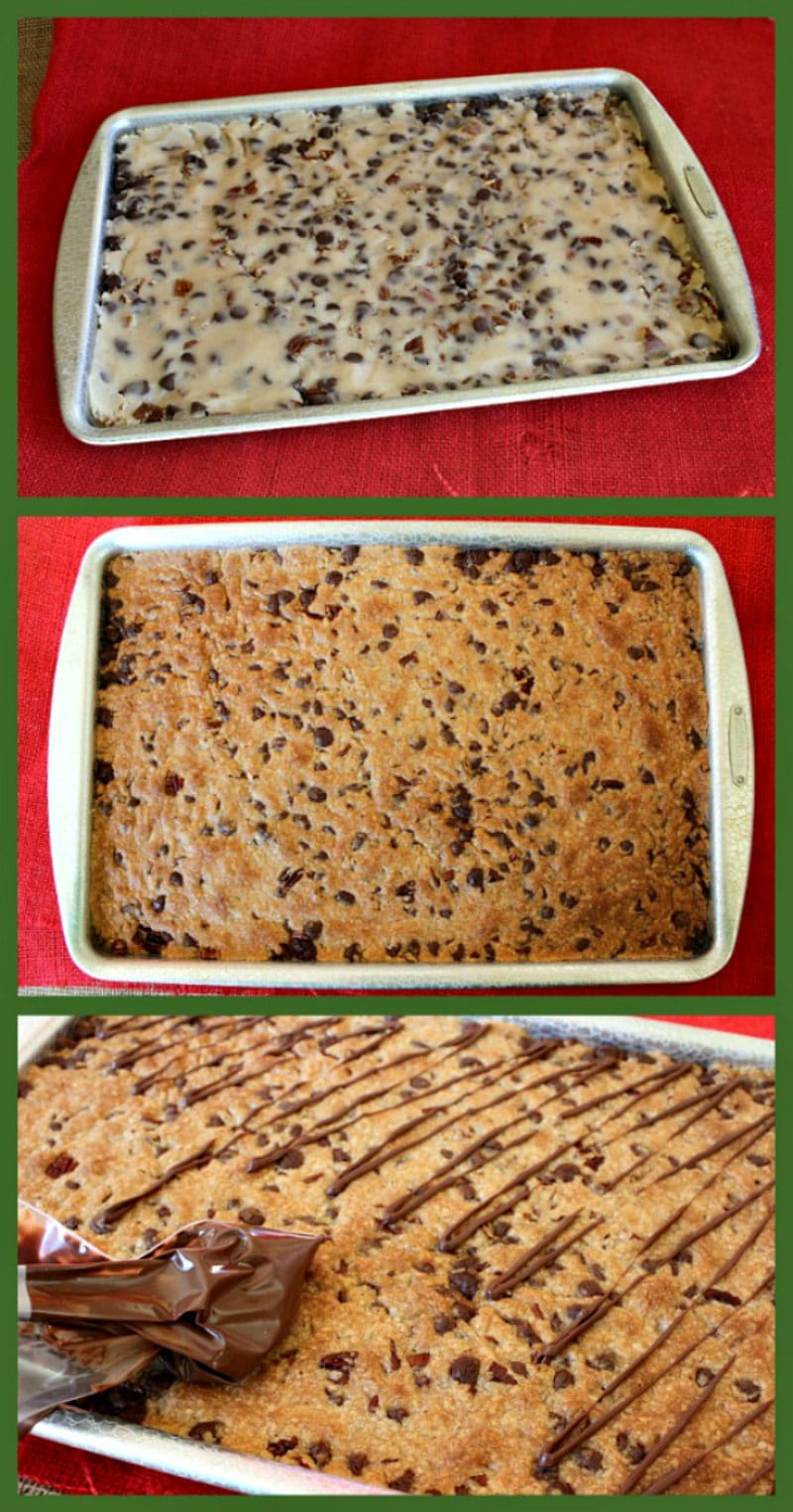 The dough bakes up thin and crispy.  Once it's cooled, you should add some chocolate drizzle.  Just melt chips all on their own in a glass dish in the microwave.  Stir, scoop into a heavy duty zip baggie, snip the corner and squeeze your drizzle.  Then you can set it aside for a while to let the chocolate set, or you can put it into the refrigerator or freezer for a few minutes and it will solidify quickly.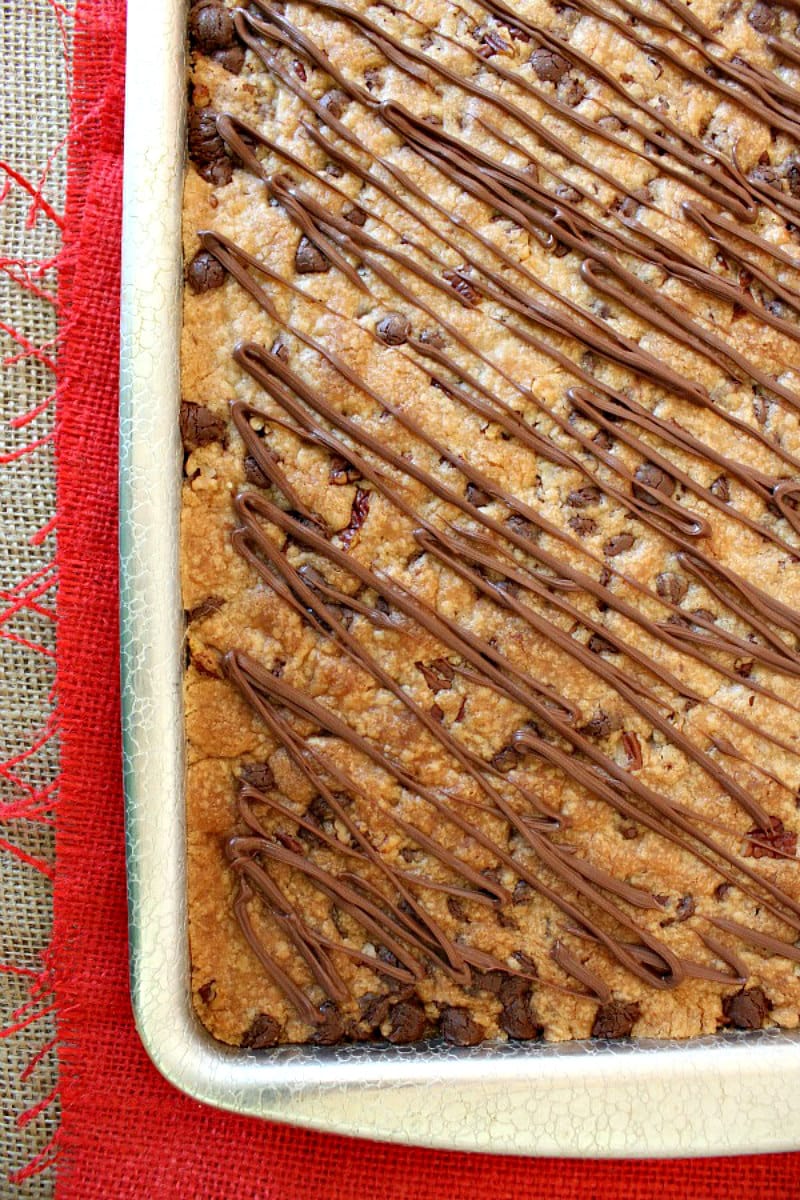 You can be all neat with your drizzle, or you can go every which- way.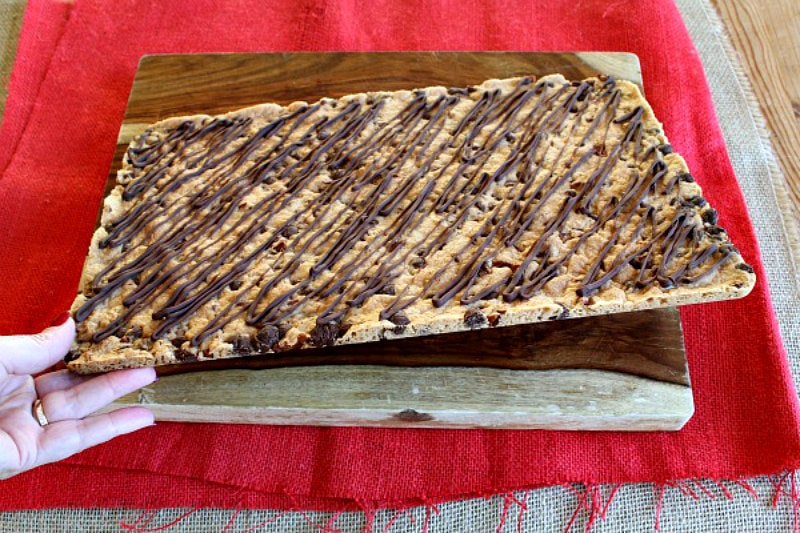 Once the chocolate has a chance to firm up, you'll be able to lift the whole thing out of the pan like a giant cookie!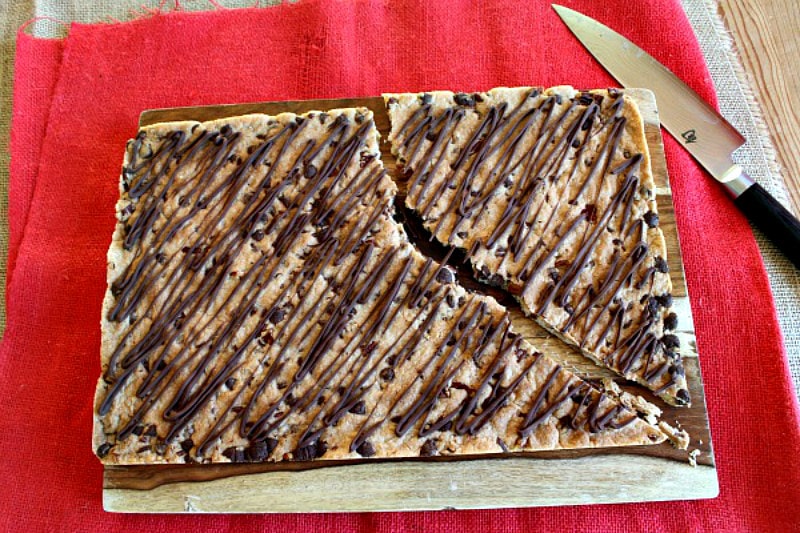 Use a knife to help give you the first crack.  Then break apart the giant piece of cookie brittle into jagged pieces, or use a knife to create neat cuts.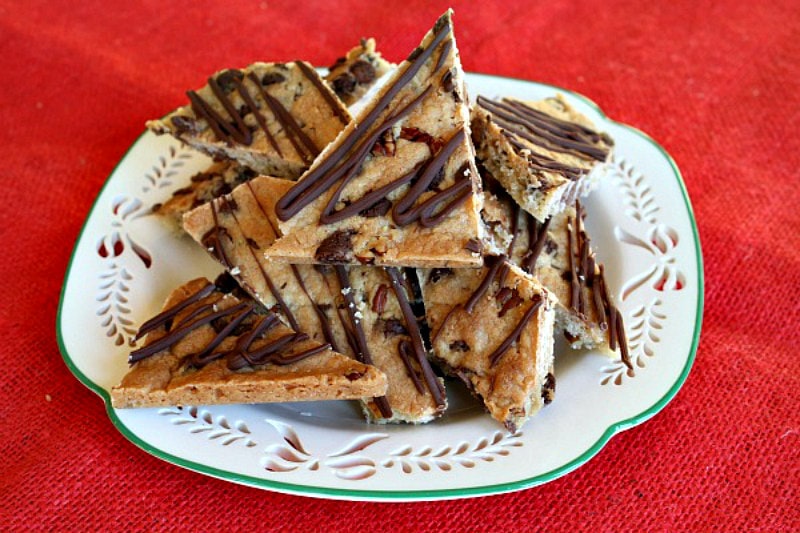 I prefer the "neat cut" look.  Is that a sign of an obsessively organized, neat -freak?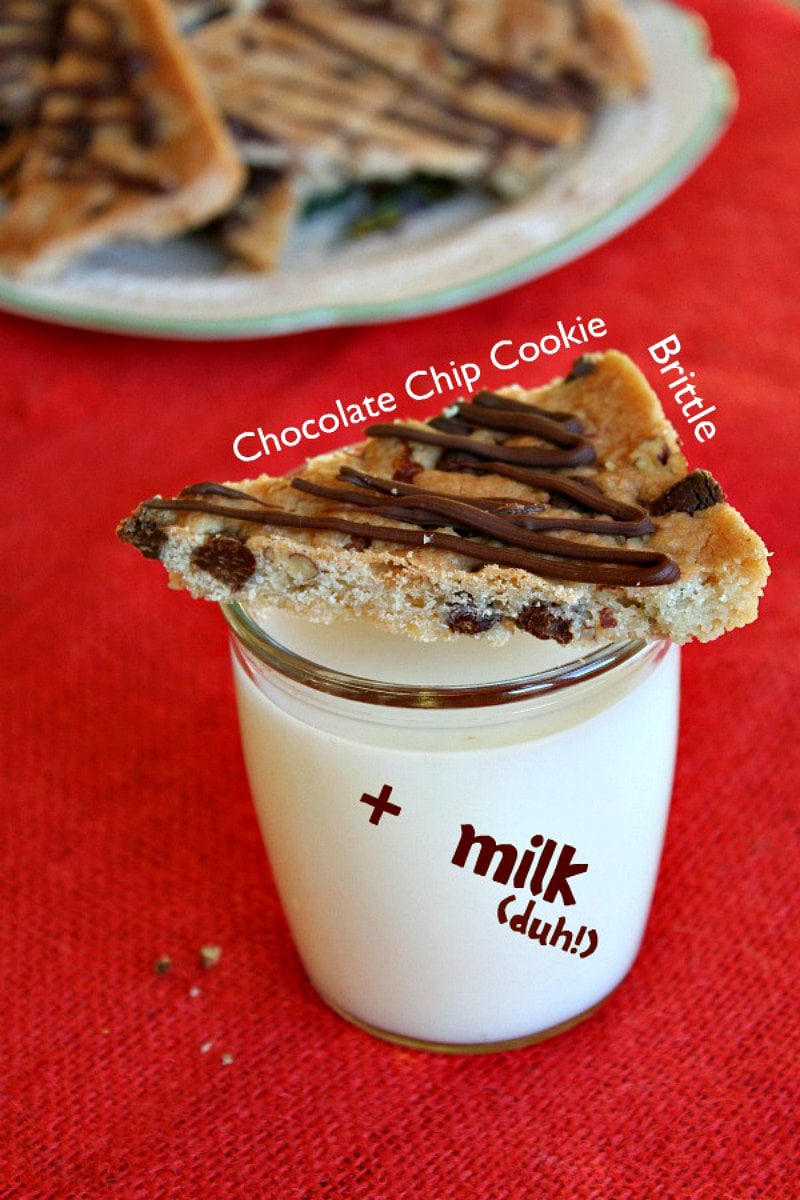 And what makes it "brittle," you may ask?  Well, since it's missing some of the key ingredients to make it a classic chocolate chip cookie (eggs, baking soda and brown sugar), you're not going to bite into this one and expect a soft welcome.  It's a harder texture… which means crunchy… which means serving wedges to dunk in milk is a brilliantly fabulous idea.  These are a nice addition to holiday cookie platters too.  I'd maybe sneak some red/green sprinkles onto the chocolate drizzle before it dries if you're doing these for the holidays.  The verdict in my house from my my RecipeBoy:  "these are good."  (And that's pretty much a major endorsement from a pre-teen, who is not terribly talkative!!)
P.S. I know someone's gonna ask, so I'm gonna just tell you.  You can't make the recipe as-is into classically- shaped round cookies.  This recipe is for brittle, not cookies.
If you really love chocolate chip cookies, you will want to check out my nice collection of the best chocolate chip cookies!
Chocolate Chip Cookie Brittle
A delicious way to enjoy chocolate chip cookies!
Recipe Details
Ingredients
1

cup (2 sticks)

butter,

at room temperature

1

cup

granulated white sugar

1 1/2

teaspoons

vanilla extract

1

teaspoon

salt

2

cups

all purpose flour

12

ounces (2 cups)

chocolate chips (milk chocolate or semi sweet),

divided

1

cup

chopped pecans or walnuts
Instructions
Preheat the oven to 375 degrees F.

In a large bowl, use an electric mixer to combine the butter, sugar, vanilla and salt. Gradually beat in the flour. The mixture will be crumbly, but keep mixing and you will begin to see the dough come together in clumps. That's the consistency you're looking for. Set the mixer aside and stir in 1 1/2 cups of the chocolate chips and the nuts. Use clean hands to press the dough into a 15x10-inch jelly roll pan (rimmed baking sheet). Bake for 20 to 25 minutes or until golden brown and set. Cool until just slightly warm.

Place the remaining 1/2 cup chocolate chips in a small glass bowl. Microwave 60 to 90 seconds or until melted. Stir until smooth and scoop into a heavy-duty plastic baggie. Snip a tiny corner of the bag; squeeze to drizzle over the cookie. Allow the chocolate to cool and set (place in the refrigerator for quick-setting). Break the cookie into irregular pieces, or use a knife to help cut into wedges.
Nutrition
Serving:
1
piece
,
Calories:
192
kcal
,
Carbohydrates:
21
g
,
Protein:
1
g
,
Fat:
11
g
,
Saturated Fat:
5
g
,
Cholesterol:
17
mg
,
Sodium:
139
mg
,
Potassium:
25
mg
,
Sugar:
13
g
,
Vitamin A:
215
IU
,
Vitamin C:
0.1
mg
,
Calcium:
19
mg
,
Iron:
0.6
mg