This is the absolute best bake sale cookies recipe:  Oatmeal Chocolate Chip Cookies
It's a great time of year (spring… summer) to start thinking about having a fundraising bake sale for your child's school, your church, your library, a charity group, etc. To have a successful fund-raiser, you will need a supply of awesome baked goods that are going to draw in a crowd and rake in the cash. These cookies are a universal favorite with just about everyone. They are dense and buttery and delicious!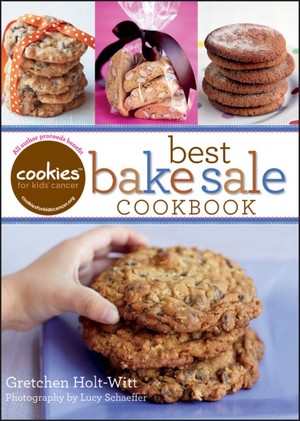 The recipe comes from The Best Bake Sale Cookbook by Gretchen Holt-Witt (Copyright 2011, John Wiley & Sons). This is not a brand new cookbook, but it's one I reach for again and again when I'm baking goodies! What I love most about this book: all of the author's proceeds benefit CookiesForKidsCancer.org- a charity raising millions of dollars to help fund new pediatric cancer treatments.  Here are my favorite "bake sale" recipes from the book:  Classic Sugar Cookies, Prince Liam's Peanut Butter Cookies, Cinnamon- Sugared Snickerdoodles, Classic Chewy Brownies, Blondies, Coconut Cupcakes with Seven-Minute Frosting, Paige's Famous Banana Bread, Applesauce Bread and Morning Glory Muffins.  I want to make them all, host a bake sale in my front yard and give all the proceeds to charity!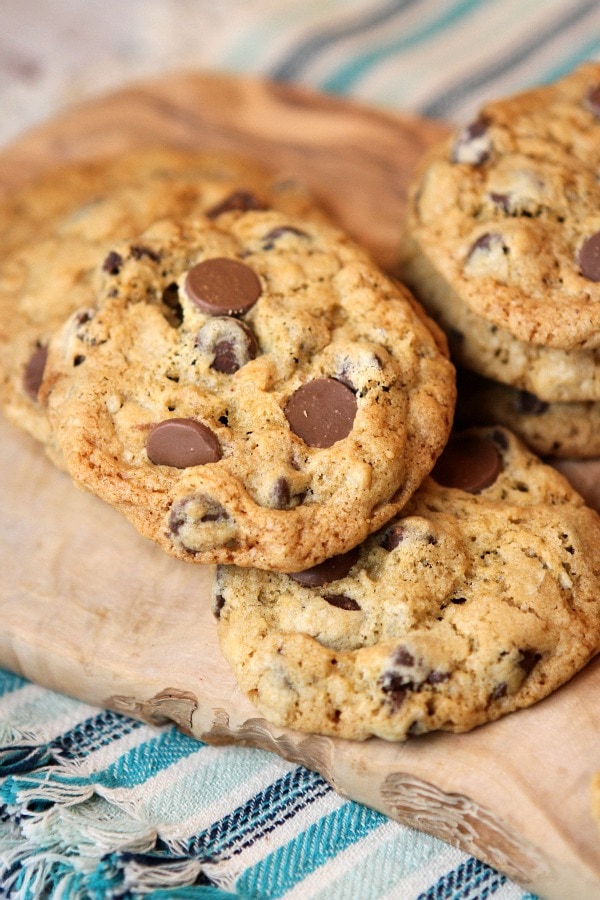 It's important to make your bake sale treats as visually appealing as possible.  I always dot extra chocolate chips on top of each rolled ball of dough before baking so they bake right into the top and plainly show that chips are plentiful in every cookie.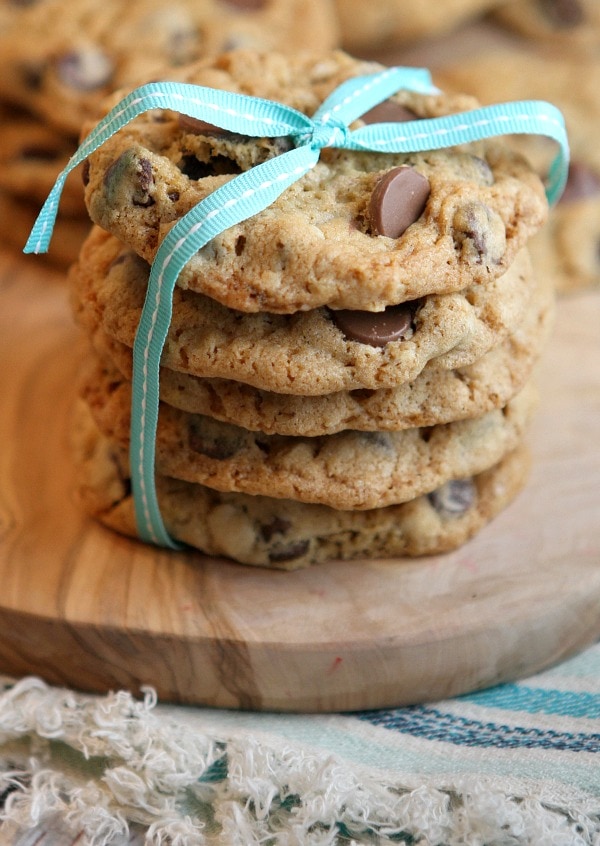 Packs of three to five cookies in a seasonal or festive bag with ribbons tend to sell very well.  Presentation is key.  You want your tables of baked goods to be well-organized and pretty… with signs indicating what is for sale with clear pricing.  It's also helpful to have a poster displayed sharing details on what the money raised will be used for.  One more tip:  have kids around your bake sale as they add fun and joy to the event!
P.S. My son loves to use this book as a resource for recipes for his neighborhood lemonade stands too!
Oatmeal Chocolate Chip Cookies
Yield:
3 to 4 dozen cookies
Prep Time: 25 minutes
Cook Time: 12 minutes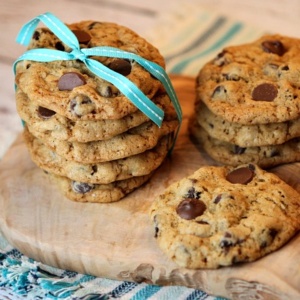 Ingredients:

1 cup (2 sticks) unsalted butter, at room temperature
1 cup packed light brown sugar
1/2 granulated white sugar
1 large egg
1 large egg yolk
1 tablespoon vanilla extract
2 cups all-purpose flour
1 cup oats
1 teaspoon baking powder
1 teaspoon baking soda
1 teaspoon kosher salt
3 cups semi-sweet or milk chocolate chips

Instructions:

Preheat the oven to 325 degrees F.  Line baking sheets with parchment paper or silpat mats.
In a large bowl, use an electric mixer to combine the butter and sugars.  Add the egg, egg yolk and vanilla, beating until well combined.
In a separate bowl, whisk together the flour, oats, baking powder, baking soda and salt.  Add to the wet mixture and beat until everything is well incorporated, scraping down the sides of the bowl as needed.  Stir in the chocolate chips.
Form the dough into heaping teaspoon-sized balls and place them about 2 inches apart on the prepared baking sheets  Using your palm, gently press down.  Bake 12 to 15 minutes, or until the cookies begin to brown at the edges.  Cool on the cookie sheet for 10 minutes, then transfer to a wire rack to cool completely.

SOURCE:

 RecipeGirl.com (shared with permission from

The Best Bake Sale Cookbook

by Gretchen Holt-Witt (copyright 2011; John Wiley & Sons).
More bake sale recipes you might enjoy: