This recipe has been featured in a post on The Recipe Girl blog: Browned Butter Chewy Chocolate Chip Cookies.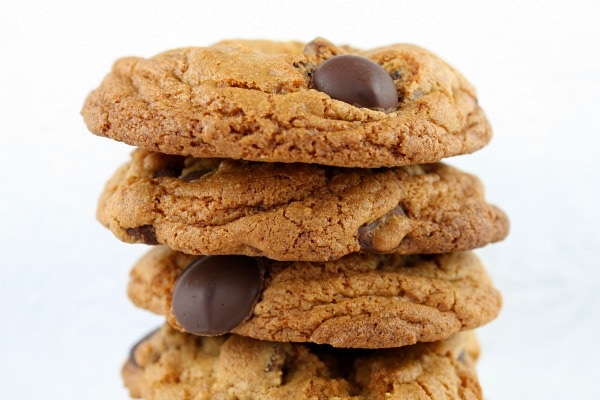 Browned Butter Chocolate Chip Cookies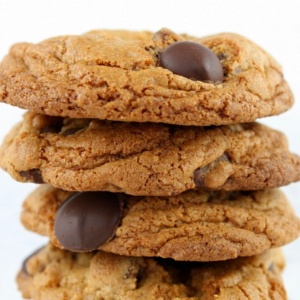 This is one of my favorite chocolate chip cookie recipes of all time. The browned butter adds a wonderful flavor to the cookies.
Yield:
2 1/2 dozen
Prep Time:30 min
Cook Time:12 min
Ingredients:
2 1/4 cups bread flour
1 teaspoon kosher salt
1 teaspoon baking soda
1 cup unsalted butter
1/4 cup granulated white sugar
1 1/4 cups dark brown sugar, packed
1 Tablespoon half and half cream
1 Tablespoon lemon juice, freshly squeezed
1 1/2 teaspoons vanilla extract
1 large egg
1 large egg yolk
2 cups chocolate chips
Directions:
1. Sift together flour, salt and baking soda; set aside.
2. Melt butter in medium saucepan over low heat. Continue to cook on low heat, stirring often, until butter is browned. Turn off heat and stir in white and brown sugars.
3. Scrape into a medium mixing bowl and use electric mixer to cream the butter and sugars together. Add half & half, lemon juice, vanilla extract and eggs. Mix in until well combined. Add half of the flour mixture and incorporate into the batter with electric mixer. Add the rest and mix until thoroughly combined. Stir in the chocolate chips. The cookie dough will be very soft and buttery. Cover the bowl with plastic wrap and chill until firm (an hour or two).
4. Preheat oven to 375°F. Line baking sheets with parchment paper. Scoop up heaping Tablespoonfuls of cookie dough and use your hands to roll into balls. Place 12 balls on a sheet, keeping about an inch and a half between each ball.
5. Bake 10 to 12 minutes, depending on how large you've rolled your balls (mine took 11 minutes).
Tips:
*Milk may be used in place of the half and half cream, if needed.
*I prefer to use bittersweet chocolate chips in this cookie recipe.
*Cool completely and store in an airtight container.