To me, these Secret Ingredient Chocolate Chip Cookies (with two secret ingredients) are the ultimate chocolate chip cookie.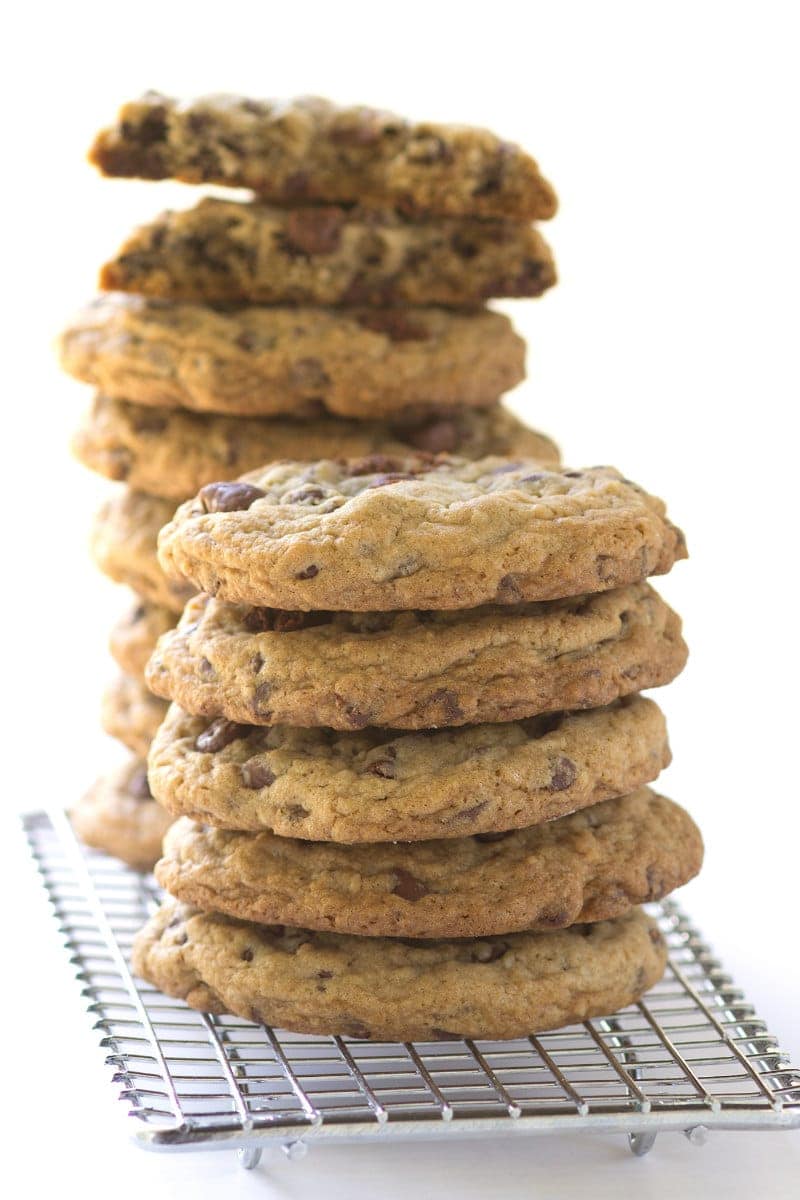 Baking different varieties of chocolate chip cookies seems to be all-the-rage these days. If someone claims to have the most superior recipe, I'll give it a go. I've tried many recipes but I always come back to this one. This recipe was on a recipe card that I've had for many years. I'm not quite sure where it was originally published.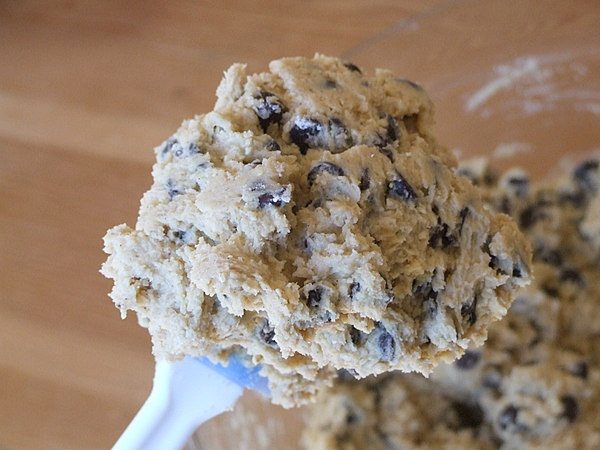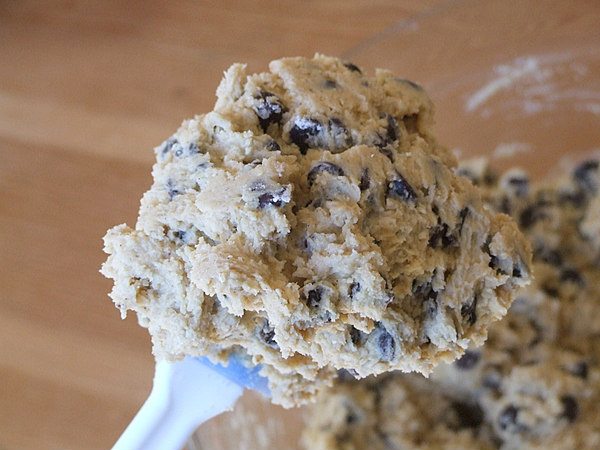 I'm personally happy nibbling away on the cookie dough. My husband freaks out about that. I try to explain to him that I grew up eating cookie dough and cake batter and all that stuff and I don't seem to harbor any ill-effects. The best part about baking is licking the beaters and rubber spatulas. Yum.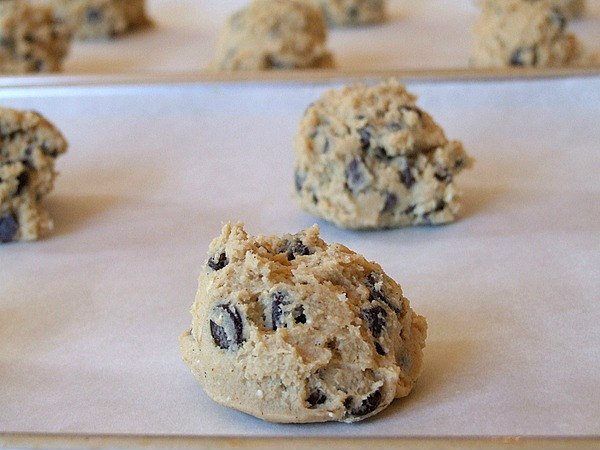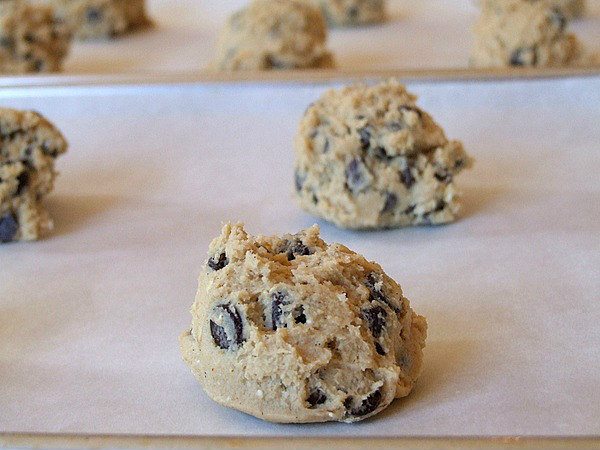 I haven't found any value in refrigerating cookie dough before baking… but I do like to plop it on my cookie sheets (lined with parchment) in a semi-round manner. I figure if it starts out round, it's less likely that you'll get the funky shapes. For these cookies, I use a regular-sized ice cream scoop (about 1/4 cup).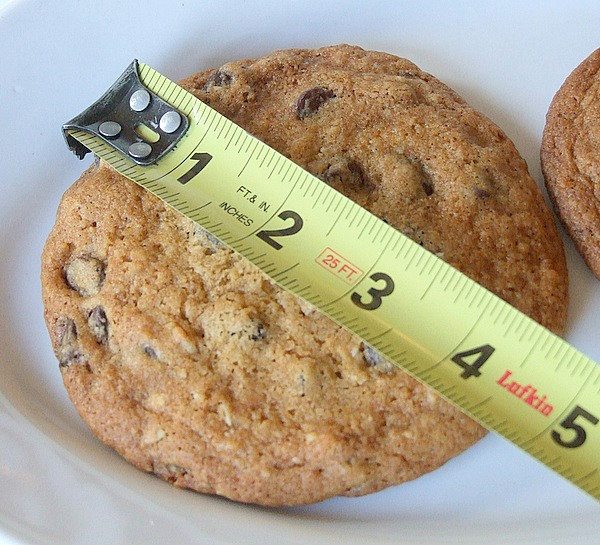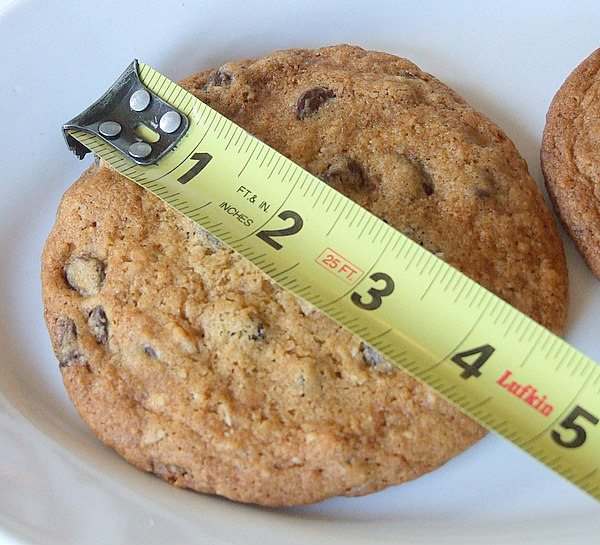 The result: Big. Round. Perfect.
Warm is best.
With milk, of course.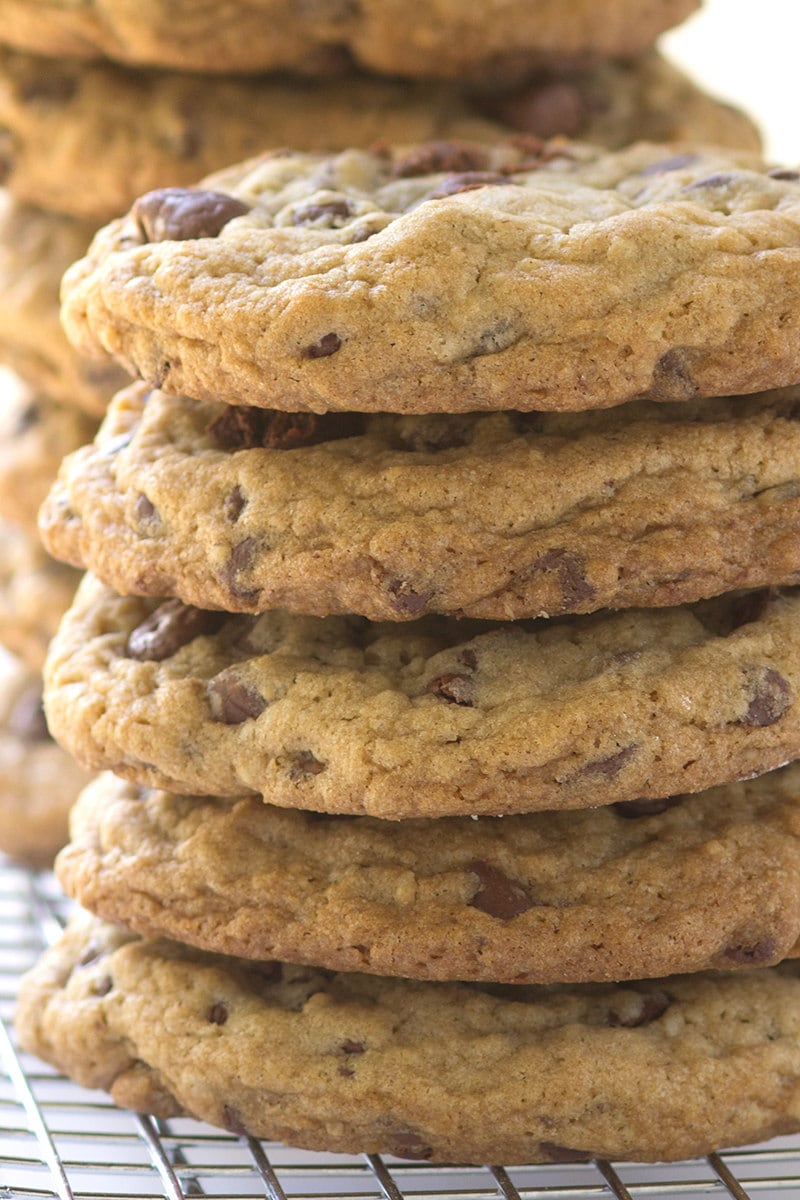 These Secret Ingredient Chocolate Chip Cookies produce a big, round, chip-filled chewy cookie. And what are those secret ingredients I mentioned??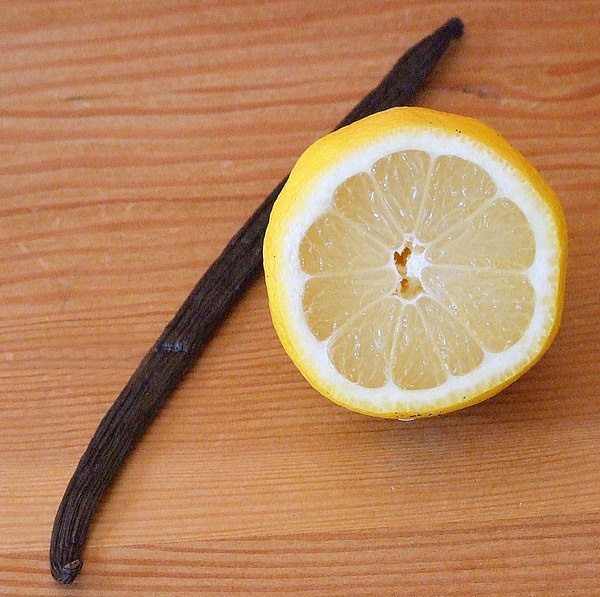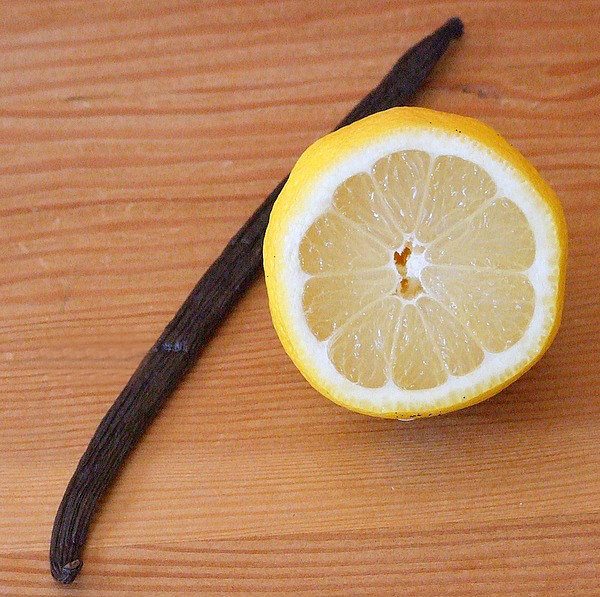 Vanilla and lemon. Lots of vanilla… 2 teaspoons of pure vanilla extract plus a scraped vanilla bean. Lemon juice too… just a teaspoon. You don't taste it at all, but it helps produce a chewier cookie. I suppose there is a third secret ingredient to share too… oatmeal. Except that you put the oatmeal in the food processor or blender and pulverize it into an almost-powder. That adds a little twist to the dry ingredients.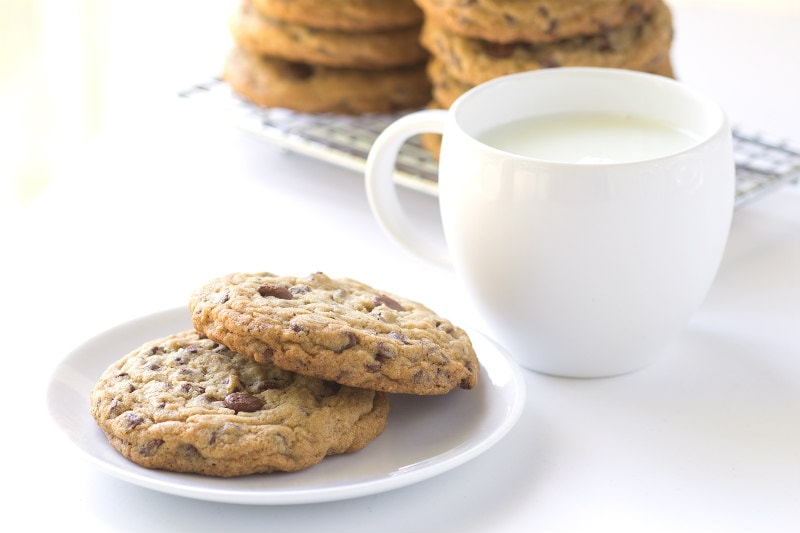 So go ahead and continue your search for the ultimate chocolate chip cookie recipe… refrigerate the dough for 24 hours, use parchment, use silpat, use insulated sheets, use jelly roll pans, bake them upside down or whatever… but if you try these, you might just wish to put an end to your search. Enjoy!
Here are a few more recipes for chocolate chip cookies you might enjoy: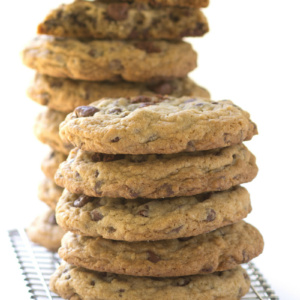 Secret Ingredient Chocolate Chip Cookies
I really think this is one of the best chocolate chip cookie recipes out there!
Ingredients
1/2

cup

rolled oats

(regular or quick)

2 1/4

cups

all purpose flour

1 1/2

teaspoons

baking soda

1/2

teaspoon

salt

1/4

teaspoon

ground cinnamon

1

cup (2 sticks)

butter,

at room temperature

3/4

cup

packed brown sugar

3/4

cup

granulated white sugar

2

teaspoons

vanilla extract

1

vanilla bean, scraped

(optional-- but so good)

1

teaspoon

freshly squeezed lemon juice

2

large

eggs

3

cups

semi sweet chocolate chips

1 1/2

cups

chopped walnuts,

optional
Instructions
Preheat oven to 350° F. Cover 2 baking sheets with parchment paper or silpat mats.

Place rolled oats in blender or food processor and process until finely ground. Combine ground oats, flour, baking soda, salt and cinnamon in mixing bowl.

In another bowl, use an electric mixer to combine the butter, sugars, vanilla, vanilla bean and lemon juice. Add the eggs, and beat until fluffy.

Stir the flour mixture into the egg mixture, blending well. Add the chips and nuts (if desired) to the dough and mix well. Using 1/4 cup of dough for each cookie, scoop round balls with an ice cream scoop and place 2 1/2-inches apart on prepared baking sheets.

Bake until cookies are lightly browned, 16 to 18 minutes. Transfer to wire rack to cool completely. Store in a sealed container to keep them soft and chewy.
Recipe Video
Recipe Notes
If you do not want to grind oats for this recipe, go ahead and use regular oats. Just make sure that you are using quick-cooking oats.
Nutrition Facts
Secret Ingredient Chocolate Chip Cookies
Amount Per Serving (1 cookie)
Calories 355
Calories from Fat 198
% Daily Value*
Fat 22g34%
Cholesterol 40mg13%
Sodium 198mg9%
Potassium 196mg6%
Carbohydrates 35g12%
Protein 4g8%
Vitamin A 285IU6%
Vitamin C 0.2mg0%
Calcium 34mg3%
Iron 2.4mg13%
* Percent Daily Values are based on a 2000 calorie diet.
Thank you to Miranda from the CookieDoughAndOvenMitt.com blog for shooting some of these photos for me.