This recipe has been featured in a post on The Recipe Girl blog: Brown Butter Cornbread.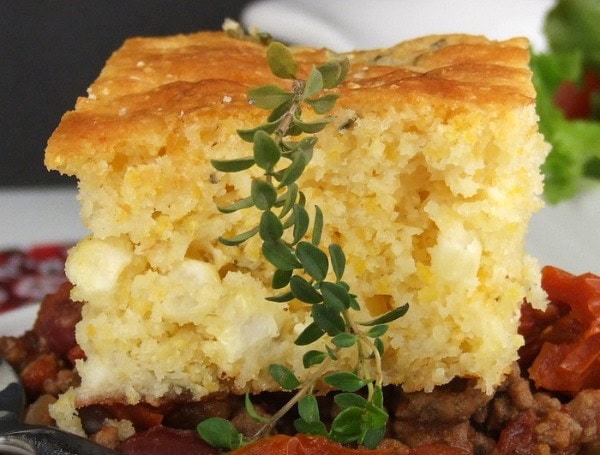 Brown Butter Cornbread w/ Farmer Cheese & Thyme
This is a very tender cornbread with great flavor. The added fresh thyme and the Farmer Cheese are wonderful additions.
Yield:
6 servings
Prep Time: 20 min
Cook Time: 30 min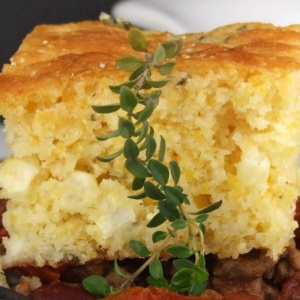 Ingredients:

1 cup all-purpose flour
1 cup stone-ground cornmeal
1 Tablespoon baking powder
1/2 teaspoon kosher salt
1 1/4 cups sour cream or buttermilk
1/4 cup vegetable oil
1 large egg
3 Tablespoons granulated sugar
1/4 teaspoon baking soda
1 cob cooked corn, kernels removed (about 3/4 cup)
4 ounces (3/4 cup) farmer's cheese, crumbled (see *tips below)
1 Tablespoon chopped fresh thyme leaves
1/4 cup unsalted butter

Instructions:

1. Preheat oven to 375°F.

2. In a large bowl, sift together flour, cornmeal, baking powder and salt. In a separate bowl, whisk together sour cream, oil, egg, sugar and baking soda. Gently fold wet ingredients into dry ones until just combined. Fold in corn, cheese and thyme.

3. Melt butter in a 9-inch cast-iron skillet over medium high heat, tilting pan to coat bottom and sides completely. Cook butter 2 to 3 minutes, until it starts to color and smell nutty. Scrape batter into skillet; smooth surface with a rubber spatula.

4. Bake until bread is golden and a toothpick inserted in center comes out clean, 25 to 30 minutes. Let cool 5 minutes. Cut into wedges and serve.

Tips:

*If you don't have a 9-inch cast-iron skillet, you can substitute a 9-inch square (or round) pan for baking. If you use a separate pan, just brown the butter in a small pan and then transfer it to your desired pan for baking and scrape batter on top.
*For the Farmer's Cheese, sometimes you can find cheese labeled as such in the specialty cheese section of your market. I used Queso Blanco, which is considered a Farmer's Cheese. It's a Latin American product and has a texture somewhere between cottage cheese and cream cheese, but it's dry and crumbly. If you're not sure where it is in your market, ask the manager.