One of my favorite cookie recipes:  Oatmeal Peanut Butter Cup Chocolate Chip Cookies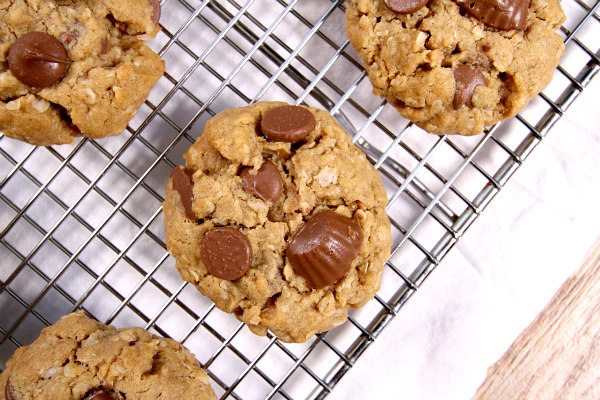 My son absolutely loves it when I bake cookies to sneak into his high school lunch bag.  His friends gaze at his lunch enviously, and I'm pretty sure he lets them have a bite or two once in while.  Although these are packed with chocolate chips and peanut butter cups, I feel good that I'm able to sneak a little bit of peanut butter protein in there as well as some whole wheat flour and oats.  They make for a hearty and filling dessert.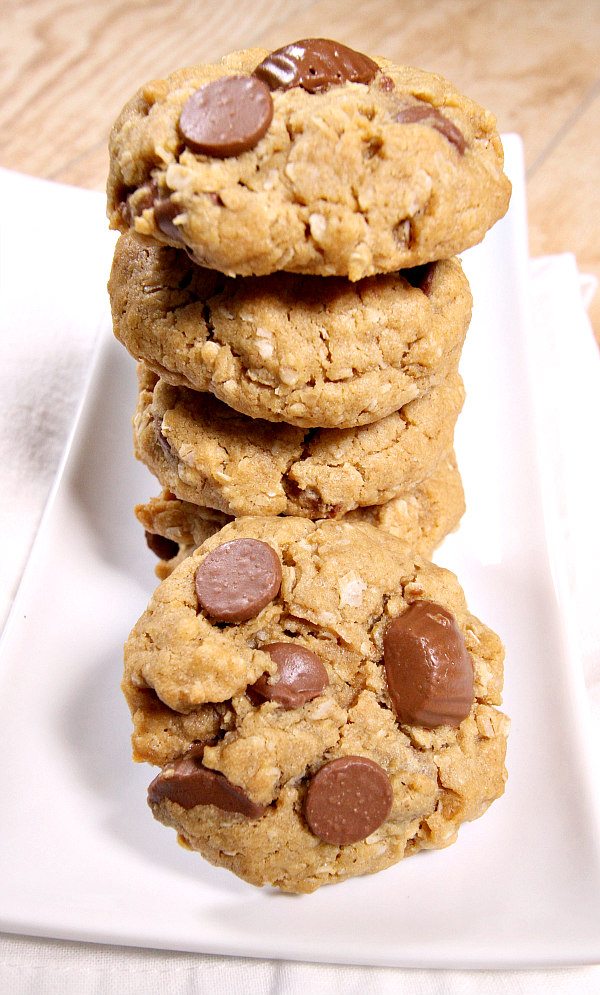 These are a sturdy cookie… so you don't have to worry about them crumbling apart in the lunch box.  And they freeze well too- so you can keep baggies ready to go in the freezer (and they're safe there from spontaneous munching, right??!!)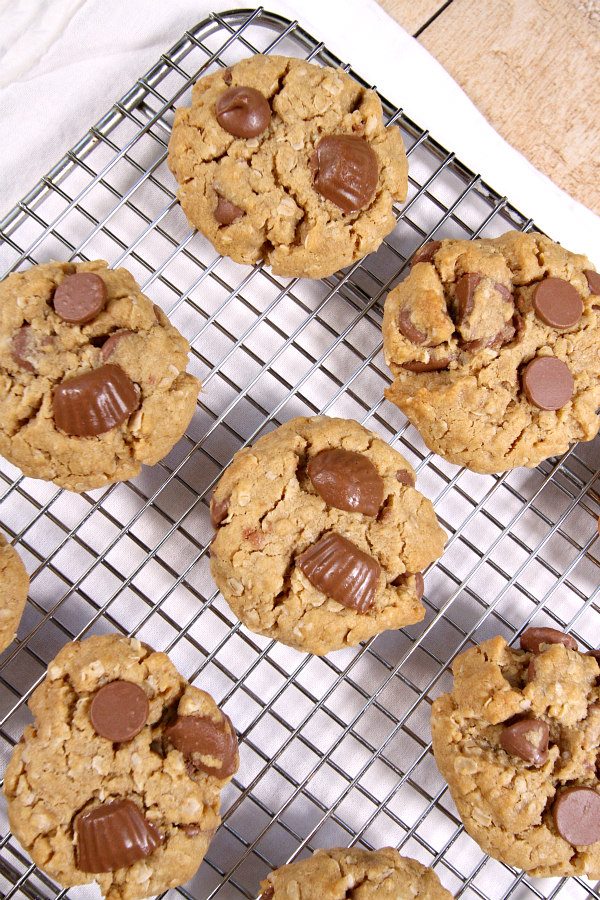 Oatmeal Peanut Butter Cup Chocolate Chip Cookies
Yield:
3 dozen cookies
Prep Time: 20 minutes + chill time
Cook Time: 12 minutes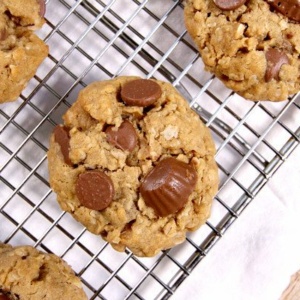 Ingredients:

1 cup (2 sticks) unsalted butter
1 1/3 cups smooth or chunky peanut butter
1 1/3 cups packed light brown sugar
3/4 teaspoon baking soda
1/8 teaspoon salt
2 large Eggland's Best eggs
1 teaspoon vanilla extract
2 cups quick-cooking oats
1 cup white whole wheat flour
1 cup all-purpose flour
1 cup semisweet chocolate chips (+ additional for topping, if you'd like)
1 cup mini peanut butter cups (cut in half)- or chopped peanut butter cups

Instructions:

In a large microwave-safe bowl, heat the butter until just melted.  Stir in the peanut butter, brown sugar, baking soda and salt.  Whisk in the eggs and vanilla extract; then the oats.  Stir in the flour, and then stir in the chocolate chips and peanut butter cups.  Cover and refrigerate for about an hour- until the dough has firmed up a bit.
Preheat the oven to 350 degrees F.  Line baking sheets with parchment paper.
Scoop out heaping tablespoons or use a 2-inch cookie scoop.  Roll cookie dough into balls and place on cookie sheets 2-inches apart.  Use the bottom of a drinking glass to gently press down a little.  Press additional chocolate chips into the tops, if you'd like.
Bake 11 to 14 minutes, or until the cookies are slightly firm to the touch in the center.  Transfer cookies to a rack to cool completely.  Store in a covered container for up to 1 week.  They can be frozen for up to 4 weeks.

Nutrition:

You can certainly use 2 cups all-purpose flour in this recipe instead of using any whole wheat flour.
Mini Peanut Butter Cups can be found in a bag in the candy aisle of major markets.
Here are a few more peanut butter cup cookie recipes you might enjoy:
Disclosure:  I'm working with Eggland's Best in 2016.  They are providing the eggs that I use in my recipes.