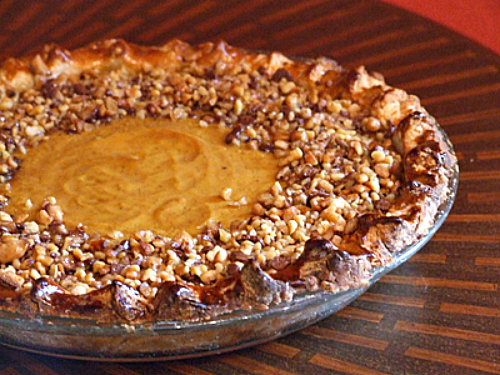 Pumpkin Pie with Toffee- Walnut Topping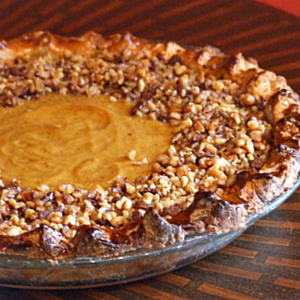 Yield:
8 to 10 servings
Prep Time:35 min + chill time
Cook Time:1 hr, 10 min
Ingredients:
CRUST:
1  1/2 cups all-purpose flour
1 tablespoon granulated white sugar
1/2 teaspoon salt
6 tablespoons chilled unsalted butter-- (3/4 stick) cut into 1/2-inch pieces
3 tablespoons chilled shortening-- cut into 1/2-inch pieces
3 tablespoons ice water (about)
1 large egg yolk-- beaten to blend
FILLING:
One 15 ounce can pure unsweetened pumpkin puree
2/3 cup packed light brown sugar
1 cup half and half cream (not fat-free)
2 large eggs
1/4 cup granulated white sugar
1 teaspoon vanilla extract
1 1/4 teaspoons ground cinnamon
3/4 teaspoon ground ginger
1/4 teaspoon ground nutmeg
1/4 teaspoon salt
1/8 teaspoonground allspice
TOPPING:
1/3 cup walnuts, toasted, chopped
1/2 cup English toffee bits (or chopped Skor or Heath Bar)
Directions:
1. Prepare crust: Blend flour, sugar and salt in food processor. Add butter and shortening and cut in using on/off turns until mixture resembles coarse meal. Add 2 tablespoons ice water; process using on/off turns until small moist clumps form, adding more water by teaspoonfuls if dry. Gather dough into ball. Flatten into disk. Wrap in plastic; chill 30 minutes.
2. Position rack in bottom third of oven and preheat to 375°F. Roll out dough on floured surface to 12-inch round. Transfer dough to 9-inch diameter pie dish. Fold overhang under, forming high-standing rim. Crimp edges decoratively. Freeze 15 minutes. Brush crust all over with yolk. Bake until crust is set but still pale, about 15 minutes. Cool slightly.
3. For filling: Whisk filling ingredients in a large bowl. Pour into crust. Bake until filling is set, about 55 minutes.
4. Transfer to rack. Sprinkle nuts and toffee around edge of hot pie, forming border. Cool pie completely.
Tips:
*Bags of toffee bits are sometimes sold in the baking aisle near the chocolate chips (these are the preferred choice over the choc. toffee candy bars.)
*This pie may be made 6 hours ahead. You can probably make it the night before without problem. Let stand at room temperature.
Source: RecipeGirl.com (Adapted slightly from Bon Appetit)