This No- Bake version of Pumpkin Pie has a second layer surprise hiding underneath. It's a delicious option for a Thanksgiving meal.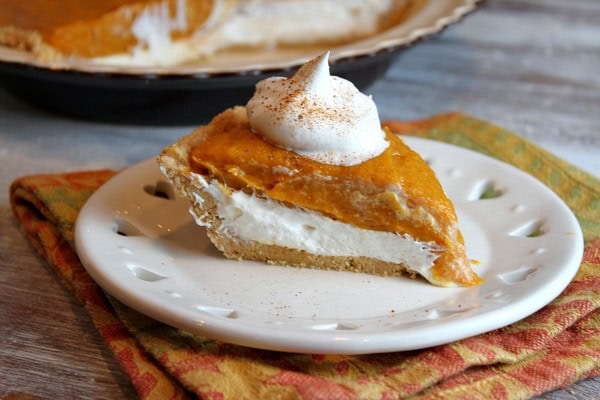 If you're like me, and you're intimidated by the whole process of baking homemade PIES… you might consider this no-bake recipe before you run to the store to buy one that no one is going to like very much.  I can get by with my pie recipes, for sure, but I practically break out in hives while making them.  Making pies truly makes me nervous.  This pie recipe though… is as easy as PIE.  I couldn't resist that one, sorry 🙂
It all starts with a no-bake, graham cracker crumb crust.  Just press the mixture into the pie pan and then place it in the freezer until firm.  (Sure, you can buy a prepared graham cracker crust, but you know it won't taste the same as if you make it homemade, so make it homemade!)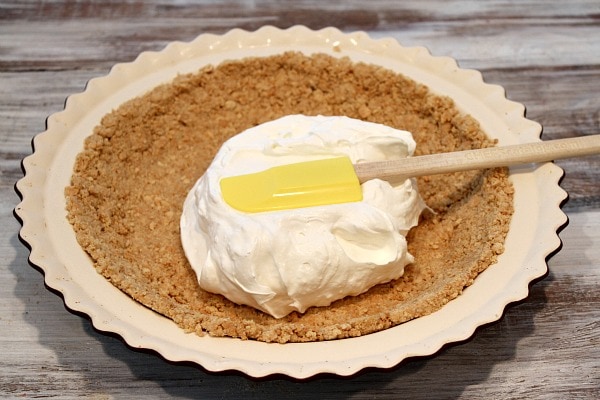 I have something to confess.  I occasionally eat Cool Whip.  Don't get me wrong… I like homemade whipped cream as much as the next guy, but Cool Whip has seen the inside of my refrigerator many times, and it's in this recipe too.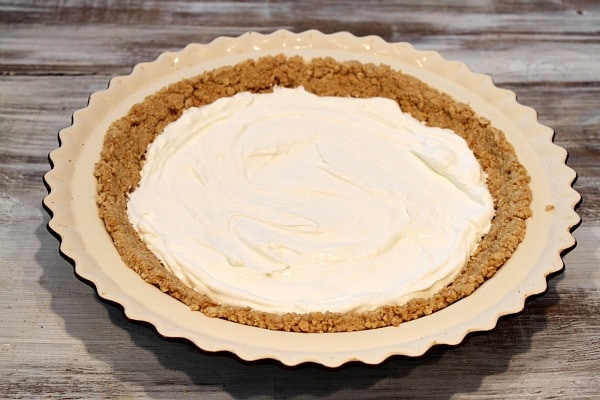 This is the cream cheesy Cool Whip layer (the secret layer).  If you're weirded out by the idea of using Cool Whip, go ahead and whip some of your own cream.  I'm sure that will work out just fine too in this recipe.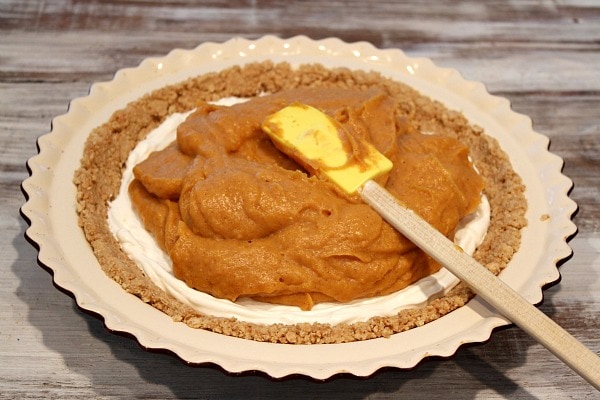 The next no-bake layer is basically a pumpkin pudding.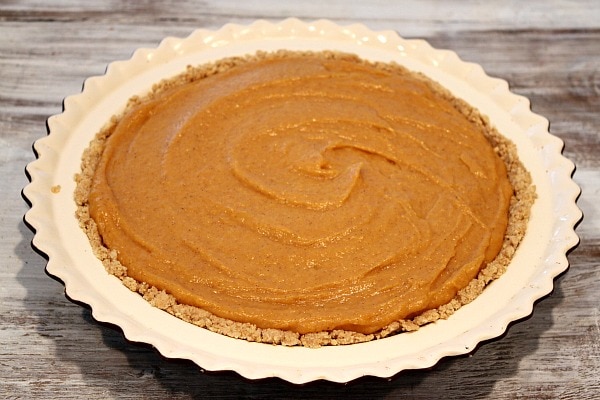 Smooth it all out and guess what??  You're done!  Just pop it in the fridge to chill for a couple of hours.  Easy, huh?
We had some friends over the other night to play the guitar and sing songs by our first fireplace fire of the season.  This was the treat I served that night, and everyone was very happy.  It's like eating pumpkin pudding with a cheesecake surprise layer tucked in there and some buttery, sugared graham crackers too!
No- Bake Double Layer Pumpkin Pie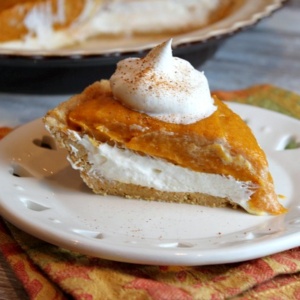 Yield:
8 servings
Prep Time: 20 min + chill time
Ingredients:
CRUST:
1 1/2 cups graham cracker crumbs
1/2 cup (1 stick) unsalted butter, softened greatly
1/4 cup granulated white sugar
PIE FILLING:
4 ounces cream cheese, softened
1 cup plus 1 Tablespoon cold milk
1 Tablespoon granulated white sugar
8 ounces Cool Whip, thawed
One 16-ounce can pure (unsweetened) pumpkin
Two small packages vanilla instant pudding and pie filling
1 teaspoon ground cinnamon
1/2 teaspoon ground ginger
1/4 teaspoon ground cloves
Directions:
1. Prepare the crust: Mix crumbs, butter and sugar in a medium bowl. Press on the bottom and up the sides of a 9-inch pie plate. Place in the refrigerator or freezer until the crust is very firm.
2. Prepare the filling: In a large bowl, mix cream cheese, 1 tablespoon milk and sugar with wire whisk until smooth. Gently stir in 1 1/2 cups Cool Whip. Spread on bottom of prepared crust.
2. In a second bowl, mix pumpkin, pudding mix and spices with remaining 1 cup milk. Beat with wire whisk until well blended (mixture will be thick). Spread over cream cheese layer.
3. Refrigerate for 4 hours, or until well set. Serve slices with remaining whipped topping.
Source:  RecipeGirl.com (adapted barely from Kraft)