Classic Double Crust Apple Pie – made with tart, juicy apples piled high and wrapped in a buttery, flaky, double crust pastry. To me, nothing says 'home' like Apple Pie!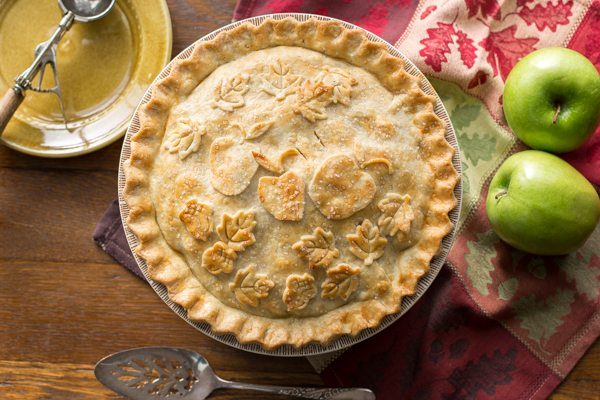 According to the American Pie Council, one out of every five Americans prefer apple pie. Pumpkin, pecan, banana cream and cherry round out the top five most popular pies, according to a survey conducted by Crisco. There's no doubt apple pie is beloved in the United States, right up there with baseball, grandma, and the good ol' red, white and blue!
With Thanksgiving right around the corner, pumpkin pie may move up the list a bit but I'm guessing your family won't mind if you brought a homemade apple pie instead to your Thanksgiving extravaganza.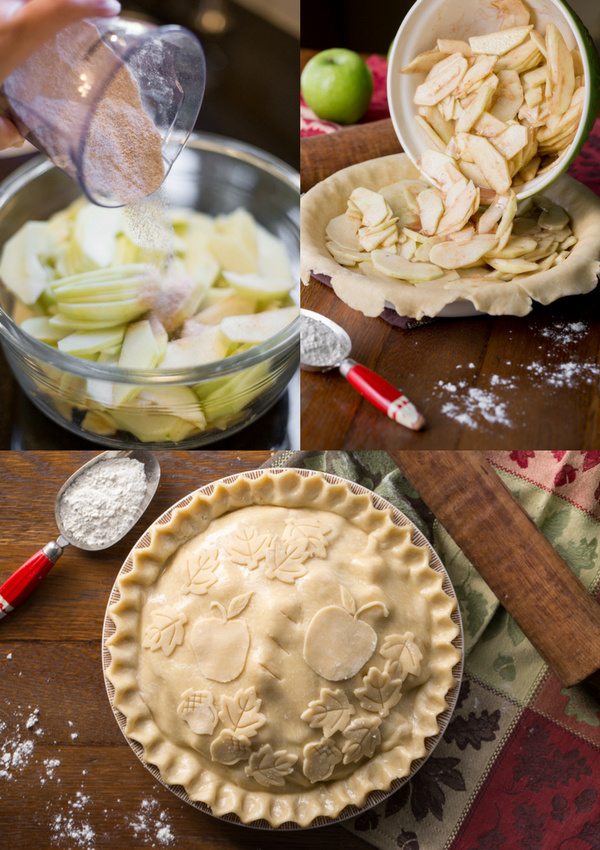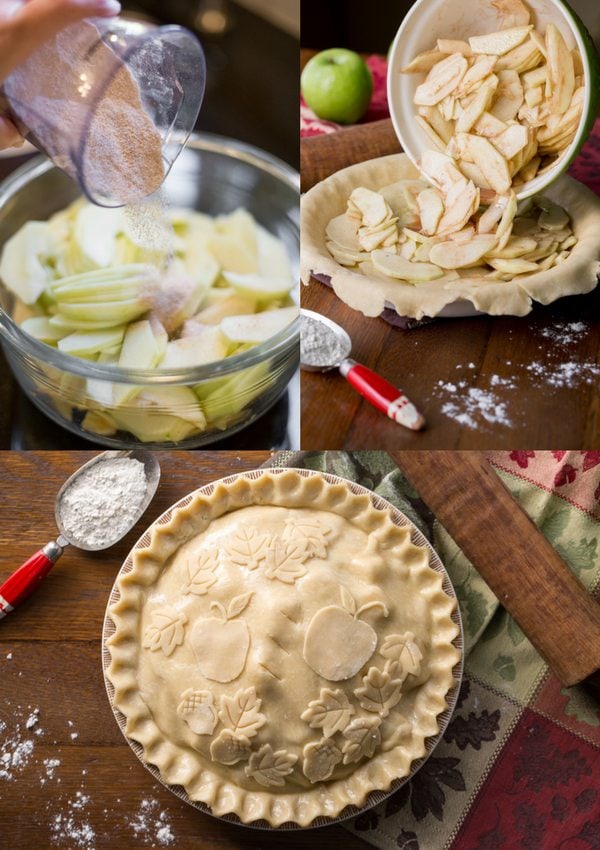 Apple pie is, by far, my favorite to make because each and every pie turns out unique, with character all its own.
If you've never tried making an apple pie, then allow me a moment to argue on its behalf. This is the year you can surprise your family with this amazingly wonderful, simple dessert. It's not a one bowl deal, but it's so much easier than you might think. You don't have to make homemade pastry if you're 'crust-a-phobic' … just buy a package of refrigerated pre-made pastry and give it a go!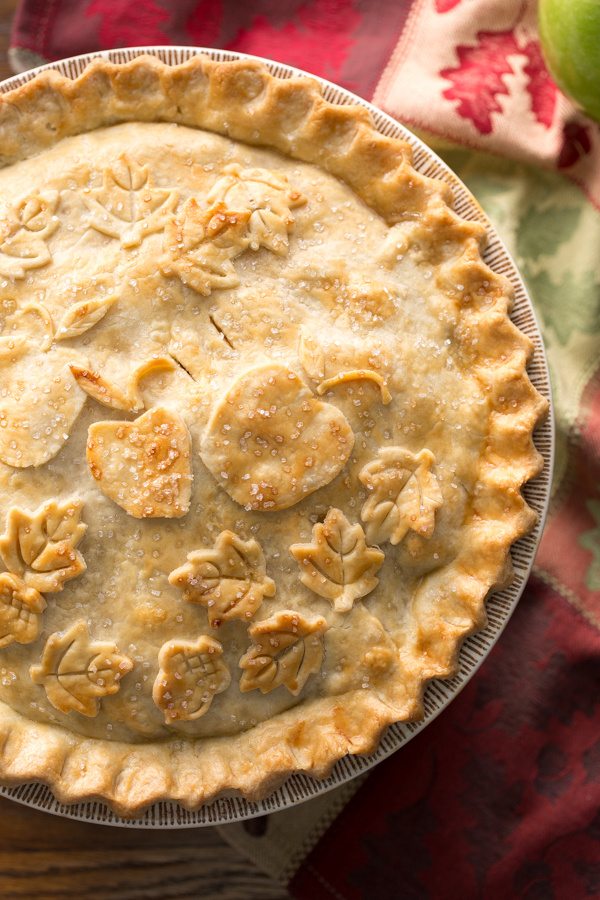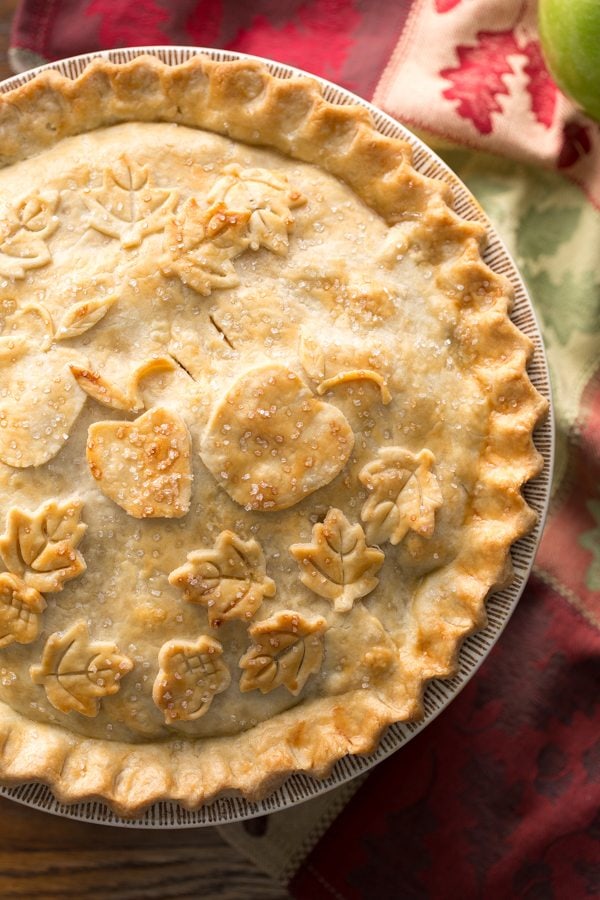 Julia Child said we should be "fearless in the kitchen." She was right! If you can peel and slice an apple (or eight), you can make this wonderful pie. I bake a lot, and know that sometimes it takes a few tries to get everything just perfect. But this apple pie is not difficult to make and it's worth the effort.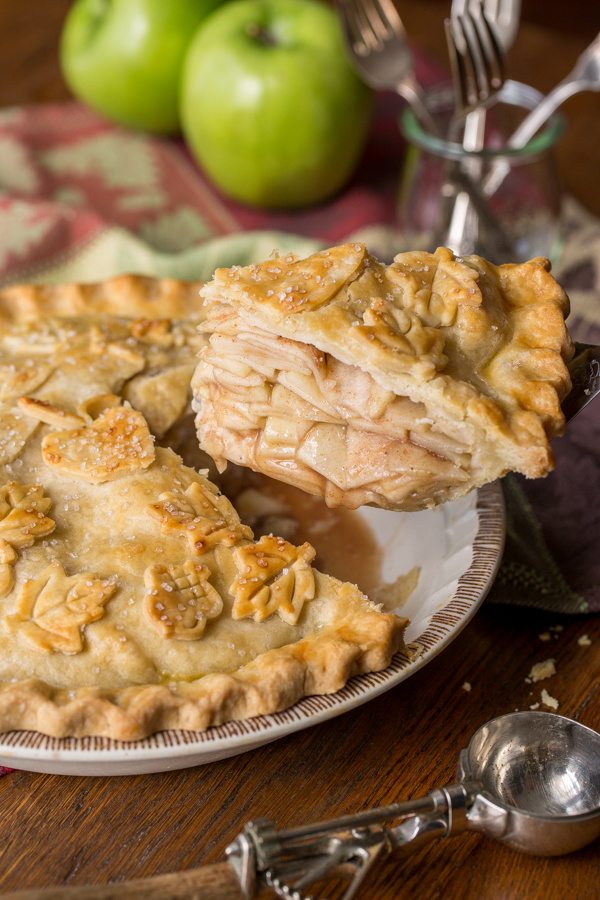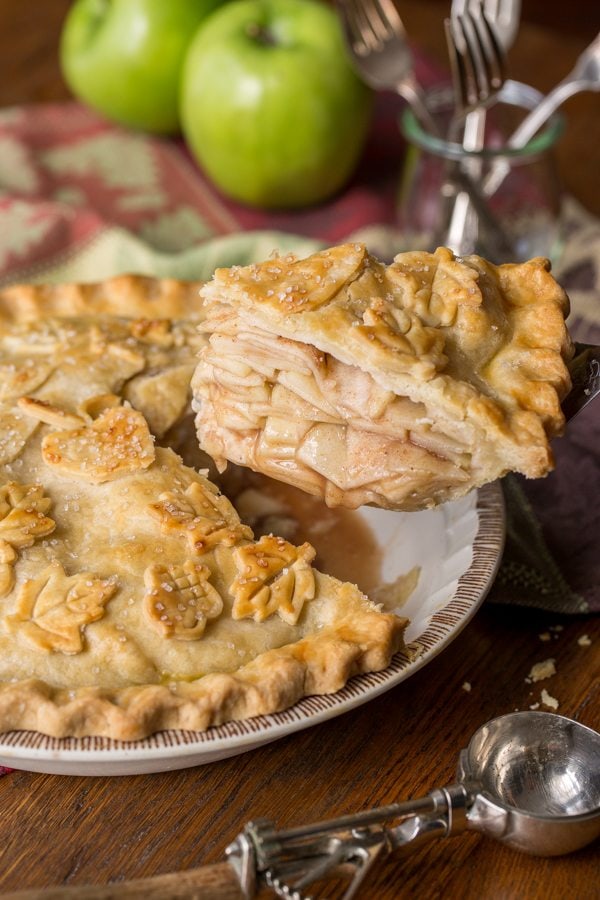 This particular pie ended up super thick (a/k/a fat and chunky) but you can make it thinner if you want (make it fat! You won't be sorry.) It's a little more difficult to cut and serve, but if the apples fall out, serve it in a bowl, with ice cream, of course. If you allow the pie to cool to room temperature, it will hold together much better.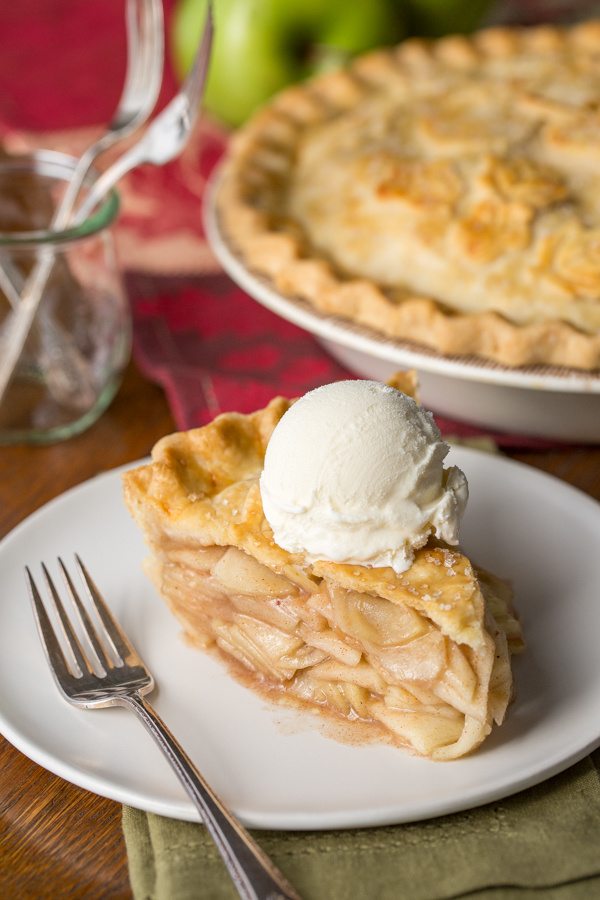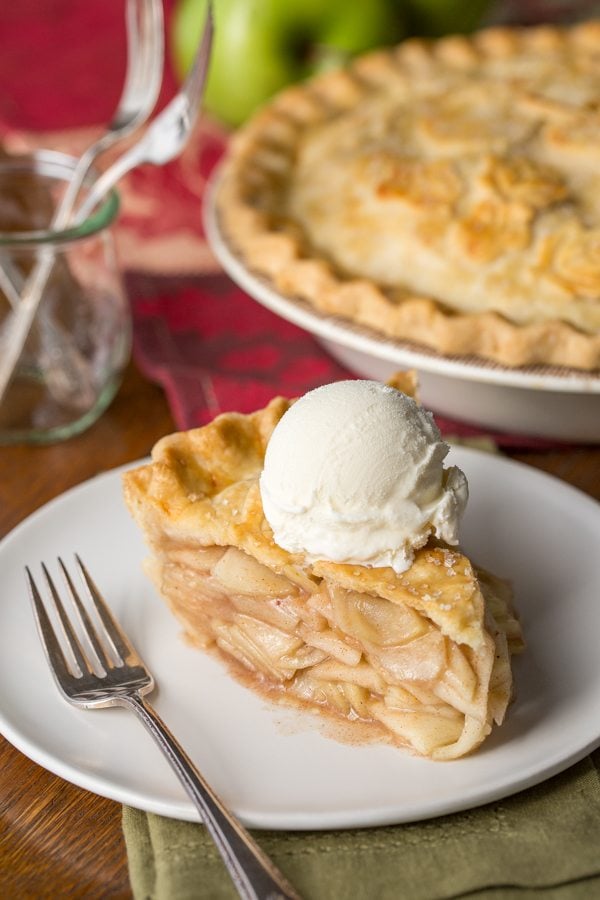 Serve with a slice of cheddar cheese (really – it's delicious) or ice cream. Dulce de Leche or vanilla are my favorites flavors to serve with apple pie. What's your favorite pie?
Classic Double Crust Apple Pie
Yield:
8 servings
Prep Time: 45 minutes
Cook Time: 1 hour and 15 minutes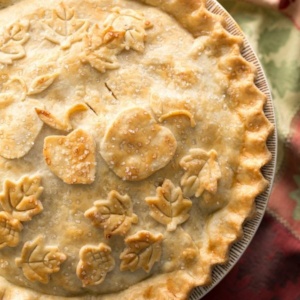 Ingredients:

For the pastry:

2 1/2 cups all-purpose flour
1 teaspoon salt
8 tablespoons cold, unsalted butter, cut into 1/2-inch pieces (1/2 cup or 1 stick)
1/3 cup solid shortening (I use Crisco shortening)
6 to 7 tablespoons ice cold water

For the pie filling:

8 cups peeled cooking apples, sliced thin (about 3 pounds - 7 to 8 medium apples - I prefer Granny Smith Apples)
1 cup granulated white sugar
2 tablespoons lightly packed brown sugar
3 tablespoons all-purpose flour
1 1/2 teaspoons ground cinnamon
1/4 teaspoon ground nutmeg
2 tablespoons unsalted butter (cut into small pieces)
1 large Eggland's Best egg mixed with 1 tablespoon milk (for brushing on the pie before baking)
Turbinado, granulated or sparkling sugar for topping, optional

Instructions:

For the pastry crust:

Combine the flour and salt in the bowl of a food processor. Add the butter and shortening and pulse until the mixture resembles a coarse meal. Add the cold water and pulse just until the dough starts to hold together.  You should have some pea size pieces of butter visible.  Don't over process.  If you don't have a food processor, use a pastry blender to mix by hand.
Gather the dough together and divide in half. Form each half into a flat disc. Wrap each disc with plastic wrap and refrigerate at least 30 minutes or overnight.

For the apple filling:

Add the peeled, cored and sliced apples to a large mixing bowl.  If apples lack tartness, sprinkle with 1 tablespoon fresh lemon juice.  In a small bowl, whisk together the sugar, flour, cinnamon and nutmeg.  Add the sugar mixture to the sliced apples; toss to coat the fruit.  Set aside.
Preheat oven to 375 degrees.
Remove the pastry from the refrigerator and allow it to sit at room temperature about 15 minutes.  Roll out one disc of the dough on a lightly floured, clean work surface to a 12-inch circle.  Gently fit the pastry dough into a deep dish 9-inch pie plate taking care not to stretch the dough.  Trim the edges of the dough leaving about a 1-inch overhang.
Fill the pastry with the apple mixture; dot with the remaining 2 tablespoons of diced butter.  Roll out the remaining disc of dough and fit over the apples.  To seal the edges, use a wet finger to moisten the edge of the pie crust (around the rim.)  Fold the trimmed top crust edge over and under the edge of the bottom crust.  Press to seal then flute the edge in a decorative pattern.  Cut two or three small slits in the top crust to vent.  If desired, roll out the scraps of dough and cut into decorative designs using cookie cutters or a small knife.  Lightly brush the top of the pie with the egg/milk mixture.  Discard the remaining egg mixture as you will not use it all.  Sprinkle the top of the pie with sugar if desired.
Line the bottom rack of your oven with a large piece of foil in case juice bubble out of the pie while baking.  Bake at 375 degrees for at least 1-hour, and up to 1-hour and 15-minutes depending on the height and thickness of the pie.  The filling should be bubbly and the crust a golden brown.  When checking the pie, you should be able to hear it bubbling inside the crust.  If the crust is over-browning during baking, tent with foil.  Remove to a rack to cool.   Serve with a slice of cheddar cheese or ice cream if desired.  Pie should keep lightly covered at room temperature for up to 3 days.  Refrigerate leftovers if desired for longer storage.

Nutrition:

Substitute pre-made refrigerated pie crust if desired.
You can use a combination of apples but I recommend at least half are Granny Smith apples.  They hold their shape and don't turn into applesauce when baked.
SOURCE:  RecipeGirl.com
Here are a few more pie recipes you might enjoy: