This pie has been featured in a post on The Recipe Girl blog: Prize Winning Pie Contest Recipes.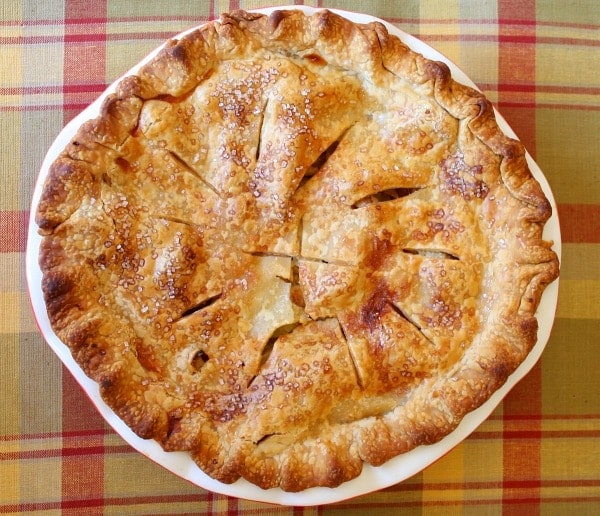 Deep Dish Dulce de Leche Apple Pie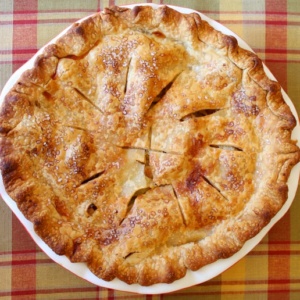 First place winner in a community pie contest!
Yield:
10 to 12 servings
Prep Time: 30 min
Cook Time: 1 hour
Ingredients:
1/2 cup brown sugar
1/3 cup granulated sugar
1/3 cup cornstarch
1/4 teaspoon cinnamon
1/4 teaspoon freshly grated nutmeg
pinch of salt
7 to 8 cups of peeled, sliced apples (I like Granny Smith & Braeburn)
1/2 cup dulce de leche (canned or homemade)
2 Tablespoons apple cider
1/2 teaspoon vanilla extract
double crust for 9-inch pie (purchased or homemade)
egg white mixed with 1 teaspoon of water
coarse sugar for top, optional
Directions:
1. Preheat oven to 400 degrees F. Center rack in oven.
2. In a small bowl, mix sugars, cornstarch, spices and salt.
3. In a large bowl, toss together apples, dulce de leche, apple cider and vanilla extract. Add dry ingredients and toss to combine.
4. Between waxed paper, roll out pie dough as large as possible keeping it a good thickness. Line deep dish pie pan with crust and let it hang over the sides. Brush with egg white mixture. Add filling and spread out evenly.
5. Roll out 2nd crust a little bit too & place on top of pie. Crimp edges together in a decorative fashion to seal. Brush with egg white mixture. Cut a few holes in the top crust for venting. Sprinkle with coarse sugar, if using.
6. Bake for 30 minutes. Then turn the temperature down to 375 degrees F. If pie is browning, cover it with foil and top with a pie-crust-shield to prevent crust edges from burning. If you don't have a pie shield, just cover the whole thing with foil. Bake for another 30 minutes.
7. Remove pie from oven and cool on rack for several hours to allow filling to set.
Tips:
*If you wish to convert this to a regular-sized pie (& not a deep dish), reduce apples to 5 cups and use slightly less dulce de leche.
*Dulce de leche can be found in the Latin aisle of most markets. Nestle makes it- look for it in a can. Or make it homemade- it's easy!