A favorite… this:  Incredible Apple Pie Recipe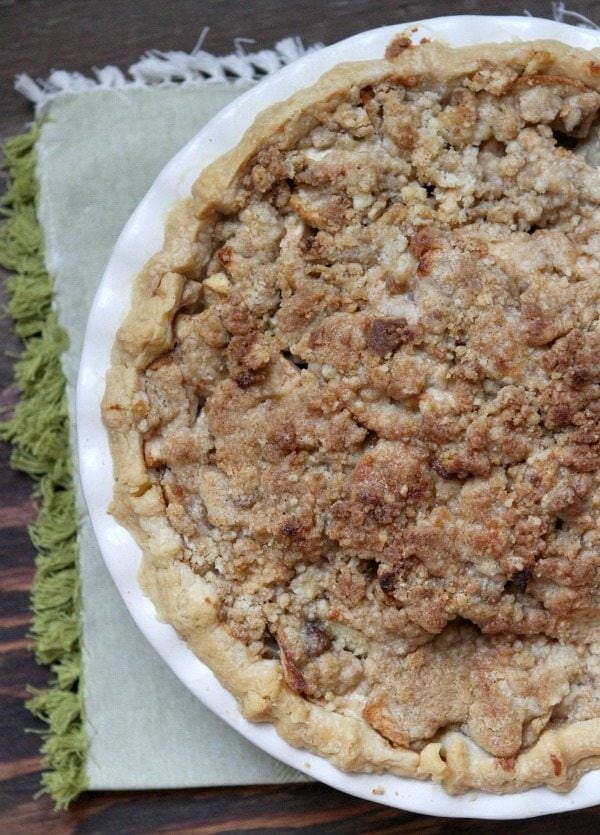 Incredible Apple Pie
Yield:
8 servings
Prep Time: 30 min
Cook Time: 35 min
Ingredients:

CRUST:
1 1/2 cups all-purpose flour
1/2 teaspoon salt
1/2 cup shortening
3 to 5 Tablespoons cold water

APPLE MIXTURE:
2/3 to 1 cup granulated white sugar
3 Tablespoons all-purpose flour
1/2 teaspoon ground cinnamon
1/4 teaspoon ground nutmeg
1 to 2 teaspoons freshly squeezed lemon juice
7 to 8 medium apples, peeled, cored and thinly sliced

STREUSEL TOPPING:
1/3 cup brown sugar, packed
3/4 cup all-purpose flour
6 Tablespoons butter, partially melted

Instructions:

1. Prepare crust: Put flour and salt into a bowl. Add shortening and cut into the flour mixture using a pastry blender. The flour mixture should be in pea-size granules before you add the water. Add water and mix well to form a ball of dough. Knead the dough gently using excess flour to keep it from getting sticky. Roll out with a rolling pin on a floured surface. Place in a 9 1/2-inch pie plate and crimp edges. Set aside.

2. Prepare apple mixture: Mix together all ingredients and pour into the crust.

3. Preheat oven to 300 degrees F.

4. Prepare Streusel Topping: Mix brown sugar and flour together until soft. Add partially melted butter and mix with your fingers. When you get nice size bits of streusel topping, sprinkle it on the pie. Add a little extra butter in little chunks on top.

5. Bake 30-40 minutes, or until golden brown.

Tips:

*For best results, use a mix of Granny Smith, Jonathan and Pippin apples.
More apple pie recipes you might enjoy:
Grain-Free Apple Pie by Deliciously Organic
Cinnamon Apple Pie Cake by RecipeGirl
Dutch Apple Pie by A Spicy Perspective
Deep Dish Dulce de Leche Apple Pie by RecipeGirl
Apple Pie with Brie and Honey by Good Food Stories