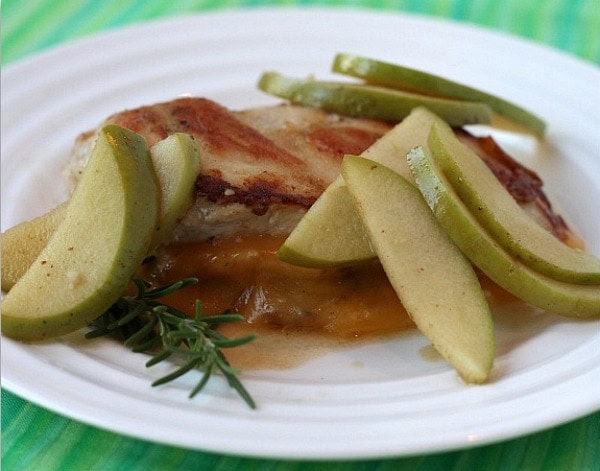 Gouda- Stuffed Chicken w/ Apple Pan Sauce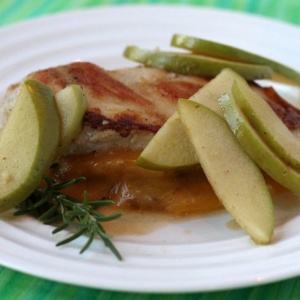 Melted Gouda cheese tucked inside of chicken breast is a nice pairing with an Apple Cider Pan Sauce. This recipe is a favorite in the RecipeGirl house.
Yield:
4 servings
Prep Time: 25 min
Cook Time: 25 min
Ingredients:
4 (4-ounce) skinless boneless chicken breast
3 ounces smoked Gouda, thinly sliced
2 Tablespoons all-purpose flour
2 teaspoons vegetable or canola oil
1 cup fat-free chicken broth
1 cup apple cider
1 large clove garlic, minced
1 Tablespoon honey
2 medium Granny Smith apples, cored and sliced (no need to peel)
rosemary sprigs for garnish, optional
Directions:
1. Preheat oven to 200 degrees F.
2. Cut a horizontal slit through the thickest portion of each breast to form a pocket; divide cheese evenly among pockets. Dredge both sides of stuffed chicken breasts in flour.
3. Heat oil in a large nonstick skillet over medium-high heat. Add chicken, and cook 4 minutes on each side or until done. Remove chicken from skillet; place on a rimmed baking sheet and keep warm in preheated oven.
4. Add broth, apple cider, and garlic to skillet; bring to boil, and cook 10 minutes or until thick and syrupy, stirring occasionally. Add honey and apple slices, and cook an additional 5 minutes or until apples are tender, stirring to coat apple slices with sauce.
5. Spoon apple pan sauce over warm chicken; garnish w/ rosemary, if desired.
Tips:
*If you're not worried about counting calories in this recipe, you can certainly use larger chicken breasts and more cheese.
Nutrition:
Nutritional Information per serving:
Serving size: 1 chicken breast + 6 apple wedges
Calories per serving: 324
Fat per serving: 10.2g
Saturated Fat per serving: 4.7g
Fiber per serving: 1.9g
Protein per serving: 32.6g
Cholesterol per serving: 90mg
Carbohydrates per serving: 25.1g
WW POINTS per serving:
Points Plus Program: Old Points Program: 7