An all-time favorite recipe: Veal Parmesan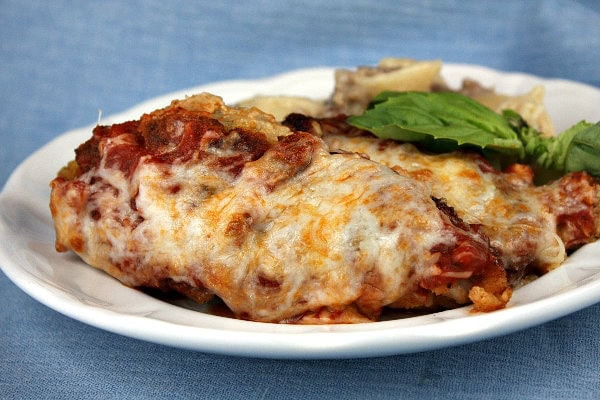 Veal Parmesan
Yield:
4 servings
Prep Time: 20 minutes + chill time
Cook Time: 8 minutes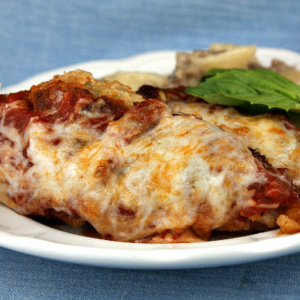 Ingredients:

1/2 cup all-purpose flour, sprinkled with salt and pepper
2 large eggs, beaten with a splash of milk 3/4 cup Italian dried breadcrumbs, sprinkled with garlic powder and 2 tablespoons grated Parmesan cheese
4 cutlets of veal, pounded to 1/4-inch thickness
4 tablespoons olive oil
1 cup homemade or jarred tomato-basil marinara sauce
2 ounces grated mozzarella cheese
4 tablespoons freshly grated Parmesan cheese

Instructions:

Place the flour on a plate or a piece of waxed paper. Place the egg in a wide bowl. Place the bread crumbs on a separate plate. Dip the veal in the flour; coat both sides and shake off excess. Then dip in the egg wash. Finally, dip in the bread crumbs and coat both sides. Place on a plate in the refrigerator for 30 minutes.
Heat a large skillet over high heat. Heat 2 tablespoons of the oil. Add the veal, being careful not to crowd the pan. Fry until nicely browned, 2 or 3 minutes per side, adjusting the heat if it browns too fast. Remove from pan and do the second batch, adding the remaining olive oil as needed.
Place veal on a lightly oiled or sprayed baking sheet. Spread 3 tablespoons of sauce on each slice of veal. Top each with 1/4 of the mozzarella and 1 tablespoon of the Parmesan cheese. Place under a hot broiler on high heat until cheese melts, about 2 minutes. Serve immediately.

Tips:

If you are preparing this recipe as gluten-free, use a GF flour blend in place of the flour and GF breadcrumbs in place of regular and be sure to use a brand of marinara sauce that is known to be GF.
SOURCE: RecipeGirl.com