Terrific, tasty weeknight dinner:  Hoisin and Honey- Glazed Pork Chops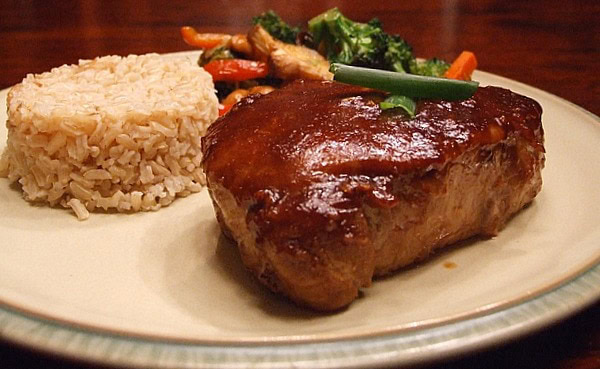 Hoisin and Honey Glazed Pork Chops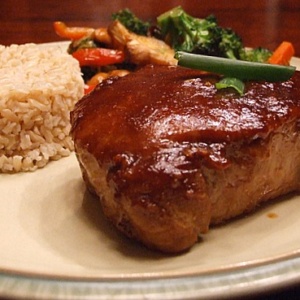 Yield:
4 servings
Prep Time: 20 min
Cook Time: 20 min
Ingredients:
1/4 cup oyster sauce
2 tablespoons Dijon mustard
2 tablespoons hoisin sauce
2 tablespoons honey
1 tablespoon sesame oil
1 tablespoon soy sauce
1 clove garlic, minced
Four 1-inch-thick boneless pork chops (2 pounds total)
Directions:
1. Place all ingredients (except pork) in a large freezer ziploc bag. Swish around to mix, and then add the pork chops to the bag. Turn bag to coat chops with the marinade. Place in refrigerator for at least 15 minutes and up to 8 hours to marinate.
2. When ready to cook, place oven rack in middle position; preheat oven to 400°F. Remove chops from marinade and arrange in 1 layer in a 15x10-inch shallow baking pan (1 inch deep). Spoon remaining sauce over pork and roast until just cooked through, 15 to 20 minutes.
3. Turn on broiler and broil pork 5 to 6 inches from heat until top is slightly caramelized, 2 to 5 minutes. Let stand, uncovered, for 5 minutes. Serve pork topped with any pan juices.
SOURCE: RecipeGirl.com (adapted lightly from Gourmet)