This is a very simple, eating-light recipe for Barbecued Pork Chops, to prepare either under the broiler in the oven (or on the grill).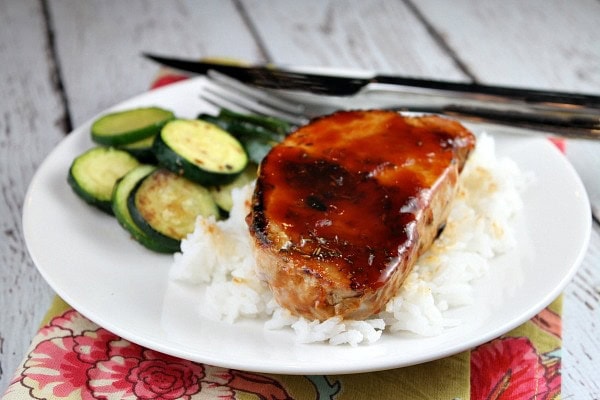 I've always had this unreasonable fear of preparing pork chops.  Maybe because 93.8% of the times that I prepare them, they turn out dry and board-like… forcing my family to chew endlessly before swallowing.  I think I've finally gotten the hang of it now.
Pork (like chicken) must be eyed-on while cooking.  It's wonderful and tender and juicy when cooked right, but left too long and you'll end up with over-cooked and dry meat.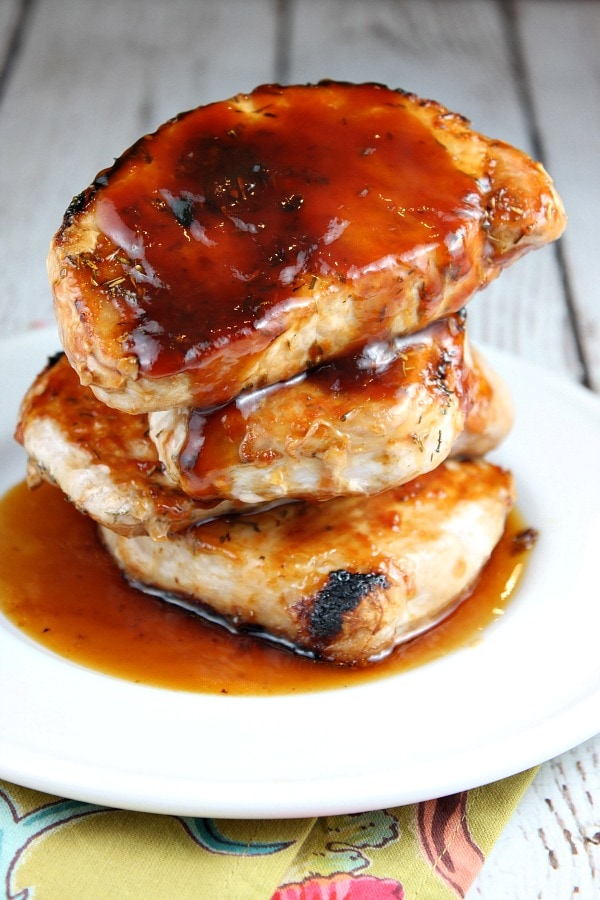 This recipe is BEYOND simple and it takes about 15 minutes total to prepare.  The chops are dusted with a light mixture of spices, then brushed with a (simple) homemade BBQ sauce and broiled– about 5 minutes on each side.
If you're worried about whether or not it's done inside, stick an instant-read thermometer in there to check.  It's safe to eat pork when it reaches a temperature in the middle of at least 145 degrees.
To make a complete meal, put your rice and vegetables on to cook before you even begin the chops.  By the time you're done with the chops, everything will be ready in less than 30 minutes.  That works for me… since I'm usually trying to throw things together at the last minute at dinnertime, and my oh-so-patient family is asking… "When is dinner?  When are we eating?  Is it done YET?"
These chops turn out nice and tender (and not dry!), and the sauce is terrific too- especially if you should decide to serve it over a little bit of rice.
The recipe below includes both nutritional information and Weight Watcher's points (just in case anyone is watching that sort of thing).
Barbecued Pork Chops
Yield:
4 Servings
Prep Time: 10 minutes
Cook Time: 10 minutes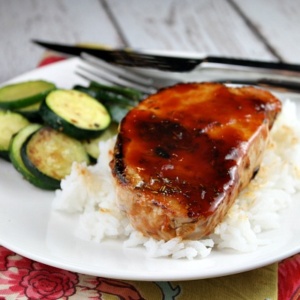 Ingredients:

1/4 cup packed brown sugar
1/4 cup ketchup
1 Tablespoon worcestershire sauce
1 Tablespoon low-sodium soy sauce
1 teaspoon dried thyme
1 teaspoon garlic salt
1/4 teaspoon ground red pepper
4 whole boneless loin chops (about 1 1/2 pounds total)

Instructions:

Preheat grill or broiler.
Combine first 4 ingredients in a small bowl. Remove 1/4 cup of the sauce to a small bowl and set aside.
Combine thyme, garlic salt and red pepper; sprinkle over one side of the chops. Place the chops on a grill rack or broiler pan coated with cooking spray; cook 5 to 6 minutes per side, basting with the remaining sauce. After cooking, let rest 5 minutes. Serve with remaining sauce (heated).

Nutrition:

Nutritional Information per serving (Serving size:

1 chop drizzled with sauce) 

Calories:

274, 

Fat:

4g, 

Saturated Fat:

1.23g, 

Sugar:

16.64g, 

Sodium: 1184mg, Fiber:

.5g, 

Protein:

39g, 

Cholesterol:

94mg, 

Carbohydrates:

19g

Weight Watchers POINTS: Freestyle SmartPoints: 8, SmartPoints 8, Points Plus: 7, Old Points Program: 6
Here are a few more pork chop recipes you might enjoy: