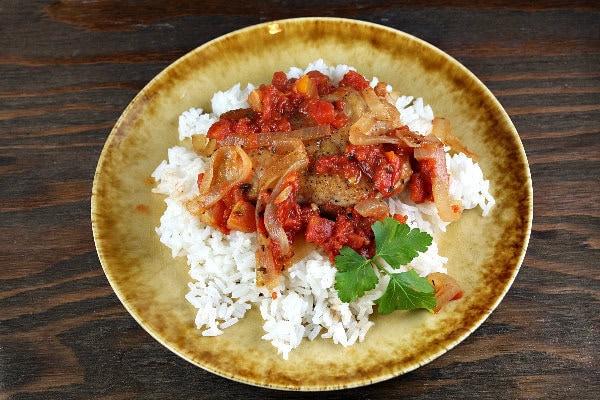 Pork Chops Alla Pizzaiola
This is such a simple recipe that I didn't really have high hopes that it would be that great. Hubby loved it, and even my picky kids ate it!
Yield:
4 servings
Prep Time: 25 min
Cook Time: 45 min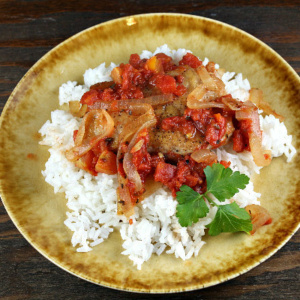 Ingredients:

3 tablespoons extra-virgin olive oil
Four 1-inch-thick bone-in center-cut pork loin chops (about 12-ounces each)
salt and freshly ground black pepper
1 large onion, thinly sliced
One 28-ounce can diced tomatoes in juice
2 teaspoons herbes de Provence
1/2 teaspoon crushed dried red pepper flakes, or more to taste
2 tablespoons chopped fresh flat-leaf parsley, optional

Instructions:

1. Heat 2 tablespoons of the oil in a heavy large skillet over medium heat. Sprinkle the pork chops with salt and pepper. Add 2 pork chops to the skillet and cook until they are browned and an instant-read thermometer inserted horizontally into the chop registers 145°F, 4 to 5 minutes per side. Transfer the pork chops to a plate and tent with foil to keep them warm. Repeat with the remaining 2 pork chops, adding more oil to the pan as needed.

2. Add onions to the same skillet and sauté over medium heat until crisp-tender, about 5 minutes. Add the tomatoes with their juices, herbes de Provence, and 1/2 teaspoon of red pepper flakes. Cover and simmer until the flavors blend and the juices thicken slightly, stirring occasionally, about 18 minutes. Season the sauce to taste with salt and more red pepper flakes if you like is spicier. Return the pork chops and any accumulated juices from the plate to the skillet and turn the pork chops to coat with the sauce. Heat until warmed through, a minute or so; do not overcook the chops!

3. Place 1 pork chop on each plate. Spoon the sauce over the pork chops. Sprinkle with the parsley (if using) and serve.