A favorite since I was a child: Lemon Caper Calamari Steaks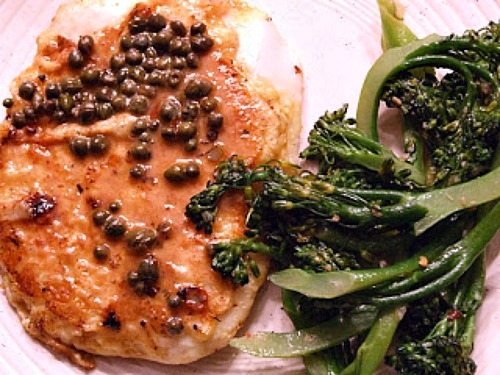 Lemon Caper Calamari Steaks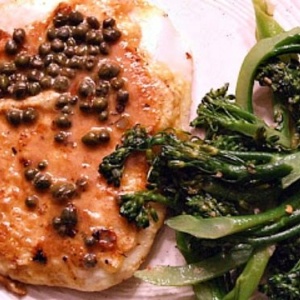 If you're a fan of the deep-fried calamari that you order at a seafood restaurant, you'll likely enjoy this version too. It's similar to a piccata with the lemon and caper sauce. Our whole family enjoyed it!
Yield:
4 servings
Prep Time:15 min
Cook Time:20 min
Ingredients:
2 Tablespoons olive oil
3 Tablespoons all-purpose flour
1/4 cup finely grated Parmesan Cheese
1/4 teaspoon black pepper
1 large egg
1 Tablespoon water
4 whole calamari steaks (1 pound total)
2 Tablespoons unsalted butter
1 to 1 1/2 Tablespoons fresh lemon juice
1 Tablespoon capers, rinsed & drained
lemon wedges
Directions:
1. Heat oil in large skillet over moderately high heat until hot but not smoking. While oil heats, stir together flour, cheese and pepper in a wide shallow bowl, then lightly beat egg with water in another wide shallow bowl. Dredge 1 calamari steak in flour mixture, shaking off excess, then dip in egg mixture, letting excess drip off, and transfer to a plate. Dredge another steak in flour and dip in egg in same manner, then sauté coated steaks over moderately high heat, turning over once, until golden, about 1 1/2 minutes total. Transfer to platter and keep warm, loosely covered. Dredge, dip and sauté remaining 2 steaks in same manner, transferring to platter.
2. Pour off fat from skillet, then add butter, lemon juice (to taste), and capers to skillet and cook over moderate heat just until butter melts, about 45 seconds. Pour lemon caper sauce over calamari steaks and serve immediately.
Tips:
*To prepare this recipe as GLUTEN-FREE, substitute GF flour in place of all-purpose.
SOURCE: RecipeGirl.com (Adapted from Gourmet)