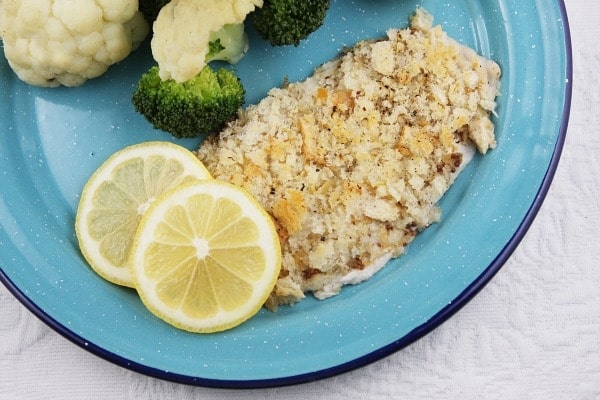 Lemon- Crumb Fillet of Sole
Servings: 4 Prep Time: 10 minutes + 10 minutes bake time
This dinner recipe takes about 10 minutes to prepare. I love that it's a healthy, easy recipe to throw together on a busy weeknight.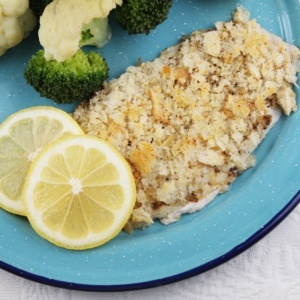 Ingredients:

4 slices white bread or french bread
2 teaspoons grated lemon zest
2 Tablespoons whole grain dijon mustard
1 Tablespoons fresh lemon juice
4 (5-ounce) sole fillets
1/2 teaspoon kosher salt
1/2 teaspoon freshly ground black pepper

Instructions:

1. Preheat oven to 425°F. Spray baking pan with nonstick spray.

2. Combine the bread and lemon zest in a food processor; pulse to form coarse crumbs. Mix together the mustard and lemon juice in a small bowl.

3. Sprinkle both sides of the fillets with salt and pepper and place them in the pan. Brush with the mustard mixture; top with the bread crumbs, pressing down so that the crumbs adhere. Spray lightly with nonstick spray. Bake until the coating is golden and the fish just opaque in the center, about 8 minutes.

Nutrition Facts- Amount Per Serving
Calories 203, Calories From Fat (13%) 27, Total Fat 2.9g, Sat Fat 0.62g, Cholesterol 68mg, Sodium 451mg, Carbohydrates 13.5g, Dietary Fiber 1g, Sugar 1.21g, Net Carbs 12.5g, Protein 29g

WW POINTS per serving:
Points Plus Program: 5 Old Points Program: 4.5

Cooking Tips
*You may also substitute flounder, red snapper, catfish, cod or any other white fish.