Bacon- Wrapped Water Chestnuts
This recipe has been a family favorite over the holiday time. It's so good and easy to prepare. If you have 2 ovens, get them both going as these go fast and are best served hot!
Yield:
35 to 40 appetizers
Prep Time: 25 minutes + marinating time
Cook Time: 15 to 20 minutes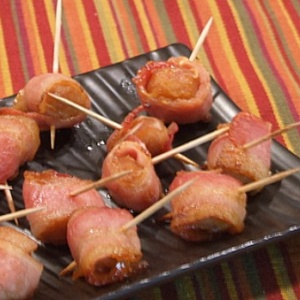 Ingredients:

2 (10 ounce) cans whole water chestnuts
3/4 cup bottled teriyaki sauce or soy sauce
granulated sugar
1 pound bacon, strips cut in half

Instructions:

1. Marinate water chestnuts in sauce for at least 3 hours (or all day long), turning often. Drain and roll in sugar.

2. Preheat oven to 400 degrees F.

3. Wrap each water chestnut in 1/2 strip of bacon (don't stretch the bacon). Secure bacon with toothpicks and skewer through the water chestnut.

4. Place wrapped water chestnuts on a baking sheet; bake for 15-20 minutes, or until bacon is partially crisp. Serve hot.

Tips:

*These can be made ahead and refrigerated until time to bake and serve.
*Try wrapping chicken livers instead of water chestnuts.