Twice Baked Potatoes are baked potatoes with the flesh scooped out, mixed with fabulous ingredients, and then scooped back inside the skin and baked with cheese.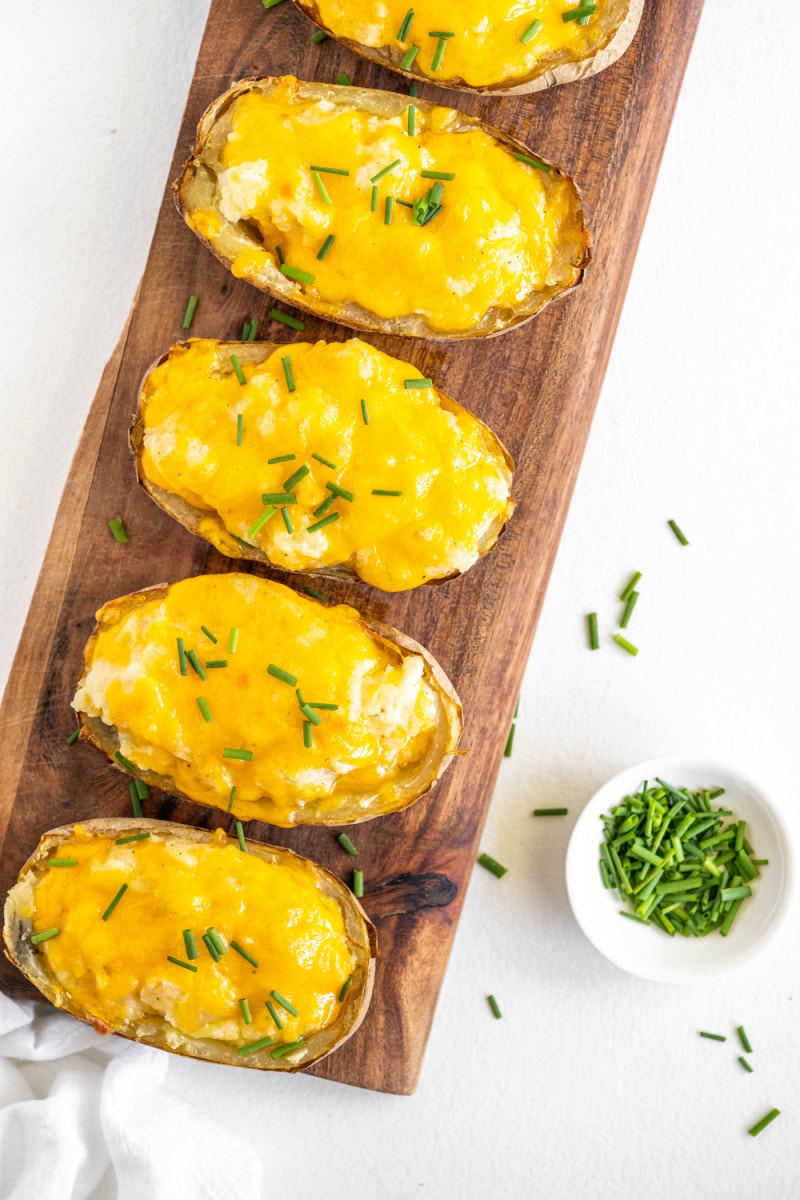 If you have never tried twice baked potatoes, it's high time to try them now! I know that everyone loves French fries or a good pan of cheesy scalloped potatoes, but these potatoes are number one in my book. My sister-in-law made them for us when she was visiting us recently, and I had my serving and asked for more. They are so delicious!!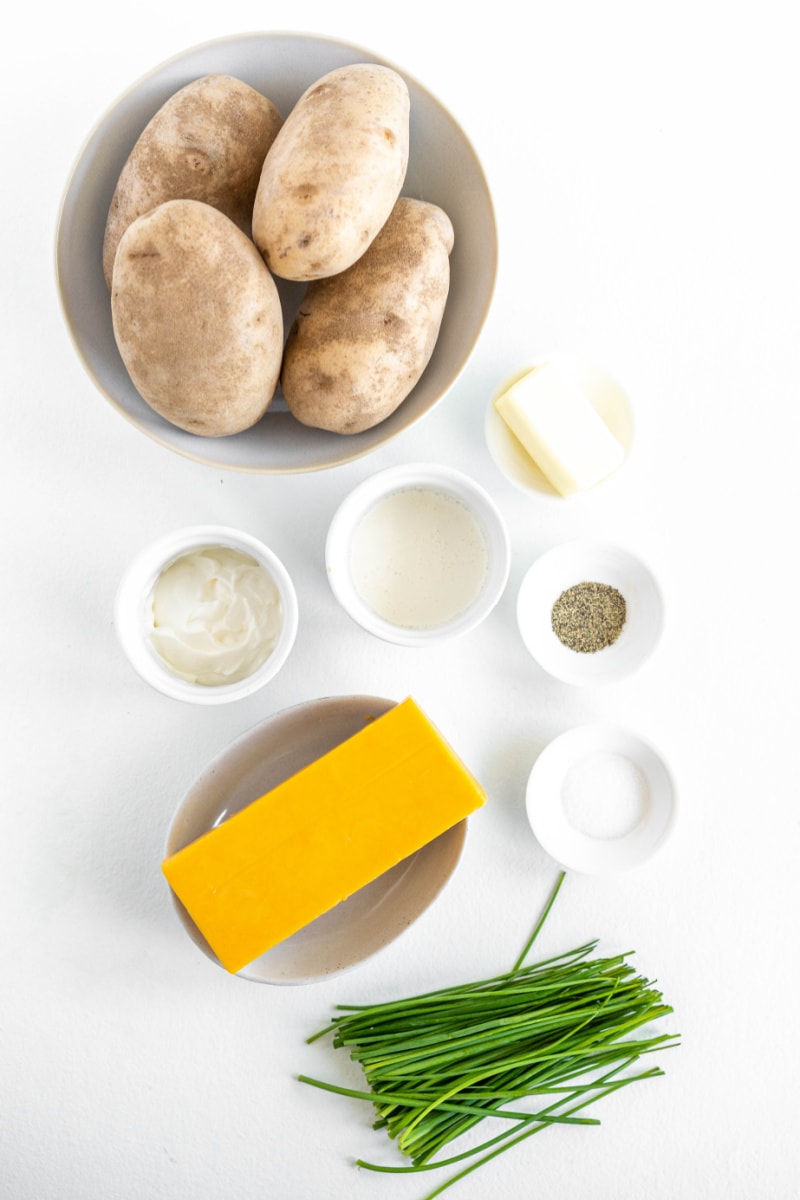 Ingredients needed:
Russet potatoes
unsalted butter
sour cream
heavy whipping cream
salt and pepper
cheddar cheese
fresh chives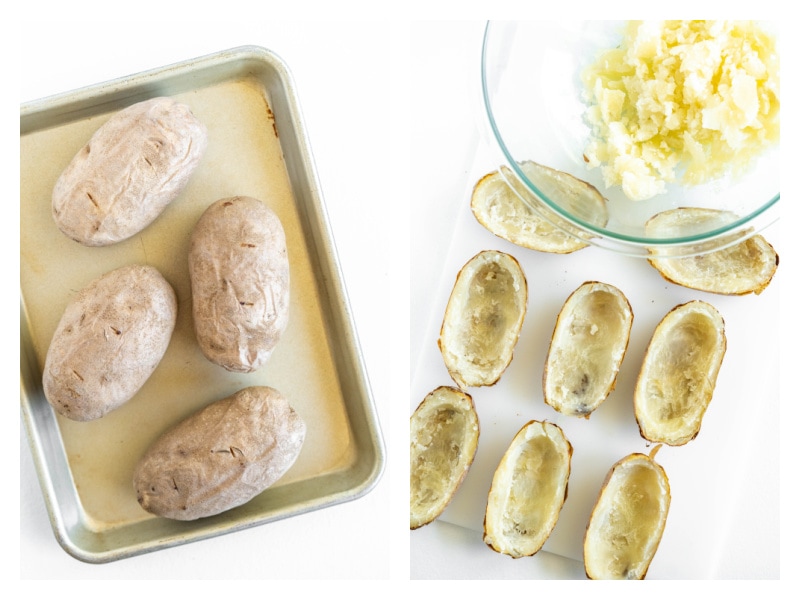 How do you make Twice Baked Potatoes?
Poke some holes into your Russet potatoes with a sharp knife, and bake until tender throughout. It should take about an hour or so in the oven at 400 degrees. When a knife can poke through the potato easily, they're done. Remove them from the oven, and let them cool until they're not too hot to touch. Cut each potato in half, scoop out the inside flesh and move it to a bowl.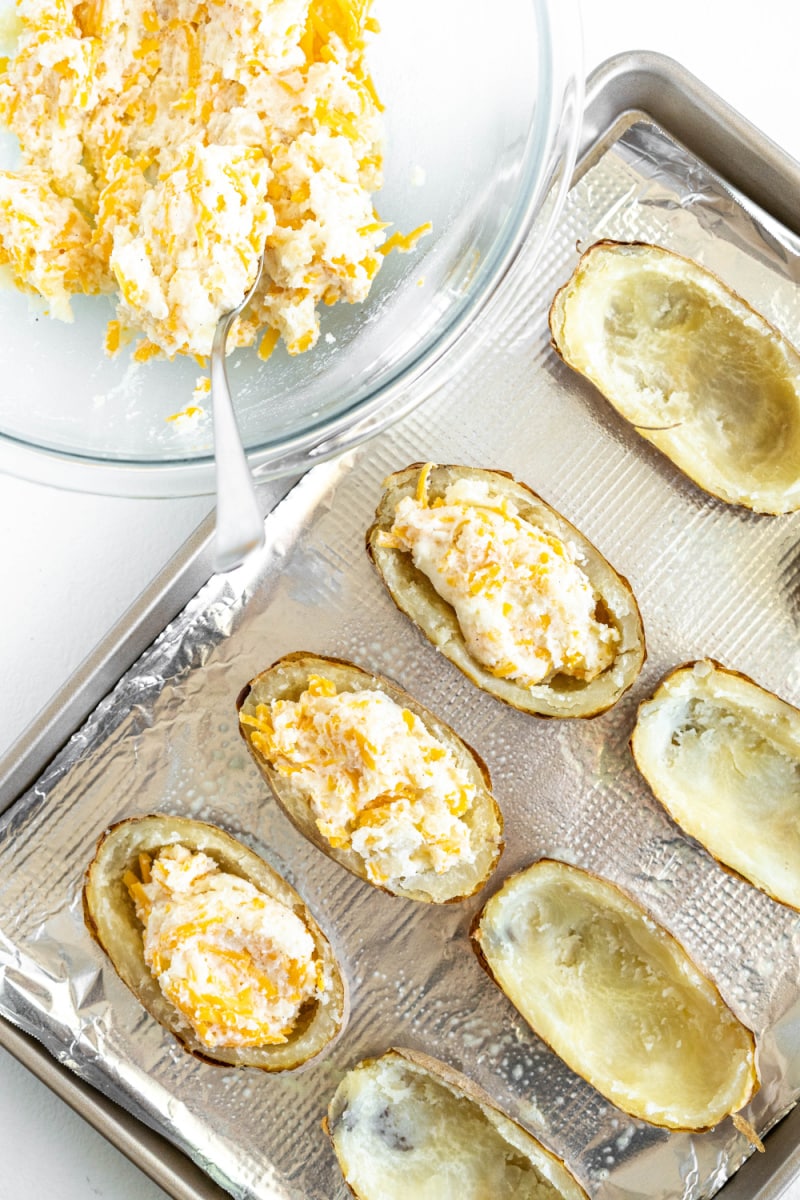 Add butter, sour cream, heavy whipping cream and salt/pepper to the potato flesh in the bowl. Stir in some shredded cheddar cheese. Divide the mixture between the potatoes, filling them up again!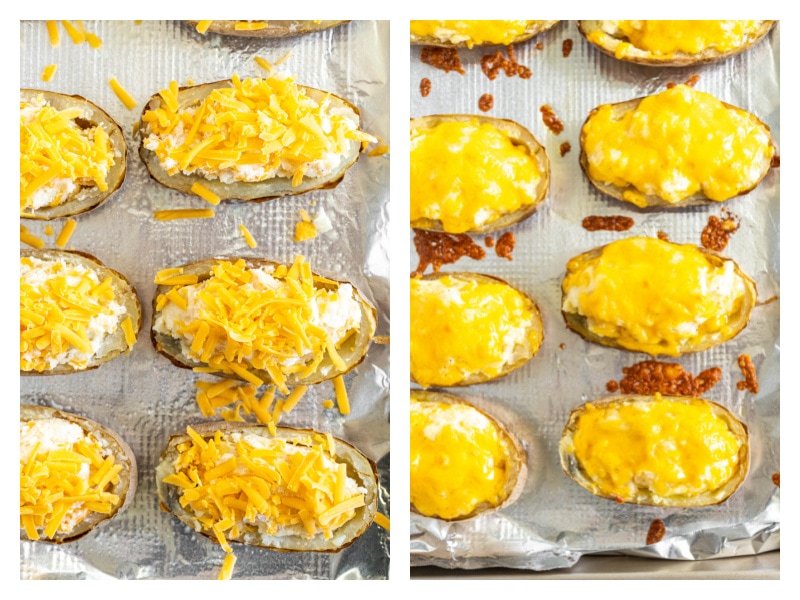 Sprinkle each potato with more cheddar cheese, and bake for about 15 minutes.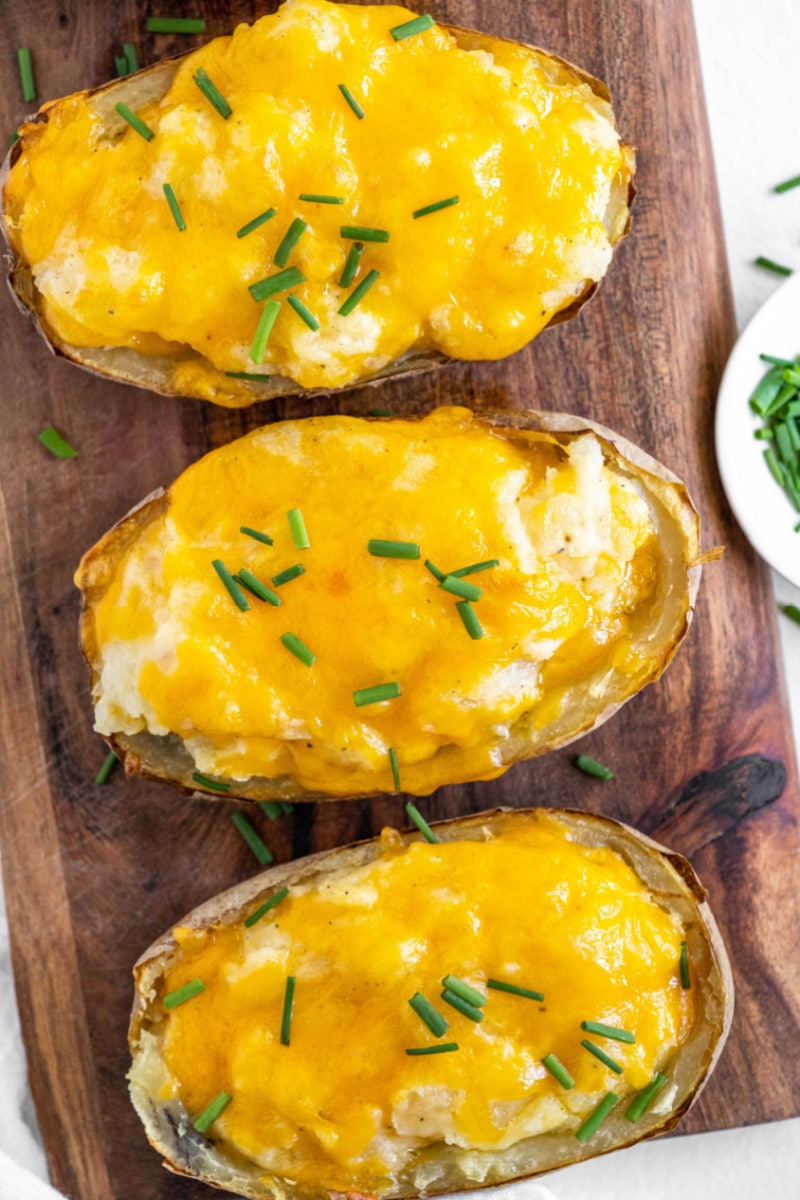 Sprinkle with chopped fresh chives, and serve!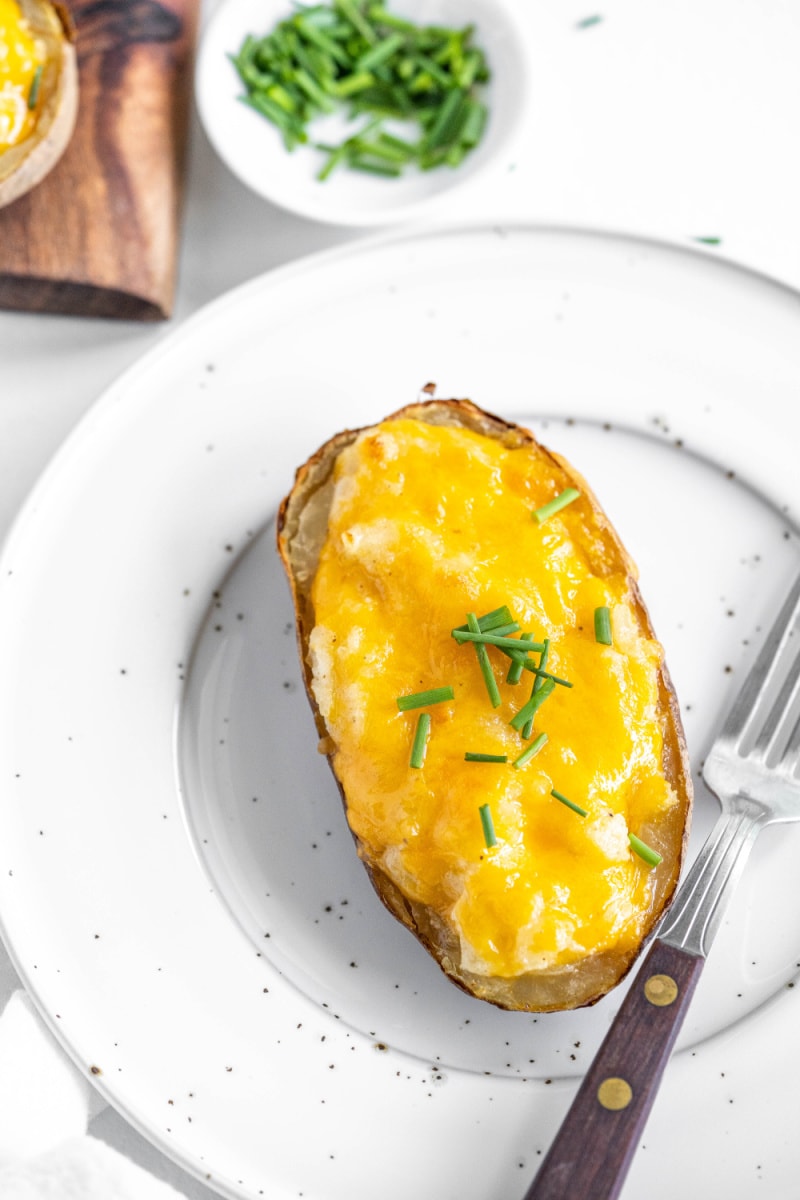 What do you serve with Twice Baked Potatoes?
These potatoes are excellent with steak that's hot off the grill, a good roast beef or roasted chicken. We've even served them with beef brisket. Leftovers are delicious. Just warm them up in the microwave and serve again. Add more cheese to spiff them up, if you'd like. Enjoy!
Twice Baked Potatoes
Truly a delicious way to eat potatoes!
Recipe Details
Ingredients
4

large

russet potatoes,

washed and patted dry

4

tablespoons

salted butter,

at room temperature

4

tablespoons

sour cream

4

tablespoons

heavy whipping cream

½

teaspoon

salt

¼

teaspoon

pepper

2

cups

shredded cheddar cheese

2

tablespoons

chopped fresh chives
Instructions
Place a rack in the center of the oven; preheat the oven to 400 degrees F. Use a sharp paring knife to poke a few holes in each potato. Place the potatoes directly onto the oven rack. Bake until the potatoes are tender (a paring knife should easily slide in and out of the potato once it's done), about 1 hour to 1 hour, 15 minutes. Use potholders to carefully remove the potatoes from the oven. Cool until the potatoes aren't too hot to touch.

Turn the oven down to 375 degrees F. Line a large baking tray with foil and spray it with nonstick cooking spray.

Cut each potato in half lengthwise. Scoop out the potato flesh, putting it into a large bowl. Leave a border about ¼-inch thick for each potato skin. Arrange the potato skins on the prepared baking tray.

To the bowl with the potato flesh, add the butter, sour cream, heavy whipping cream, salt, and black pepper. Mash everything together until it forms a chunky mash. Stir in ⅔ of the shredded cheddar.

Scoop the potato mixture into the potato skins. Sprinkle the remaining ⅓ of the shredded cheddar on top.

Bake until the potatoes are warm throughout and the cheese is melted on top, about 15 to 20 minutes. To brown the cheese on top, broil briefly. Serve warm, topped with fresh chives.
Nutrition
Serving:
1
serving
,
Calories:
348
kcal
,
Carbohydrates:
34
g
,
Protein:
11
g
,
Fat:
19
g
,
Saturated Fat:
12
g
,
Polyunsaturated Fat:
1
g
,
Monounsaturated Fat:
5
g
,
Trans Fat:
1
g
,
Cholesterol:
58
mg
,
Sodium:
388
mg
,
Potassium:
816
mg
,
Fiber:
2
g
,
Sugar:
1
g
,
Vitamin A:
640
IU
,
Vitamin C:
11
mg
,
Calcium:
242
mg
,
Iron:
2
mg