This Simple Beef Brisket recipe makes the perfect Sunday night dinner.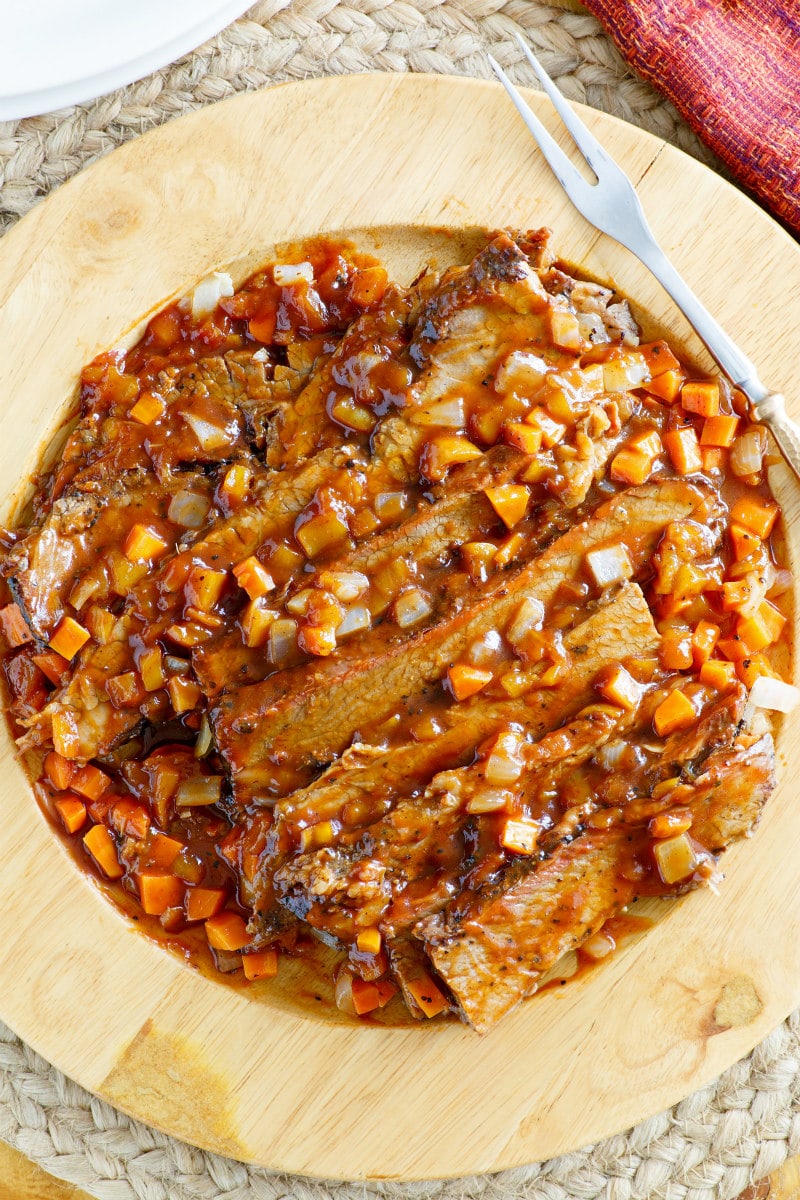 What is Beef Brisket?
Brisket is a beef cut taken from the breast section of the cow.  It's known as being one of the least tender cuts of beef, and it's a relatively inexpensive boneless cut.
All of that information about beef brisket kind of makes it sound like it might be awful to prepare.  If it's cooked correctly, beef brisket is excellent!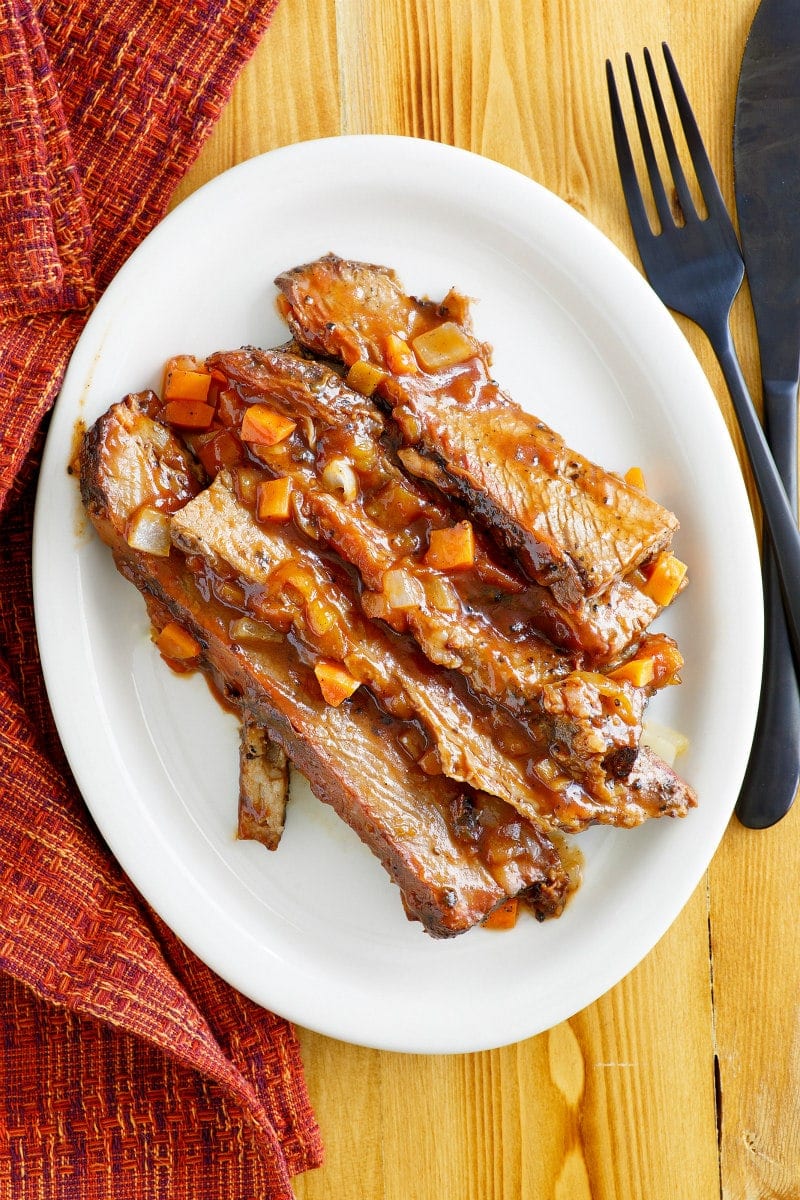 What is the best way to cook brisket?
Beef brisket can be smoked or braised.  A smoked brisket is typical Texas-style, cooked at 225 degrees for 8 to 12 hours.  As you can imagine, this renders the beef as very tender.
Braised beef brisket is the Jewish method of cooking.  It's cooked in a sauce with vegetables for at least 3 hours, absorbing the liquid and flavors and becoming tender using this method as well.  This recipe uses the braising method.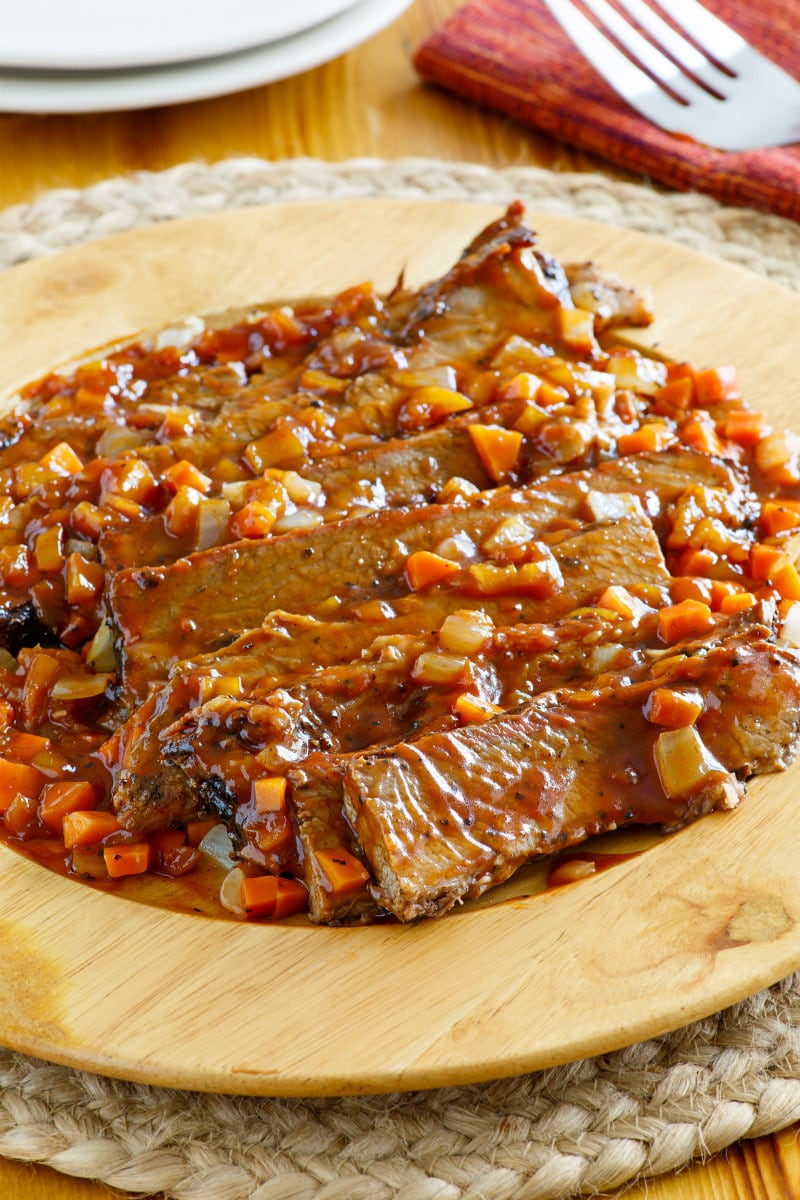 I really love to cook low and slow type dinners for Sunday night dinner with my family.  This recipe is perfect for that.  It cooks four hours in an easy-to-mix-together sauce with onions and carrots, resulting in a wonderful, tender cut of beef.
While your dinner is cooking for 4 hours, you can do the laundry, get things done from your to-do list, or just take a nap!  45 minutes before your timer goes off, prepare the sides you want to serve with your brisket.
I also look at this recipe as one that is nice to prepare on a chilly day.  Your oven will give off heat and keep your house nice and toasty!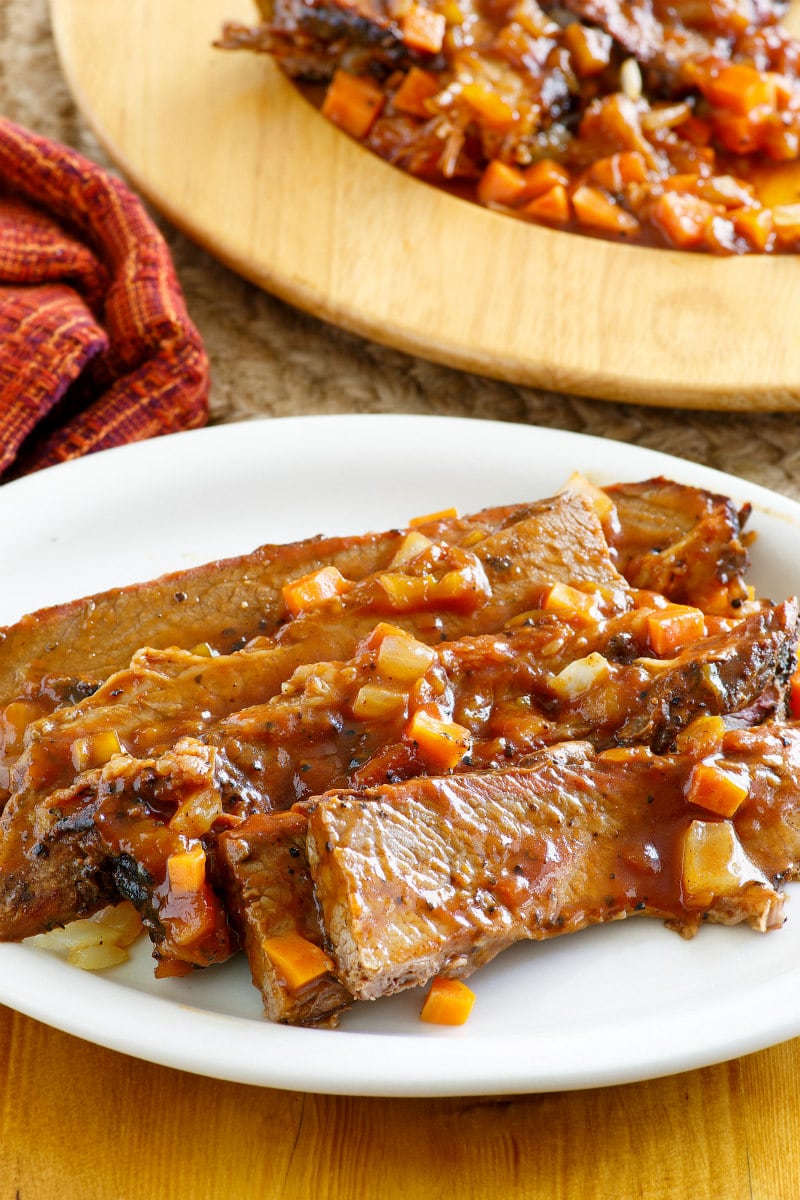 If you're looking for dishes to serve with your beef brisket, you might like to try my Creamy Buttermilk Cole Slaw or these Flaky Buttermilk Biscuits. Classic Potato Salad, Make-Ahead Mashed Potatoes and Spicy Sweet Green Beans are also good sides to brisket.
Simple Beef Brisket
Love this simple brisket recipe. It's one that everyone loves!
Recipe Details
Ingredients
2 1/4

pounds

beef brisket

1

cup

worcestershire sauce

1

cup

mango chutney

1

cup

ketchup

1/2

cup

mustard

1

large

onion,

chopped

4

large

carrots,

peeled & chopped
Instructions
Preheat the oven to 350 degrees F. Place the brisket, fat side up, in a roasting pan.

In a medium bowl, mix together worcestershire sauce, mango chutney, ketchup and mustard. Pour over the brisket. Sprinkle the chopped onions on top of the brisket. Bake for one hour, uncovered.

Remove from the oven and sprinkle the carrots around the brisket. Cover and bake for an additional 3 hours.

After roasting, cut away the fat with a sharp knife and discard. Slice against the grain and serve.
Nutrition
Serving:
1
serving
,
Calories:
408
kcal
,
Carbohydrates:
49
g
,
Protein:
28
g
,
Fat:
10
g
,
Saturated Fat:
3
g
,
Cholesterol:
79
mg
,
Sodium:
925
mg
,
Potassium:
987
mg
,
Fiber:
2
g
,
Sugar:
33
g
,
Vitamin A:
6205
IU
,
Vitamin C:
13.2
mg
,
Calcium:
82
mg
,
Iron:
5
mg