Creamy Buttermilk Cole Slaw
I love to serve this one with pulled pork:  Creamy Buttermilk ColeSlaw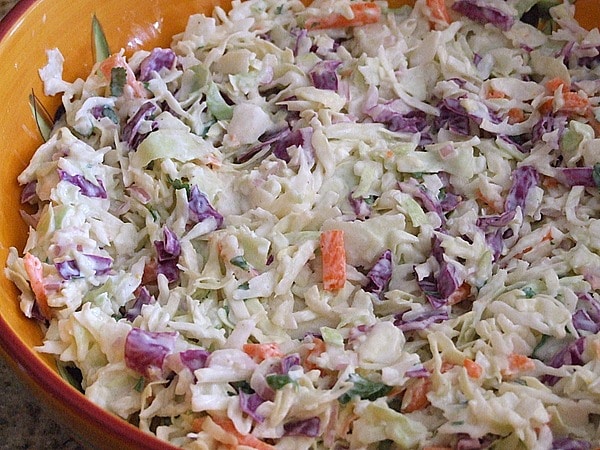 Yield: 8 servings
Prep Time: 20 min + standing time
Creamy Buttermilk ColeSlaw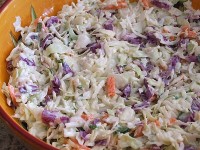 Ingredients:
2 pounds cabbage (about 1 medium head), red or green, shredded finely
table salt
2 medium carrots, shredded on box grater
1 cup buttermilk (low fat is fine)
1/4 cup regular or low fat mayonnaise
1/4 cup regular or light sour cream
2 small shallots, minced (about 2 Tablespoons)
1/4 cup minced fresh parsley leaves
1 teaspoon cider vinegar
1 teaspoon granulated sugar
1/2 teaspoon Dijon mustard
1/4 teaspoon ground black pepper
Directions:
1. Toss shredded cabbage and 2 teaspoons salt in colander or large mesh strainer set over large bowl. Let stand until cabbage wilts, at least 1 hour or up to 4 hours. Rinse cabbage under cold running water. Press, but do not squeeze, to drain; pat dry with paper towels. Place wilted cabbage and carrot in large bowl.
2. Stir buttermilk, mayo, sour cream, shallot, parsley, vinegar, sugar, mustard, 1/2 teaspoon salt, and pepper together in small bowl. Pour dressing over cabbage and toss to combine; refrigerate until chilled, about 30 minutes. (Coleslaw can be refrigerated for up to 3 days.)
Tips:
*To save time, buy the bagged coleslaw mix to use instead of shredding it yourself.
*If you are preparing this recipe as GLUTEN FREE, just make sure the brand of Dijon you're using is designated as GF.
One Response to "Creamy Buttermilk Cole Slaw"
Leave a Comment