This recipe for Roasted Chicken with Lemon Curd is a super easy way to roast a delicious chicken at home!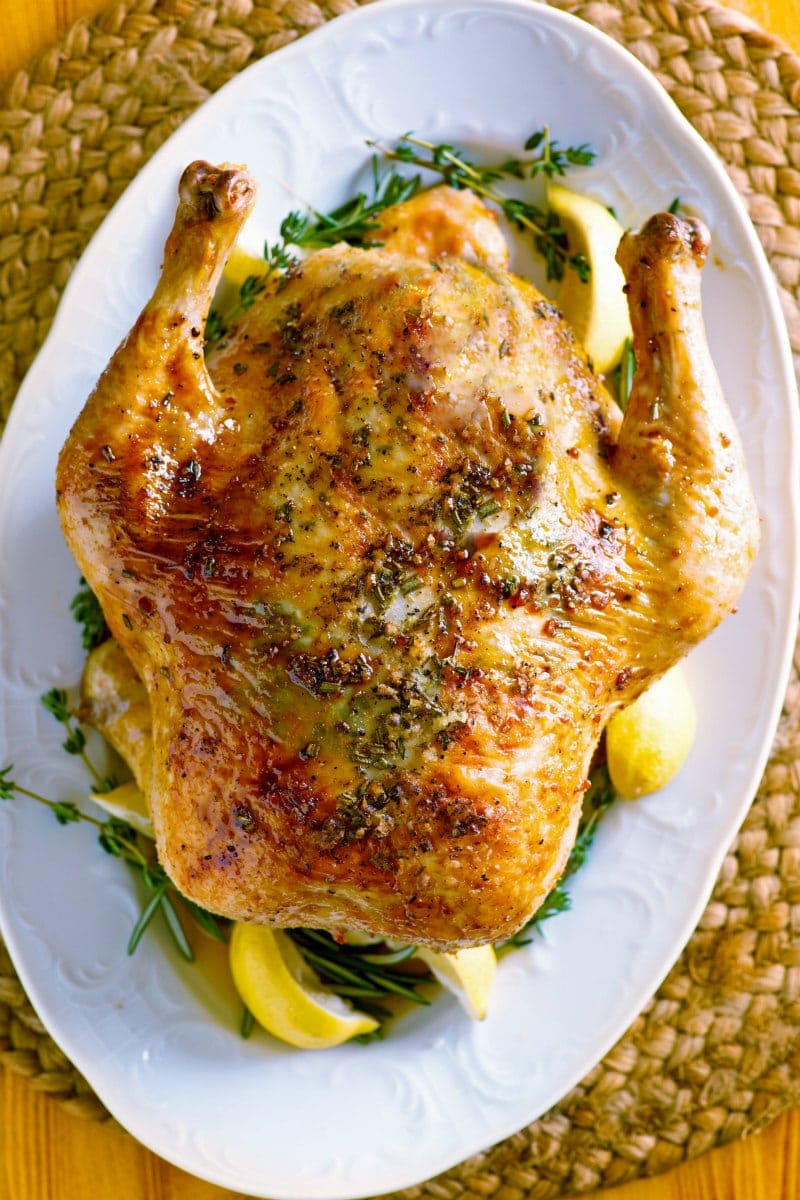 How do you roast a chicken?
With any roasted chicken recipe, you'll remove the giblets and neck out of the cavity of the chicken, rinse the chicken and pat dry with paper towels. I like to separate the skin from the meat with my fingers (just stick them right in there and pull it apart). And then you can stuff herbs or garlic or whatever you want under the skin. In this recipe, you'll do just that (rosemary, thyme, salt, pepper and garlic). Then you can brush the chicken with butter or oil (in this recipe, it's lemon curd), stick a meat thermometer in the breast and then roast it in the oven.
A medium sized chicken typically roasts for 75 to 90 minutes. So at this point, you can go do laundry, make some side dishes to go with your chicken, watch TV or take a nap! It's really that easy.
What is Lemon Curd?
Lemon Curd is a sweet, dessert-type spread that is often used in cakes or pies. It has British origins, often appearing at high tea as a spread to use on scones or biscuits. I have a recipe for Meyer Lemon Curd, which includes simple instructions for converting to regular lemon curd. It's really quite delicious, and it's easy to make homemade. If you don't want to make it homemade, you should be able to locate it pretty easily in your market's jellies and jams aisle. Lemon Curd is sold in a jar- just like jams and jellies.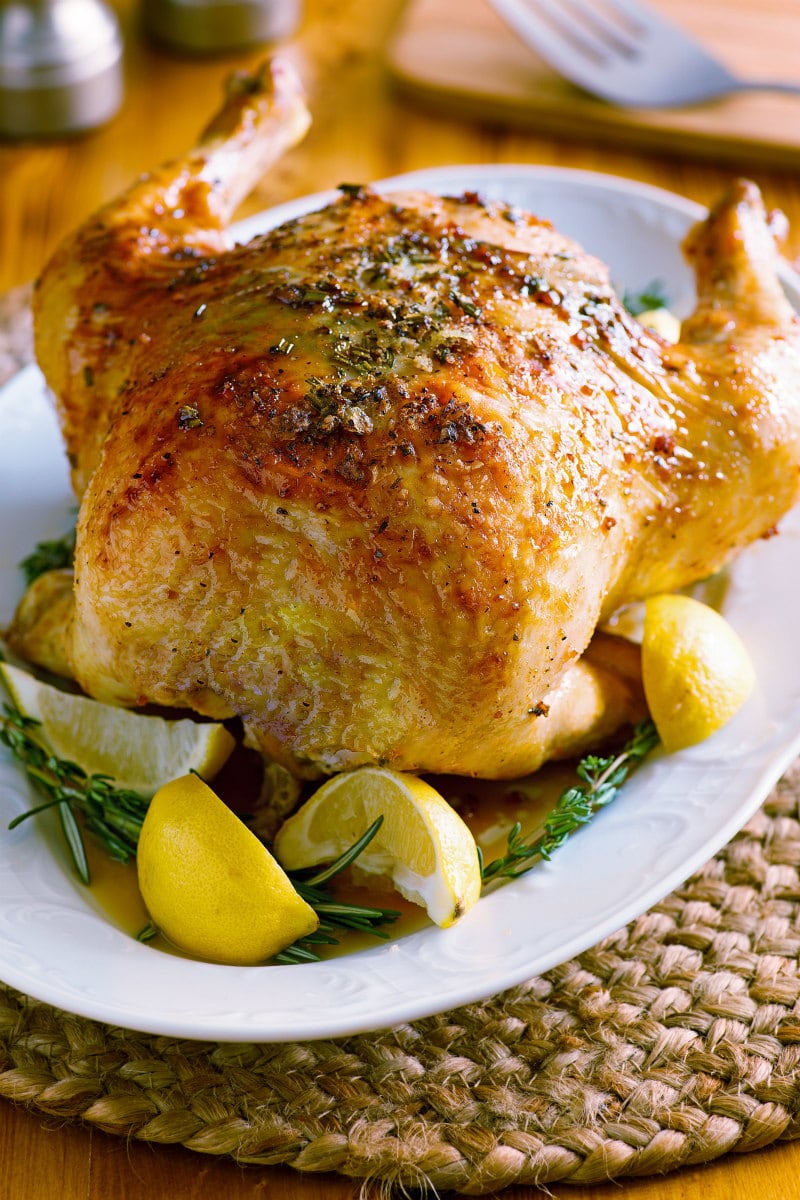 Why would you want to roast a chicken at home when you can just buy one at the store?
I am guilty of buying roasted chickens at the store now and then when I'm in a super big hurry or when I want to make a batch of my family's favorite Roasted Chicken Noodle Soup. But when I have the time, I like to make a roasted chicken homemade in my own oven. It's really quite actually easy to roast a chicken. And I think a homemade roasted chicken turns out much better than those you buy at the store. This recipe for Roasted Chicken with Lemon Curd has a short list of ingredients, so it's an easy one too!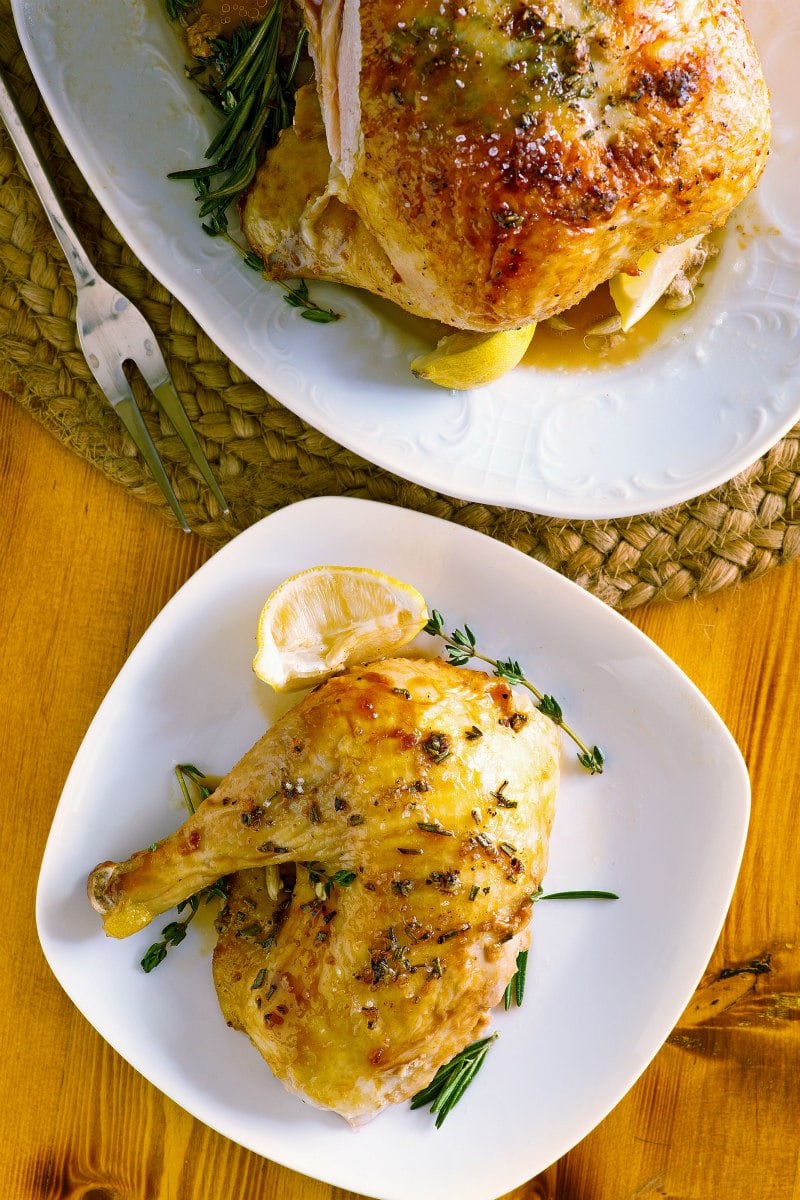 What are the best side dishes to serve with roasted chicken?
There are a lot of great side dishes that would be delicious served with a roasted chicken. Roasted chicken feels like comfort food to me, so I'd suggest going with a trio of roasted chicken, potato dish and vegetable. In this case, you could try my Cheesy Scalloped Potatoes or these Roasted Garlic Mashed Potatoes. Broccoli with Hot Bacon Dressing and Green Beans with Caramelized Shallots would be good side dishes for Roasted Chicken with Lemon Curd too.
If you prefer rice over potatoes, I'd love for you to try my Classic Rice Pilaf recipe. And if you want a salad with your roasted chicken, this Easy Gourmet Salad is pretty good too.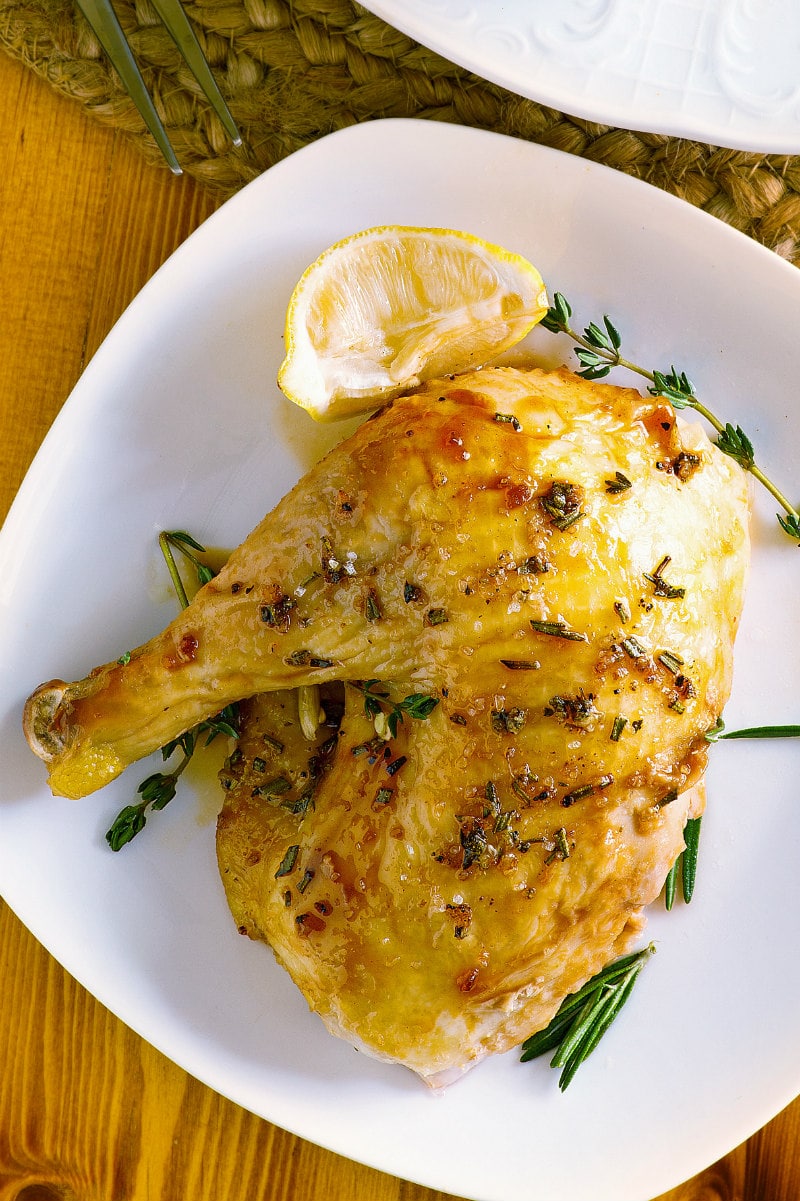 If you're looking for more roasted chicken recipes, I have a few that you might like to try. My Cider Roasted Chicken is quite delicious. It's marinated in an apple cider brine, which gives it amazing flavor when roasted. That one is probably my favorite. I can't forget to recommend this Roasted Chicken with Bacon and Sweet Paprika too. It's coated in orange zest and sweet paprika, and then it's wrapped in bacon. I love that one too!
Here are some more lemony chicken recipes:
Roasted Chicken with Lemon Curd
This roasted chicken has a delicious lemony flavor!
Recipe Details
Ingredients
3 1/2

pound

whole chicken

1

tablespoon

chopped fresh rosemary

2

teaspoons

chopped fresh thyme

1/2

teaspoon

salt

1/4

teaspoon

freshly ground black pepper

4

medium

garlic cloves,

crushed

1/2

cup

lemon curd

3

large

lemons,

cut into thick wedges
Instructions
Preheat the oven to 450 degrees F.

Discard the giblets and the neck. Rinse the chicken and pat dry with paper towels. Trim the excess fat. Starting at the neck cavity, loosen the skin from the breast and drumsticks by inserting your fingers gently pushing between the skin and the meat.

In a small bowl, combine the rosemary, thyme, salt, pepper and garlic. Rub the mixture under the skin and over the breast. Lift the wing tips over the back and tuck under the chicken.

Place the chicken, breast side up on a broiler pan coated with cooking spray. Pierce the skin several times with a meat fork. Insert a meat thermometer into the meaty part of the thigh (don't hit the bone). Brush the chicken with lemon curd. Arrange the lemon wedges around the chicken.

Bake for 30 minutes at 450. Reduce to 350° F and bake one more hour (or until the chicken reaches 180°). Cover the chicken loosely with foil if it gets too brown.

Once the chicken is done, remove it from the oven and cover loosely with foil for 10 minutes. Serve with the lemon halves.
Notes
*Lemon curd can be homemade (see recipe), or it can be purchased in large markets or specialty stores near the jams and jellies.
*If you are preparing this recipe as gluten free, just be sure you are not using a lemon curd that contains gluten.
*After cooking, remove the skin for a lighter meal.
Nutrition
Serving:
1
serving
,
Calories:
407
kcal
,
Carbohydrates:
14
g
,
Protein:
29
g
,
Fat:
25
g
,
Saturated Fat:
7
g
,
Cholesterol:
114
mg
,
Sodium:
407
mg
,
Potassium:
288
mg
,
Sugar:
13
g
,
Vitamin A:
265
IU
,
Vitamin C:
4.5
mg
,
Calcium:
25
mg
,
Iron:
1.6
mg