Easily one of my favorite side dishes EVER:  Broccoli with Hot Bacon Dressing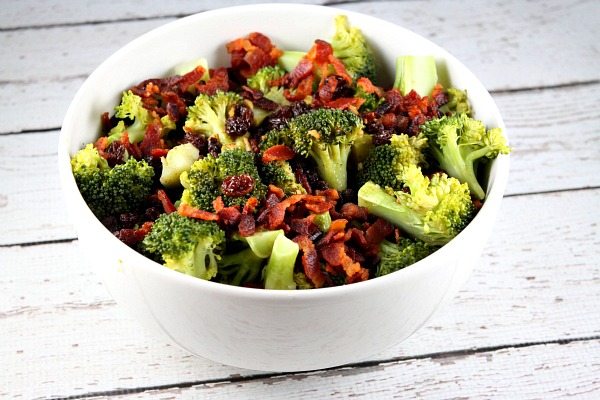 Are you someone who likes to go out for a special dinner on days like Valentine's Day?  Not me.  My husband mentioned that we should make reservations for Valentine's Day.  I quickly shot down that idea and told him that I could make a much nicer, less-expensive and more romantic dinner in our own home.  Why go out and pay jacked-up prices for dinner just because it's a special holiday?  So we'll be eating at home.  And this recipe is on the menu (with some filet mignon, of course!)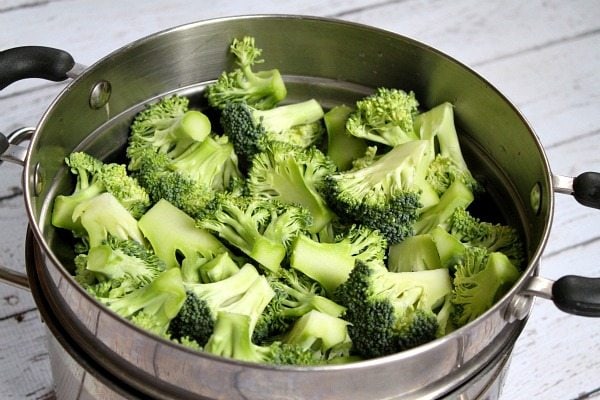 While your broccoli is steaming…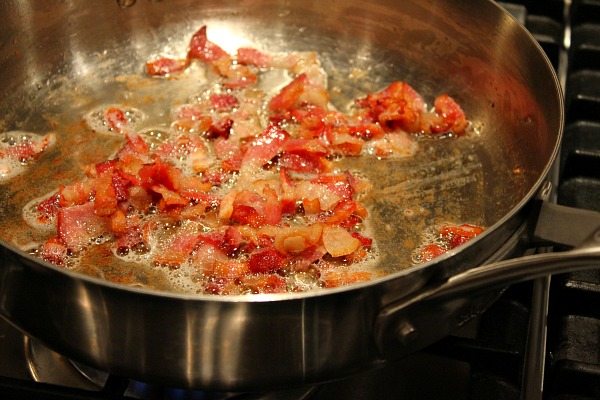 …cook the bacon and crisp it up nicely.  You're going to save some of that bacon grease for the next step!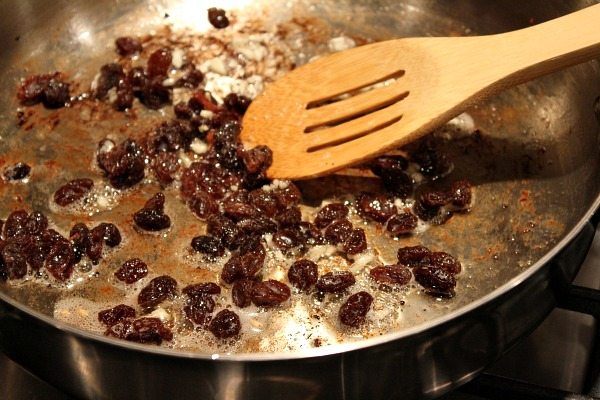 Garlic and raisins are sauteed in a little of that bacon grease, and a few other ingredients are then added into the pan to finish up making the hot bacon dressing.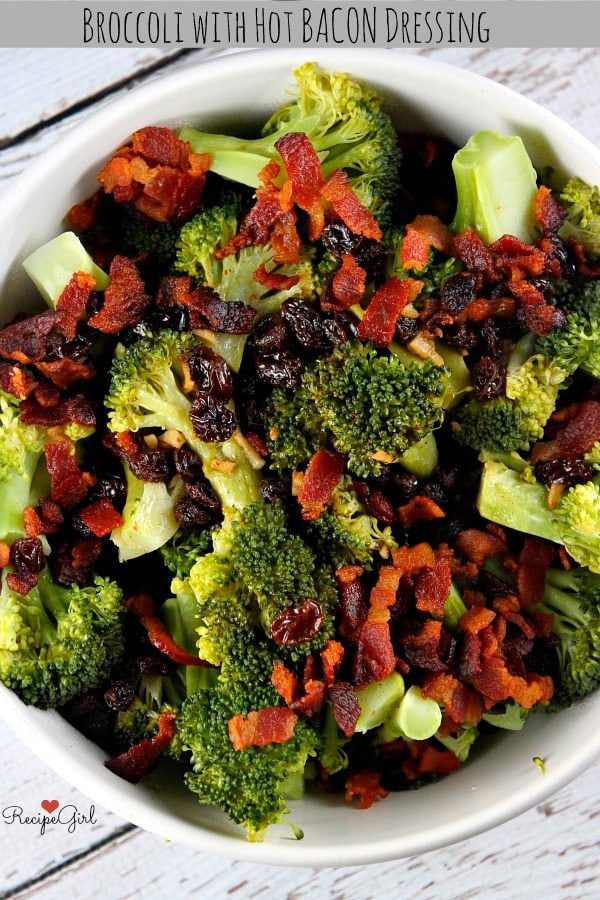 The hot dressing is tossed with the steamed broccoli, and crispy bacon bits are sprinkled in upon serving.  This side dish is WONDERFUL- especially if you are fan of both broccoli and bacon.  I'd be happy eating a big bowl of just this for dinner.  My husband is happier eating it with filet mignon 🙂
Broccoli with Hot Bacon Dressing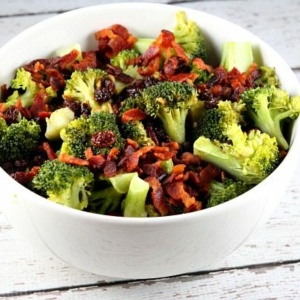 Yield:
4 servings
Prep Time: 25 min
Cook Time: 12 min
Ingredients:
2 pounds broccoli, trimmed and cut into 1-inch florets (cut any larger ones in half)
1/4 pound sliced bacon (about 4 slices), cut crosswise into 1/4-inch wide strips
1 garlic clove, finely chopped
1/3 cup raisins
1/4 cup white vinegar
2 tablespoons olive oil
1/2 teaspoon salt
1/4 teaspoon black pepper
Directions:
1. Cook the bacon in a large skillet over medium heat, stirring occasionally, until browned and crisp (4 to 5 minutes). Transfer the bacon with a slotted spoon to several layers of paper towels to drain, leaving the bacon fat in the skillet. Add garlic and raisins to the skillet and cook over medium heat, stirring until the garlic is barely golden, about 1 minute. Stir in vinegar, oil, salt and pepper, then remove from heat.
2. Meanwhile, steam the broccoli in the steamer basket of a large pot with a lid just until tender (7 to 9 minutes). Transfer the broccoli to a bowl. Bring dressing to a simmer, then cook, stirring, for one minute. Pour the hot dressing over the broccoli and sprinkle with bacon. Toss to combine.
SOURCE: RecipeGirl.com (Adapted from Gourmet)
More broccoli side dish recipes you might enjoy:
Broccoli Stir Fry with Ginger and Sesame by Simply Recipes
Broccoli with Two Cheese Sauce by RecipeGirl
Roasted Broccoli with Crispy Prosciutto & Balsamic by Nom Nom Paleo
Broccoli with Black Olives, Garlic and Lemon by RecipeGirl