One week.  Nearly two years of hard work and now I'm down to just one week.  The Recipe Girl Cookbook will (officially) be released next Monday, and I'm thrilled to share one of the recipes from my book with you– and tell you a little bit more about the cookbook.  I wrote the book for people who might be looking for something different to make- focusing on easy and family-friendly, and I also wrote it for home cooks who might like to entertain a bit (even if they're terrified to do so).  I wrote it with all of my readers in mind.   The recipe I'm sharing today:  Sweet Lemon-Glazed Drumsticks
This is an example of a family-friendly recipe that's included in my book.  I need my family to enjoy the food that I make in my kitchen, so that's what I thought of when I was developing recipes for the book.  These drumsticks are delicious, but they're also kid-friendly… the little ones enjoy picking things up with their fingers and eating them.  They're equally appealing for both adults and kids.  And my boy wants you to know that  they're "RecipeBoy approved!"
The marinade is simple- nothing fancy.  Just a little bit of sweet combined with some other flavorful ingredients.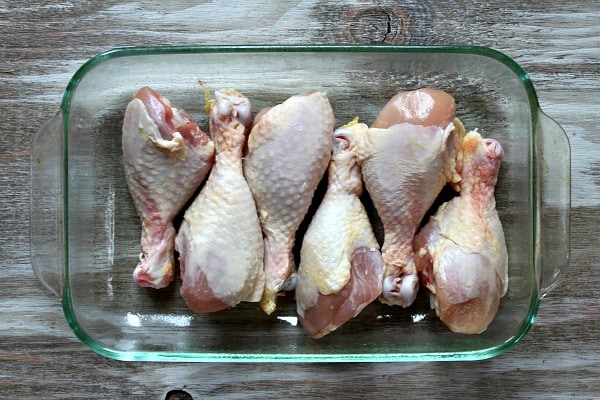 The recipe is enough for 12 drumsticks, but you can certainly cut the recipe in half and make just 6.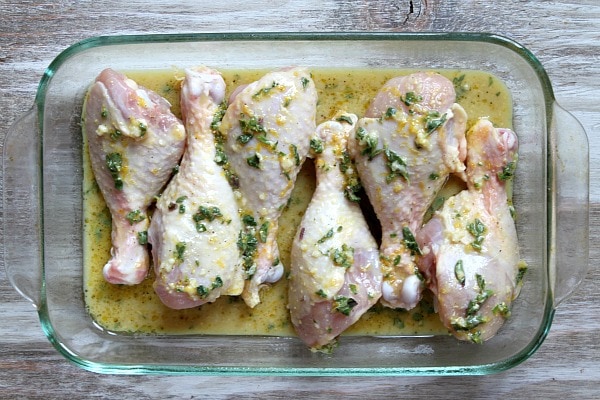 The chicken soaks up the flavors while marinating in the fridge.  If you don't like fresh oregano, you can use fresh thyme.  And if you're not into using fresh herbs, it's okay to sprinkle in dried herbs instead.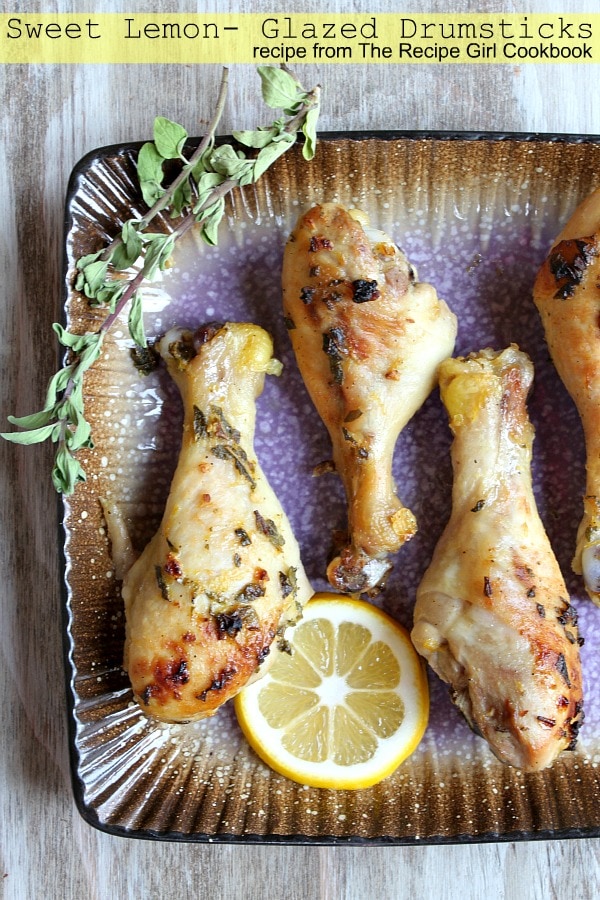 My family loves this recipe.  It's so simple to prepare, and drumsticks are usually a pretty inexpensive part of the chicken.  Cheap and simple works for just about everyone, right?
A few fun facts about The Recipe Girl Cookbook:
There are 195 recipes in the book (about 150 are brand new, and the rest are website favorites).
There are recipes for all meals of the day- breakfast, lunch, happy hour, dinner, side dishes and dessert.
A "Change it Up" tip is included for each recipe- showing you how to change the recipe a little bit to make it something new.
I include icons that show if a recipe is gluten-free, dairy free, vegetarian (or adaptable).
116 of the recipes in the book happen to be just naturally gluten-free (or easily adaptable- with tips on how to adapt).
There are 20-themed menus for entertaining (4th of July party, tailgate party, summer barbecue, simple anytime brunch, etc).  I focused on sharing simple, low-stress menus that anyone can handle.
There's something for everyone in The Recipe Girl Cookbook!  You can pre-order it on Amazon, and they will deliver it to you… or you can pick it up in bookstores everywhere on April 15th 🙂
Sweet Lemon-Glazed Drumsticks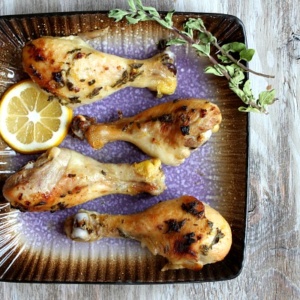 Yield:
12 drumsticks
Prep Time: 25 min + marinating time
Cook Time: 50 min
Ingredients:
12 chicken drumsticks (skin-on)
1/2 cup freshly squeezed lemon juice (about 4 medium lemons- see tips)
1/4 cup Dijon mustard
2 tablespoons extra-virgin olive oil
2 tablespoons chopped fresh herbs (oregano or thyme- or both!)
2 tablespoons honey
2 tablespoons apple cider vinegar
1 tablespoon grated lemon zest
1 tablespoon packed light brown sugar
1 teaspoon minced garlic (1 medium clove)
1 teaspoon salt
1/2 teaspoon freshly ground black pepper
Directions:
1. Rinse the chicken and pat it dry. Lay the drumsticks side-by-side in a 9x13-inch glass dish that has been sprayed with nonstick spray.
2. In a medium bowl, whisk together the remaining ingredients. Pour the marinade over the chicken and turn it to coat completely. Cover the dish with plastic wrap and refrigerate for 1 hour (or up to 4 hours). Turn the chicken every once in a while to reincorporate the marinade ingredients.
3. Preheat the oven to 375 degrees F. Drain the chicken from the marinade and transfer it to a roasting pan (or you can choose to bake it in the pan with the marinade). Bake for 50 to 60 minutes, or until the chicken is tender and juices run clear when pierced with a fork.
Tips:
*This recipe is gluten-free adaptable: Use a brand of Dijon that is known to be GF.
*Zest your lemons before you juice them!