These baked Cauliflower Tots are a lighter and healthier substitute for classic Tater Tots.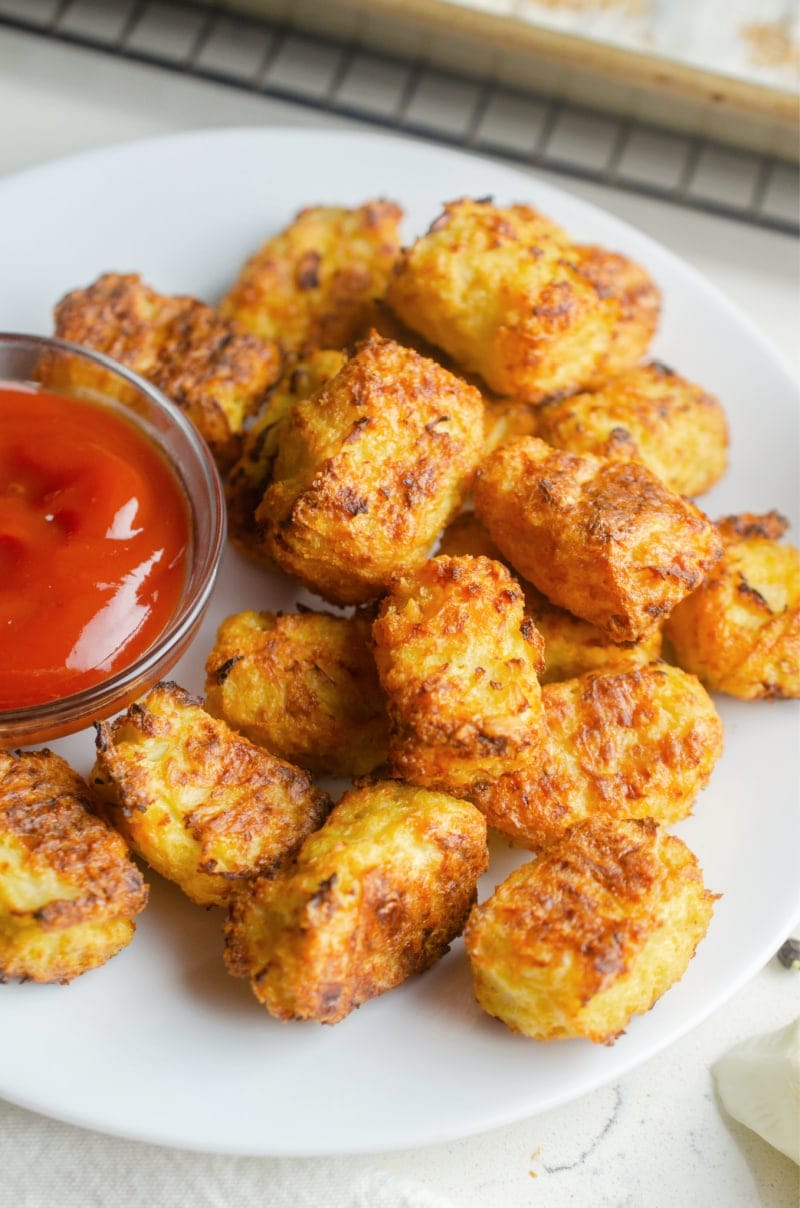 It's so amazing how well cauliflower works as a low carb substitute in recipes. The flavor of cauliflower doesn't come through in full force, so if you aren't much of a fan then don't be too worried. The other flavors in the recipe mostly take over, and cauliflower is used for the bulk. And if you enjoy cauliflower anyways, well then you'll like these Cauliflower Tots even more!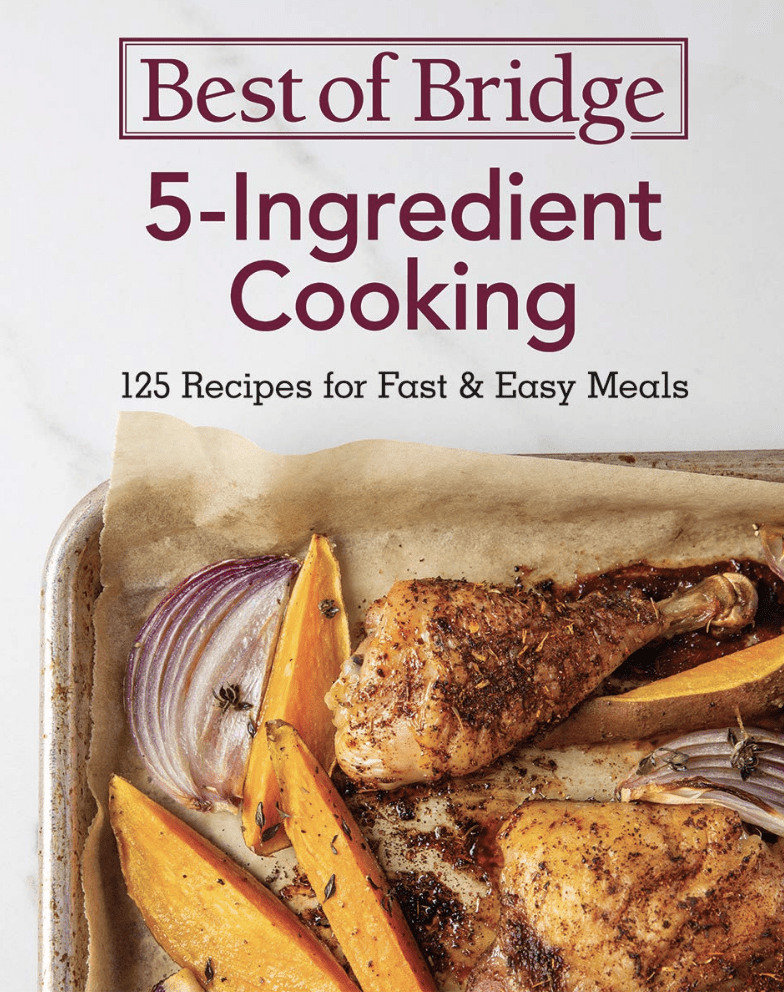 Best of Bridge: 5-Ingredient Cooking
I just received this cookbook: Best of Bridge: 5-Ingredient Cooking– 125 recipes for fast and easy meals, and I've been testing out quite a few of the recipes! I'm sure you'll agree that it's nice to find great recipes that don't call for very many ingredients. That's why this book is a good one. 5 main ingredients per recipe means you'll have a shorter grocery list, and it's more economical too. There are some shortcut, time-saver ingredients called for in many of the recipes- things like canned beans, bottled sauces and frozen veggies. I think it's a good cookbook to have on hand when you need a quick and easy recipe!
Here are a few recipes in the book that I've bookmarked to make: Blender Banana Oatmeal Pancakes, Sun-Dried Tomato and Artichoke Dip, Meatball Subs, Toasted Ham and Cheese Croissant Sandwiches, Tomato Ravioli Soup, Spicy Shredded Beef Tacos, Salsa Chicken, Bacon Parmesan Popovers, Lemon Parsley Lamb Chops, Crispy Baked Fish Sticks, Ricotta Zucchini Pizza, Honey-Garlic Cauliflower Bites and Peanut Butter Cup Cookies.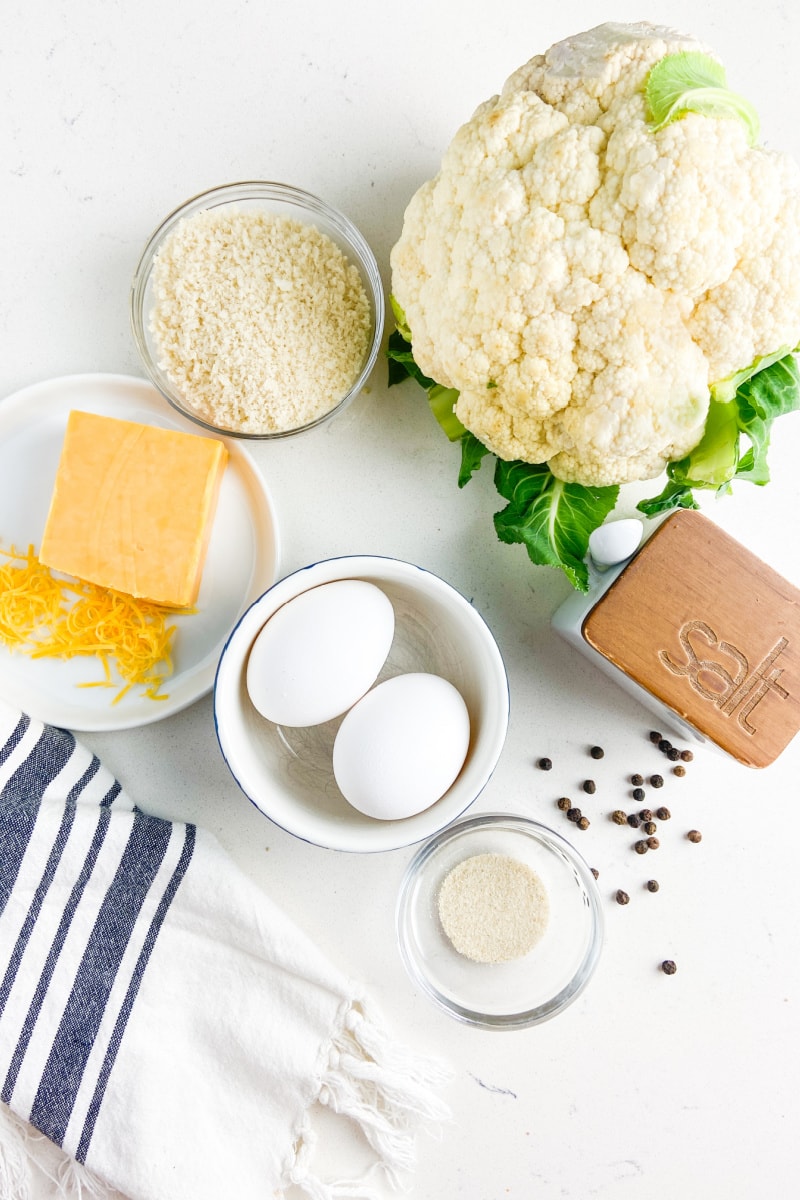 5 Ingredients needed:
cauliflower
onion powder + salt/pepper
cheddar cheese
panko breadcrumbs
eggs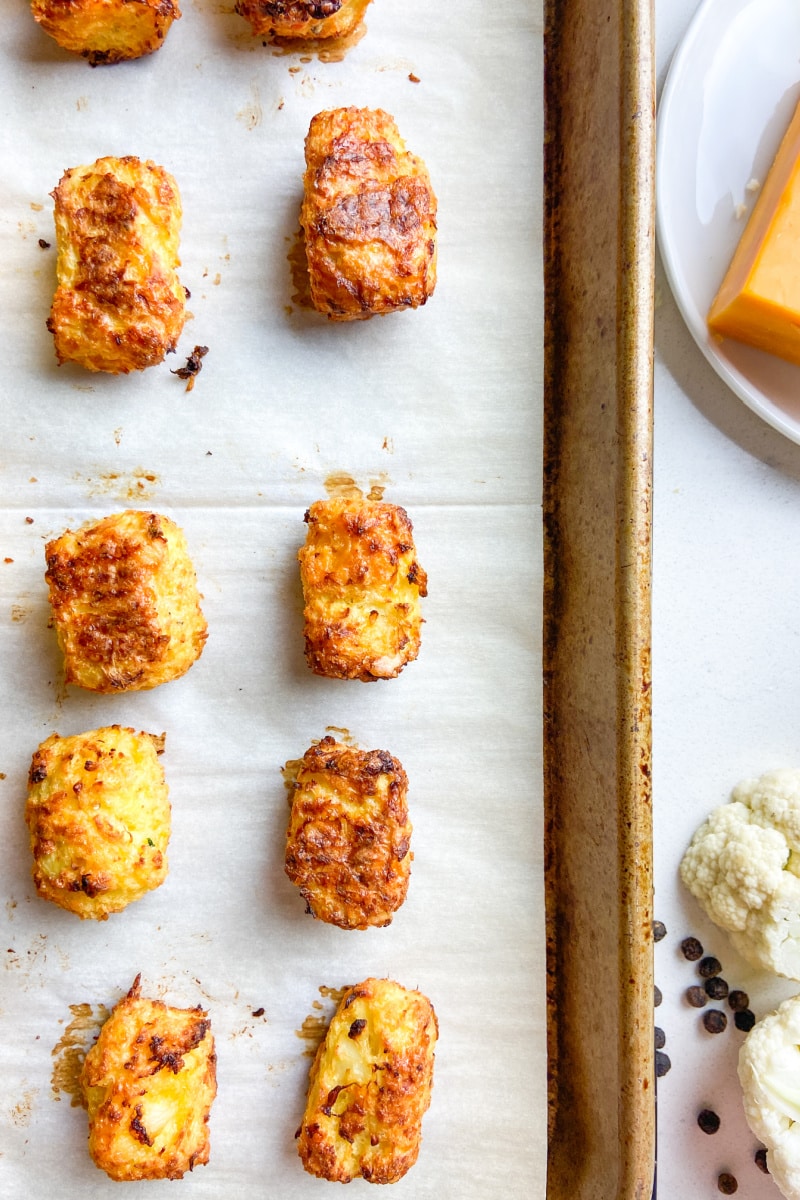 How to make Cauliflower Tots:
The first thing you'll do is grate a head of cauliflower. You'll need 3 cups of finely grated cauliflower crumbles. Next you'll microwave or steam the grated cauliflower, and then place the cooked cauliflower into a piece of cheesecloth or thin (clean) dishtowel and squeeze the liquid out of it. Then you'll combine the squeezed-dry cauliflower with shredded cheddar cheese, panko breadcrumbs, eggs, onion powder, salt and pepper.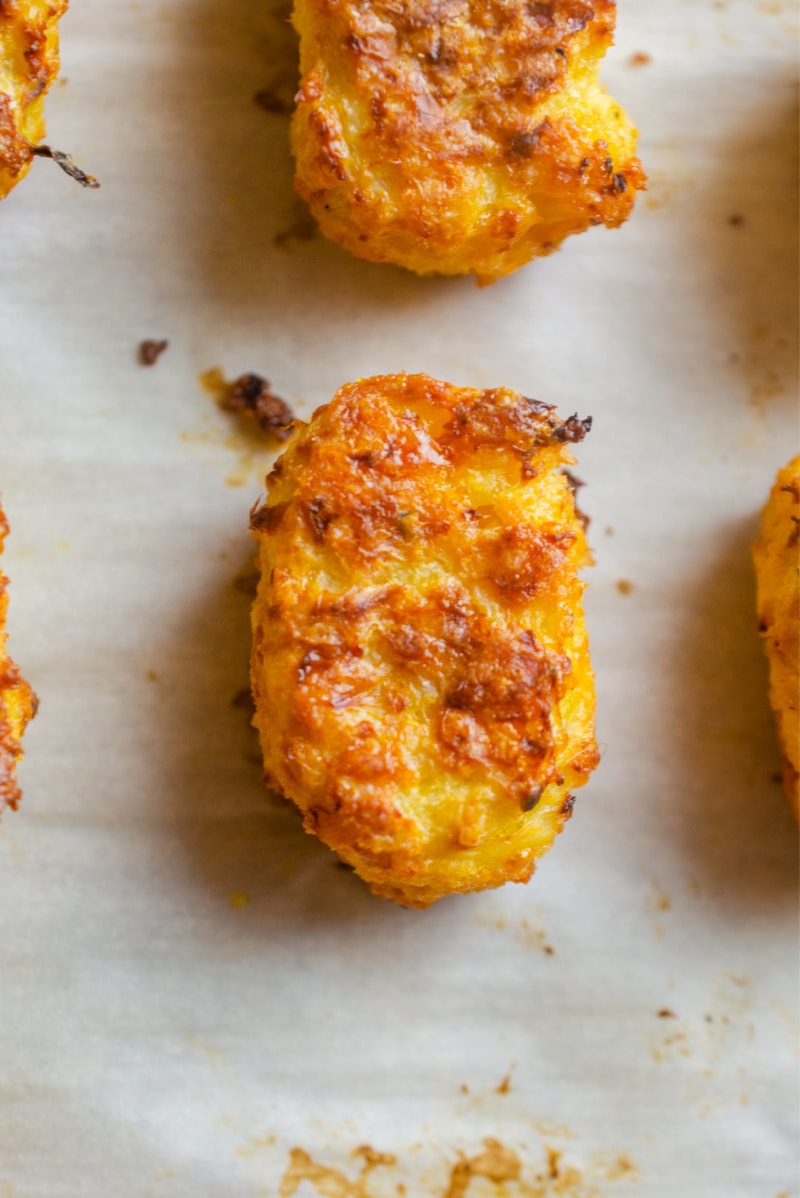 The cauliflower mixture is then shaped into tots. Take a spoonful and just form it into a tot shape with your clean hands and place on a parchment-lined baking sheet. The Cauliflower Tots are baked for 15 minutes, then you'll want to turn them over and bake them for an additional 10 minutes until they are crisp on the outside.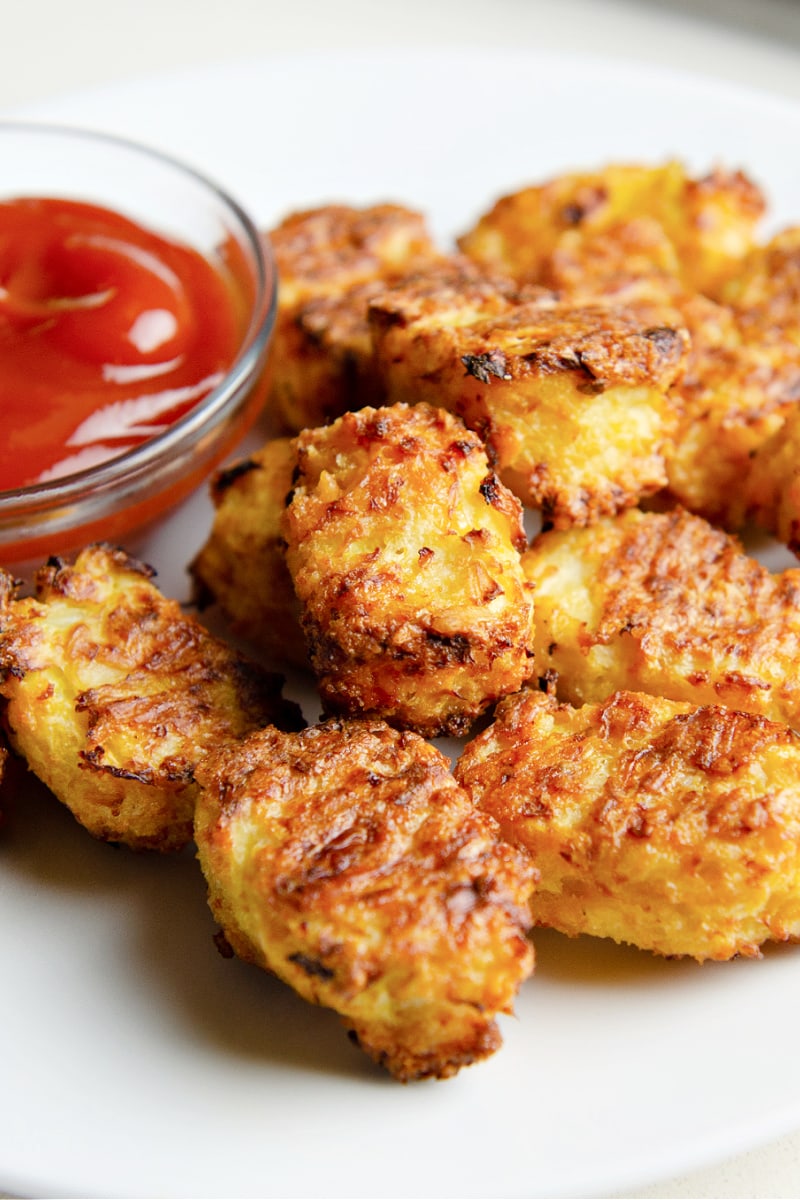 Serve them with your desired dipping sauce. We like ketchup, but you can certainly go with Ranch, barbecue sauce or my homemade burger sauce too.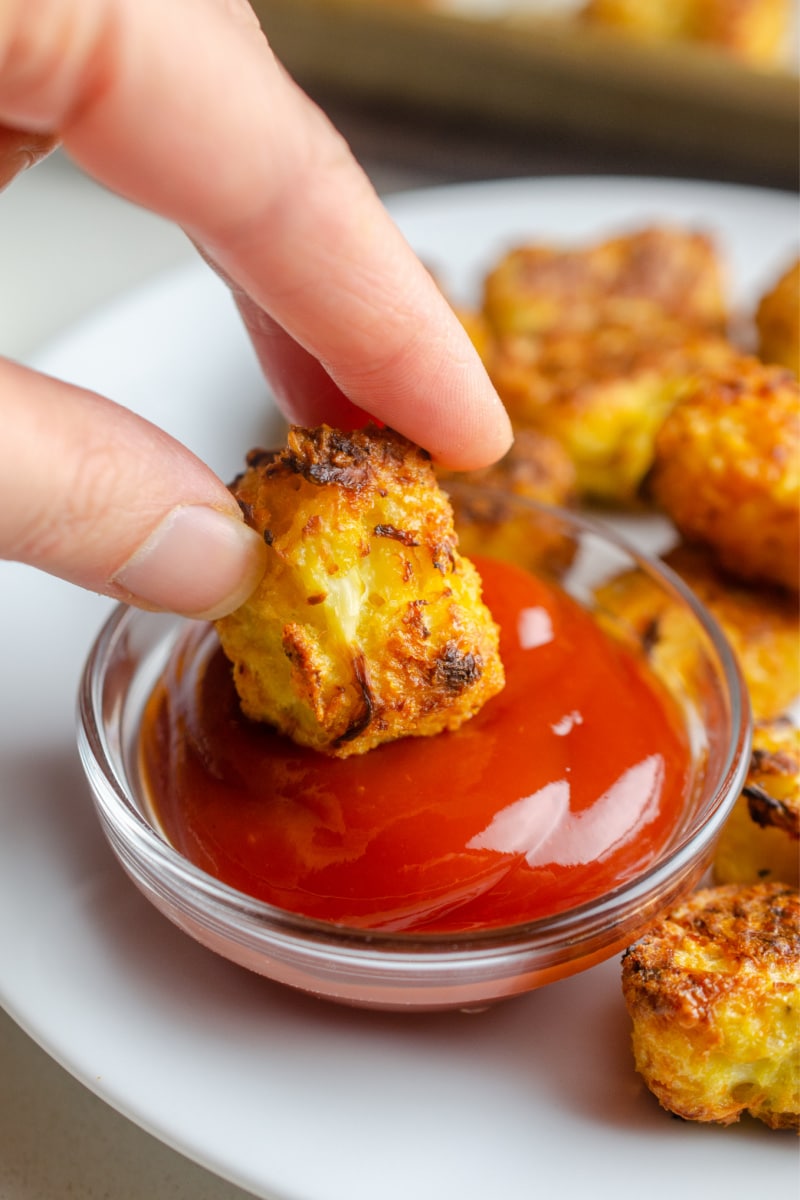 If you are a lover of classic comfort food Tater Tots but you're trying to eat a little lighter, you might like to give this Cauliflower Tots recipe a try. These can be eaten as an appetizer (perfect for Super Bowl Sunday!) or as a snack. One tot is 28 calories, so you can figure out how many tots you can add up to be worth the calories! We did use full-fat cheddar cheese in this recipe, so you could always try to lighten things up a little more by using reduced-fat cheddar cheese.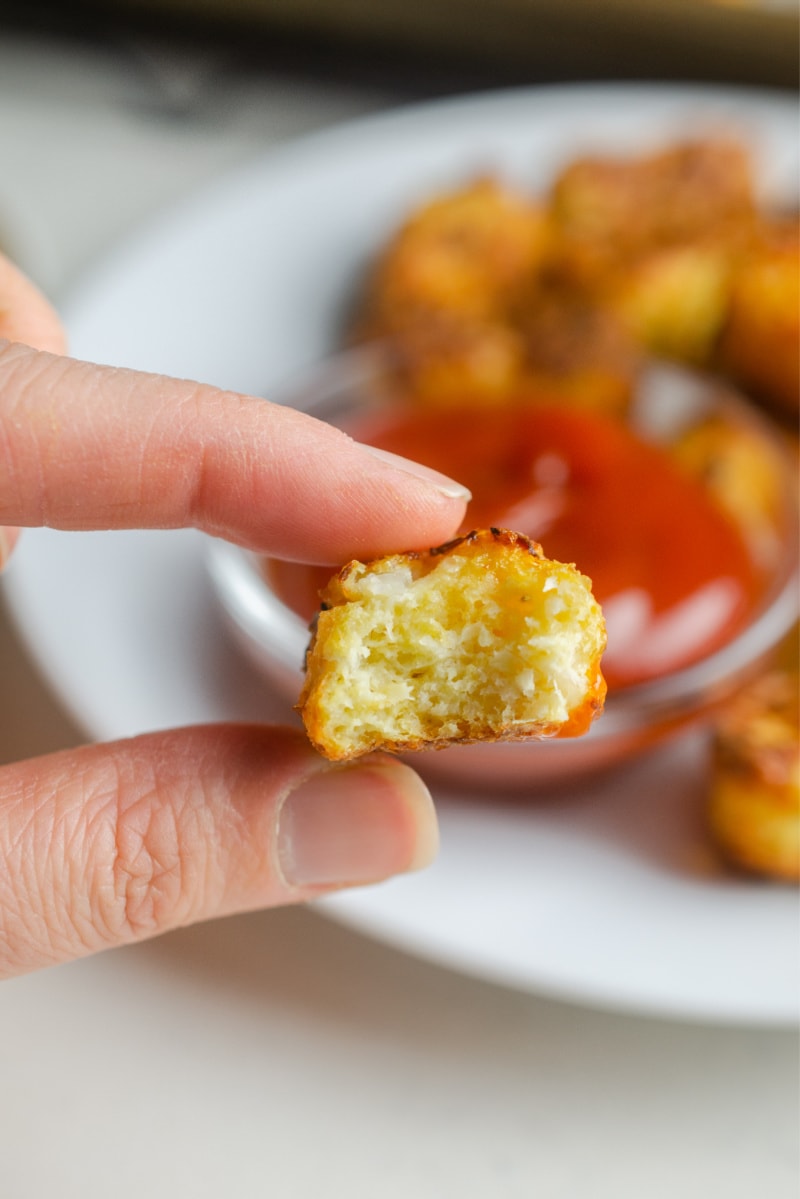 Substitution suggestions:
Packaged, riced cauliflower may be substituted for freshly grated cauliflower. I think they turn out best when you grate it freshly yourself though!
Experiment with adding in your favorite spices- garlic powder, chili powder, cumin, rosemary– be creative!
Enjoy!
Here are a few more appetizer recipes you might like to try:
Cauliflower Tots
A healthier way to eat Tater Tots!
Recipe Details
Ingredients
3

cups

grated cauliflower

(about 1/2 head)

1

cup

finely shredded cheddar cheese

1/2

cup

panko bread crumbs

2

large

eggs,

lightly beaten

1

teaspoon

onion powder

1/4

teaspoon

salt

1/4

teaspoon

pepper
Instructions
Preheat the oven to 425 degrees F. Line a rimmed baking sheet with parchment; set aside.

Place the grated cauliflower in a microwave-safe bowl and microwave for 2 minutes, then stir and microwave again for another 2 minutes. If you don't use a microwave, a steamer works just as well.  Let the cooked cauliflower cool. Then place the cauliflower in a fine cheesecloth or thin dishtowel and squeeze out as much liquid as possible.

In a large bowl, add the cooked cauliflower, cheese, panko, eggs, onion powder, salt and pepper.

Using your hands, scoop up 1 tablespoon of the mixture and mold it into a tater tot shape. Repeat with the remaining ingredients.

Bake the tots for 15 minutes. Then turn them over and bake for an additional 10 minutes, or until golden brown. Serve with ketchup or your favorite dipping sauce.
Notes
These tots freeze well. Bake them, and then place the cooked tots in a freezer zip baggie for up to one month. Reheat in a 400 degree oven for 10 minutes, or until crisp and heated through.
Nutrition
Serving:
1
tot
,
Calories:
28
kcal
,
Carbohydrates:
2
g
,
Protein:
2
g
,
Fat:
2
g
,
Saturated Fat:
1
g
,
Cholesterol:
16
mg
,
Sodium:
60
mg
,
Potassium:
58
mg
,
Fiber:
1
g
,
Sugar:
1
g
,
Vitamin A:
56
IU
,
Vitamin C:
8
mg
,
Calcium:
34
mg
,
Iron:
1
mg